Hipster Nonsense is the brainchild of Austin Luciow and Erika German, two Calgary-area chefs who have resolved to reduce food waste with an innovative business model. The two transform farmers' market produce that's aesthetically unsellable – bruised, weather damaged, etc. – into shelf-stable food like jams, lacto-fermented food, baby food, condiments and more in Alberta, Canada.
After realizing how much food was either sold at drastically reduced prices or simply thrown away, the pair spent last summer utilizing various methods to preserve these foods and give them a second life. The result was over 300 jars of delicious preserved foods, and the birth of a business.
"Our idea is to replace items that are not widely available in farmers' markets and are purchased solely at grocery stores. When we first started trying to cut out grocery store shopping, there were a lot of items (canned beans, tomatoes, etc.) that we were forced to either buy at Superstore or make ourselves," German says.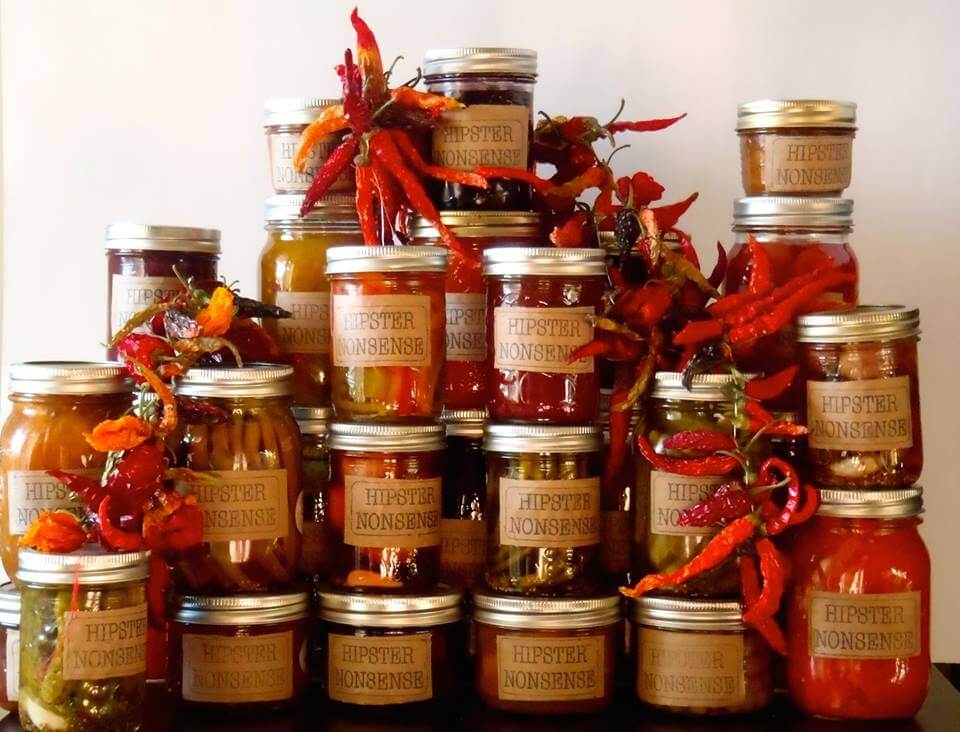 Currently, their line of items includes shelf-stable soups, jams, pickles, air-dried hot peppers, baby food, canned food staples and condiments like relishes and sauces. Going forward, they're looking to produce items like pre-made lunches for kids with locally-sourced charcuterie and crackers, puddings set with agar and sweetened with stevia, and liquor-preserved berries.
A 2014 United States Department of Agriculture food report estimated that 31 percent – 133 billion pounds total – of the available food supply at the retail and consumer levels was wasted in 2010. The U.S. spends $1 billion annually just to dispose of this food waste.
In a few months of operation, Hipster Nonsense has transformed about 500 pounds of food waste. They're aiming to get to 1,600 pounds per month (20,000 annually) by the end of 2015. Long-term goals include expanding this model across the U.S. and Canada, potentially through a franchising model.
Short-term, they plan on being a staple at The Market on Macleod in Calgary, selling to retail stores and investing in a brick-and-mortar storefront with an attached kitchen. If you're interested in supporting their efforts, they're currently raising money on GoFundMe.
To find out more and connect with Hipster Nonsense, head on over to their Facebook page. Both Luciow and German recognize that to enact social change, it's not necessary to start a revolution – a big impact can be made by simply voting with dollars and coming up with innovative solutions.
German offers advice to those aspiring to make an impact: "Keep prices as low as possible to reach the largest demographic, but don't limit your net profits too much in the name of activism – you need to be profitable if you can hope to effect any change, because a business with no longevity will have no long-term effect. If you have something that works, don't give up on it."
Photo via Hipster Nonsense