https://youtu.be/KHXsrfCaCEE
An Alternative To The Affordable Care Act
The Affordable Care Act (ACA) is challenging what Americans believe about charity, community, healthcare, and the proper role of government. It was meant to deal with a broken and inadequate safety net for people needing healthcare. Many people believe that it is failing at this job. Part of the problem is that we are dealing with something that is more aptly termed the "Sick Care System."
Few people would argue that a humane society must provide healthcare for those who are unable to provide it for themselves. Consensus falls apart when you ask people whether the ACA achieved that. Many people are finding that their premiums are rising. At the same time, their choice of doctors and hospitals goes down. The government is asking health conscious people to assume an increasing burden for people who can't or won't take better care of themselves.
One alternative to people's frustrations with the ACA are the increasingly popular healthcare sharing programs. Healthcare sharing has been around for a few decades. Frustration with the Affordable Care Act has brought it out into the light. There are a few companies involved in providing healthcare sharing. These are mainly Christian organizations. They are non-profit companies that receive a religious exemption under the Affordable Care Act.
Liberty Health Share
One company that is particularly noteworthy is Liberty Health Share. Some of the other healthcare sharing organizations have fairly strict requirements that track with certain Christian principles. Liberty Health Share emphasizes its belief in freedom of religion and opens its plan up to people of many faiths. They do require an affirmation that people acknowledge that it is their spiritual duty to God, and their ethical duty to others, to maintain a healthy lifestyle.
"Health sharing" means that community members share the costs of medical treatment. It is technically not insurance. The costs are significantly less expensive than those incurred under the regular health insurance system. There is also more flexibility when it comes to finding providers and doctors who specialize in things like functional medicine.
Health Conscious Consumers
Under the current system, health conscious consumers pay for those who are not health conscious. Bringing more health conscious people under the Affordable Care Act, was, in fact, one of its main selling points. Having more healthy people opting in to the ACA meant that sick people and people who have been making unhealthy life choices regarding things like smoking and drug use, exercise and nutrition, would be subsidized.
Not everyone is eligible. For Liberty Health Share, approximately 3% are declined for certain exceptions and for some pre-existing conditions.
FREE ebook
Has Your Gut Sprung a Leak?
Don't let a compromised intestinal barrier undermine your good health.
Learn what you can do to fortify your intestinal barrier and give your gut what it needs to thrive.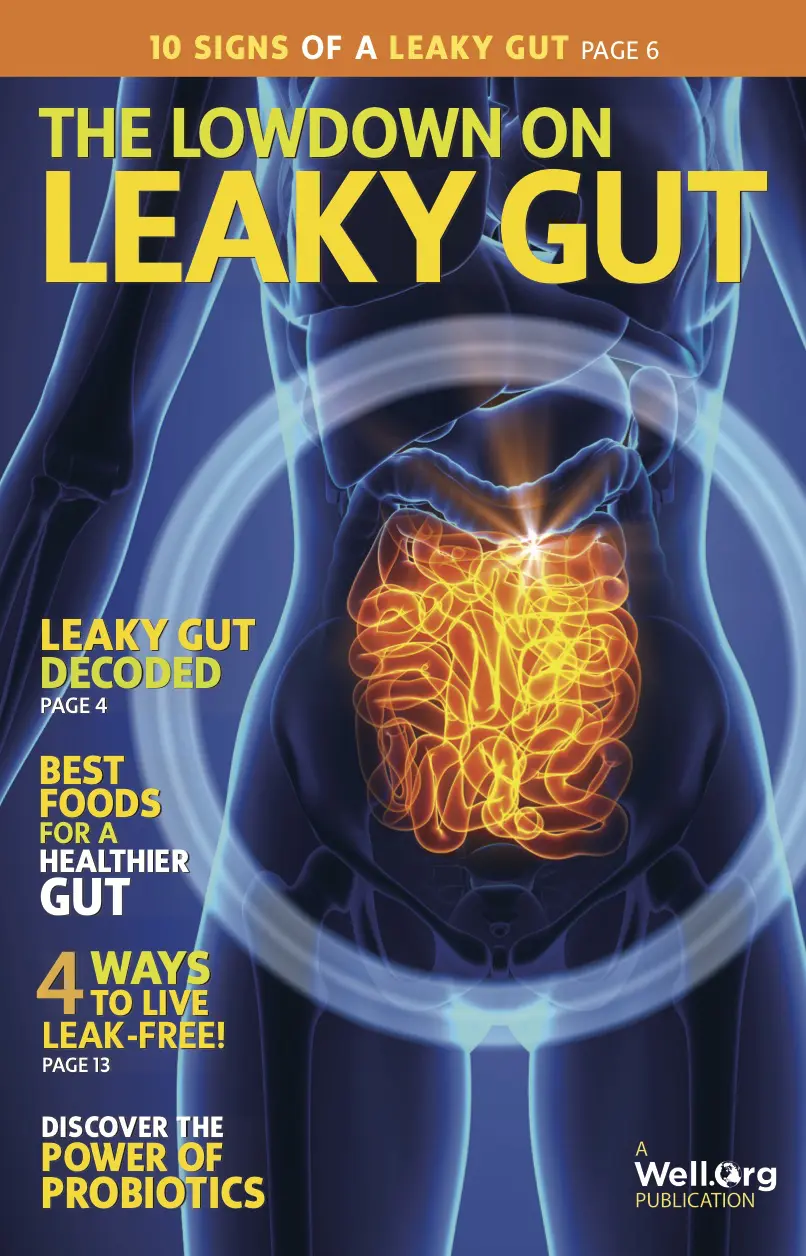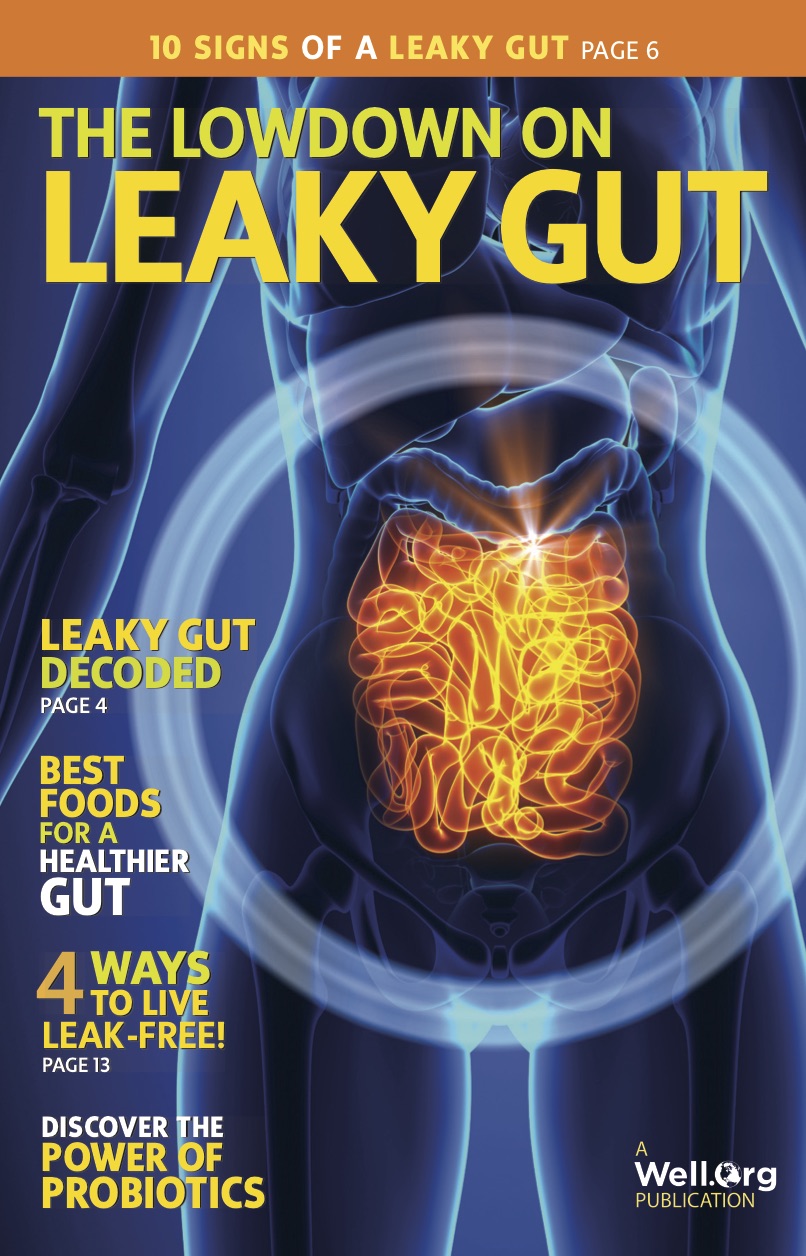 The historical roots for the health sharing model come from the mutual aid societies that flourished in this country in urban areas from the 19th century into the early 20th century.
Under the healthcare sharing arrangement there is community accountability. People are encouraged to take better care of themselves because they are a part of something bigger than themselves.
These kinds of plans are particularly cost effective for companies with fewer than 50 employees. A unique aspect of Liberty's program is that they offer health coaching for people who might not otherwise be eligible because of existing bad health habits. They can enter a coaching program. If they meet the requirements of that coaching program, they're accepted as full members of the healthcare sharing program.
Can this model scale up? Would that put the existing healthcare system at risk as health conscious people who currently subsidize the broken system move to a health sharing model? The model has a lot of potential and it will hopefully spark some much needed discussion.
Interview notes from the show:
Pedram:
Hey, welcome back to the Health Bridge. Doctor Pedram here with Tom Blue. He has been a pioneer in the health insurance equals health sharing medical cost sharing space. What am I talking about? You are about to find out.
We all suffer in this country, especially if you are in America, with this whole health insurance debacle. So there's a few very interesting models that are now starting to emerge and once I got to talk to Tom about what he is doing and how they are doing it, I said "Man, I need you on this show because this is actually … This is revolutionary and it could change the game because the game is messed up, as you know."
He is now the program director for a group called Liberty Direct and we are going to talk about what that is and why that is important, and we are going to talk about the high cost of healthcare and how we can start to navigate around that by staying healthy and working with groups that reward such behavior.
Tom, welcome to the show.
Tom Blue:
Thank you.
Pedram:
Great to see you, and I know you are a busy, busy gentleman doing all sorts of work in this space. We've been hearing about each other for a while, and I finally get a chance to meet you over the phone and we got into a long conversation. I was like man, this stuff … What you are doing is incredibly, incredibly relevant and exciting for the modern day because health insurance is a mess, isn't it?
Tom Blue:
It is a complete mess. I couldn't agree with you more.
What Is The Difference Between Medical Cost Sharing And Medical Insurance?
Pedram:
What is this alternative? Let's just define what medical cost sharing is versus medical insurance because medical insurance implies a very specific thing in the law, and so there are other nomenclature to define what we are talking about here so let's lay that out first.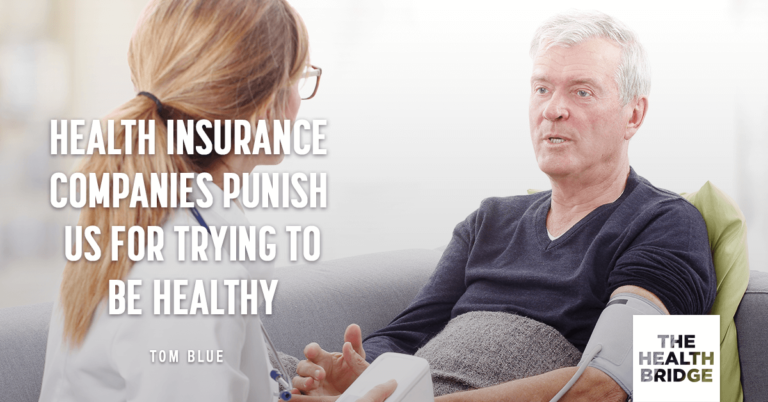 Tom Blue:
Okay, yeah. The story behind medical cost sharing, it's, in my opinion kind of the best kept secret in healthcare for health conscious people. It's something I myself had not heard of prior to a couple of years ago, but it has been around for generations.
If you think … The way I conceive of it, if you think about a group like the Amish community … For generations they will put money into a pot and if you break your leg on the farm one day, the pot will pay for your medical bills. This has become a sort of tradition in certain, generally Christian communities. They have been doing their own thing for years and years, by the 1990s a handful of organizations had come about to institutionalize this practice. It worked very well.
Time goes by, they are doing their own thing. 2010 rolls along and we are all required by law to purchase health insurance with the Affordable Care Act. These folks raise their hand and get an exemption to that. So again, 2010 not a lot of folks thought much about this, but what's happened in the time since is, as we all know those of us who have had health insurance since 2010, premiums, deductibles, everything has just gone higher and higher and higher, networks have gotten narrower and narrower, so our choices about healthcare providers have got more and more restricted.
Meanwhile, in the world of cost sharing, they have carried on without really any change in their cost structure to the consumer since that time. Every year, the delta in cost between managing your healthcare expense by way of cost sharing and managing your healthcare expenses by way of medical insurance has become really, really profoundly different.
I was reading a book on healthcare policy and the self-pay patient movement a couple of years. Came upon a chapter on this cost sharing ministry concept, and realized that it represented a really interesting opportunity for the health conscious consumer segment in the US.
Why Are Medical Costs So High Now?
Pedram:
Let's back up real quick and talk about why costs are going up so high in the other model and is there a smoking gun, or is it just kind of the red tape and bureaucracy? It seems to be if one model is staying the same and the other one's costs are going up year after year, there is either something wrong or different people in the bucket, or both.
Tom Blue:
This is obviously a topic of great debate and speculation. My personal opinion of it is that at the macro level, until we break with our standard of care, which involves every year relying on more and more sophisticated technologies to suppress our symptoms and pretend that they don't exist, as opposed to finding the underlying cause of those symptoms and dealing with them at the level of the root cause. We can probably only expect to see our healthcare costs continue to escalate. This is sort of the functional medicine side of me saying that until functional medicine is the standard of care, we can only look forward to increasing costs.
With that at the macro level, now if you drill down to the level of the individual, there's a certain segment of the US population that I think is particularly abused by the healthcare system. Those are health conscious people under the age of 65- so they are not on Medicare- and who earn enough not to be eligible for any kind of government subsidy, so people paying the freight on their own insurance while being health conscious consumers. Those of us who fall into that bucket wind up spending … Just using myself as an example, this is a couple of years ago, I was spending $767 a month on my Anthem insurance policy with a $12,000 in network deductible and out of that network deductible, I want to say $32,000. Really, no chance at all short of something really catastrophic happening of getting any benefit whatsoever of carrying that insurance. Had I stuck with it, I would probably be paying close to $1,000 a month. A lot of families are in that same boat today.
What's happening is, you think to yourself how is it possible that someone like me or like you could need to spend for a healthy family nearly a thousand bucks a month with this enormous deductible on the other end? Where does all the money go? Today, the way insurance is designed, it's the health conscious consumer that is number one subsidizing any number of other people who aren't paying the full freight of their coverage in the insurance system, and also the health conscious consumer who is paying the freight on the cost of a different segment of the population who just aren't health conscious and are abusing their health and consuming the systems resources. Then if you overlay that with the enormous profits, of course, that the insurance industry is able to generate, you've got a picture that is just very ugly for a meaningful segment of our population.
Pedram:
Yeah, it's tough because if you make all the right decisions and then you are expected to carry the burden of the people who make poor lifestyle decisions, and pay for their folly … I know a lot of people that have been frustrated about that for a while.
There's another piece to that that I think your average consumer doesn't know, in that a lot of Wall Street is fueled by our premiums. What happens is this money goes in and they invest that in stocks, they invest that in all kinds of financial vehicles, and they use the money and the float to make billions of dollars which is really nice and convenient, but that's not why I contracted with Blue Cross. I just wanted to make sure my knee got taken care of. That's just kind of the sloppy underbelly of just one other aspect of this thing.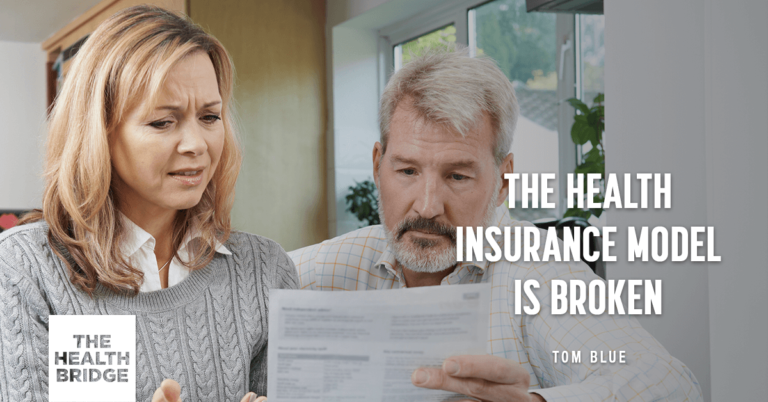 Tom Blue:
You're absolutely right. There's a very strong argument that insurance carriers have no financial interest in lowering the cost of healthcare, when they only way really that they can generate more revenue for themselves is to increase the cost or spend more money on what they would call medical losses. There is definitely a glaring opportunity for a different approach for the health conscious segment of the population to manage their healthcare costs differently.
What Is Liberty Health Share?
Pedram:
You are now over with Liberty Health Share or Liberty Direct. What is this? How does it work and what is this model and can everyone just join in or is it kind of a insular thing?
Tom Blue:
Actually this is interesting. Liberty Health Share is one of the companies that formed in the latter part of the 1900s to bring order to this practice of cost sharing. Liberty Direct is a product that is a product that is administered by Liberty Health Share and it is one that I've worked on with that organization to create.
What drew me to Liberty was that unlike other cost sharing ministries, which are kind of very exclusively religious organizations. In 2012 Liberty made the decision to recharter itself to be open to people of all religious faiths. The unifying beliefs that bind that community are: 1. A belief in religious freedom, but also a belief in just being a health conscious, a responsible health conscious consumer. That's kind of the unifying thread that stitches that community of people together.
When I understood this, and I had discovered healthcare cost sharing ministries in this book I was reading, and really at that time had been wrestling with, again, thinking about particularly the functional medicine community. The fact that for a lot of us the cost of healthcare was getting so great that we couldn't … People don't have a lot of disposable income yet to invest in health itself. If you then look at the plight of the functional medicine physician, or the small independent primary care doctor who is trying to manage a practice and help manage the health of the community of people, the narrowing of networks, the absence of available private pay money to spend on lifestyle medicine and treatment … It represents a really ugly equation.
The Liberty folks as it turns out when I approached them with this … The concept that we are talking about now of developing a program that really draws in the most health conscious segment of the population, as well as the most innovative physician community to manage, particularly the primary health care needs, of that health conscious consumer base, really resonated with them. We devised a product that sits on their administrative framework and their ACA exemption that accomplishes a couple of things.
Number 1, it creates pretty profound savings for the participants in it, which can then be used to actually invest in health. But the second thing was is the product actually is designed to wrap around what is called a direct primary care practice. This is kind of that growing universe of primary care doctors who are providing their services on a subscription basis. You join their practice like you might join a health club. You see more and more functional and integrated medicine doctors moving in this direction because it is a nice private pay vehicle to sustain their practice in a defined community of patients, without having the practice balloon and get out of control size wise. Of course, the private pay component allows them to sustain the practice in ways that are almost impossible given what insurance does and doesn't value in the way of this more modern type of primary care.
Anyway, the idea of building this product to wrap around and subsidize the cost of membership fees to these practices was something that really resonated with the Liberty folks. The idea of using … It's interesting. The come from a Mennonite heritage and the idea of using nutrition as medicine as opposed to dependence on pharmaceuticals … Just the values alignment between Liberty and the functional and integrated medicine movement was really striking. Very quickly, they agreed to allow us to create this product and enlist what is now a very large and growing number of practitioners to form this premier primary care provider network, was something that they just intuitively grasped and it's really been going quite well ever since last fall when we kicked it off.
Pedram:
There's a couple of things you mentioned. One is you're paying $700 and change a month for the health insurance, but you mentioned a $12,000 deductible and so that is effectively an extra thousand dollars a month in … If you were to take that and reabsorb that back into what your monthly out of pocket would be, you are closer to $1700 a month in actual out of pocket costs before anyone paid anything on your Anthem policy.
Tom Blue:
That's right.
How Much Can I Save By Using Healthcare Cost Sharing?
Pedram:
Typical individual, typical family of four … What are we looking at in terms of cost savings? And then what are we looking at in terms of benefits? It's like hey, if I get hit by a bus, Igottaknow that this thing is going to cover me.
Tom Blue:
Right. This is the thing. I moved from my 767 a month and $12,000 in network deductible to 449 a month and $1500 of expenses that I would be responsible for. In healthcare sharing parlance, that is called an annual unshared amount. It's as simple as that. There is no in network, out of network consideration. In the world of cost sharing, again, one of the cultural facets of that movement which I really appreciate, is a respect for the individual and that individual's doctor making their healthcare decisions. So in healthcare cost sharing, if you get some dreaded disease and you have to leave town to go to a different healthcare facility to find treatment, that's a decision that you and your doctor make and they don't … There is no financial barriers in the way of you doing that.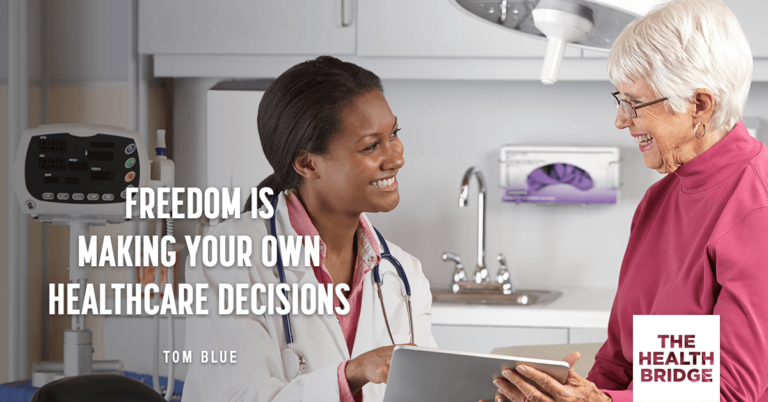 The way it then works in terms of what you … The catastrophic level of coverage, you are … Medical expenses are share-able up to a million dollars per incident, or per diagnosis with no lifetime limit. These are things actually imposed by law. In exchange for this ACA exemption, cost sharing programs have to have a few things in common. Number one is the inability to kick members out for getting too sick. The second is they are all non-profit. They're 501C3 non-profits, and so as a result they behave very differently as a payer than does an insurance company. Most notably to the point that you made earlier- they don't ever take possession of the consumer's money and go out and invest it. They have no … That's not a part of the revenue generating foundations of cost sharing. They have very nice relationships with healthcare facilities and with physicians. They don't have anyone there whose job is to impose friction on the payment process and it's just one of these things that is so refreshingly transparent and simple to understand, that it does kind of call you to wonder how in the world we've got so entangled in such a complex world of healthcare insurance.
Pedram:
Yeah, and we all just kind of stumbled up to that cliff and then fell off of it, and we just figured that's the way it is.
All the healthy people I know are absolutely up in arms about this because … I'm not a user of healthcare for the most part, right? I'll go in for some routine physical, but I'm not in there all the time. Whereas someone who has uncontrolled diabetes is in the ER once a month or something, and that's what we are paying for, and a lot more.
Co-pays, any of that other weird stuff? There's so much language layered around insurance now that we've all kind of been subjected to.
Tom Blue:
Yeah, it is as simple as you pay all of you medical expenses until you've hit your annual unshared amount. For an individual that is $500, for a couple it is $1,000, for a family it is $1,500, after which all of your eligible medical expenses are share-able. Things that …
It is easier to describe what isn't a share-able expense than what is. Things that are not share-able, as you might imagine, abortions that aren't medically necessary, they don't have a mental health coverage, they don't reimburse for … They don't cover for drug rehab would be an example. The things that tend to scare people: catastrophic health incidents, medical evac… Moving you in a med-evac, some of those things that are just astoundingly expensive, they're all perfectly share-able expenses. And as I said up to one million dollars per incident.
What Are The Differences At The Time Of Treatment?
Pedram:
You come with an insurance card, you hand it to your doctor, they verify just like anything else … Because there is no in network or out of network, so they just say "Hey, cool, we'll accept this. Or give us your cash rate and then we can super bill"?
Tom Blue:
That's exactly right. The scenario is … From the consumer perspective it's actually a very familiar experience. You do have a card in your wallet, on the back of that card is how that provider can submit a claim to Liberty, and one of two things will happen. Either you'll present your card and they'll say "Oh, okay great we'll submit our claim." That happens in the majority of cases as cost sharing programs have become fairly well-reputed as easy payers to work with and they are familiar as more and more people are moving into these models. Alternatively, if the practice doesn't want to submit that bill directly to Liberty, then just as you said the consumer can just pay cash and you get a statement and submit it for reimbursement directly yourself.
Pedram:
Yeah, and what's funny is most practitioners I know actually have a cash discount. It actually ends up costing the system even less if you do it that way and float the money for a month.
There's these atrocious stories where we used to deal with these labs all the time. I'd say "Okay, here's the stuff I need you to get. My uncle doesn't own the lab, I just need the data, right? I just need to know what's going on with you. You can submit your insurance card, but let me tell you that sometimes the non-covered amount and the co-pay and all the other crap you are going to get billed for, is about 3 times as much as the cash discount rate that you could pay up front. So I don't know how to advise you, but maybe you want to just pay cash." And then do that.
Tom Blue:
You are exa… Labs are probably the most screaming example of where just paying cash is so much better than exposing yourself to whatever the bill is going to be.
Pedram:
That's it. One of the things that people in my world want to know is "Hey, will this pay for my functional medicine stuff? I go to a doctor who wants to look at saliva and x, y, and z, and all sorts of things that are medically necessary to someone who is actually red up and actually understands functional medicine. It isn't just your run of the mill, main street GP, pharma hawk. Will this pay for the type of doctors I want to see and are there any exclusions?"
That's been a big problem with me. It's like hey, I want to go see an acupuncturist and I am paying you x amount of dollars per month and you won't even let me see the kind of doctors I want to see, how fair is that?
Tom Blue:
That was actually one of my main motivations in starting to work on this, is that in addition to all the other limitations imposed on consumers by health insurance plans just as you said, your ability to engage in a more enlightened model for managing your own health was really constrained by the fact that these types of practitioners aren't really valued in the insurance system.
Yeah, the wonderful thing is that Liberty takes a much more open position around how people want to manage their own health. As long as what you are being recommended is being recommended by a legitimate trained practitioner, they have very, very open policies. The use of naturopaths in states where naturopaths are licensed as primary care doctors, no problem. It's … That's probably one of the more exciting aspects of the way the Liberty value system works.
How Healthy Do I Need To Be To Join A Healthcare Cost Sharing Program?
Pedram:
Yeah, great. That's a big deal to most people I know who are already healthy.
Here's the other question. If this is for cost sharing on people who are on the side of health already and are healthier, where do you draw the line? At what point are you not eligible for a program like this? Obviously, if you are saddled with a lot of healthcare costs going in, you kind of ruin it for everyone else.
Tom Blue:
That's a great question and actually, probably the most common question that we get about this program is it sounds kind of too good be true. There is some very real reasons why it's not too good to be true, and you are touching on one of them right now.
Reason number one is, as I've mentioned, by law Liberty is a 501C3 non-profit so no one there is making tens of millions of dollars a years as compensation, they're not investing the money, the model is different, and so it is naturally more elegant and lean from an administrative perspective.
But the second thing that's really a very powerful advantage, again, because they are not insurance, they are not governed by the same rules of insurance, they don't have to accept everybody. About 3% of applicants are declined because of a pre-existing burden of disease that is just too much to take on by the community. It's only 3%, but if you've ever looked, as I'm sure you have at employer health plans, it's a very small percentage typically of a population that imposes an enormous cost burden. That saves the program a good bit of money.
They have another, about 12% of their members participate on a somewhat conditional basis. So about 5% have what they call a pre-existing condition. Let's say you had melanoma last year. They would accept you as a member, but they would say "This year, we are not covering melanoma-related costs. Next year, we will share up to $25,000, then the following year up to 50, the fourth year you are a full member sharing in all costs." They stair step into certain pre-existing conditions.
Then they have a program … This was actually something that struck me when I was doing my research on Liberty that I really, really liked. Is … Let's say you have out of control diabetes. They will actually accept you as a member, and they put you on what they call a health track program. As such, you would pay an extra $80 a month to be a Liberty member. They take that $80 a month and then invest it in a health coach for you. You work with that coach until you achieve the health targets that you are looking to achieve and then you are instated as essentially a full member. You no longer pay the $80 a month. Together, that's about 7% of their member base.
As you can hear, there are some special conditions to a small segment of the population, but it is not overly exclusionary.
I'll tell you another thing that is really fascinating about this health track program, is I've spent some time talking to the telephonic health coaching company that actually manages this. The graduation rate of people in the health track program into fully instated members, people who get their modifiable health risk under control and move forward as a healthier person, is surprisingly high as compared to say employer sponsored programs. The thinking behind it is that is there's something about being a part of … There's an accountability that comes with being part of a community of people that are sharing medical expenses that you don't have as a cultural element in the insurance world. It's one of the things I've become really very enamored with, the philosophical level about this whole concept of cost sharing is that it breeds a sense of accountability and mutual responsibility to one another for not being a healthcare burden if we possibly can.
Pedram:
That's fascinating because, yeah, you can stick it to the big, bad insurance company but not the people in your collective. It gives you stewardship and it allows you to be part of something.
There's so many elements to this that are fascinating. First of all, I thought that number of excluded people would be much higher because you walk out on the street and so many people are seemingly sick and obese, and all the problems we have in our culture. It's nice to hear that number. The hard line is 3% and then the model that you are talking about with people in this health coaching track … That's fascinating to me. You're getting better compliance and you are getting better, statistically, you're getting better results in this program that a lot of the programs out there- arguably most. There's very few programs that do that well, so I want to look into that a little further. That to me is something that could be really unpacked. We have almost 2300 corporations that we support with corporate wellness, and that's actually really welcome news because you are always looking for some edge.
I think to your point, there is that psychological ownership and belonging in a community that maybe is what is missing from the patronage model of Big Brother companies … Somebody paying my bills, they owe to me, I'm just going to keep sticking it to them type of thing.
Tom Blue:
Yeah, absolutely. Most of us, myself included, have cultivated a real hostile feeling towards the insurance company. Let me tell you, if I'd hit the deductible, I don't care what the lab costs. You just feel so resentful of the enormous amount of money that is sucked out of our wallets every month that you're not participating as a steward of the healthcare system in any way in the conventional model.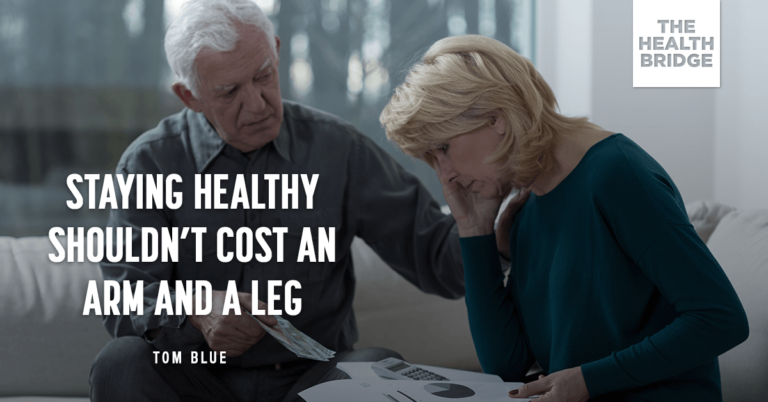 More Information About Liberty Health Share
Pedram:
Yeah, and that to me is the voice of a frustration that we all harbor. It's not pretty.
Just to kind of lay the groundwork here, how long has this been in business? Is it in 50 states? How many members? I just want to make sure it's not fly by night in that way, right?
Tom Blue:
Sure. In order to create one of these that has this exemption, the organization had to be doing this prior to 1999. You can't go and start one of these things up from scratch today. All of the healthcare cost sharing programs are very well-tenured. Those that have the ACA exemption.
Liberty has been in existence since the late '80s. Amazingly, they have never failed to pay a share-able expense. It is a surprisingly stable situation in that while their cost structure hasn't changed in the last 5 years, the ability to change it on a moment's notice does exist. Sometimes I get the question: Oh, what if a bunch of Liberty people are all out on a bus trip somewhere and the bus crashes and everyone has these catastrophic injuries, then what happens?
If Liberty wasn't for some reason able meet the needs of the community in any given month, they have the ability either as a one time thing or to simply change the monthly share amount that people pay. It's really interesting to talk to them, because in their minds … They really abhor the idea of having to change that monthly amount. I'm thinking to myself: I'm accustomed to my monthly premium amount changing about 25% a year… To the north every single year! In their world, the idea of changing that amount is a really big deal. They just haven't had to in the last 5 years, which to me also speaks to the sustainability of what it is they are doing. Clearly, if they were having financial issues, that would be a much more volatile number.
Pedram:
Yeah, very much so and that number staying the same also means that people are still respecting it. I'm not going to go see my functional medicine doctor and rack up a bill just because Liberty is paying for it now. I feel like I would be a part of a community that's on me to … It's like the old thing "It's just a rental car, let's just smash it up." No, because then the cost of all rental cars go up and that's not good for society. That kind of way of thinking is primitive and I think belonging to something can really change that.
Tom Blue:
Yeah, I agree.
Is Liberty Health Share Available Everywhere In The US?
Pedram:
Is it deployed in 50 states? Is it all over?
Tom Blue:
It is all 50 states except right now Pennsylvania. They're not enrolling new members in Pennsylvania for a reason that has to do … It's a technologically related reason that has to do with the state insurance regulators, and I would imagine that that will be resolved sometime fairly shortly.
Otherwise, yeah the costs are the same in all 50 states, which is sort of interesting. I've talked to a number of people from New York that are accustomed to everything costing more there and they were kind of perplexed as to how the costs would be the same. But yeah, the costs are uniform, and just to lay them out … We've talked about the family costs. Individuals over 30 cost $199 a month is their monthly share amount with a $500 annual unshared. Families are $299, and then $449 … Or couples are $299 and families are $449. Depending on where you are on that scheme of things, you can kind of calculate in your head what that would represent as savings. For most people, that represents dramatic savings.
Can Employers Enroll Their Employees In This Program?
Pedram:
Absolutely. Can I get this for my employees? As an employer can you actually use this for your company policy?
Tom Blue:
That's a great question. The answer is that the ACA exemption exists and applies to individuals.
From an employer perspective, if you employ more than 50 employees and you terminate your health plan, the existence of medical cost sharing doesn't exempt that company from the consequences of terminating a health plan. If you are an employer with under 50 employees however, the idea of terminating the health plan, making a fixed contribution to the employee in the terms of just increasing their pay and making them aware of Liberty Direct as an option … You can't force the employee to use that pay bonus for healthcare coverage, but making them aware. It strikes me for companies under 50 as a very, very smart strategy for containing healthcare costs. In fact, almost all of the practices that have become involved as direct primary care practices have switched their own health plans to the extent that they've had them to that model and it's dramatic savings.
How About Hospital Visits?
Pedram:
Love it.
Hospitals. Hospital chains, do they accept this? That's where the healthcare cost really skyrockets, right?
Tom Blue:
Exactly. Yeah, again, the concept of a network doesn't really exist and so whatever hospital you choose to go to … None are frowned upon. That's one of the things I … Particularly today. Until the last few years you just hadn't felt the burden of these narrowing networks of choices, but it's anywhere … Even outside of your own state. If you had to go to the Mayo Clinic for something, or whatever, that would be considered a share-able expense.
Pedram:
Love it. Love it.
This is a technical question, but it's just what runs in my head. Is there an umbrella, over arching policy? A lot of people will get underwritten by Lloyd's or something against losses beyond x amount just to have a stopgap in their risk, is there anything like that that this industry takes on?
Tom Blue:
To my knowledge there's not an insurance … Like a stop loss component to what it is to how these programs work. I'm going to say with 90% certainty that the answer to that is no.
The Future Of Medical Cost Sharing In The US
Pedram:
Okay, great.
Let's get into the philosophy of this a bit because the implications of what we are talking about here are enormous, right? It's … We are breaking the mold and the model of this mobster, gangster version of insurance, which is the middle man comes in and gets his type of thing. We've all been subjected to it for some time, right? What the implications of this are for insurance in general in America are enormous and I'd love to just hear your perspective on where you think this is going.
Tom Blue:
I tell you. There have been, in the last month or so, the Wall Street Journal, the New York Times, US News and World Report, have all written stories about medical cost sharing and how people are beginning to move in larger and larger numbers in that direction, particularly the healthier people. It is a little bit … It's an interesting thing to think about as time rolls on and as this trend continues because what that means is the good risk in the world of insurance is seeking out this alternative way of freeing themselves from the cost of healthcare, and leaving behind the bad risk. It really does … I'm sure, I've actually gotten the sense … A couple of these stories have taken on the flavor of certain states really being concerned with the fact that "Oh my gosh! Our exchange plans are going to be stuck with all the bad risk while all the good risk goes over here and saves a fortune in medical cost sharing programs."
Now, grant you in all of the US the numbers that I keep reading and published are about 500,000 are in cost sharing. It's not millions and millions of people yet. It's very early days in the grand scheme of things, but it does beg the question as to what happens over time when we separate the good and bad risk. I don't know.
What's interesting is that … I've talked to the folks at Liberty about this as well. This cost sharing exemption exists by way of … By virtue of a religious exemption, which in the history of the country apparently these have not been overturned and it would take an act of Congress to get rid of the religious exemption. Interestingly enough, it was one that was originally created by Democrats as part of the ACA legislation and would of course, presumably be supported by Republicans. It's not something that seems to be in particular political peril. If you think about it, how in the world do you justify overturning something like this so that health conscious people can spend out the nose for everybody else who is not health conscious? The messaging of that doesn't sound very good. It's not something that the Liberty folks lose a lot of sleep about.
Pedram:
Although, you know what's funny is I distinctly recall being offended when listening to Obama talking about how he was pitching the Affordable Health Care Act and they kept saying don't worry about it because we are going to bring so many more healthy people into the fold that it is going to balance it out for the insurance companies because they were so afraid of the risk pools and all that, that Obama was guaranteeing to deliver these sacrificial lambs in all these healthy people that end up paying for and evening out that cost.
I think that this conversation will be had again, and I think this is a conversation for society because really … There's the person that is born with a congenital disease, and I feel like we need to take care of everybody and we are our brothers' keeper, and people have diagnosable illnesses that we should support. For me, if someone is just killing themselves with Doritos and terrible food decisions and really just making it a lifestyle issue and taking on a lot of bad decisions, I don't feel like I want to pay for that, right? I know a lot of people feel the same way. This is going to open up a very interesting, significant debate about what philanthropy and what healthcare and what are social services going to be about in the ensuing decades as healthy people start opting out of the sick care system and moving over to stuff like this more often, in my opinion.
Tom Blue:
I think you are exactly right. It is going to be fascinating to watch as the numbers continue to grow and see where it goes.
Pedram:
Listen, I love what you are doing. Like I said, I'm fascinated by this topic. I think it is one of the solutions that needs to be there. There's obviously self-care, there's lifestyle, there's good functional medicine. There's all sorts of pieces to this puzzle, but who cares the healthcare bill is the healthcare debate right now. The healthcare debate should be how should I live and how should I stay healthy? This whole who pays the bill financing piece has really crowded out the conversation. I think that this brings some of the noise in that channel down, so I really appreciate where you are coming from with this.
Tom Blue:
Well thank you.
Where To Find More Information About Liberty
Pedram:
I know you gave me a link and we made a smart link for this. It's where … I know people are going to have a lot of questions about this, so we are just going to have that link go straight over to all the information about this because I've been poking around and researching. What I ask our readers, our viewers and our listeners to do is really just look into all of it and really compare it out and do it. I'm moving over with my family, I think I'm going to bring my whole company over on this. I've done my due diligence, but I ask you to do yours type of thing.
Check it out. We're going to have a link at well.org.liberty so that you can see for yourself if it is for you. I highly recommend looking into it.
Tom, I'm really, really impressed with what you guys have been able to put together. I think that it is a bold move in the climate that we live in and someone had to do it and I salute you for doing it.
Tom Blue:
Thank you very much. Thank you very much. It's a pleasure to be on the show. I'm so glad to have finally got to do this with you in person.
Pedram:
Yeah, this is great. This is great. Ladies and Gentlemen, Tom Blue. We are going to figure out how to keep this conversation going. Let's come up with solutions, let's be healthy together.
I'll see you next week.