Table of Contents

[Hide]

[Show]
Recent months have seen an absolute explosion in the interest of the general public in the brave new world of cryptocurrency – that mysterious and fascinating technology that has out of nowhere blossomed into a 500 billion dollar value store. Bitcoin, the original crypto, pioneered a way to electronically verify transactions and thus cut out the economic middlemen: the banks, regulatory agencies, and governments, and created a secure way to create a true peer-to-peer economy. The markets are still incredibly volatile – with January marking the sharpest downturn in the field in months, as 300 billion dollars have rapidly been cashed out, rapidly deflating the price of nearly every currency – but long-term thinkers are not panicking at all. The reality is that the innovations proffered by blockchain technology mark a turning point in the collective conception of value storage and wealth. They are one new avenue in the Roadmap to Prosperity.

Though many current projects will fail, and others not yet dreamed of will succeed, the underlying tech is no less revolutionary than the internet itself.

There is only one big drawback: each Bitcoin takes countless kWh of electricity to generate. What makes crypto reliable as a transactional medium is that every coin is secured by millions of line of advanced algorithmic verification, thereby ensuring that there can never be counterfeit coins or double-charges on purchases. But this digital currency comes with a hidden cost.

The verification process that happens with every bitcoin transaction, no matter how small or large, is called PoW (Proof of Work). An entire cottage industry of so-called 'miners' have constructed advanced GPU setups to process these transactions and as a reward gain a fraction of a percent of the value of the transaction they processed — nothing compared to an entity like a bank or Paypal, but enough to make the business incredibly lucrative. All of these miners require power, and it is estimated that as of 2018 there is as much electricity devoted to cryptocurrency mining and processing as is used by the entire country of Nigeria. Less than 20 million people worldwide are using this cryptocurrency today. Imagining that it continues to grow in popularity and value over the next few years, these already significant energy costs are potentially going to spiral out of control, turning what could be the primary instrument of the green evolution into an obstacle in our journey towards a healthier, sustainable planet.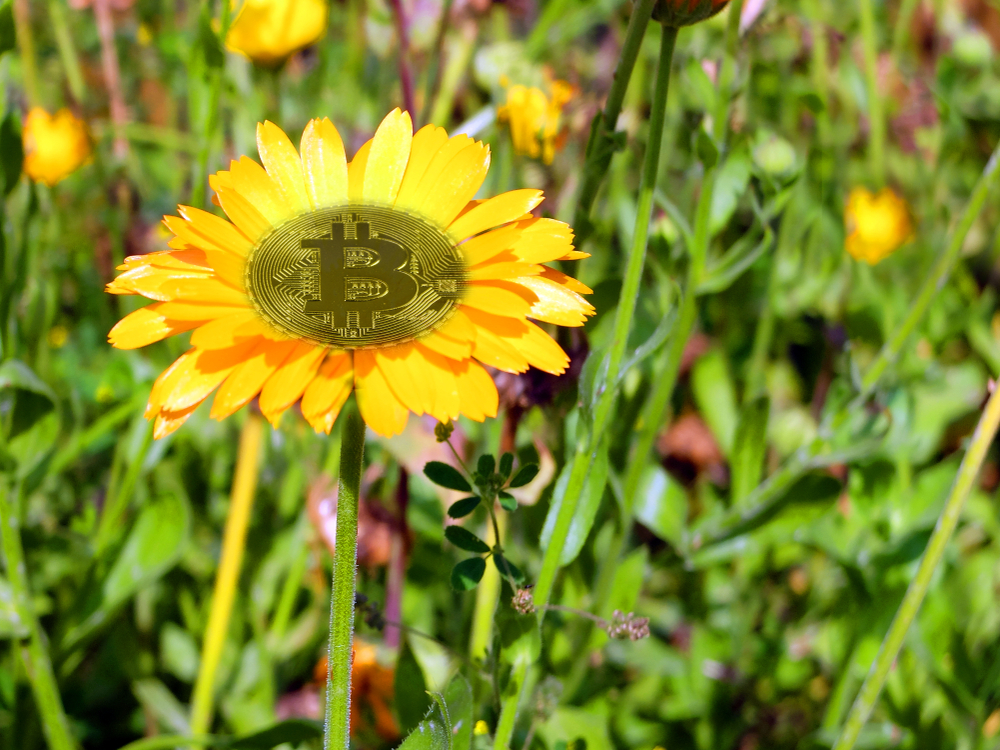 THE GREEN POTENTIAL
Despite the current challenge of exorbitant energy costs, it is hard to overstate just how essential blockchain and the technologies that spring forth from it could be in the long-term project to design a world that is cleaner, greener, more equitable and more holistic.

By giving everyday people a way to store value in an anonymous, decentralized way, the block undermines the coercive power that has been monopolized by profit-driven banking institutions and corrupt, industry-beholden central governments.The potential applications range from generating currency by sharing solar power within a neighborhood microgrid to earning tokens for composting, gardening, and engaging in environmentally-sound activities. Already there is well over 1 billion dollars invested in 'green' tokens like SolarCoin, Grid+, EnergyCoin, GENERcoin, Ensteinium, HempCoin, or the Earth Dollar, and WIRED magazine recently predicted that 2018 "will usher in the green cryptocurrency revolution."

THE RENEWABLE BLOCKCHAIN

One obvious solution to the energy-use problem of cryptocurrency mining is utilizing renewable energy like solar, wind, geothermal or hydro power to supply the mining operation. Nearly half of all cryptocurrency mining is presently done in China, where it is not hard to imagine whole warehouses full of mining devices in Hubei province powered by the nearby Three Gorges Dam. Nor, for that matter, is it difficult to imagine a dozen mining rigs lined up near the solar panels at a hippie commune in sunny Mendocino county. Even if the coins themselves remain frustratingly energy-inefficient to obtain, we can mitigate that problem by using sustainable technologies to generate that energy.

Even better is the prospect of improvements to the nearly decade-old Bitcoin algorithm that retain its security and reliability but maximize energy efficiency. Many are already out there — IOTA, BurstCoin, and AltaCoin are offerings already established with that aim. But the most promising development on the energy efficiency front lies in the Chia Network. It relies on a new validation system called Proof of Time and Space, which is potentially at once more secure and much less wasteful than the current standards of Proof of Work or Proof of Stake.

As the conscious capitalist movement grows into maturity, the blockchain might become one of its great allies, provided that we early adopters close the gaps and draw down the inconsistencies between our vision of a ecological future and the means we use to achieve it. Invest wisely.

Sources for this article: