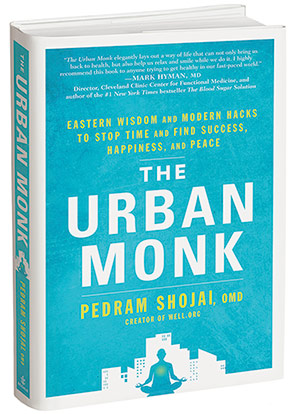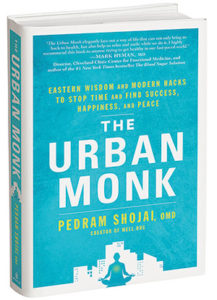 The world gets busier and more chaotic everyday. With traffic, wars, climate change, and lunatics harming innocent people, we're constantly being fed bad news by the media. Of course we're stressed out. The challenge of the modern world becomes one of sanity. How can we keep it together, provide for our families, be good global citizens, and not collapse under the "sky is falling" mentality that surrounds us?
Many have turned to yoga and meditation. Others have found Tai Chi, Qi Gong, Sufism, or chanting. All of these things are wonderful but they come with a major challenge. The majority of these practices have been developed for ascetics– people who have renounced the world and become a monk, nun, or lifelong student of one of these powerful arts. This is a longstanding tradition in the Far East and has thankfully preserved these practices over the millennia. The issue is that ascetics don't have rent due. They don't have cellphone bills, and they're certainly not trying to put kids through college. They've renounced money and most ties with the material world so that they can stay detached and contemplate the eternal. Good for them.
The rest of us are stuck. Have you ever felt guilty about not making it to yoga because the kid's soccer game went over? Do you beat yourself up over not doing your meditation practice before bed because you're so tired? Welcome to the world of the householder. In the far east, these were the people who had worldly obligations and, therefore, had to find a practical spirituality that worked for them in their busy lives.
The crisis of the modern world is that most of us are trying to force ascetic regimens on our crazy lives as householders and we build up guilt and resentment on top of the stress we were trying to rid ourselves of. Resentment? Yeah- towards your kids who always get in the way of yoga, or your spouse who doesn't understand you need time to get away for a "reset" weekend. We resent our jobs for keeping us stuck and we resent our parents for messing us up. All the while, life's stressors keep coming at us and we think the solution is going to a yoga class. It isn't.
Going to yoga is a luxury and, if you have time, you should certainly get there. The question becomes; how can you take the yoga class with you? How do we fundamentally change the way we see the world so that yoga becomes the way we see the world instead of a special event we retreat to? Much like how we would use aspirin to help with a headache once we've got it, we rush for the "yoga pill" often when its too late and the stress has nailed us.
The essence of spiritual practice for the modern Urban Monk is one of conscious awareness. How can we relax into what we're doing and not get spun out? How can we hack our environment and lifestyle to serve us and help generate more vitality?
It starts with learning to breathe. Our breath is our connection to the stillness of the Universe. Learning to tap into it and drop our awareness to our lower abdomen is the key to unlocking our personal power. Slowing the breath helps calm the mind. It pushes our nervous system out of the "Fight or Flight" circuitry of stress and into the "Rest and Digest" place we should call home. Nobody ever taught us how to breathe properly in our culture and that has splintered us away from the core of our being. The breath is our connection with the Infinite. This is the base of all yoga and meditation practices and is the foundation of a healthy life for a householder. You can access this rejuvenating space at the bank, the store, in the car, at your desk, and even on the phone. It becomes the centerpiece of our busy hectic lives and helps us stay real, relaxed, and aware. With this added awareness, we make better decisions, we conserve energy, we do better in life, and we have some enthusiasm left in the tank at the end of the day to be the parents our kids deserve.
Click here to get a free meditation track and a handful of other useful resources that will teach you the fundamentals of breathing and help you get on your way.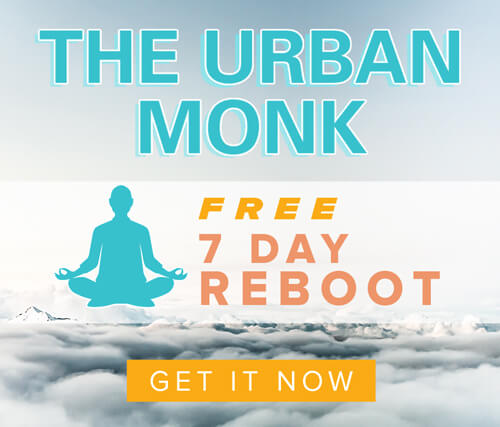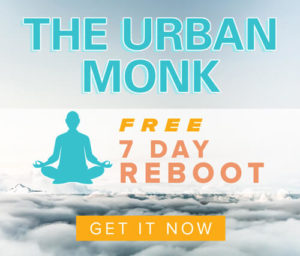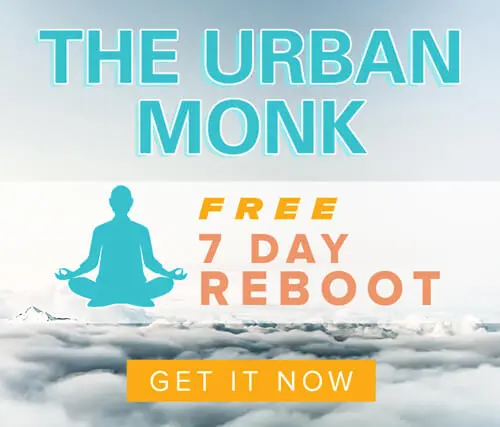 It is time to stop running for the hills and embody a practical spirituality right here and now. Become an Urban Monk and find peace in your daily life.