Got $90 burning a hole in your pocket? Here's a list of what you could buy: a decent pair of jeans, one adult admission to Legoland (sorry, you'll need $9 more for Disneyland), an off-brand 21-inch flat screen monitor from a big box retailer, or (given the right circumstances) one average-priced human on the slave trafficking market. According to human rights expert David Bales, who wrote Disposable People: New Slavery in the Global Economy and is cited by many human rights campaigns, the average victim of human trafficking costs around $90 when initially entering the market.
If that number horrifies you, congratulations, you're normal. The very idea that any number can represent the value of a human life is enough to repel most of us, but $90 insults on an entirely different level. There are more disturbing numbers. While most of us think slavery in the developed world is a relic of the shameful past, in fact it is currently an estimated $150 billion global industry, according to the United Nations Office on Drugs and Crime, or UNODOC.
Human Trafficking Is…
Human trafficking is often misunderstood and mis-categorized. The subtle complexities involved in differentiating trafficking from migrant smuggling and prostitution, for example, tend to work against efforts to protect actual trafficking victims by making it harder for nations to pass and effectively implement laws. Human trafficking as defined by the UN is the recruitment, transport, transfer, harboring or receipt of a person by such means as threat or use of force or coercion, abduction, fraud or deception for the purpose of exploitation. To further clarify, there are three core elements involved in trafficking:
The Action of trafficking – recruitment, transportation, transfer, harboring or receipt of person or persons
The Means – threat, use of force, deception, coercion, abuse of (trafficker's) power or position of (victim's) vulnerability
The Purpose – exploitation, the definition of which includes at a minimum, the exploitation of the prostitution of others or other forms of sexual exploitation, forced labor or services, slavery or practices similar to slavery, servitude or the removal of organs
Human Trafficking Is Not…
Human trafficking differs from migrant smuggling in four key areas:
Consent – migrant smuggling, while often undertaken in dangerous or degrading conditions, involves consent. Trafficking victims either never give consent or have been coerced, deceived or abused by the trafficker, thus rendering any initial consent meaningless.
Exploitation – migrant smuggling ends with the arrival at the agreed upon destination. Trafficking involves an ongoing exploitation of the victim.
Transnationality – smuggling is always transnational; that is, smugglers either transport migrants across borders or facilitate a migrant's illegal stay. Trafficking does not require movement across or within a nation's borders.
Profits – migrant smuggling profits derive from the transportation or facilitation of illegal entry into another country. Traffickers make their profit from exploitation.
It's important to note that the distinctions between consensual smuggling and human trafficking aren't always clear-cut and indeed, they sometimes overlap, making it difficult to differentiate between the two. For example, it is possible to begin a journey as a migrant agreeing/seeking to be smuggled, but then later discover deception or be subject to coercion or force in the form of working for extraordinarily low or no pay in order to pay for the transportation, at which point, consensual smuggling becomes human trafficking.
Other times traffickers may present an offer that only sounds like smuggling to a potential victim (charging a fee common with other people who are smuggled, for example), but this is merely a method or means of deception with the intent to exploit. The fact that the "fee" represents the added degradation of paying for one's own victimization is merely gravy to a trafficker. Another scenario that further complicates and blurs the line presents itself when smuggling starts as the initial plan, but along the way the smuggler encounters an opportunity that is too good to miss. If the smuggler takes advantage of the opportunity, he then ceases to be a smuggler and immediately becomes a trafficker.
Finally an important factor that may be overlooked in the relationship between smuggling and trafficking is the unfortunate fact that even when a smuggler performs as consensually agreed upon, the end result may be a benefit to the trafficker, because a smuggled migrant is at high risk for and especially vulnerable to (by virtue of illegal entry or stay in a foreign country) the tactics of a human trafficker. Because the crime of migrant smuggling often benefits the crime of human trafficking, it is crucial that countries address and implement measures and laws to combat both.
Less attention is given to the subtle and not so subtle relationship between prostitution and trafficking because of the varying approaches and laws – some permitting the practice, others criminalizing it – among different countries or member states belonging to the United Nations. There is as of yet, no consensus among nations with regard to how best to approach the topic as an effective way in dealing with human trafficking. It is important to emphasize, however, that a key element in prostitution is consent. And consent as it is defined with a clear understanding of the transaction minus coercion, force, deception. That is to say, the defining line between prostitution and human trafficking is such that the use of any of the means listed in the definition of trafficking, in fact constitutes the act of trafficking. Moreover, a child is never qualified to consent, even if those means are not used.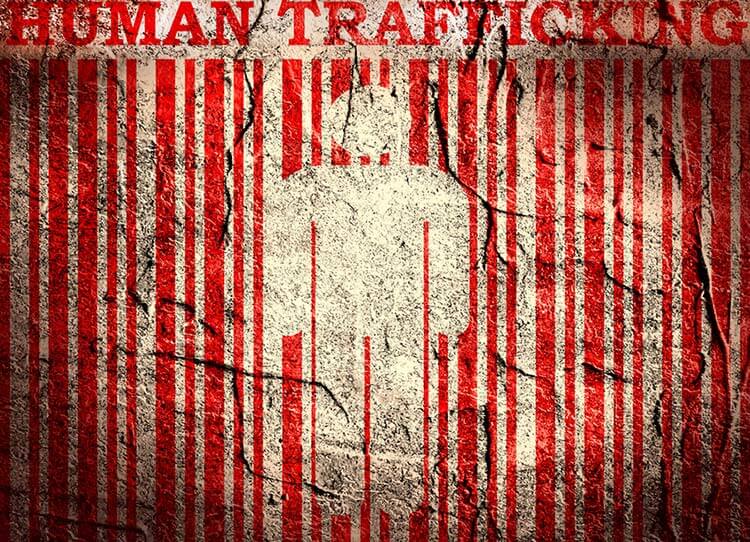 The Victims and the Traffickers
Some staggering statistics were mentioned earlier: $150 billion in yearly profits, $90 per slave on average when a victim is initially sold, and there are more that command attention. Because human trafficking is largely an invisible crime, however, and one that spans the globe, the numbers are particularly difficult to calculate and thus rely upon. For example, while there is less controversy regarding the total estimated number of slaves (between 20 and 30 million), some organizations contend that the large majority of trafficking involves sexual exploitation versus forced labor to the tune of an 80 percent to 20 percent ratio, while others maintain the inverse to be more accurate, arguing that victims and witnesses of sexual exploitation are simply more likely to report than are those who witness or are involved in forced labor trafficking. The $90 per average slave statistic is another point of contention among organizations and critics alike, as the number, while still widely cited, dates from 2009 and the method by which it was determined is a bit murky. Nonetheless, it is generally agreed upon that among those trafficked, women are consistently the majority. The UN report lists the number at 49 percent as of its report in 2014. Next in line are girls at 21 percent, men at 18 percent and finally boys at 12 percent. That is to say, females constitute a whopping 70 percent of those falling victim to global human trafficking.
Among traffickers, men represent 72 percent of the total and women are an estimated 28 percent of the overall number. While it is not surprising that men make up the majority of traffickers, it certainly isn't a comfort that 28 percent are women. Many organizations, including the UN, however, note that a significant portion of the women who rightly or wrongly take part in this heinous exploitation, do so under duress and/or as a means to gain their own freedom or even survival. Thus, from a feminist perspective, while reprehensible, female traffickers and the equally abhorrent violence they perpetrate, are nonetheless part of a larger structure of sexual exploitation, domination and abuse built, maintained by and overwhelmingly benefitting – wait for it, hold on, you guessed it – men.
Talk of feminism and the discussion of what constitutes the makeup of a trafficking victim flows surprisingly easily into the discussion of how to combat, reduce or ideally eliminate the violent practice altogether. Not surprisingly, there is no one approach or perspective. Given that virtually every country around the globe is involved in human trafficking, a variety of approaches are both used and proposed. While internal culture and norms influence different aspects of a given approach, many countries view the problem through the lens of illegal immigration, border safety and national security. While certainly these are all legitimate factors, some argue (and feminists were the first to do so) that to approach trafficking from this perspective is tantamount to dismissing the actual victim and treating the state as victim, instead. This approach, while it may lead to better national security for a particular country, does little to support the true victims in human trafficking, and likely even contributes to their continued exploitation. How?
In many ways, actually, but some simple and more clear-cut than others. For example, traffickers commonly shuttle their victims from routes of less economically developed countries to those of greater development, and victims are often easily lured by their ersatz benefactor, who dupes them with the promise of a better life in a better land. Upon or prior to arrival, trafficking victims are schooled on the grave, often exaggerated consequences of being discovered by immigration authorities and are led to believe that even a ruthless trafficker is preferable to what awaits those who are discovered to be illegally in the country. Thus, immigration laws – specifically the threat of discovery – become yet another of the trafficker's means of coercion and deception used to manipulate a trafficking victim into continued or even permanent silence.
Furthermore, lumping this enormous problem in with the already complex issue of border security – human trafficking represents the third largest and most lucrative global crime (behind illegal drugs and arms trafficking) – not only seems like an ineffective plan, but clearly and overwhelming is an ineffective plan, as reflected in arrest rates reported around the globe. Indeed, with 40 percent of all countries recording few or no convictions, and overall, no discernible increase in global response within the past 10 years, the failure of current methods and measures cannot be overstated.
Meanwhile here in America, it's another "Pleasant Valley Sunday" as we lull ourselves into false complacency, assuming this only happens in poor, undeveloped countries. Not so. In fact, of the estimated 20-30 million slaves, between 14 and 17,000-plus make their way onto American soil every year. California harbors the lion's share with three of its cities (San Francisco, Los Angeles and San Diego) among the FBI's list of 13 most notorious child sex trafficking areas and Texas has the dubious distinction of being the state with the most calls to the National Human Trafficking Hotline, 15 percent of which are from Dallas-Fort Worth alone.
In California and Texas, various transnational gangs work together to create commercial sex rings that exploit vulnerable populations – particularly young women and girls – in cities like San Francisco, Los Angeles and San Diego and transport victims across the US-Mexico border using underground tunnels. The average age of a sex trafficking victim when first sold in the US is between 12 and 14. Human rights organizations in America estimate that a runaway will be approached by a trafficker within the first 48 hours of being on the streets.
While sex trafficking gets the most media ink in America, it is by far not the only form of trafficking in which we as a nation are involved. Indeed, contrary to what most of us believe, human trafficking is all around us and flows readily – though often stealthily – right into our homes by way of what we eat to the clothes we wear (much of which – even more upscale brands – relies heavily upon forced child labor in sweat shops in China and elsewhere), to the slavery-tainted parts in our cell phones, computers and even the cars we drive.
More than 70 percent of the world's cacao (cocoa) beans used to make chocolate, for example, is grown in the Ivory Coast where slave children as young as 5 are forced to work up to 12 hours a day with chainsaws and machetes in its harvest and denied an education and whipped and beaten for working too slowly or trying to escape their captors.
Shrimp and other seafood caught and manufactured in Thailand produces more than 7 billion in exports alone, including to the United States. Slave labor in its manufacturing is so widespread and entrenched that among 188 different countries, it is at the top of the US Department of State's list of the worst offenders in human trafficking.
Fresh fruit and vegetables grown and harvested right here in America also bear the taint of slave labor with pickers from Mexico being sold by traffickers posing as migrant smugglers to pay off debts, working dusk to dawn for an average of 2 cents per pound of produce picked.
Our connection and reliance upon human trafficking is as deeply embedded in our daily lives as it is deeply disturbing to acknowledge. So what can we do?
Lots. Firstly, if you are aware of or suspect that someone is a victim of human trafficking, call the National Human Trafficking Resource Center's (NHTRC) toll-free hotline at 1-888-373-7888. If someone tells you he or she is being trafficked – believe her or him. With regard to our role as consumers, there are no easy answers and our efforts to change our daily habits in spending and diet are not likely to produce quick results, nor are they likely to make changes that occur easily detectable. But such measures will contribute to the solution, even if we can't immediately see results, we, as consumers can choose to become part of the solution.
What's more, there are organizations, both local and international, who are committed to large-scale change and to which we can contribute either our time or our money. There are also online sites that list companies who use slave labor. Spend that $90 wisely, or better yet, donate all or even a little of it toward the effort to free someone trapped in slavery.
Finally, there is education and awareness. At a minimum, without making any changes to what you buy or consume, if you educate yourself more deeply on the topic or perhaps even pass along the information you've learned here to someone else who will, they may share it with yet another who will and so on. Slowly change can happen.
The only question left is: Are you going to be part of it?