As a former professional athlete, working out on a regular basis has been a big part of my life for many years. With a wife and two kids at home, finding time to work out is definitely more challenging than it used to be. And when I go out of town, finding time becomes even more of a challenge!
Although this is the case, I always find a way to get my workouts in. The question, "How do I keep up with my workouts when I'm on vacation?" is one I have been continually asked over the years.
Today I Will Give You Examples Of How I Keep Up With My Workouts While I'm Traveling.
The first thing I do when I travel is find out what amenities my hotel or resort has to offer. If they have a fitness center, I know I can run to the gym for a quick workout whenever I can squeeze it in.
If the hotel doesn't have a workout facility, I'll take a walk around the property to see if there are any running trails, paths or big open spaces I might be able to utilize for a workout.
Once I determine what is available, I go to my calendar and look for gaps in my schedule. I then schedule in my workouts just like any other appointment. Even if I only have 10 minutes available on a certain day…I'll take it!
10 Minutes Is Always Better Than 0 Minutes!
The last time I was in Southern California, I stayed at a hotel near the water. When I went outside to check out my surroundings, I saw a big patch of grass overlooking the ocean. I knew immediately I wanted to take advantage of the weather and the view so I decided to do a bodyweight workout.
I did a simple mix of walking lunges, squats, pushups, planks, triceps dips on a bench, and sprints. I did each exercise for 30 seconds and ran 4 sprints across the small field. I repeated this circuit about 8 times, taking as few breaks as possible in between.
It was a killer workout! The best part was I didn't need equipment, and it didn't take much time. If you are lucky enough to be on a beach vacation and you want to kick your workout up a notch, try doing the workout described above in the loose sand on the beach. I guarantee you will feel the burn!
If you are a strong swimmer, you can go for a swim in the ocean to get your cardio. If you aren't a good swimmer or if you are landlocked, most hotels have pools. Swimming is a great activity, and even if you just doggie paddle you can still get yourself huffing and puffing and your heart rate up.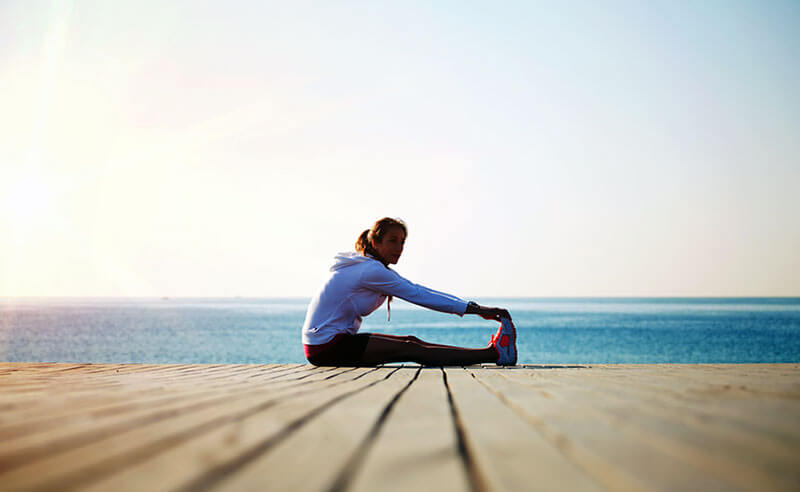 If you are vacationing close to where there are hills, you can go on a nice run or walk. Hill running and walking is a great form of cardio that will really get your blood pumping. Running and walking hills is a great way to get in an interval workout as well.
To give you an example, warm up your body for a few minutes with a light walk or jog. Once you hit the hills, go as fast as you can for 30 seconds then recover for 30 seconds to a minute (or more if you need it). Repeat this cycle 5 or 6 times, depending on how many hills you have.
Once I am done with my workout I will hit the ground to do some stretching. When I am in a beautiful warm place, I like to do my stretching or yoga outdoors.
If where you are staying the outdoors isn't an option, there are a number of portable workout solutions you can fit in your suitcase. Resistance bands are a very effective tool to use when you do not have access to a weight room.
You can even do the bodyweight workout detailed above inside your hotel room. All you need is a few feet of space. Instead of moving from place to place, you just do each exercise in the same spot. When you get to the sprints, you can either do high knees, running or marching in place, or you can run up a few flights of stairs.
Although I am not a big fan of workout DVD's, if you enjoy group fitness classes and your hotel does not offer them, a workout DVD is your best bet.
As you can see, there are a number of workout options you can choose from when you are traveling. I think the most important thing you can do is make your workouts a priority. Just as you schedule your vacation activities and meetings, do the same for your workouts.
If you do this, you will be much less likely to skip your workouts the next time you are out of town.