If you're a firefighter, soldier, or athlete, you depend on your body. If it fails, there can be serious consequences.
But a male fitness model? …Yup! When your body is your bread and butter, you don't really have any days off when it comes to fitness.
No Looking Back
Fazon Gray made it out of the tough streets of Harlem to travel the world and land jobs with top designers during New York's Fashion Week. If he doesn't take care of his body, he doesn't work. The housing projects are just a few missed workouts away.
So how does he keep his edge? Fazon uses a multi-pronged approach of fitness, nutrition, and recovery.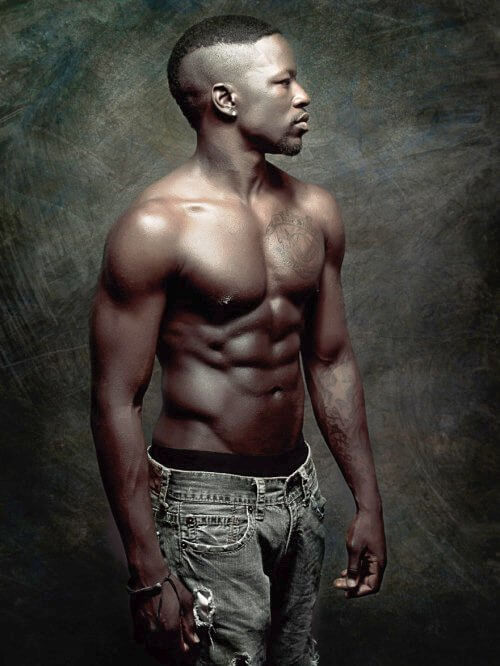 The Routine of a Fitness Model
"All these fitness models are looking for their big break. Some of them will cut corners with diuretics (to lose water), growth hormone, and testosterone injections. I'm looking at this as a stepping-stone to bigger things, so I won't take those chances with my body. I know I only got a few years to get what I can from this."
What that looks like is Fazon hitting the gym four days per week. He does a split routine where he works his pushing muscles (chest, shoulders, triceps) one day and alternates that with a "pulling" day for his back and biceps. He works his legs on a third day. He takes one day off and repeats the sequence.
One thing that sets his routine apart is the series of "animal" movements that he's been doing since his high school gym class days.
"I feel like I move better, more powerfully. I don't want to look like one of these guys who lifts a lot of weights but can't dance or play basketball. I get a lot of compliments on how I move on stage."
"I also do a lot of posing and tensing my muscles. I know it sounds kind of weird but it seems to help bring out the definition. My trainer said the old time muscle guys used to do it and called it "Muscle Control."
I get constant feedback from photo shoots. I made the mistake early on, thinking that I could slack off on all this for a few days and I'd be fine. It was brought to my attention in an embarrassing way that' the camera don't lie.'"
The Glamorous Life
Part of the lifestyle and getting ahead means that fitness models are expected to go to parties – a lot of them. "If I'm a week away from a show, I don't hang out. Period."
When Fazon does plan to go out, he makes sure to eat a piece of fruit, or an energy bar before he leaves his house, to take the edge off potentially tempting hors d'ouevres. He also carries a jug of water with him almost everywhere he goes. "I try to get in at least 72 ounces a day."
At restaurants or home, it's always chicken or fish and vegetables. "At restaurants, I tell the server to take the bread away and I let them know ahead of time that I won't be having dessert. Avoiding temptation in the first place is key for me."
"At parties, I try to limit myself to one alcoholic beverage. It's almost always tequila with lime and soda water." Why that combination? "My high school principal was also my basketball coach and gym teacher. He always said to pay attention to the science. Tequila doesn't affect your blood sugar the way other drinks will and the carbonation gets you 'buzzed' faster!"
The nightlife is a challenge when it comes to good sleep habits.
"I went through a period of time when I was doing everything right except getting to bed at a decent hour. Sometimes that was because a photo shoot happened at night with a party to follow. Other times, it was because I had too much on my mind. As I get older, I realize I can't keep it up. I now have a journal that I keep by my bed. I use it to record the good things that happened that day, things that I want to do better, and my top three priorities for the next day."
I also learned Transcendental Meditation a few years ago. I'm going to bring that out of my toolbox again."
What advice does he have for us average guys who just want to look good at the beach?
"I know it may sound like a lot. But for someone who doesn't rely on their body for employment, drinking more water, getting more sleep, cutting out processed foods, and doing some basic bodyweight exercises will get you most of the way there."
Start Training with a FREE 7-Day Reboot
Click to Join Our 7-Day FREE program that'll help you get some more energy out of your days and find more time to take better care of yourself.