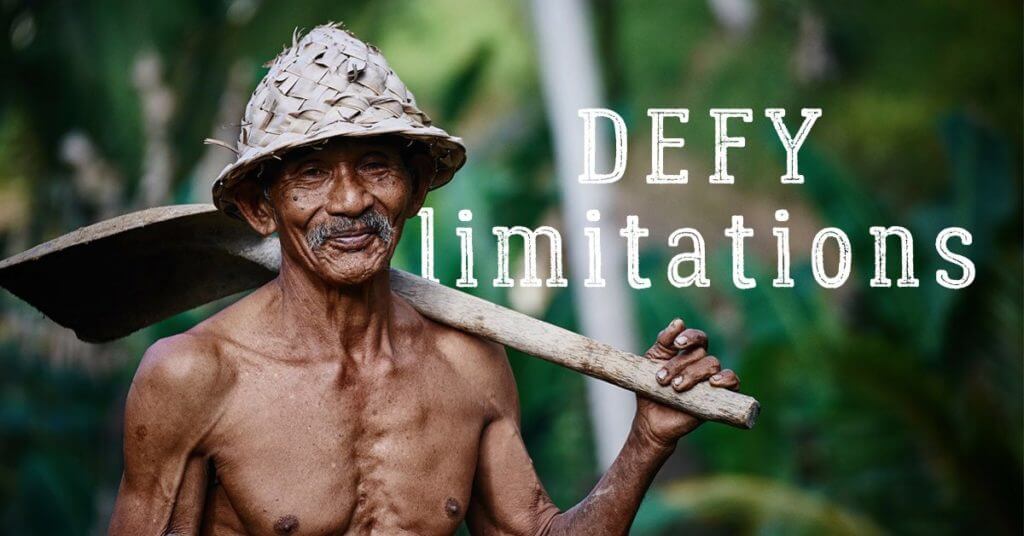 Aging: The Downhill Slide
Your fitness challenges increase as you get older. A variety of physical limitations can sneak up on you after the age of 40. Once we hit our sixth decade, our fitness determines our quality and length of life. The good news is that it's never too late to improve our odds through exercise. The thing is, walking and jogging won't get it done. Some of the popular high intensity exercise programs can cause injury in those over 50.
I want to be clear, walking and jogging have a place at the fitness table. However, they're more like the place setting. The amount of muscle you build and your ability to use that muscle powerfully, are the main courses.
One Simple Test of Longevity
The Brazilian researcher, Claudio Gil Soares de Araújo, developed a simple test of musculoskeletal strength. The subjects were 51-80 years of age. The test consisted of the subjects getting up from a cross-legged seated position and then lowering back down. Points were taken away if you needed to use your hands or knees to get all the way up or down. The inability to get and down without assistance provided a strong indicator as to how long that person was going to live.
Scary, huh?
The movements had to do with strength, balance, and flexibility. These are qualities that are little affected by the average aerobics program. The loss of muscle that hinders our mobility and impacts our quality of life as we age is called sarcopenia.
Muscle Loss
Fast twitch muscle fibers are the first to go. These are the fibers that allow someone to dunk a basketball or leap across the ballet stage. You may not worry about these kinds of activities once you're past the age of 40 but these same muscle fibers are also the ones that get you out of a chair more efficiently or help you catch yourself during a fall.
The decline of the muscles in our lower legs causes us to change our running stride as we age and make us slower.
Turning It Around
Building bigger and stronger muscles covers a lot of the bases. Stronger muscles support the spine and the rest of the core, which aids in balance. The right kind of strength training can even improve our cardiovascular conditioning.
Isometrics or "super slow" exercise are the best way to gain and maintain lean muscle tissue when we age. Exercising this way will also strengthen your connective tissue and lower stress hormones. With isometrics, you tense the muscle against an object or by lengthening the muscle and holding the position. An example would be holding a pushup position or extending into a lunge and holding the position.
Isometrics are also more forgiving than weights if you exercise with bad form. The older we get, the more important it is to avoid injuries. You'll get stronger, leaner, and build more muscle.
Super Slow exercises, as the name implies, are done with a very slow repetition speed compared to traditional resistance exercise. They can be done with free weights, machines, or bodyweight.
Simple plyometric exercises can help you maintain more of your power. Power is strength x speed. To be functional, you want to be able to move your body quickly over a short distance.
According to the Centers for Disease Control and Prevention, from 2002-2012, more than 200,000 Americans over the age of 65 died after falls. Falls are the leading cause of injury-related deaths in that age group.
The proper application of plyometrics will also mean that your reflexes improve. This lessens the chances of a fall.
You can throw a light medicine ball for your upper body or start skipping rope for your lower body. If you're a runner, do the 100-Up exercise developed in the 1800's.
The Negro League and Baseball Hall of Fame pitcher, Satchel Paige, never shared his true age. When asked how old he was, Paige answered, "How old would you be if you didn't know how old you are?"
It's not too late to sip from the fountain of youth. Just start skipping and pumping. Forget about cutting calories and losing weight. As we age, the battle is gaining and keeping muscle and moving that muscle efficiently. By the way, embrace these principles and you're also going to look better.
I don't know about you, but I think you're never too old to want to look better naked.