Emeran Mayer, MD is a sensible man. I've interviewed scores of health celebrities who're all touting some miracle solution to something people want to relieve…but not Dr Mayer. He looks at data- HUMAN data because lab rats are not the end all. His book, "The Mind Gut Connection" helps us understand the science (the stuff we actually know) of the gut and how it relates to our psyche, emotions, and even to our future degenerative conditions. We talked about the negative effects of emulsifiers alongside gluten and fad diets along the way. Enjoy 🙂
Here's the transcript:
Pedram:
Everybody talks about the gut and important in our health in general, and also in our brain health. There's been a lot of talk about the GALT, the gut-associated lymphatic tissue. There's been a lot of talk about inflammation starting in the gut creating inflammation in the brain, and all these different mechanisms. Obviously, it's starting to trend. A lot of people are talking about it. Where do you see the biggest bang for our buck in terms of looking at where we can make changes in our dietary habits and in the way we ingest foods to help be supportive of this mind-gut connection?
Emeran:
This is clearly one of the areas … It's been fascinating to me to see that this concept of low-grade inflammation of the gut, possibly related to dietary habits, that that plays a role in many chronic diseases, possibly most chronic diseases, including cardiovascular disease, brain diseases, and metabolic diseases. What we can do about it, first of all, I think we have to look at the facts. There's pretty good data right now, and it comes largely from animal studies, like many studies in this field of brain-gut microbiome interactions, that certain diets like a high-fat diet, a high particularly animal fat diet will shift our gut microbial general composition towards these so called gram-negative bacteria called Firmicutes, and it changes his ratio between Firmicutes and Bacteroidetes. These are two taxonomies of gut microbes. This shift is associated with these gram-negative bacteria have something in their membrane that is a molecule that has inflammatory or pro-inflammatory properties, so when it gets into contact with specific receptors that are aligning the guts, so-called toll-like receptors, it activates a production of cytokines, and the cytokines stimulate the gut-based immune system. This whole process can be limited to the cut, but also in many situations it transcends the gut, gets into the systemic circulation, and reaches distant organs, such as the heart, for example.
Pedram:
FREE ebook
Has Your Gut Sprung a Leak?
Don't let a compromised intestinal barrier undermine your good health.
Learn what you can do to fortify your intestinal barrier and give your gut what it needs to thrive.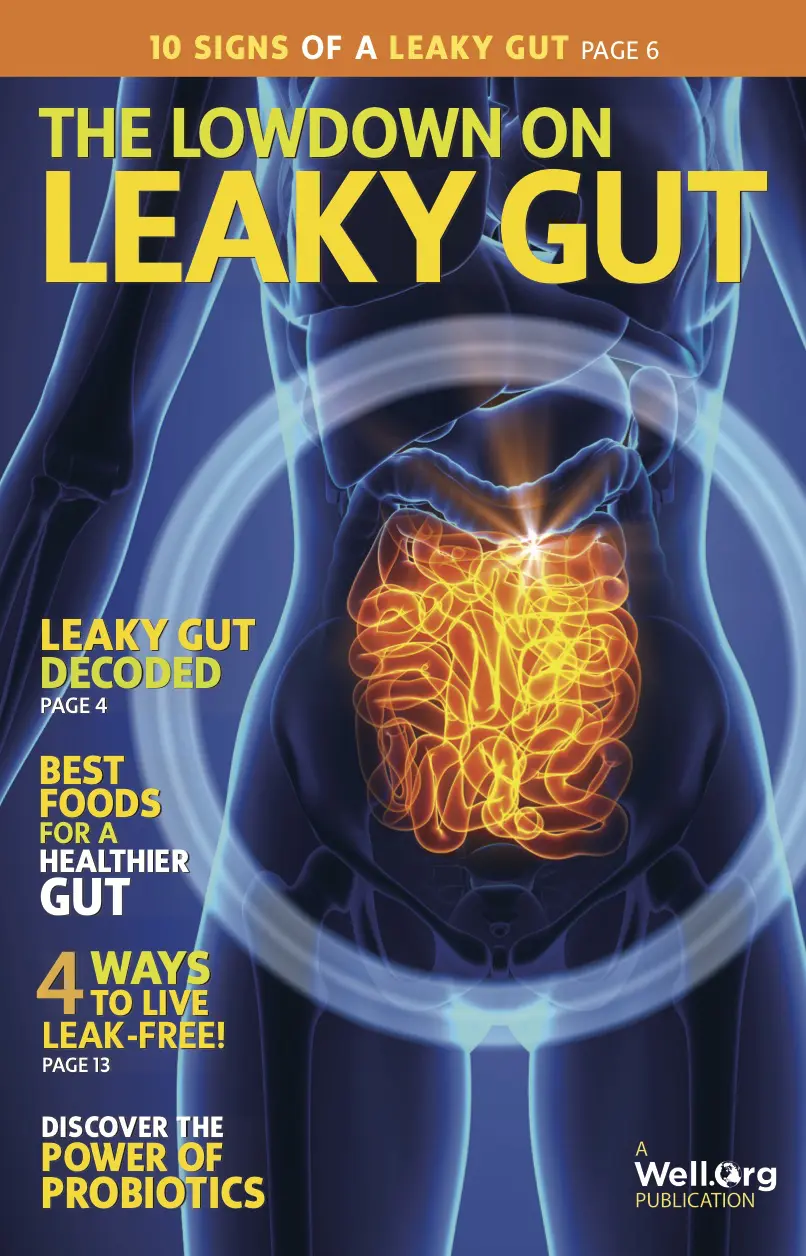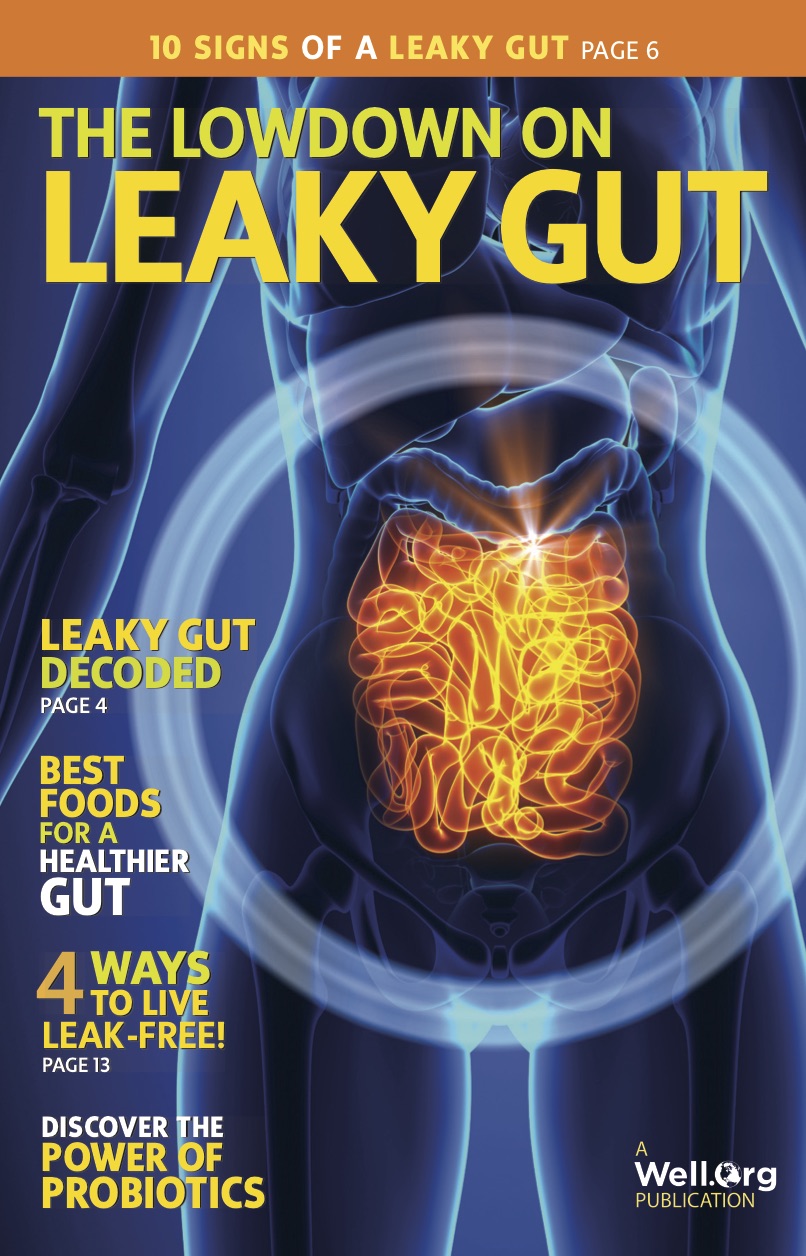 It's interesting because there's so many people that have become advocates for probiotics, and everyone's taking all these expensive pills and doing all this work to re-inoculate. Yet what you're saying is if you're having a diet that specifically favors, say, meats, you're creating an environment that's always going to enhance the growth of these gram-negative bacteria, which are going to have consequences down the line.
Emeran:
It would be a diet that is rich in meat products. It's really the fat, and that's something we know from the animal studies. I'm not necessarily talking about human studies. It appears that high fat, high sugar, that a variety of food components can induce a similar kind of response in the gut. Animal fats, emulsifiers that are used in practically all the processed foods that we eat, even artificial sweeteners, high sugar content of the food, they all seem to converge on some … It's not identical, but on some process, with the end result of this low-grade inflammatory response. It was called metabolic toxemia, so toxemia like the toxin in your blood, induced by various dietary factors. I think a big impetus of all this thinking has really been the discovery of the gut microbiome, because before, there was talk about some phenomena at the gut level, but it left out the main players that contributed to this phenomenon.
I should mention, one is these pro-inflammatory molecules from the cell wall of these gram-negative bacteria. The other thing is the change in the permeability of the leakiness of the gut that goes along with some of these pro-inflammatory stimuli. You not only get the activation of immune cells and cytokine inflammatory mediator production, but you also get a greater access of these substances to the immune system through this increased leakiness of the gut.
Pedram:
We're having this inflammatory cascade that happens, and then it triggers the cytokines, or we have some gut permeability, which then gets the immune system involved. We're busy watching our TV show, eating whatever it was we're eating. Suddenly, there's this feeling of unease. There's this sense of depression, this sense of anxiety. All of the things that people have complaints about. How are these chemically mediated signals and immunological signaling that that happens when the body's got … There's a whole party going on in the middle. Then we feel a certain way, so this connection between the gut and the mind, we're just starting to understand it. You're at the cutting edge, so I'd love for you to get into it.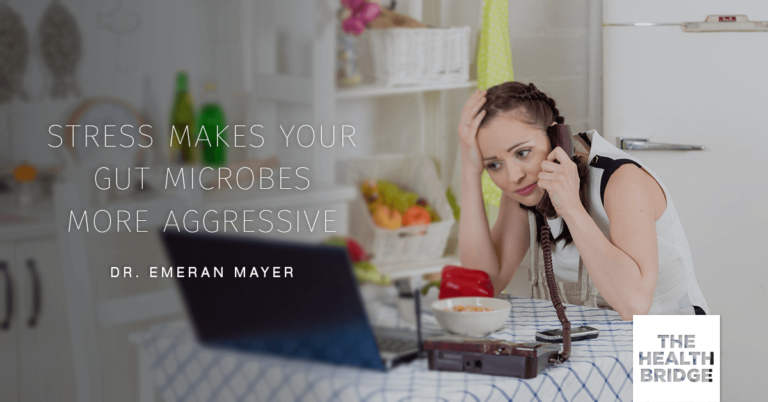 Emeran:
There's different kinds of people. There's people that have a sensitive gut to start out with, who sense a lot of things. They eat the wrong meal, and they don't feel right, or they feel there was too much fat or butter in their meal, and they feel bloated for a while. Some people actually eat these unhealthy things because temporarily it will suppress the stress system of the body, so that's the whole concept of comfort food. When you're stressed, you eat exactly the things that are bad for you, and then induce these inflammatory conditions. There's also people that are completely oblivious to these gut sensations, that they put stuff into their [kulic 00:10:37] unaware one day. We often see this amongst professionals. You have these lunch meetings. You don't even know what you ate if somebody asks you after the meeting, particularly if you had to speak or answer questions. You wouldn't even know what you ate during that time, and what was in it. Some people are completely oblivious until years or decades later, they come down with a breakdown of some organ systems like coronary heart disease. What we know less at this point, does it also contribute in the long term, in vulnerable individuals, to the onset of Parkinson's disease or even Alzheimer's disease? I think there's two types of people: the ones that are hyper-sensitive to start out with, they're usually very conscious of what they eat, and they often fall prey to easy recommendations that are in the lay press and the lay media, that if you eliminate this part of avoid this thing, it will take care of all your symptoms. I know, because I see a lot of these patients, many of whom have gone through these elimination diets, the symptoms are still there in many of them. It's a good thing to be more sensitive to these stimuli. On the other hand, I think you're much more likely to fall prey to advice that changes every couple of years, depending on what's a fad at a given time. There's no question. We know this from animal studies. We know it from the existence of all these pathways that link our gut and its microbes to centers in the brain that
regulate emotion, stress responsiveness, that there's a very close relationship. I think, as humans, we have one part of the brain that animal models of these mice and rats don't have. It's a very highly developed prefrontal cortex that can suppress things or it can amplify things. It can generate memories of these experiences, which makes the whole thing a lot more complicated in humans.
Pedram:
Yeah, it certainly does. We're so on the go, and we're eating and running and hardly chewing, and so there's so many factors that could get in there. Was it the cellphone bill that came in that was too much or the lunch that I ate that just got me thinking this way? It's hard. We're not really good laboratories because we have so many things going on. You mentioned a lot of things in there that are incredibly relevant to my audience in particular. I know a lot of people out there doing elimination diets, and for a lot of people it works. You eliminated a number of things. You wait, you see what you reintroduce, you come back, and you say, "It turns out my body doesn't like dairy." Great. That's a certain amount of information. It didn't cost much to get it. What's happening with the people who you're alluding to, that have tried these things and still have their symptoms? How far down the rabbit hole does this go?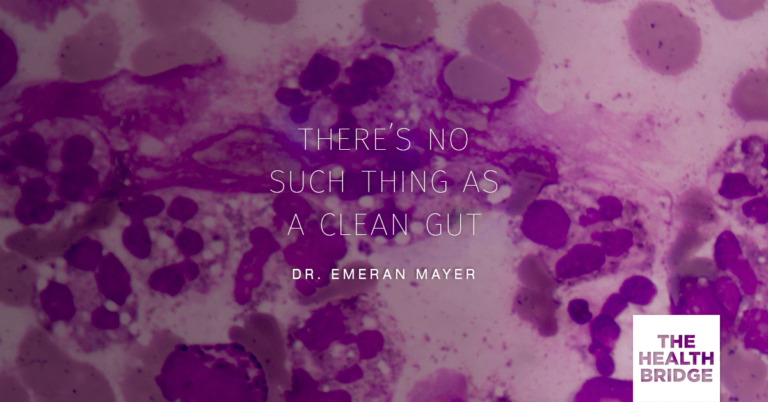 Emeran:
There's really different scenarios. As you say, there are certain diets, like for example, for irritable bowel syndrome, the so called FODMAPS diet that eliminates a lot of plant oligosaccharides, complex molecules, carbohydrate molecules. If they eliminate those, they will feel better. The problem is with this diet, it's not a long term solution because you're basically depriving your gut microbes of their most essential food supply, which a lot of data now suggests that the greater the amount of these complex carbohydrates from plant sources, which we also call the fiber content of food, is actually one of the major factors that gives you a healthy microbiome by increasing the diversity and the abundance of microorganisms that live in your gut. If you reduce that amount of the diet, it gives you short term relief, because it lets gas production in your colon. Patients have a hypersensitive colon, and they feel better because there's less distension. I personally tell patients it's not a long term solution. They really need to go back to what we think is the healthiest diet, which is one high in plant-based food components of a large variety. Anything that restricts that unnecessarily, I think, is not advisable in my opinion. There's been other trends in the past. There was, for a while, the concept that many patients with these chronic gastrointestinal symptoms, but also other often co-morbid conditions like fibromyalgia, chronic fatigue, loss of energy. The high sugar content of the diet would induce this state of chronic yeast infection, a candidiasis in the gut. We know now that that's obviously not the case because, unless you have some serious conditions in the gut that impair its contractions and its transit, its ability to move things through, you don't really develop candidiasis, or this chronic yeast infection. I've seen many patients, 10-15 years ago, that went on this diet. Typically they get temporarily better. They don't stick with the diet because it's too restrictive, and then the symptoms are back. I think what's much more important is find a realistic diet that is what we know now is optimal for the health and the diversity of the gut microbiome, and eliminates only very specific, and this can be very personal. I always tell patients, "You are the one who has to find out what part consistently causes your symptoms," and that may be worthwhile first eliminating, and then reintroducing back in a smaller amount. This individualization of the diet is a much better way to go.
Pedram:
It's hard. The tabloids hate that, because the tabloids are trying to tell you the three things you can do to cure everything, and it's not reality. At the same time, people are suffering. If someone has had relief with the FODMAP diet and is now stuck in some overly restrictive paradigm, then the question becomes, I don't want to go back to that, so are we talking about fecal transplants? Are we talking about aggressive interventions? It becomes a really challenging proposition to get into the actual therapy on these things. I'd love to hear, what do you think of fecal transplants? Do you think they're a bit too much?
Emeran:
Currently, the only condition that fecal transplants have really, unequivocally demonstrated to be highly effective is the treatment of a specific colitis related to this organism C. difficile. It develops after antibiotic treatment in a relatively small percentage of patients. The certain risk factor for developing this, including a decreased diversity to start out with of your microbiome. In that condition, there's absolutely no question that there's both a cure or a dramatic relief of the symptoms and the pathology if you transplant a stool sample, or if you … There's various ways of delivering fecal microbiota or a consortia of micros that have been isolated from fecal material. That's been a really dramatic impact on this often life-threatening disease. The disappointment has come with many of the other trials that people have initiated based on the success. Often the results have not been published. Sometimes they are equivocal, like in inflammatory bowel disease, some studies show a positive effect, others no effect. There is studies going on, for example, in autism. Often, patients embark on those therapies themselves because they don't get it from the medical system. There's all kinds of instructions on the Net to do a fecal transplant yourself. I think the last word on this is definitely not out yet. There is a possibility that it may work in some patients with insulin resistance, metabolic syndrome. I wouldn't rule it out completely that if you treat very young infants that seem to be developing autism spectrum-like symptoms, that this may be beneficial in preventing the development of the most serious consequences, but the word on this is definitely not out. There's ongoing trials, and in IBS it's the same thing. There's no published study yet that shows that there is a significant benefit for the patient. At the moment, great news for people who suffer from antibiotic-associated C. Difficile colitis, but it's still a waiting game for all the other indications.
Pedram:
One of the things that I feel is coming out here is that you have this real measured senior physician attitude towards all this, which is: Look, it's data-driven, and let's wait and see, and we're going to try to figure this out. I think a lot of the press out there and a lot of the people are quick to jump on early results and start talking about miracle cures and everything being a panacea for everything, so I appreciate your measured stance on this in saying let's know what we know and know that we know it before we go recommending it to patients, because there's a lot of noise in the channel.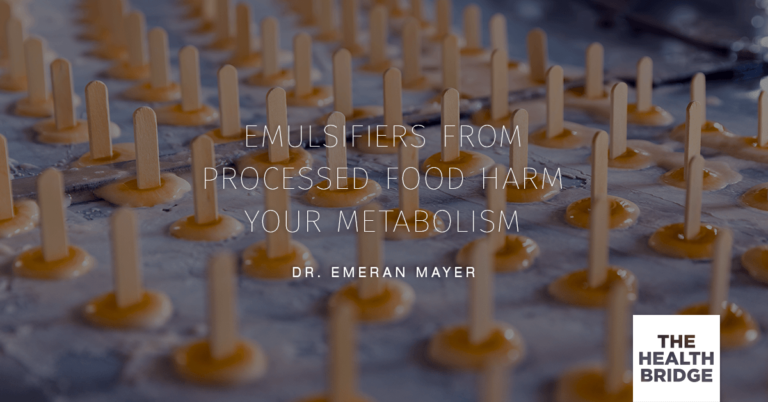 Emeran: There's a phenomenon ongoing now, which I find in some ways fascinating. There is people like myself. I've worked in this area for a long time, for several decades now. I've seen fads come and go, and I'm sure this currently will not be the last one. Then there's a parallel universe of a lot of physicians, a lot of non-physicians. Some are involved in healthcare, sometimes involved in just medical book writing. That can be summarized as belonging to the Functional Medicine domain. It's interesting. When you go to these meetings, a lot of very fascinating ideas are being presented, but as opposed to the medical system or to somebody like myself, there's much less rigor in saying, "Are there actually convincing, controlled, randomized controlled studies that have demonstrated this is really true?" Often, speakers at these meetings, they take data from animal studies and blindly extrapolate this to humans, which I've learned is the hard way, is almost never the case for complex diseases. It's never really valid. I don't like to discredit Functional Medicine. I think they're coming up with great concepts and ideas, and they've become very popular, much more popular than my measured talk about what we know and what wedon't know. What you'll never underestimate is the power of the placebo effect. Many of these things that people do, and that's also a demonstration of the close mind-gut connection, the placebo effects are extremely powerful, particularly in terms of gastrointestinal symptoms and feelings of well being. If you read something that's very structured, that gives you a detailed dietary plan, it will decrease your anxiety. It will create this placebo effect, and in at least 40, maybe 60% of patients, there will be a benefit. You could say, "That's fine. It doesn't really matter how people get better," which I think is an acceptable attitude, but it's a different thing than saying this particular intervention or this particular diet or eliminating this from my diet is specifically causing this. That's hard to sell in the media frenzy about novel diets and miracle cures. There's a lot of things. I'll give you one example. This concept of the clean gut, which is a book title, is a contradiction in itself. Your large intestine, with its microbes and all the process going on, is definitely never clean. It's messy by definition. Just to recommend something that would give you a clean gut is something completely in contradiction to whatever we know about the function of our digestive system. There's many other examples like that, but people like it. It feels good if you say, "I'm cleansed inside. I do high colonics. I eat a diet that cleanses my gut. A juice diet." It's another example. This whole concept of juicing is something, it's clearly not to the benefit of your gut's health, because you take out all the fibers from the nutritious food you're ingesting in form of juice, you cause an insulin peak with all the sugar that goes into your gut and you starve your microbes because you have eliminated all the fiber products. There's many examples like that, but it's very popular. People strongly believe in these things, and they feel better.
Pedram:
I hear you. There's this very interesting environment out there where there's the discontent, and a lot of people who have not been served by the traditional model. Some studies say it's somewhere between 12 and 17 years before what we learn and what we know makes it onto your Main Street doctor's office, so a lot of GPs out there are very far behind in the science that's emerging. Then there's the wild wild west of all these doctors out there postulating theories and running with things before the burden of proof is applied to it. It's an interesting time we live in, but one thing I've seen everyone agree on is we probably shouldn't be eating emulsifiers. Looking at all of the environmental inputs that could be contributing to this, you're saying have a largely plant-based diet so that you could have an anti-inflammatory effect. You have the fibers. You have a good environment for your bacteria to thrive in there, and of course it's not clean because, by definition, it's what makes the show go on. These things that sneak in, having an emulsifier as part of some cracker that you had, having an emulsifier with your non-dairy drink, these we have already determined are not helpful and are harmful to our gut health, yet they sneak in all the time. Is that something you could say we can all agree on there?
Emeran:
Yes, I think there are certain things like these emulsifiers which basically point to the concept of the whole problem with processed foods. I always like Pollan's expression: You shouldn't eat anything that doesn't look like food, or that you don't recognize what's in it. Another advice would be you should always look at the label, what the contents are, and if there's a lot of chemical names that you don't know what they mean, that means there's almost certainly one or two emulsifiers or other additives added to this to make it look appealing or be crunchy or whatever. It's not just the emulsifiers. It's food additives in general, and that includes gluten as well. Gluten is being added now to just about everything, from cosmetic creams to virtually every food item, and you don't really know that this has been added in the form of so-called vital gluten. When people talk about this gluten sensitivity, which has also attracted tremendous amounts of attention, gluten is one of the food additives and I think we should look at the food additives in general. If you avoid gluten, you may be automatically avoiding other of these added ingredients, and that's why you feel better and have less of this low-grade inflammation going on in your gut. That also applies, for example, to the artificial sweeteners. The really groundbreaking study a couple years ago published, I think it was in Science, that showed that emulsifiers, through interactions with the gut microbes, have an equal negative effect on your metabolic state as sugar has. Even worse. When I go to faculty meetings and everybody picks up their Diet Coke and Pepsi, that article has basically not made it into the mainstream of the medical system, because the major players in medicine are notaware of it. This is clearly something I would fully agree with. The explosion of all these processed snacks and healthy snacks, when you eat them consciously, you know there's stuff in there that you shouldn't be eating.
Pedram:
Anyone who's ever baked or attempted baking can really develop an appreciation for gluten. It keeps your stuff together. It enables us to package things. It enables us to create muffins. It enables us to create things that are sightly, but it's glue. It helps bind things together, and the gut doesn't seem to like that so much. Again, gluten is trending. It's all over the place. My question to you, because this is really your expertise and your body of work is the tip of the spear on this, is now how does all this lead to neurological disease? How does this lead to all of the issues we're having with emotions and mood that might point back to the gut?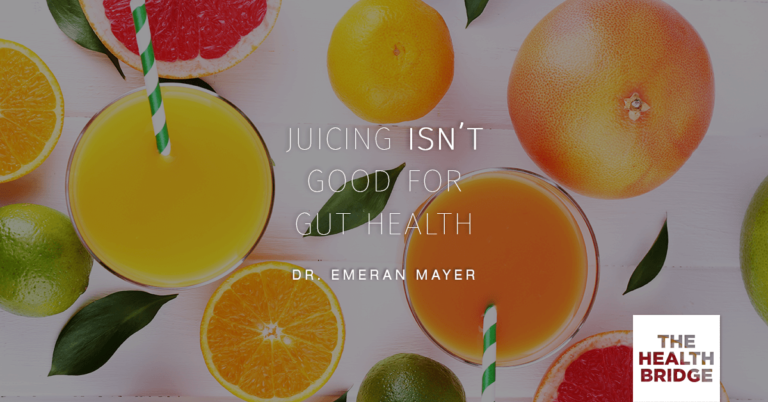 Emeran:
These are really two separate things. In terms of your [acute 00:31:00] emotion, we've known even before the microbes came on the scene that there are these close connections. For example, the body's [major 00:31:11] serotonin stores close to 98% of all the body's serotonin, which is this molecule that plays a big role in the regulation of appetite, sleep, well being, mood. 98% is stored in the specialized cells in the gut, that these cells are tightly connected to sensory nerve endings that, when serotonin is being released, it sends back a signal directly into the emotional centers of your brain, and there is many others of these types of molecules – Serotonin is just the best studied –that function in a similar way. You add the microbes to this, and the microbes, we know now, can actually stimulate the production of serotonin. The microbes that you have in your gut, that you feed whatever your diet is, so whatever you have ingested, will stimulate the production of the molecule that plays such an essential role in so many vital processes, including your emotion. Similarly, when you have a strong emotion, for example if you're stressed, anxious, we release these stress molecules into our blood. We now also know that these stress molecules make it into the gut lumen, and they act on specialized receptors of the microbes, which makes these microbes change their behavior, becoming more aggressive and having influences on our digestive well-being. It goes in both directions. The microbes interacting with the serotonin system and other types of signaling pathways to the brain, and then the brain can send signals that arise in the context of different emotional states, particularly stress and anxiety that change the microbes and their behavior and what they produce in terms of molecules that then act back on our body. In the long term, in terms of the serious neurological illnesses: Alzheimer's, severe depression, Parkinson's disease, it's much more likely that it has to do with this low-grade inflammatory state that's created by an imbalance or dysbiosis of the microbes in the gut, which we talked about earlier. If that goes on over decades, it's quite possible that in a vulnerable individual, who has a genetic predisposition for this particular disease, that it makes it more likely. I don't think the gut or the microbes are the only cause, but in vulnerable individual, it can become a contributor to the overall process, and it's a preventable contributor.
Pedram:
It seems like we're living in a very challenging time. We're in a pickle. If you're traveling through an airport, you're at the store, you're at the mall, you want to grab a quick bite to eat, chances are there's some preservative. There's some emulsifier, some garbage in there that's going to harm your gut and create an inflammatory process from the center out. Then, you're late for your plane. The taxi didn't arrive. You got all these other things going on in life. You got money woes, and so the stress from the outside also is contributing to gut issues on the inside, so it's like a two way street which points to mindful eating and general mindfulness and mindful based anxiety reduction, all these things that we've talked about on a number of shows. It sounds cute. It sounds kind of hippy dippy to a lot of people. They're like, "Oh yeah, yeah, meditation," but the science keeps pointing back to the fact that this is actually part of our very survival. If this stress runs away, you actually have the battlefield in your gut where bad things are happening, no?
Emeran:
In the book, I have compared this too, if you imagine your gut is the dinner table and your emotional state determines the setting of this dinner table. If you're depressed and sad, is it more like a funeral dinner? If you're happy, is it more like a wedding or birthday? A dinner table? Whatever your emotional state is, it will be reflected in every aspect of your gut function. How much it contracts, how much fluid you secrete. The signals go directly to microbes, so what the microbes are doing. First of all, you should be aware of your emotional state, particularly when you eat. It's easier said than done, clearly, if you suffer from chronic anxiety of depression. It's not that easy to get out of that state, but I think we should realize that with all these dietary recommendations, if you leave the mind out and if you leave out the awareness that what's going on inside your gut, depending on your environment, the emotional state you're in, that this will have a major effect on how this food is processed. If it has a more inflammatory potential and so forth. Even with the Mediterranean diet, for example, which I personally think it comes pretty close to a highly palatable and recommendable pattern of a diet, even there, many of the studies that have shown these dramatic health benefits in a wide range of areas, and those are cancer, brain disorders, and others. The authors typically emphasize that a big component of these benefits is these social interaction and the lifestyle of people in these countries where they did those studies. Being in Sicily, Spain, and if you experienced this yourself, to have a meal in that context, it's a different experience. It tastes different and it's being processed differently. I think any diet recommendation should always incorporate the mind and the either positive or negative effect that your mind state can have on the whole processing what's going on in your gut.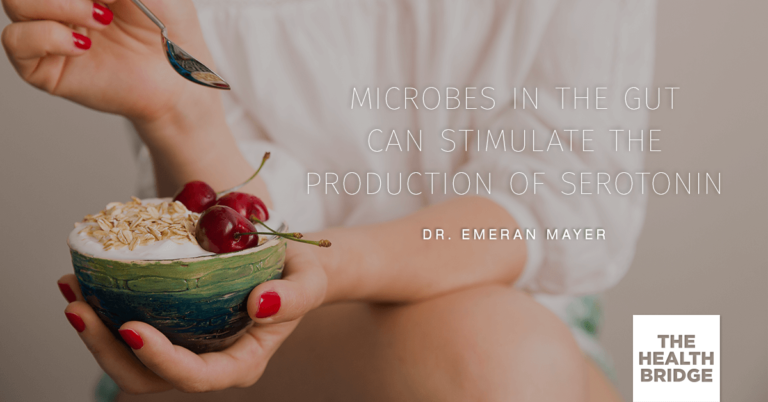 Pedram:
Amen to that. Sitting around, breaking bread, figuratively if you can't eat gluten, but being with loved ones and slowing down to enjoy a meal and enjoy each other's company. It seems like America was in such a rush to get ahead that we did real well economically, and now everyone's falling apart from the inside because we're just not designed to go that fast, and slowing down and enjoying life is something that we forgot to do. We saw the flowers, but we drove right by them instead of smelling them. It's a big deal, and I think we've all come to this. They wash up on the beach of your clinic all the time in the form of gut disease and issues that become much harder and recalcitrant to treat, but you got to do what you got to do, which is you clean their diet, you put them on specific kind of interventions, and then you start having these conversations, presumably.
Emeran:
Yes, and that alone, the conversation, providing patients with a model of the brain-gut microbiome access by itself is, my opinion, pretty therapeutic. So many of those patients, practically all of them, they come to me. They've already tried multiple things before. They've gone through antibiotic treatments. Special diets, they've eliminated gluten. I tell them, none of these things by themselves, they may help a little bit, but if you really want to get a handler, particularly young patients who still can do this, really change the whole trajectory of their life, you have to look at multiple dimensions. I get a lot of students, and that's an odd area. At UCLA, 40% of students seek psychological help in their first semester, which is an amazing number. Then I see many of these patients with digestive systems, and then you ask them if they're stressed. No, not really, but what they're doing is unbelievable. Not just academically, but also in varsity sports and in internships. No vacation. We're paying a particularly high price with our younger generations, because they are pushing themselves to the absolute limit. They're not aware of what they eat. They don't really have time to cook or anything. Don't have the money to go to health-focused restaurants and eateries. I think that's another big issue, and where interventions are really important, there are certain good things going on. Again, at UC Davis, the healthy food initiative which is trying to teach students, from the beginning, a healthy food and a healthy mind initiative. I think that's a really good start.
Pedram:
I was just with my nephews this weekend, and they were complaining – They're 6 and 7 years old – about all their Kumon homework that they have. If a 6 year old doesn't have time to play on their summer vacation, then who the hell does? It's what we're doing, and so by the time that kid gets to college, it's just layered and layered and layered, and you barely have time to eat. I think this is a very important conversation. I'm very happy that you're driving this change. The book is great. It's called The Mind-Gut Connection. Dr. Emeran Mayer. From my alma mater, ULCA, which is fantastic. I like throwing down for my school here. I'll just leave this right there. I think it's important to understand, especially for our audience out there, that there is no black and white answer. Everything is nuanced. The media wants us to feel like, oh no no no, it wasn't gluten, it was GM. No no no, it wasn't GMO, it was this. It's very simplistic and it's inappropriate to look at health that way. Our gut alone is an ecosystem. Our lives and all of our cellular functions, it's an ecosystem based understanding, and the more we understand the more we realize that it's complicated, and we need to look at it long term and be more understanding of that. I really appreciate your voice in this. The book out. The book is available everywhere, presumably?
Emeran:
Yes it is.
Pedram:
Excellent. Great book. Great read, and thank you so much, Doc, for doing the work that you do.
Emeran:
Thanks for having me on the show. Really enjoyed the conversation.