Orthopedics and a Functional Body
When you have an injury or disorder associated with your muscles, ligaments, or joints, you will most likely go to an orthopedic surgeon. The surgeon's job is to restore function back to the affected area. In many cases, the doctor believes that surgery is the first option.
Unless you're Dr. Ben Rubin.
Dr. Rubin sees his job as treating people's dysfunctions so that they can do what they want to do by moving how they want to move. This means including patients in their treatment. He became even more immersed in the world of orthopedic function when he began working with U.S. Olympic divers. When you are working with Olympic athletes, you have a strong incentive to get things right.
An orthopedist who is concerned with optimal function will let a patient know that their rehab should take place in multiple planes. Athletics and life are multiplanar.
Athletes, Desk Jockeys, and Shoulders
Athletes and desk jockeys can develop dysfunction because of the single-plane, repetitive nature of their activities. It was a revelation for Dr. Rubin when he saw that most doctors examined athletes only from the front.
Take the shoulder, for example. Swimmers and office workers will both have the same hunched shoulder posture. The muscles in the front of the shoulder and chest become tight and short, and the muscles in the back of the shoulder become stretched out and weak. The doctor needs to take into account scapular movement and rotator cuff health to reduce pain and improve function. This evaluation needs to take place by looking at the patient from more than just the front side.
Joint abnormalities will show up on scans and x-rays, but it takes skillful questioning and a hands-on approach by the orthopedist to determine what effect the anatomy is having on function. Only then can the anatomy and sensory-motor function be restored.
As a ball-and-socket joint, the shoulder is a tradeoff of stability for mobility. It has a broad range of movement because of the shallow position of the humerus in the socket. This ability to move is also what makes the shoulder relatively unstable. The muscles of the rotator cuff are the only things that maintain the strength and position of the ball in its joint. If the scapulae don't move freely, or the rotator cuff is weakened and inflamed, then the shoulder can't do its job.
The Role of the Orthopedist
When a medical intervention isn't working, the doctor needs to ask, "Did the patient do something wrong, or do I need to do something differently?"
The orthopedist must provide information for the next step that the patient must take. It's the patient's obligation to ask questions. The treatment path should be a partnership. Perceived arrogance on the part of the doctor has a chilling effect on the patient's willingness to take part in their treatment.
Sometimes it requires surgery and many times it requires just physical therapy. A doctor can help a patient understand the difference between pain and injury. If it's pain, physical therapy is the preferred course. If it's an injury, the patient and the orthopedist together decide if the damage is compromising the patient's lifestyle. If there is compromise, is the patient willing to change their lifestyle? If the injury is interfering with the patient's lifestyle and they want to regain that way of life, then surgery must be seriously considered.
Dr. Rubin believes that the medical training physicians receive isn't enough. This training can get them to be good at what they do. But they have a moral and ethical obligation to pursue additional training and to always question best practices.
Find out more at BenRubinMD.com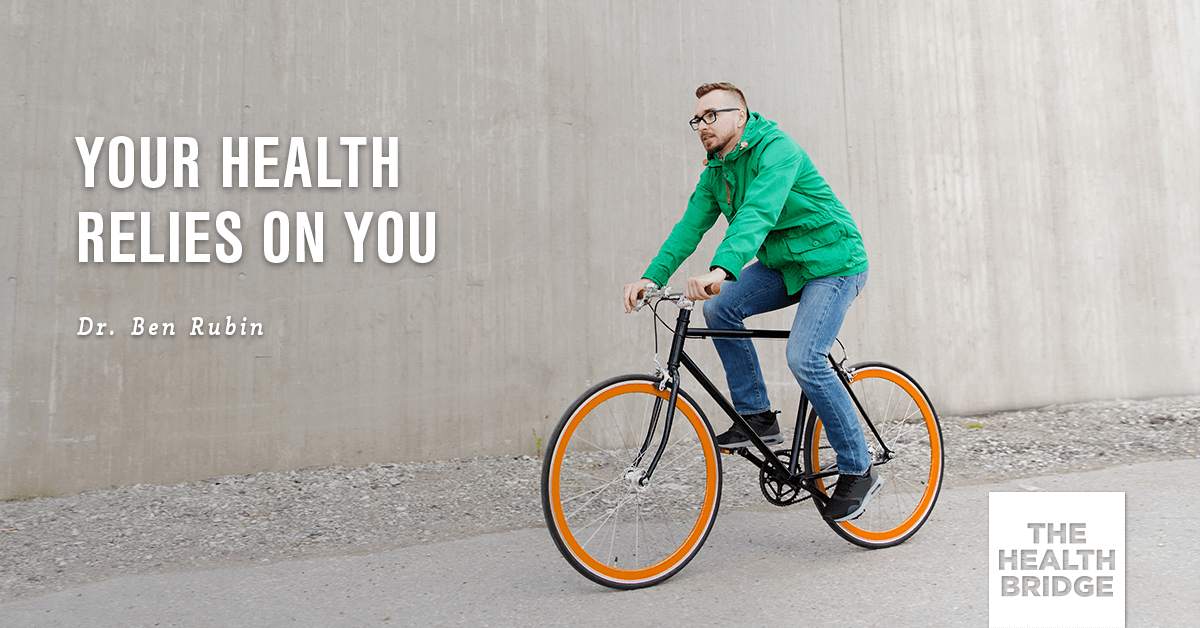 Interview notes from the show:
Pedram:
Welcome back to the Health Bridge, Dr. Pedram Shojai. Sitting here with one of my favorite people in the world. I call him Uncle Ben, Dr. Ben Rubin, who was one of the first physicians I met when I moved down to southern California, more southern California from LA. He's an orthopedic surgeon, one of the top brass in our industry. He has been team doctor for the US Olympic Diving. He was a clinical professor at UC Irvine. He's been around the block, and he's one of the who's who in sports medicine. I met him in an acupuncture session, because he was like, "Well, what is it that you do?" It was one of the most genuine, pure moments to have this top brass orthopedic surgeon come in and say, "Listen, I'm open. I'm a true scientist really, because I'm open to whatever. Let's go in. Let's do some acupuncture. Let's hang out." So we quickly became friends, and here we are. It's like the perfect Health Bridge story. East meets west. Great to see you.
Dr. Rubin:
It's great to be here.
Pedram:
Yeah. We've gone way back. I mean, we hike now. We do all kinds of things, but let's go back to our meeting, because I was just this new guy in town, and I was an acupuncturist, and you wanted to check out what it was that I did, and you had heard about acupuncture, but it was different. Right? It was different.
Dr. Rubin:
I knew very little about it, but I was having a problem with both my shoulders. It wasn't responding to conventional treatment, and the feeling was there's got to be something else out there. I've always been open to different treatments, but it was time to start discovering the treatments myself and figure out where do they fit into my treatment algorithm for that problem, and if I didn't try it on myself, how could I in clear conscience ask a patient to go through it?
Pedram:
Good man.
Dr. Rubin:
That's where we started.
Pedram:
Good man. Yeah, we started with me poking needles, and gone back and he's taken care of my whole family.
Dr. Rubin:
I'm honored to do so.
Dr. Ben Rubin's Backstory
Pedram:
It's really, really, really been great. Let's kind of set the stage a little bit and just get into your training and your background a little bit, just so we know who this gentleman is beyond this, because you are now one of the most advanced front-runner thinkers in my mind on this space of functional orthopedics, which most people don't even know what is. How did you get here? What was your traditional training?
Dr. Rubin:
One of the reasons I went into orthopedics is because I was an athlete. Not good enough to compete at the collegiate level but still liking to do it. When I finished college, I went and got a master's in anatomy at Jefferson Medical College, and then from there went to medical school, and then my plan when I graduated from medical school was that I was going to be double boarded in internal medicine and general surgery. There had been a handful of people in the country that had done that, and I thought I should be the next one. Foolish thinking. Wasn't for me, and I really … The whole idea of … I was not treating function. I was treating physiology, and I love doing technical things with my hands, but I wasn't treating functional issues, people's disability or inability to do something that they wanted to do, and that was orthopedics for me.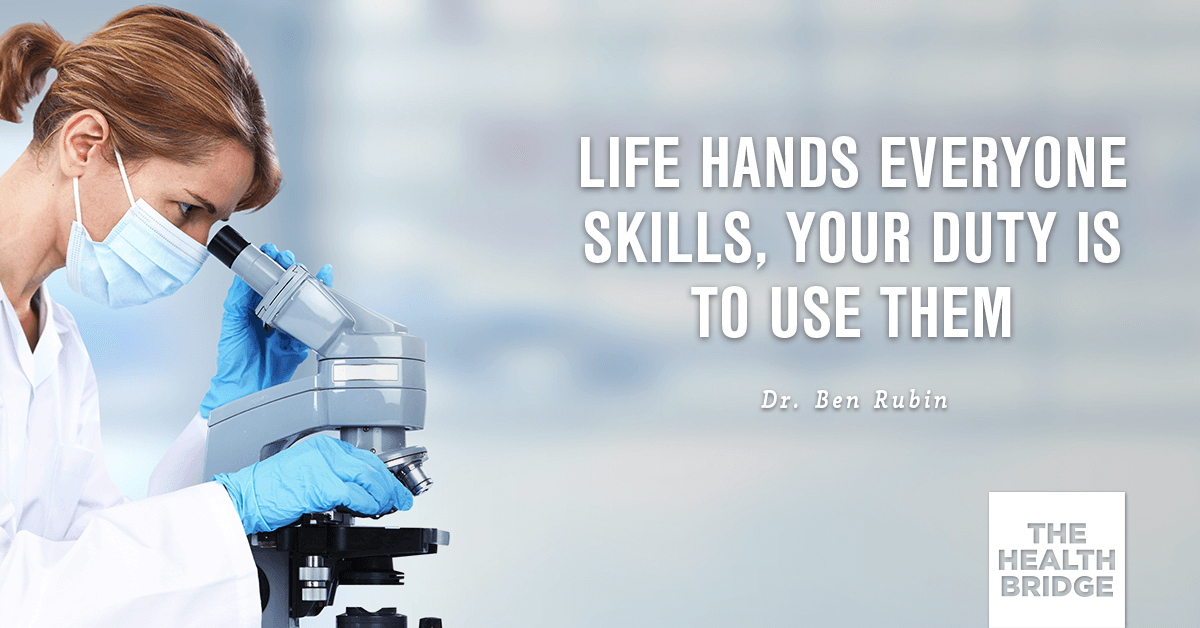 Doing musculoskeletal medicine and the surgical aspect of that is how I got into orthopedics, and then my love of sports got me … I went full circle and got into sports medicine. So after I finished my residency in orthopedics, I then did two fellowships in sports medicine. One in Boston, where I took care of the Red Sox and the Harvard teams, and then I came out to Los Angeles and I worked at the Kerlan-Jobe Clinic for a while. Then set up practice in Orange County, and here I am getting needles stuck in my shoulders trying to figure out what my next step is.
Pedram:
Kerlan-Jobe I know, handled with Lakers and they did a bunch of the LA teams.
Dr. Rubin:
At the time, they did all the professional teams in LA. The Lakers, the Rams, the Kings. They did everybody, the Dodgers, the Angels.
Pedram:
You were there with the founding fathers. You were with Kerlan and Jobe?
Dr. Rubin:
Yes.
Orthopedic Treatments for Olympic Divers
Pedram:
Yeah, Kerlan and Jobe. That's actually the only real orthopedic surgery I've ever had was Dr. Jobe, on my shoulder, or my elbow, and it was when the MRI was getting popular. You did that. Then you were down in Orange County, and I know you guys deal with lots of famous athletes and all that. We're not going to name drop. You started to see something, and you started to kind of trend in a particular direction, because yes, injuries can happen, but if my shoulder is say, front forward, or doing something weird and I keep throwing a football, of course I'm going to hurt myself. So how did you start to shift into this thinking about proper alignment and how we can set up the body and set it up for success versus failure?
Dr. Rubin:
It actually started with diving, because when I was in my fellowship, I started looking into competitive diving injuries. When I started in practice, I contacted Sammy Lee, and Sammy was a two-time Olympic gold medal winner in platform diving, who is an ear, nose, and throat surgeon, practiced in Orange County, and I contacted Sammy and said, "I'm the guy that sent out this questionnaire and I wanted to follow up on it," and he said, "You don't want to talk to me. You want to talk to Ron O'Brien. He's Greg Louganis's coach down at Mission Viejo." Sammy had been Greg's coach at the Olympics when he was 16 years old, and then passed him on to Ronnie.
I called Ronnie and said, "I'd be happy to take care of your divers. Don't know much about the sport, but if you and your divers are willing to teach me, then I'm willing to learn, and I'll just take care of your divers. If I get paid, I get paid. If I don't, I don't." So part of my practice, when I started, was to go down to the pool at Mission Viejo and sit with the Olympic coach, who was considered one of the best coaches of all time, for three or four hours at a time and learn the mechanics of diving, and at times, actually go … There's an underwater window. You can watch what's happening underwater. I was fascinated by what divers were doing underwater, because they can change the way they enter the water based on what they did underwater with their arms and legs. It was all pretty cool, so when I started seeing specific injuries, it was like, what is it about this sport that's causing these injuries to happen, and what is it about these athletes in particular that were having these problems?
I just started looking at mechanics, and I started looking at the position of the diver's shoulders as they hit the water, and not looking at them from the front, which is where orthopedists always look at their patients. You're facing the patient during the exam, so you figure out what's going on in the front, but I wanted to see what was going on from the back. Their shoulder blades weren't moving properly. In seeing that, I could say, what is that doing to the rest of the shoulder joint? Then one thing just led to another.
It became a matter of looking at how do things function and how do those functional problems create structural abnormalities? Why do rotator cuffs tear? Why do shoulders become unstable? Most of the time because the mechanics are off. Sometimes it's a one-time injury, but most of the time, it's usually because of a functional problem because muscles are too short, muscles are not functioning in the right sequence, the brain's not connected well to the muscle, and so it becomes a rehabilitation issue. It's not a great way to make a living as an orthopedic surgeon to spend a half hour to 45 minutes analyzing how somebody's shoulder moves, but it's in the best interest of the patient. If you can keep them out of the operating room, that's okay. You'll eventually see enough patients, and we're all feeding our families pretty well. We're doing okay.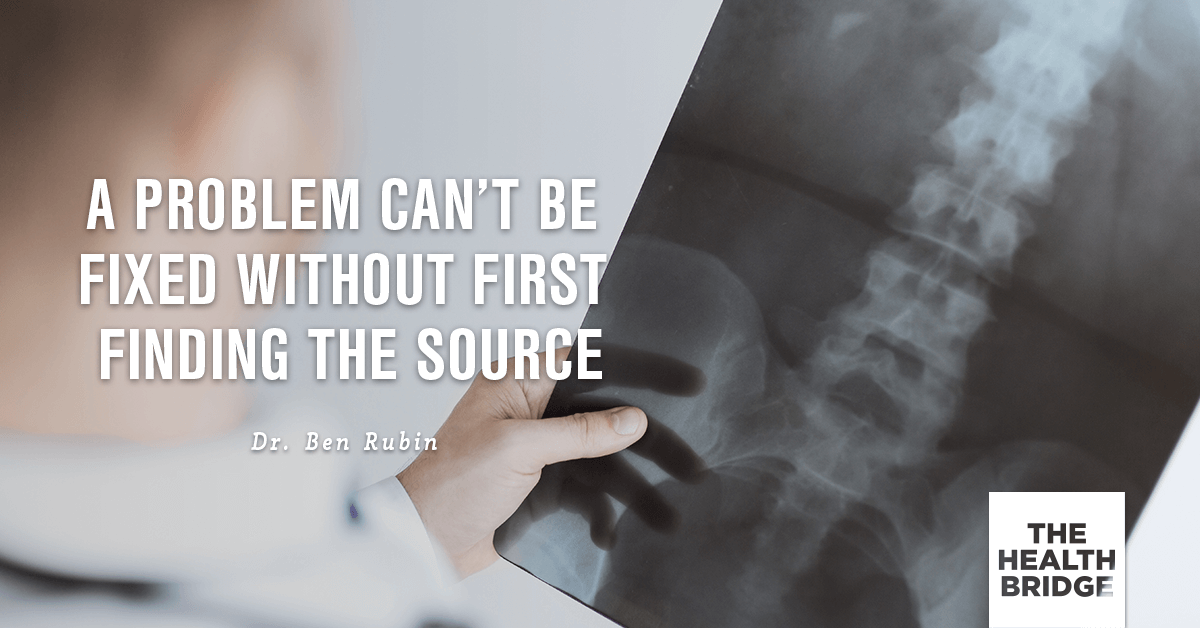 Physical Therapy vs. Surgical Procedures
Pedram:
That's a point that- I mean, so you were in my first movie Vitality, and we've all got our opinions about the healthcare system, but there is a financial disincentive to take care of the patient that way obviously, right? You get X amount of dollars, probably 10X that amount of dollars to do a surgery versus the consult. A lot of doctors just want to do the procedures that they're trained in. I don't think there's too many ethical breaches happening in this space. It's the way it is. It's like, I'm a surgeon. You're coming to me. You're going to get a surgical consult.
So you had to kind of cross over and become a functional person, and so you have a very special relationship with physical therapists, and one of the rare ones I've seen for an orthopedic surgeon, because you're just in there with the physical therapists, really consulting on the scaption and the movement and all this, because you see the value of it, and you see the value of the functional therapy that goes into that. Did that come later or did you finally realize that you needed good therapists to work with?
Dr. Rubin:
During my fellowships, during both of them, I spent a lot of time with athletic trainers and physical therapists, because if somebody had surgery, and I've worked with some incredibly, incredibly gifted surgeons, but then after the surgery, you're done in an hour or two, and then you turn the patient over to the physical therapist and they're spending hours a week trying to rehabilitate the patient. It clearly can't be only the fact that you've restored the anatomy. You still have to restore the physiology, the biomechanics, what we call the sensory motor functions. I always saw the value in that.
When I was in my fellowship in Boston during football season, I finished every day in the Harvard training room, so I would see every athlete that had an injury every day and watch their injury from day to day and know what the therapist was doing, what the trainer was doing, and got to see their recovery, and got to see the actual effect of what they were doing. It was pretty easy for me to make that transition. The difficult thing is that we're trained to fix things. I spent basically five years of my life learning how to be an orthopedic surgeon and learning the … I think as a physician, you get chosen. I don't think you decide one day I'm going to be a doctor. I think it's just a choice that is made for you. Then you are given some skills technically, and then your job is to culture those skills and make them as good as you possibly can. That becomes your moral and ethical responsibility, to get really good at doing it and take all the skills that you've been given and use them properly.
When that happens, then it all just fits together, but you spend five years of your life learning how to fix something, and then you come out and you go, "Okay, let me fix stuff." Then you do it, and then you start realizing everybody … With all the people that you fix, not everybody is doing great. Well, what's the difference? Some people are committed. Some people aren't. Some people will rehab. Some people won't. If you're critical about what you do, and your upbringing is one of, nothing is acceptable other than perfection, then when you start seeing people who aren't doing as well as you would like them to do, then some physicians will turn to the patient and say, "Well, what did you do wrong?"
I'll look inside and say, "What do I have to do differently? How do I have to treat this patient differently to get them a better result?" I was blessed to be given Olympic athletes my first year in practice, because nobody else was taking care of divers. When you're starting at that level, you better have your A-game going every time you see them and especially every time you go to the operating room.
Pedram:
Especially when there's such a strong incentive to get them back on that diving board and doing what they're supposed to be doing, so any day down is a bad day. It's like a race car getting stuck in the pit, right?
Dr. Rubin:
Yeah.
Pedram:
This person has worked so hard to get to that moment, so it's like, let me back in. Let me back in. There's a couple pieces here that I think our listeners or viewers should see, and maybe I'll even call in some graphics for this, is when you talk about the scapulae, which are on the back, please talk about how they're connected to the shoulder and all of it, because I don't think most people- Most people think, "Okay, well this is my shoulder," but the movement and the function of the shoulder is very much predicated on the scapulae, and what's happening is, I'm not an Olympic diver, and I can very easily sit in front of a desk for 12 hours a day and start doing this and then you start to see all that weekend warrior stuff because my scapulae live in a different place. I'd love to tease this out a little bit with shoulders and knees because I know those are your specialties, and this is where we're all getting beat up.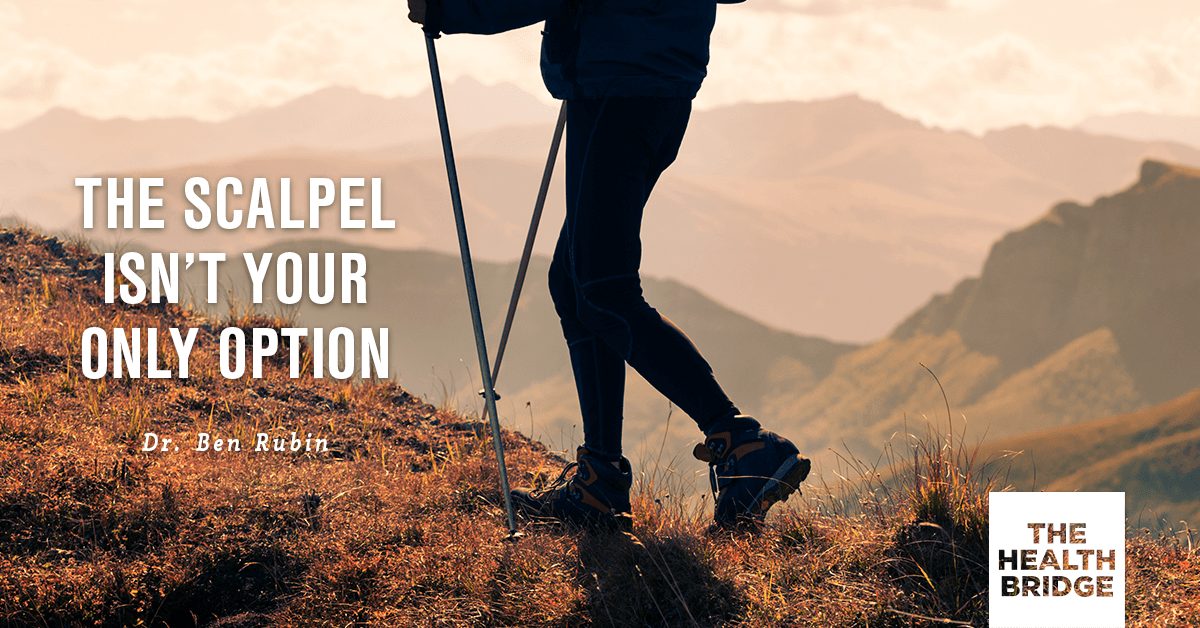 The Importance of Posture for Shoulder Health
Dr. Rubin:
Posture is a pretty important thing to me, because we basically … Sitting is a disease at this point. There are so many physiologic things. There's so much relationship now between posture and metabolic syndrome with diabetes and hypertension and obesity. I think the easiest way to think about the shoulder and the scapulae, or shoulder blades, is traditionally, people look at the bones. It's a big ball in a shallow socket, the shoulder joint. So people think that it's more like the hip, where it's a ball in a deep socket. It's not. It's really like a basketball would fit against a saucer, so it's congruent. The curve matches, but it's not deep within it, which is great, because then you can swing your arm all the way around your head and you have all this mobility.
The price of the mobility is the lack of stability because the socket isn't deep enough. The socket faces forward by about 30 degrees. There's a tendency for the ball to be going forward in the socket anyway. So now you take this poor posture where somebody's slumped forward, and their shoulder blade is tilted forward and rotated in, and it's also up a little bit, and now all of a sudden, the ball gets to slide downhill, puts the rotator cuff under more tension. It pinches the rotator cuff, and it's just a bad deal.
The ball and socket joint is classically described by orthopedic surgeons as a golf ball sitting on a tee, and that's great if nothing's moving, because it is like a golf ball sitting on a tee, and instability is if you chip the edge off of the tee, then clearly the ball is going to keep falling off. It really works more like a sea lion balancing a ball on its nose. It's not a seal that balances the ball at the marine lab. It's a sea lion. Wherever the sea lion's nose goes, that's where the ball's going to go. Well, that's your shoulder blade, and the sea lion's nose represents the socket, and the ball, which is the humeral head, represents the ball. The ball's going to go wherever the socket goes. So if you're out of position, then it can't function properly.
What happens is all the muscles in the back get very stretched out and very weak, and all the muscles in the front get too tight, and they get pulled down. So if you have a kid that sits playing video games hunched over like this, or he's doing his homework, or he's got his laptop, he's never upright. There's no reason for the structures in the front not to get too tight. It's very common in athletes, even lead athletes. Next time you watch a diving meet, mainly swimmers more so than divers, watch them walk on the pool deck. They look like apes. They're just hanging down. Some of the therapists that I work with, with young boys, will tease them and say, "You've got to make a decision. Do you want to be a monkey or do you want to be a man? Stand up like a man."
Pedram:
Is it again just because of all the desk time and all these things that are happening?
Dr. Rubin:
Yeah.
Pedram:
That'll really solve this obviously, right?
Dr. Rubin:
Absolutely.
Pedram:
Even with lead athletes, it's like I get on a plane and go to that other part of the country or world, and they're just in that kind of slouchy position.
Dr. Rubin:
It's very natural. Everything we do is sitting, so I try to motivate my patients to get up and move around. I mean, the new Apple watch tells you you got to get up. It has a little alarm and tells you to get up.
Pedram:
Yeah. So just to kind of illustrate this a little more. If my scapulae are up and out, I'm going to over-exaggerate this. My shoulder's not in position. So now, every time I come to raise it, I lack the mobility and it's kind of out of the socket, so now I'm going to try to do something crazy like lift some weights or swing a baseball bat. It's not positioned correctly biomechanically to be able to stay in that socket because it's such a loose …
Dr. Rubin:
It's still within the socket, but it's not being centered within the socket, so if we just do something very simple now. Just go ahead and slouch. Just take your right arm and lift it up as far as you can, and you get to a point that you can't lift it anymore. So now bring it down, and now just lift your chest. Now bring your arm, and now lift it.
Pedram:
Untuck my shirt a little.
Dr. Rubin:
You now have more clearance, so the reason that you stopped here is because your acromion, which is the tip of the shoulder blade, is tilted down. What's happening is when you bring your arm up, the bursa, which is a little lubricating sack in the rotator cuff, are hitting underneath that bone, and it physically can't get there. It gets pretty uncomfortable if you're doing it. I don't cure patients by telling them, "Pull your shoulder blades back and down." Ultimately, that's where I want them to be, but instead of thinking back there, I just want them thinking right here. Just lift your chest.
Pedram:
Chest up.
Dr. Rubin:
As soon as you lift your chest, your shoulder blades just drop. They tilt back. They rotate down.
Pedram:
Great.
Dr. Rubin:
They're in position. So what I tell patients is, anybody I see with a shoulder problem, if I think there's a postural component to it, and sometimes even if I don't, what I tell them to do is when you're sitting and driving, keep your chest facing your windshield, not your pedals. They're going to forget that, but in southern California, as much as we stop and go, every time you come to a stop, put a post-it somewhere on your dashboard. Every time you come to a stop, just lift your chest, and then you'll sit there at the light. You'll listen to the music. Phase out, then you're back down.
When we talk to patients about doing exercises, and we say, "I want you to do this program," and they say, "Well, I don't have time." You have a minute 60 times a day, and you've got an hour of this, and you're stretching the front, and you're pulling your back down. The other thing is I tell them, we're taught to drive with our hands at ten and two, which is not a good position. Your upper trapezius fires and pulls your shoulder forward. If you look at the hands of race car drivers on the cameras that are in the cars, they're at three and nine, and you can drive at four and eight and still have good control of your wheel. I tell my patients if you do that, it's hard to slouch when your hands are at four and eight.
Pedram:
I love that.
Dr. Rubin:
My job as I see it in the office is to educate people. I'm a teacher. My job is to give them information so that they can figure out what's the next step for them? How do they take care of themselves, because I can't be with them all the time. Therapists can't be with them all the time. When I refer somebody for therapy, part of that is the therapist is like your golf pro. Your therapist will check your swing, make sure you're doing it properly, and then you go to the driving range and do the work. The therapist isn't going to be with you. An hour of therapy twice a week is not going to cover all the hours that you're sitting like that.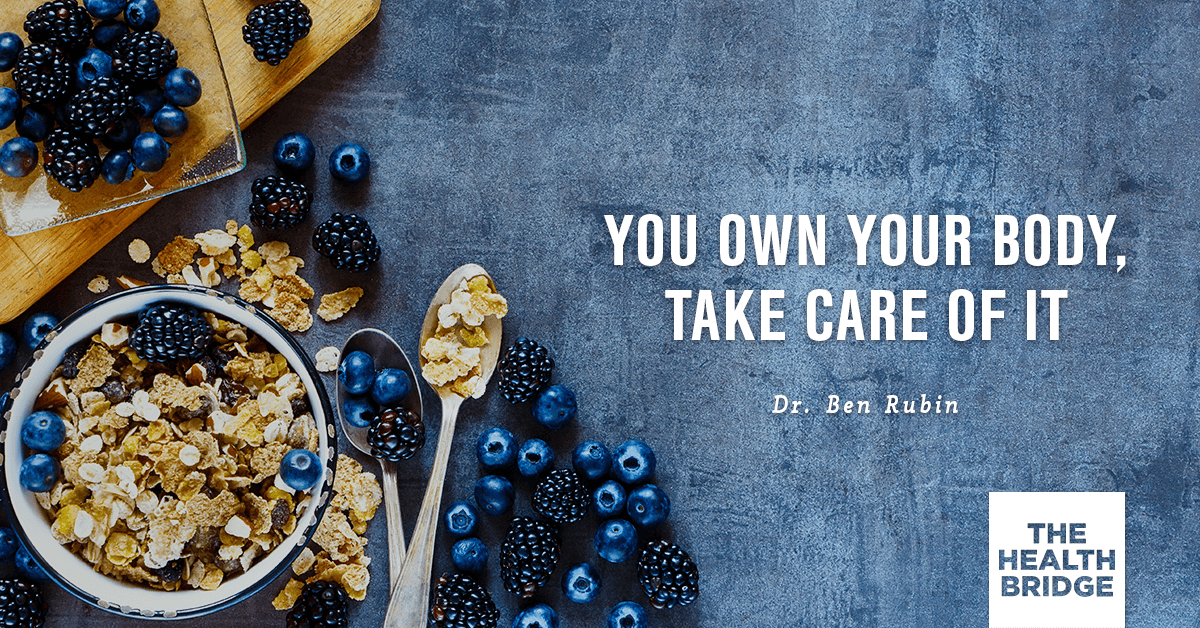 Common Orthopedic Knee Issues and Their Causes
Pedram:
That's a cultural thing too, right? It's like they come to you and they say, "Fix me." They go to therapist and say, "Fix me." Versus getting out there and practicing their swing, getting out there and doing it. We've all been kind of moved into that area. There's another piece to this that also is remarkably more on the postural side, oftentimes than not, and it's the knees. You see it a lot. When people's hips aren't working correctly and all this, and everyone's like, "Hey, you know what, I decided I've gained 30 pounds. I'm going to go run a marathon next week," and they're functionally just not aligned, so can we talk about how the knees and the hips and biomechanics work?
Dr. Rubin:
Sure. Well, the knees are basically controlled by the hips, so when we look at … Earlier you mentioned alignment and we were talking about divers' alignment, but there's an alignment in the lower body as well. The Czechoslovakians were incredible with the basic science about this, and what was called the upper-crossed syndrome for the shoulders and lower-crossed syndrome for the lower body. If you think about it, the bones in the knee are the knee cap, the shinbone or tibia, the femur or thighbone, and the little fibula on the side, which doesn't have much to do with this. The knee joint itself is the femur and the tibia. The other end of the femur is the hip, so the rotation of the femur is going to be determined by the muscle interactions around the hip.
Again, going back to exactly what we talked about with the shoulder, tightness in the front, weakness in the back. From sitting, the muscles in the front get tight. The muscles around the back get weak. If you take a high level athlete who's having a knee problem, the first test I do is I have them stand on one leg, the opposite leg, just to see how can they control their core? You take a really elite athlete, they stand on one leg, and all of a sudden, their pelvis is starting to tilt. Then you say, "Stay right where you are and I want you to do a very, very slow half-squat." They start to come down, and their knee starts to drop in because of the weakness of the muscles that externally rotate or rotate the hip out.
Most of the problems that I see in knees especially young teenage girls, is kneecap not tracking properly, and the reason for that is, just as we were talking about alignment in the shoulder, if this is the groove that the kneecap sits in, then if the femur is rotating in, then the kneecap is going out. For years we did surgery on kids' kneecaps to try to realign them, and it's just like, just put them in therapy. Interestingly, there's an epidemic now of anterior cruciate ligament tears. We were just talking about that earlier. The only thing that's been associated with ACL tears is hip weakness in female soccer players at the high school and collegiate level.
Why Do Women Have a Predisposition To Knee Injuries?
Pedram:
Wow. Is there a reason why female- Because you mentioned female athletes a couple times here. Is it just the way their hips are aligned, or is it we're just seeing more proclivity of it?
Dr. Rubin:
There's been so much research on this to see if it's their anatomy, if it's their physiology. We've looked at menstrual periods and the association between menstrual periods and the ACL tears, and the only thing that's consistent is the weakness around the hip. To some extent, it may be because of the angle of the hips, because a woman's, a girl's pelvis, is wider than a man's, but that's all part of the alignment thing.
Pedram:
So strong hips that are functional move correctly, will ideally get the kneecaps to track correctly, which means when you're trying to put in the miles, you're not wearing it down.
Dr. Rubin:
Exactly. The analogy that I use with patients is, if the front of your car is out of alignment, you're going to wear out your tires. I try to give analogies that people can identify with. For kneecap tracking, it's very easy when I'm showing somebody an X-ray of the kneecap sitting in its groove, and I say, "Well, when I had you standing, I did this," but when I'm showing them that, what I say is, "Think about the kneecap as a train on a track. You got two issues here. Are there structures that are too tight that are pulling the kneecap over? So it's pulling the train off the track, and in your case, what we found on exam was, yes, that was the case." Or no.
But the other thing is, sometimes there's a little switch up here, that's just shutting off the muscles, that's derailing the train by moving the track. So if your femur's rotating in, the track is moving, and the kneecap can't stay in the track.
Pedram:
When we're tightening the hips, we tend to internally rotate the femur, right? If your femur's rotating in, what you're saying is we want the muscles that externally rotate the hips to get work to get stronger. In particular, there's specific exercises that are just kind of universal? Is it way too case-dependent?
Dr. Rubin:
It's primarily the gluteus medius muscle. It's a rather large muscle as opposed to the gluteus maximus, which is the tush, that everybody knows about. There are general exercises that can be done, but that's a little bit like, going back to the golf pro analogy, that's a little like giving somebody a book and saying, "Here. Learn how to play golf." You really want somebody who's skilled at diagnosing that, a good physical therapist. That's not in the realm of an orthopedic surgeon. I don't want to be teaching exercises to my patients. If they tell me what they're doing, I'll just tell them that either is or not what we want you to do, but I don't want to be spending office hours trying to demonstrate exercises.
It gets pretty specific, and the big thing that I see is when people are rehabbed for their hips, hips and knees, is some physical therapists who are not very sophisticated, will work in one plane. I'm sure when you go to the gym, you see people doing lunges, and they're walking doing lunges, and they're doing weights and they're lifting their legs, but it doesn't do anything for rotation. So now take that athlete and say, "Yeah, but you're not going to run straight ahead, you're going to plant your foot and you're going to cut. Have you control your femur, and if your femur's not being controlled, and your ACL is attaching to it, that could not be a happy ending sometimes."
Multi-Pana, or Multi-Directional, Treatment
Pedram:
Multi-directional functional movement is a big piece of this.
Dr. Rubin:
Yeah. We call it multi-plana.
Pedram:
Multi-plana.
Dr. Rubin:
But multi-directional is … If I have an athlete that I just want to get into his head a little bit- First of all, I like demonstrating. I don't only see athletes, but demonstrating to an athlete who thinks, "Hey, I got this." How weak they can be is ideal, because then … There are specific tests that we do when I'm evaluating somebody's shoulder, and what I just did with you, we can change your range of motion just by putting your chest up. I can do the same thing with somebody's rotator cuff and show, "Look how weak you are." Especially, I love doing this with swimmers, because swimmers, they got- They're putting in, what? Sometimes between 10 and 20,000 yards a day, depending on how elite they are.
It's like, "Well, why would I want to do more strengthening? What does my posture have to do with this?" I can show them, let me just do a little test here, and I show them how weak their rotator cuff is. Just lift your chest. Lift the chest, test their rotator cuff strength again, specific muscles. Now it's stronger. So now let's think this out. If I can change your strength in two seconds by having you lift your chest, what happens to your times in the pool if you keep your chest lifted while you're swimming?
Pedram:
You want to win, right?
Dr. Rubin:
Now all of the sudden, you've got him. That's my hook with athletes. I think it's important to individualize things and try to find the hook for that athlete. There are some kids that the more you point things out, the more upset they get with you and the more they don't want to listen to you. There's a lot of psychology involved taking care of athletes.
Pedram:
It's true.
Dr. Rubin:
Taking care of anybody.
Pedram:
Yeah, and they got there because they were that pointed and directed anyways, right? So now you're getting in the way of their day.
Dr. Rubin:
Yep.
When Should You Consider Orthopedic Surgery?
Pedram:
Yep. When, for surgery? Because obviously, surgeries happen. Things tear. Bad things happen. At what point, for you, is there an indication? There's obviously clear indications when things get torn off, but there's a lot of things that are in that grey area as well.
Dr. Rubin:
I almost always let the patient decide. I'm not doing cancer surgery. I'm doing things to allow people to function at a higher level, whatever that is, but I think it's up to the patient to decide, is their level of function acceptable or not? What I tell them is my indication for surgery is when the problem that you have is no longer consistent with your lifestyle, and you can't or won't change your lifestyle. That's pretty straightforward. If your knee bothers you when you play singles tennis, but it doesn't bother you if you play doubles, and you don't have to cover the whole court, and you don't care whether you play singles or not, play doubles and don't have surgery on your knee.
I've got to differentiate for the patient, are they just playing in pain or are they playing with a chance of getting more injured? I don't want somebody playing with a chance of getting more injured. My job is to educate them about that. If it's just pain, then crap, any of us who have been athletes played with pain. As I get older, I'm living with pain every day.
Pedram:
Anyone over 30 knows pain.
Dr. Rubin:
That's exactly right. It's just a matter of you fit it in with their lifestyle. There are times that you know. I operated on a young man today who … This makes me feel old, because he's now in his mid 40s. He was a member of the national diving team, and I took care of him when he was a member of the national diving team and diving at a very elite level. He just rehabbed his shoulders, and he came in about six months ago, and he said, "Something's wrong with my shoulders, and it's beyond what we've had before." He's got torn rotator cuffs now. They're small tears, and they're very fixable. It's like, "Do you want to rehab it, or do you want to get it fixed?" He goes, "No. I know my body. These aren't fixing themselves," so this morning we did the first one, and probably in three months we'll do the second.
Pedram:
When you've done a surgery, because a lot of people go for surgery and think, "Hallelujah. They wave a wand over me. Now it's going to be better." How much personal involvement needs to be there? When we start looking at rehab, when we start looking at diet, when we start looking at all the things that go into us being your partner in this surgery as a patient?
Dr. Rubin:
I think you picked the right word, because I use the word partner to my patients. We're partners in this. This is not, I'm going to fix you. I am going to set you up to be fixed. I will do my job in the operating room, and I tell them, "A good result depends on making the right diagnosis, doing the right operation and doing it well." I said, "I got you there. I'm okay with my skill set, but if you don't rehab it, or you don't do the right rehab, you can't do well. So are you in, or are you not?" I don't operate on everybody I see that needs surgery. I have no problem telling a patient that I don't think I'm the right surgeon for you. I don't mean to offend them that way, and it's not a matter of arrogance. It's a matter of I'm result-driven.
Pedram:
You make me look bad!
Dr. Rubin:
Yeah, that's it. Well, I actually tease about that. I say, "Look, everything in life is all about me. It's got nothing to do with you, and if you make me look bad, and I'm cranky when I go home, there's just not enough energy for when I get home to my wife. I live my life for my wife, so- "
Pedram:
So it's actually not about you. It's about your wife.
Dr. Rubin:
Well, no, it's about my ultimate happiness.
Pedram:
Right. Happy wife, happy life. Right, right, right.
Dr. Rubin:
There you go.
How Should I Talk to My Doctor About My Orthopedic Injuries?
Pedram:
There's been a lot of noise in the channel with healthcare reform and all sorts of things, but at the end of the day, I own this body. I got to take care of it. Either I stretched before I went for the basketball game or I didn't, right? So you get a lot of people that come in, weekend warriors, that are just like, "I decided I'm going to get fit," and they don't align their hips with their knees. No one wants to take the time. No one wants to stretch. No one wants to take the time. Then they hurt themselves. Then you have doctors that'll just happily do the surgery, and then they go back for a second surgery, third surgery, all that.
You're in this interesting arc of your career now, where you've been at the height and you've been at the top of your game for a long time, and now looking out at the horizon of how you would like orthopedics to grow with this functional medicine movement, and all these things that we've learned now, how would a patient out there want to talk to their doctor? How do we prepare everyone out there, who's out there banging their knees and their joints and all this?
Dr. Rubin:
That's a really complex question.
Pedram:
It is?
Dr. Rubin:
Because there are multiple levels to what you're asking. First of all, medicine has changed. This is nothing political. There is less time for your doctor to spend with you. For the reimbursement that the doctor is getting, it's not necessarily reasonable for him to be able to sit and chat with you for a half hour or 45 minutes. I would like the patient to come in ready to discuss the problem. There are very simple things. We ask our patients, go to the website, and fill out your forms before you come in. If you've got an eight o'clock appointment and you show up at ten after eight, and you haven't done your forms, and you're not done until a quarter to nine, it screws up my day. I can't, as much as I want to give you all the time you need, it's really not very easy to do that.
Pedram:
They're digging into someone else's time.
Dr. Rubin:
It's a matter of being respectful, and I think that what's happened now is so many assumptions have been made, and the insurance companies have gotten between patients and physicians, and we're not partners anymore. Part of it is, for me, just letting my patients know I respect them. I just have a different skill set than they do. The guy that works doing assembly work, I mean, I'm no better than he is. I just happen to have different skills. I happen to be more educated, so I would never want him to think he can't ask me a question, and I think part of it is to make sure that patients ask questions, but come prepared.
Part of the problem as you and I were discussing earlier, I have a mug that I use in the office that says, "Please don't confuse your Google search with my medical degree," because patients come with reams of paper, and they go, "Well, what about this guy's opinion? What about that guy's opinion?" I'll give you mine. I treat them with kindness and caring, and I, in general, there's a match. I think that if we're efficient with our time, I think we can do it. A lot of the information I give patients, it's like, here are the cliff notes. Here's what you've got. Here's what we need to do. Here's my rationale for doing that. Then what you need to do is go to my website and there I have PDFs.
There's a PDF on lifestyle changes for people with inflammatory problems. There's a whole thing about, which I learned from you, diet and exercise and sleep and mindset, and if you sleep well, your arthritis is better, your inflammatory condition is better. I have patients, we talk about supplements and what supplements they should be taking. I take turmeric on a regular basis. It's a great anti-inflammatory, and it's sort of a freebie. Not much in the way of side effects. Part of it I think is if we demonstrate any arrogance whatsoever in dealing with our patient, then they have no reason not to hold us accountable for making them better, because we've implied, if you listen to me, you'll be better. Well, that's crap.
I'll help you learn how to take care of yourself, but that's not my body. I got enough trouble taking care of my body and my family's bodies. I'll help you. I'll give you the information that you need, and then if questions come up, I'll take you through that, but I think part of that is how the patient is approached. I'm not implying for a minute that there are a bunch of arrogant physicians running around out there, but when you get busy, it sometimes becomes hard to put your patient, be yourself in your patient's place. Nobody wants to go to the doctor. Nobody wants to be injured. Despite what my mother said to me growing up, people don't want to necessarily meet me, especially as a physician. We see people at their worst. I'm going to give anybody the benefit of the doubt when I'm seeing them. Actually when I go into a patient room, when my hand touches the doorknob, the last word in my mind is kindness.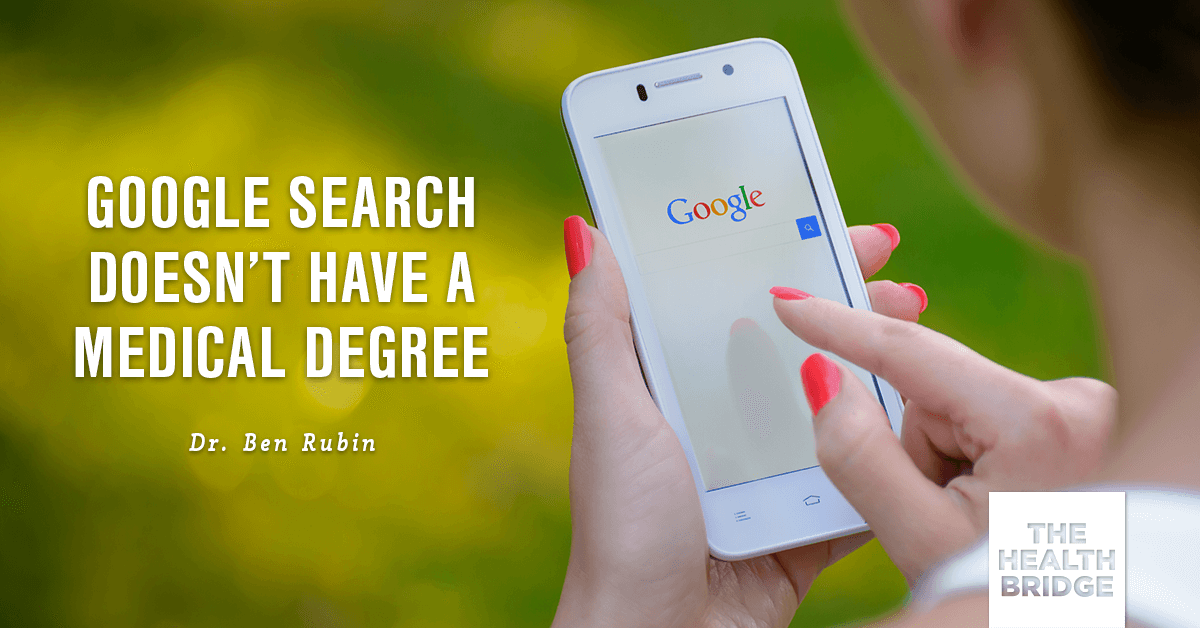 Pedram:
Is this your mantra?
Dr. Rubin:
That's it, because there are people … I have unhappy days as well. I hope that I don't take it out on the people around me, but there are people who if they had trouble getting a spot in our parking structure, I mean our office is huge. Their need at that point is to talk about the parking structure. Okay, I'll give you 15, 20 seconds on that, but you know what? Let's not let that get in the way of your care.
Pedram:
Let's get back on your shoulder.
Dr. Rubin:
That's important to me and I'll make sure that we take that into consideration as we're doing our planning, but let's talk about why you're here. I try never to … I don't always succeed, but I try to make people think everything that they're saying is important. I can't listen to everything they have to say. There was an interesting study done at my medical school after I graduated. My school is the first school that actually had one-way glass. They would videotape students interviewing actors who were patients, and then they would go back around the glass and the professor would sit with them and say, "Here's what you did right. Here's what you did wrong."
They did a study where patients came in and they were asked their initial question, like, "What brings you in today?" They timed how long did it take for the physician to interrupt the patient? 18 seconds was the average. The average. When I lecture, I quote William Lister, who's a physician from the 1800s. "If you listen to the patient, he will tell you his diagnosis." Just listen, dammit. You have to ask pointed questions, and I do that with the questionnaires that I ask them to complete before they come in, and I'll go over it with them, and I tell them, "Page one is how did we get here? How did it start? What was your treatment? Page two is you're done with all that. Where are we now? What are your current symptoms? What works? What doesn't work? What's been tried?
Then I, usually, with shoulders, probably about 90% of my diagnoses I make based on the history, and these probably not too far away from that. Patients will tell you, but the feeling now is we don't have time to listen. It makes you much more efficient. If you listen, you don't have to do very much. So much of my exam is to make the patient feel that I am doing everything I possibly can, but I know way before that.
Pedram:
So at this point, you're kind of holding court.
A Doctor's Special Touch
Dr. Rubin:
Yeah. I do make sure … I'm trying to think now. Pretty much every patient, almost every visit, I touch them. What we're hearing now is a lot of people just don't have time. How many patients are you seeing in a half a day, and you just have to get it done. Your knee hurts, we got X-rays, you've got arthritis. You need a joint replacement. I actually, a couple years ago, I had a woman that came in and clearly need a hip replacement from the history, and I said, "Well, go ahead and lie down on the table." She said, "What are you doing?" I said, "I'm examining you." She said, "Why are you doing that? The other doctor just looked at the X-ray," and I said, "Because how will I know how your hip is moving if I don't touch you?" "Okay."
Pedram:
Wow. That's an interesting kind of swing in the pendulum, because with radiology and all these kind of diagnostics, we use the data to make data-driven decisions, but we've lost that personal touch. We've lost the assessment and all these things that actually, way before the MRI, that's all we had.
Dr. Rubin:
Right. It's still very useful, so you can see structure on images, X-ray and CAT scan and MRI. You can't see function. You don't know how it's working, so you take an X-ray of the shoulder, and you go, "Yeah, okay, bone, socket, joint are fine, and you don't have impingement. Now, that's when you diagnose them. So much of my exam is functional, because ultimately, what do we want to do? Restore function.
Pedram:
Then once function is there, you're less likely to get injured. You live healthier. You're able to do the exercise. You drop the weight. Everything starts working out way better when your body's doing what it's supposed to do.
Dr. Rubin:
Right.
Pedram:
I love it. I love everything that you're doing. I love you. I love your work. How can people find you and get more educated on this kind of functional orthopedic gestalt that you're speaking?
How to Keep Up With Dr. Rubin's Work
Dr. Rubin:
A lot of it's on my website. On the website are a number of lectures that I've given, two physicians and physical therapists, so it's maybe a little bit more sophisticated than laypeople would want, but it's interesting how many patients I've had that have come in said, "I watched your lectures, and I think I know what's wrong." So I've succeeded in teaching. My website is benrubinmd.com.
Pedram:
Love it. You're a gentleman, a scholar, and a good friend. Thank you.
Dr. Rubin:
It's my pleasure. Thanks.