California Gov. Jerry Brown stood on dry grass normally under several feet of snow on April 1 and announced an executive order to immediately implement the first ever statewide mandatory water restrictions – cutting water usage by 25 percent.
It was no April Fools Day joke. "This historic drought demands unprecedented action," Brown said. "As Californians, we must pull together and save water in every way possible." The governor announced the order 90 miles from his office in Sacramento at Phillips Station, in the Sierra Nevada Mountains where the snow pack is typically at its peak on the first day of April.
The executive order is designed not only to cut water usage, but strengthen enforcement for water waste, simplify the state's drought response and invest in new technologies that will help make California better able to deal with drought in the future.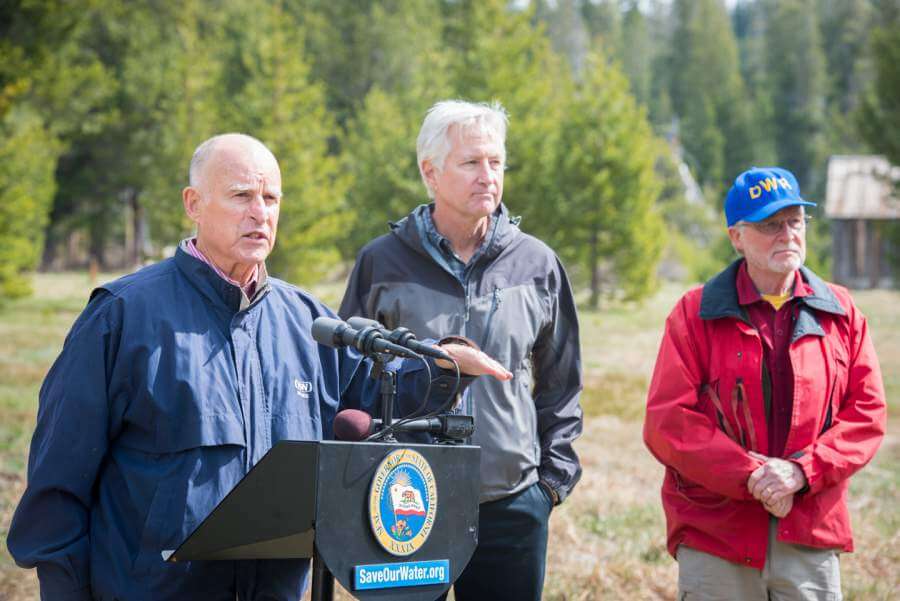 According to Gov. Brown's office, the executive order will:
Replace 50 million square feet of lawns throughout the state with drought-tolerant landscaping in partnership with local governments;
Direct the creation of a temporary, statewide consumer rebate program to replace old appliances with more water- and energy-efficient models;
Require campuses, golf courses, cemeteries and other large landscapes to make significant cuts in water use;
Prohibit new homes and developments from irrigating with potable water (suitable for drinking) unless water-efficient drip irrigation systems are used, and ban watering of ornamental grass on public street medians;
Take action against water agencies in depleted groundwater basins that have not shared data on their groundwater supplies with the state;
Update standards for toilets and faucets and outdoor landscaping in residential communities and take action against communities that ignore these standards;
Make permanent the monthly reporting of water usage, conservation and enforcement actions by local water suppliers;
Offer incentives to invest in promising new technology that will make California more water-efficient through a new program administered by the California Energy Commission.
Gov. Brown's order is the latest and strongest in a series of recent actions the state has taken to deal with its worsening drought, now entering its fourth year. Less than a week earlier, Brown announced a $1 billion emergency drought package that funded drought relief and water infrastructure projects. That bill came on the back of the State Water Resources Control Board adding more emergency regulations for water suppliers. Brown declared a drought state of emergency in January 2014, but had been increasingly criticized for not doing enough to get California serious about its water usage in the face of what is perhaps the worst drought in state history.