Are women in their 20s and 30s more at risk for high heel injuries than those of past generations? Research suggests, yes. According to a 10-year study from the University of Alabama at Birmingham, the number of injuries sustained from wearing high heels has nearly doubled in the U.S. That equates to 123,355 injuries for women between 2002 and 2012, the report finds. Most of the injuries were sprains, with the majority of women who were treated being in their 20s and 30s.
So is it time to hang the heels back on the rack? Dr. Emily Splichal, podiatrist and author of Everyday Is Your Runway: A Shoe Lover's Guide to Healthy Feet and Legs, says, not necessarily.
She has seen a lot of high heel injuries in her day, working and living in New York City, where millions of women have mastered the art of walking unpaved streets in stilettos. Her own passion for heels has led her to devote her life's work to teaching women how to properly walk in them so that they not only avoid the common injuries, but more serious, long-term ones as well – like Achilles tendinitis, chronic back and knee pain or even hairline fractures caused by chronic stress on one particular area of the foot.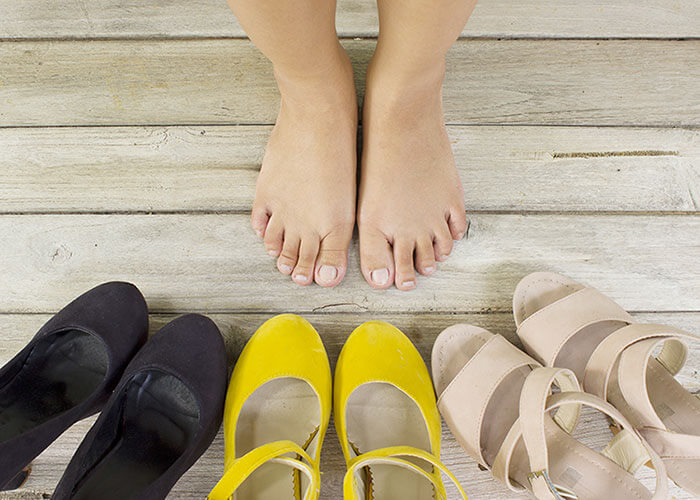 Splichal's tips for walking better in heels could be the light at the end of the tunnel for women who simply can't resist them. Here are five to remember:
1. Stick to 3" and lower.
Don't worry, you can still slip into those stilettos – on occasion. The real issues come when women wear high heels, often. Forty-two percent of women between 25 and 49 wear heels every day, according to the Spine Health Institute, and that is bad news. Splichal points out that women who wear heels, taller than 3 inches, especially on a daily basis, are doing serious damage to their legs, back and knee and ankle joints. The reason: "Generally every inch you go up, the forces that go into your back drastically increase," she says.
2. Pay close attention to how the shoes fit your feet.
Some of the most coveted of designer brands are actually the worst shoes for your feet, from a fit perspective says Splichal. When trying on shoes, pay attention to how they fit your arch. "I give my patients a biomechanical analysis to determine what fit their feet require," she says. But if you don't have access to a doctor to get an assessment like this, you can tell by evaluating how your arch is sitting in the shoe. If your arch is high, consider orthotic inserts that add extra height to the arch area of your foot, or if you have flatter feet that don't easily flex to fit well in heels, Splichal suggests practicing balance training to improve movement.
3. Avoid platforms.
Platforms have little to no flexibility. They restrain your feet from moving in their natural way, causing a change in the physiological way you move. According to WebMD, another common issue with platforms is that for those with much higher backs than fronts, they're putting pressure on your metatarsal bones, or the long bones of the midfoot. A better option the site suggests, is the flatter, wider platforms that are more parallel to the ground, which naturally lessen the pressure on the balls of your feet.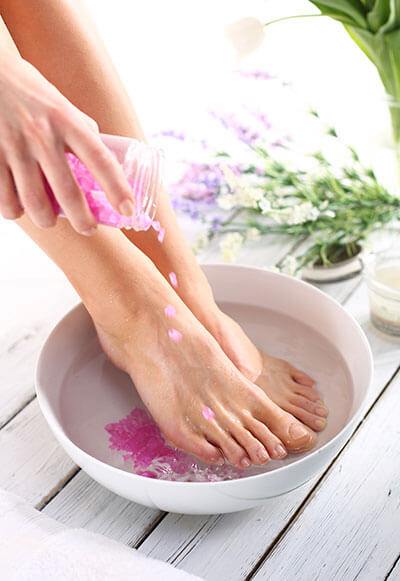 Ever take off your stilettos just to find your achy feet are locked into a painful cramp position? The good news is there are some things you can do after wearing heels to improve your foot health. Splichal has developed her own formula for recovery, which involves standing on golf balls. "Roll them gently up and down your achy arches for instant relief," she says. She also suggests soaking your feet in an Epsom salt bath to help repair the tissue on the bottoms of your feet.
5. Walk with care and confidence.
Splichal's "Catwalk Confidence" workout helps women engage their core while walking in heels, which she says, is the first line of defense when avoiding heel-related injuries. She adds to "always remember stiletto posture; a lot of pain in general occurs when the shoe is wearing you. You want to be the one wearing the shoe." She also says you can alleviate pain by engaging your core and lifting your pelvis upward. "When you do this, you take pressure off the feet, lower back and knees."
Despite high heels often feeling like evil torture devices, I'd bet that women will continue to wear them, and the high ones at that. But regardless of whether you've decided to walk away from them for a time or continue to suffer pain for beauty, there are things you can do to avoid becoming a high heel victim and improve your health, posture and appearance in them.
Other Sources:
http://www.webmd.com/pain-management/ss/slideshow-worst-shoes-for-your-feet