If the thought of rehydratable shrimp cocktail and something called spray-dried orange juice doesn't exactly get your tastebuds in a tizzy, well, you aren't alone. Although none were available for confirmation, I think it's safe to wager that having to add water to transform their crunchy chicken chunks into something resembling actual food is not high on the list of favorable experiences among NASA astronauts on space missions, either. Cramped quarters, food prep limitations and spoilage potential in space, however, all add up to the necessity of such measures aboard spaceships headed for outer orbit.
Surviving on portable, rehydratable, non-spoiling food is just part of the job description and one of several necessary compromises astronauts humbly accept in exchange for the rare opportunity to explore the outer bounds of our atmosphere where so few have ventured. You may think this seems like a reasonable trade-off and indeed, however unpalatable it may be, the women and men of NASA are likely grateful for it, because without such advances in the field of food science, space travel as we know it would not be possible.
Still, since astronauts must already give up so much control with regard to personal habits, privacy and freedom – it would be nice if they could regularly enjoy a fresh salad or have a glass of orange juice that hasn't first been – err – spray dried? This may no longer be far from doable, thanks to recent NASA-supported research out of Purdue University on light-emitting diodes (LEDs) and their ability to grow vegetables using considerably less space and half the energy of conventional greenhouse lighting and producing vegetables with the same, if not higher nutritional content as plants grown in sunlight or using conventional greenhouse methods – neither of which are feasible methods in an outer space environment.
High-intensity LEDs convert electricity into light that plants use for photosynthesis. They are much more efficient than traditional lights such as incandescent bulbs and fluorescent lights because they consume less energy. And while they cost more upfront than standard lightbulbs, the price is falling with ongoing advances that in turn make them last longer than traditional lights and therefore save money in the end.
LEDs have been in use several years now for things like high-efficiency indoor and outdoor holiday lights, skin rejuvenation and pain management therapy and mood enhancing therapy for those who suffer from seasonal affective disorder. More recently, researchers have even developed LED wallpaper that changes color with the flip of a switch and if that's not far out and spacey enough for you, the young and fashion trendy in Asia can be seen walking around wearing artificial, LED-studded eyelashes.
Eye-eye-eye! Yessir, if you're into crazy fashion and pop culture trends like electri eyelashes or enjoying tea among a pack of furry felines strutting atop tables and weaving themselves freely between the legs of human patrons at a cat café, go east, young man.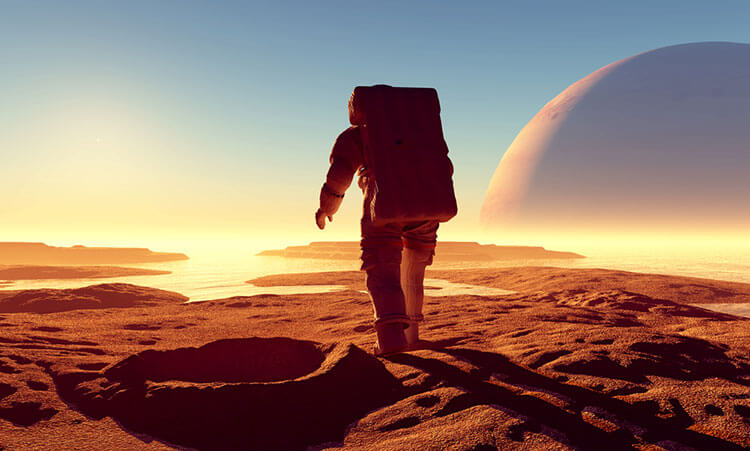 Sorry, where were we? Oh yes, space veggies.
It turns out the study, funded in part by a grant from NASA and headed by Cary Mitchell, a professor of horticulture at Purdue University in W. Lafayette, Indiana, and his former master's student, Lucie Poulet, showed that by using the right combination of red and blue LEDs, they were able to grow vegetables in a small, contained environment using significantly less space, money and energy than methods used in traditional greenhouse settings.
With a red to blue light ratio of 95 to 5, for example, scientists successfully grew lettuce seedlings at their normal rate, using 50 percent less energy than traditional greenhouse methods using sodium grow lights and producing enough excess heat that space gobbling fans are needed to maintain a suitably cool growing environment.
All of this means the study's successful crop yield and the money, energy and square footage saved in the process may finally make it possible to grow and harvest fruits and vegetables on the International Space Station while astronauts hurtle through orbit at 400 miles per hour and share 16 sunrises and sunsets per day with our Russian cosmonaut pals. What's more, using LED lights here on this rock could revolutionize greenhouse technology and make it easier and cheaper in the long run to grow seasonal foods year round, even in climate hostile conditions.
Four, three, two, one… Finally, if long-term space exploration is ever to be feasible, we will likely need to develop a method for creating a self-contained ecosystem that mimics our own biosphere and supports the ability to grow food in small, self-contained spaces. A round-trip mission to a certain red planet, for example, with a crew of six astronauts would take an estimated 1,000 days to complete and would require more food, water and oxygen than our current space vehicles can carry. The ability to grow fresh fixings for a Caesar salad in space could mean we are able to finally send a crew of rocket men (and women) on extended space missions to distant stars currently outside the realm of our technological know-how.
Mars probably ain't the kind of place to raise your kids. In fact, it's likely cold as hell, but I bet it'd be outta this world to visit.