It's Shark Week and if the anniversary release of Jaws and the recent spate of shark attacks has you afraid to go back in the water, consider this – it isn't the sharks you should worry about, it's the bacteria – and opting to build sandcastles instead of swimming isn't without its own risk of exposure. Indeed, the odds of being attacked by a shark are less than 1 in 3 million, but on average, 1 in 28 beach-goers will suffer the effects of E. coli-related illness.
Swimming in contaminated water or digging in wet, contaminated sand may allow pathogens to enter your body through cuts or your nose, mouth and ears. Typically this will cause mild to moderate stomach disorders or minor infections to the exposed areas, but it is also possible in heavily polluted water or sand to contract more serious illnesses such as typhoid fever, hepatitis or dysentery.
We're all familiar with news updates alerting the public of beach advisories and even closings resulting from various types of pollution. They are disconcerting and no one likes to be turned away from a day at the beach, but it is of some comfort knowing federal and state laws require mandatory monitoring of many of our beaches and waterways to protect the public. We should never ignore or minimize these warnings.
Beach and water contamination continues to be an issue in the U.S. and comes from a variety of causes such as polluted runoff and untreated sewage containing harmful microorganisms (pathogens) released directly into the water. This type of contamination is often nearby or even onsite of a particular beach or waterway and is fairly easy to monitor and measure. Another source of contamination, referred to as non-point pollution, happens when water from rain and melting snow runs off roofs and roads, picking up harmful chemicals, dirt and disease-carrying organisms that eventually make their way to beaches and other public swimming areas. This type of contamination is not only more difficult to prevent, but also to predict or measure and beach managers struggle with the accuracy and time limitations of current technology that requires direct water sampling and extra lab time when making the important decision to close a beach that may pose a risk to the public.
Technology is improving, however, and researchers at the University of Miami (UM) Rosenstiel School of Marine & Atmospheric Science have recently developed a new, more accurate method to identify harmful bacteria levels at recreational beaches using information about solar radiation, rainfall, tides and waves to predict harmful bacteria concentration and its movement along the shore. This method will improve detection accuracy and most importantly will reduce the time it takes to determine likely contamination by allowing beach managers access to a computer model that provides data-rich predictions of contamination well ahead of time, thus potentially cutting down incidents of exposure as well as clean-up time.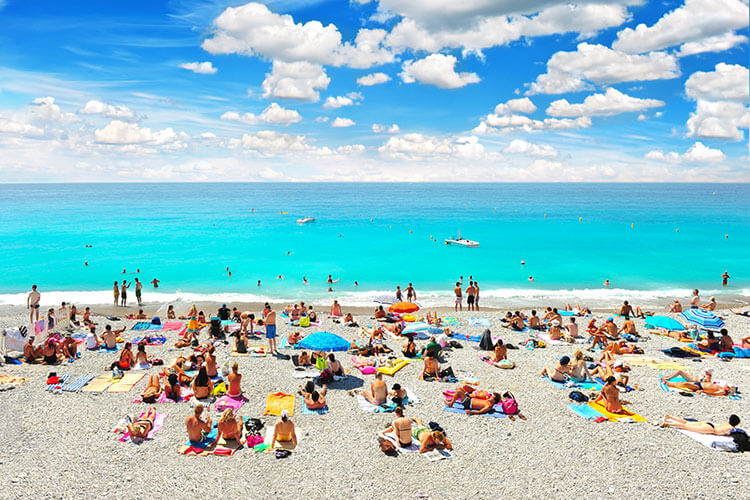 In addition to standard safety precautions regarding sun exposure, riptides and basic swimming safety, there are simple things we can do to minimize the risk of illness from a day of fun in the sun, as well.
1) Swim only at beaches where authorities test the water frequently and close the beach or issue an advisory when it is polluted.
2) Stay out of the water when there are closings or advisories.
3) Avoid swimming at beaches with nearby discharge pipes or at urban beaches after a heavy rainfall.
4) Stay out of murky or foul-smelling water.
5) Avoid the water when you have an open wound or infection.
6) Swim with your mouth closed and without putting your head under water.
To learn more about the water safety of beaches and waterways near you, visit Waterkeeper Alliance, where you can download the Swim Guide app and get up-to-date information on beach advisories and closings for more than 100,000 miles of rivers, streams and coastlines in North and South America, Europe, Australia, Asia and Africa.
Also, organizations like the Natural Resources Defense Council and the Environmental Protection Agency provide a wealth of information on public policy with regard to environmental water issues and measures being taken to ensure public safety, as well as ways to become actively involved in protecting the nation's waterways.
Finally, the mighty great white isn't likely to crash your next beach blanket bingo, but it still can't hurt to be on the lookout for suspicious dorsal fins slicing through the waves…