Definition of a Migraine
People suffering from migraines live in a world of terrible pain that's compounded by confusion and uncertainty. Dr. Steven Graff-Radford is a dentist who has devoted his professional life to easing that pain, uncertainty, and confusion. He is also the Director of the Headache Orofacial Pain and Sleep Apnea Program at The Pain Center at Cedars-Sinai.
An estimated 36 million Americans suffer from migraines. Most of the disabling headaches that send people to the doctor are, in fact, migraines. If the individual makes it to the physician, the problem is often misdiagnosed as a sinus or a tension headache.
The simple definition of a migraine is that it is a disabling headache made worse by physical activity and associated with nausea and light sensitivity. It's usually on one side of the head and lasts for anywhere from 4 to 48 hours.
Causes of Migraines
It appears that genetics play a significant role in migraines. Migraines are characterized by over-excitability of certain parts of the brain. Seventeen percent of women and 7 percent of men suffer from them. Estrogen probably plays a role in the mechanism for women.
A change in barometric pressure, brain-stimulating foods such as coffee, particular cheeses, chocolate, and the sulfites in wine, stress, sleep issues – either too much sleep or too little sleep – or even the scents at a department store perfume table, can trigger a migraine.
Treatment and Control
There are "prophylactic" treatments where the goal is to reduce headache frequency, or "abortive," procedures where you ease the symptoms once a headache starts. Right now, there is no "cure."
FREE ebook
Has Your Gut Sprung a Leak?
Don't let a compromised intestinal barrier undermine your good health.
Learn what you can do to fortify your intestinal barrier and give your gut what it needs to thrive.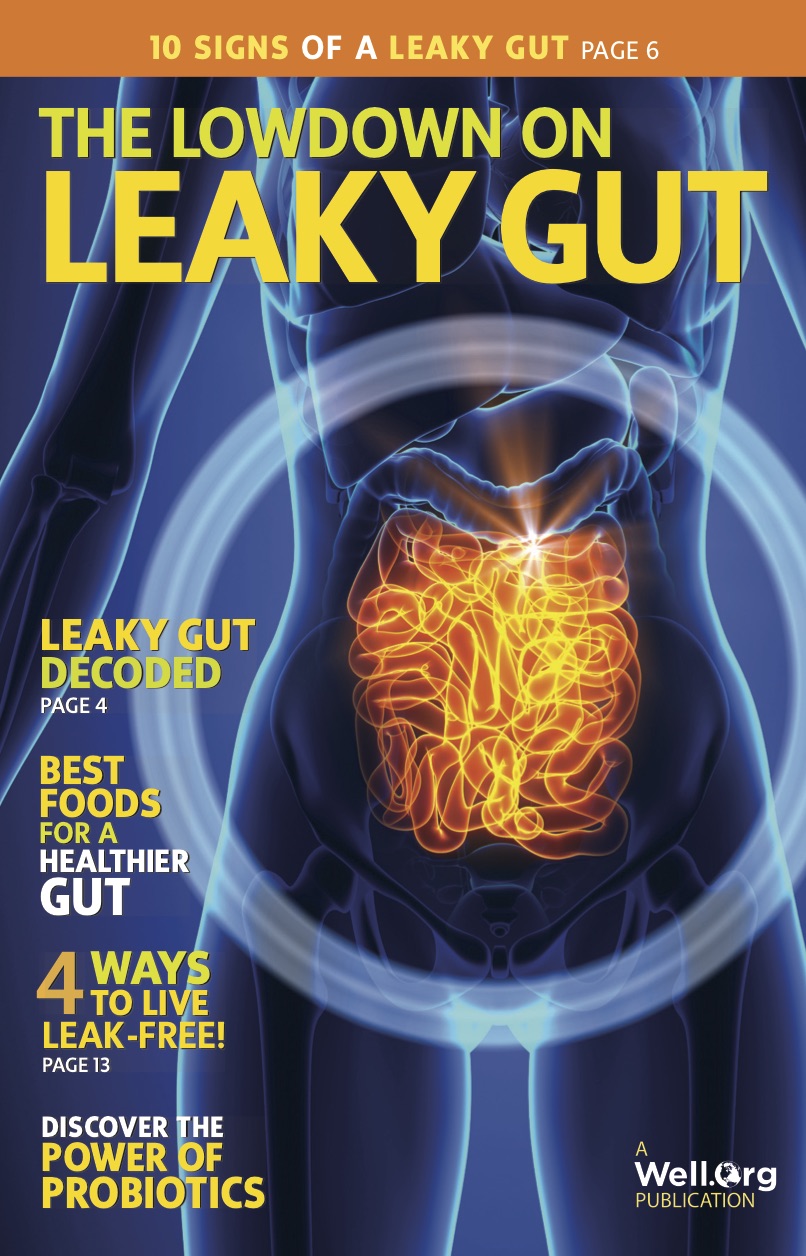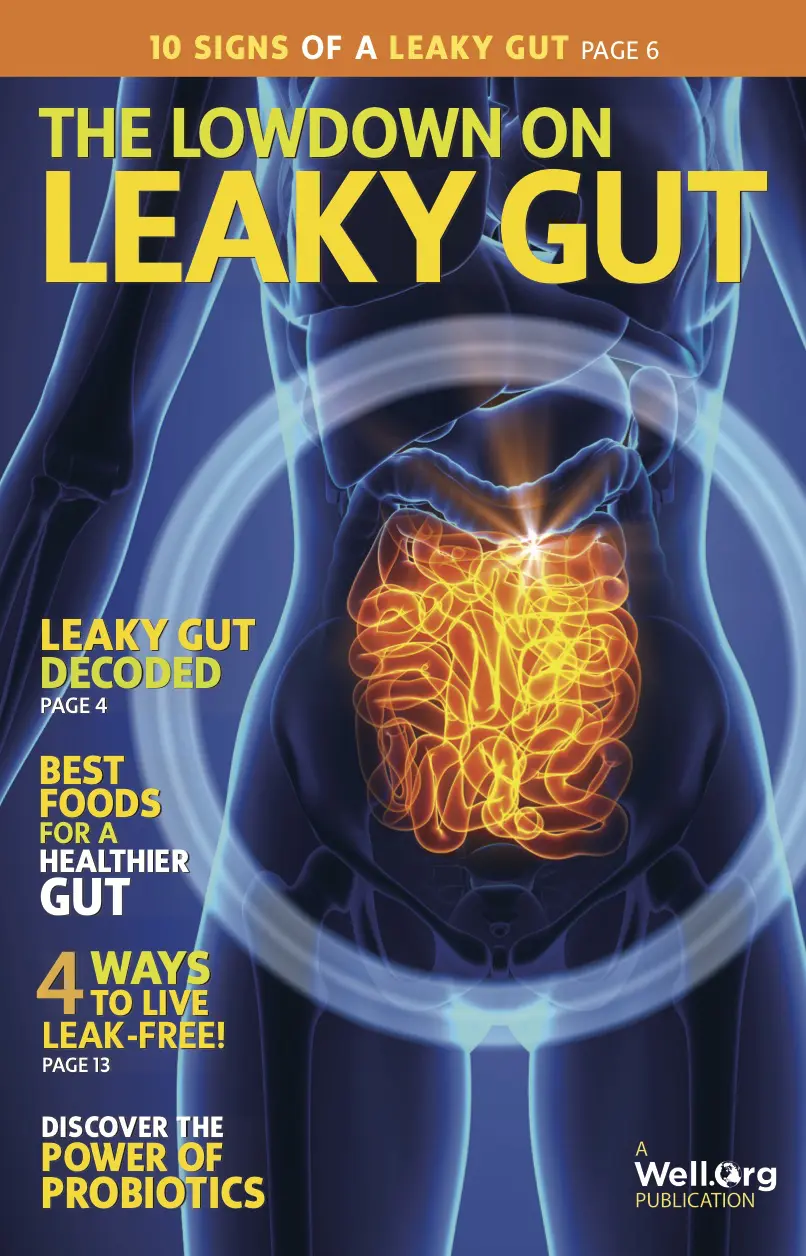 Dr. Radford's approach to treating migraines is multidisciplinary. It involves lifestyle. He has patients keep a diary that records how they feel when they get a migraine and everything that leads up to that. It involves diet. An interesting finding is that a radical switch in diet will substantially reduce the occurrence of migraines. It seems that it doesn't matter what radical approach is taken. It could be the elimination of dairy or sugar or wheat or moving to a vegetarian diet. The use of supplements such as magnesium, riboflavin, and CoQ10 is often part of the plan.
The doctor wants to make sure that his patients develop regular sleep patterns. They need to wake up and go to bed at the same time every day and address any issues they might have with sleep apnea. One of the other pieces of his multidisciplinary approach is the inclusion of a regular exercise program.
He doesn't allow his patients to continue on narcotics, barbiturates, or benzodiazepines like Valium and Xanax. He also looks at drug interactions with supplements to make sure these won't be a problem.
Migraines can be disabling. They hurt business productivity and can create a cycle of sleep deprivation and depression in its sufferers.
The doctor has a complementary medicine approach to treatment because, as he sees it, no approach is perfect. Each plan is tailored to the individual patient.
The other non-pharmacological approaches include biofeedback, multiple sessions of acupuncture, transcranial magnetic stimulation, and the use of Botox injections to decrease the excitability of the brain.
It's important to provide early treatment and to have the patient incorporate lifestyle changes as soon as possible. For more information, go to the American Migraine Foundation.
Interview notes from the show:
Pedram:
Hey. Welcome back to The Health Bridge. Dr. Pedram here with Dr. Tammy and we're going to talk about migraines today. It's a thing, it's a big thing. Millions of people suffer from it and we have a renowned expert, Dr. Steven Graff-Radford, who's over at Cedars-Sinai a dentist. We'll talk about why as a dentist he's actually capable of being an expert in this because of all the nerves and the stuff that goes around there. Adjunct professor at UCLA Pain Management Center. He's over at Cedars-Sinai, written over 150 articles, book chapters and scientific abstracts on the subject and his focus is the study of neuropathic facial pain and headaches. Doc, welcome to the show.
Steven:
Thank you very much. Thanks for having me.
What Defines a Migraine?
Pedram:
Yeah, excellent. Let's get into what defines a migraine versus a regular headache so that we can start circling around the subject.
Steven:
Well, the simplest way of defining migraine is to look at the criteria that Richard Lipton brought up, which is number one a disabling headache that's associated with nausea and light sensitivity. Those are your three major criteria. If you want to be more specific about what a migraine is, the international headache society has classified it as a headache that lasts anywhere between four and seventy-two hours. The exception is in children where it can be less than four hours. Then it requires two of the following four criteria. Number one, unilateral, one sided. It comes from the Greek term, "hemikrania", half a head, so it's usually a one-sided headache. That's your first criterion. The second is it's a throbbing pain or a pulsatile pain. It's moderate to severe in intensity and worsened with physical activity. You need two of those four and then you need one of the following: nausea, vomiting, light sensitivity and noise sensitivity combined. Provided you fulfill those criteria, it's a migraine.
Now, just out of interest, the majority of patients who will go to a physician with a complaint of headache, about 95% of them have migraine headache. Unfortunately, they're not all diagnosed. Less than 50% of them are diagnosed. They usually are misdiagnosed with either sinus headache or tension-type headache. The disabling headaches that take patients to the doctor are by and large migraine.
Is Migraine A Genetic Disorder?
Tammy:
What are the kinds of things that cause a migraine to occur? Is it lifestyle, is it food, is it both, is it genetics? How do we get these?
Steven:
What we really understand now is that migraine is a genetic disorder. There really are no clear genes that are defined for migraine as we know it, but for certain subtypes of migraines, the genetics is quite well worked out. We do know that the majority of people who have migraine, have a parent or a grandparent who've had migraine, so we really believe that it's genetic. If you can imagine that based on the genetics, there's an area of the midbrain that's constantly active and we call that the migraine generator.
We can see that on certain forms of imaging of the brain, functional brain imaging. We can see this area constantly active, but it's not creating pain because that so called generator, or boiling pot, is under the control of a brain switch off system, or a brain inhibition system. If the brain inhibition system's working properly to put the lid on the pot, we don't have a headache. If something adversely affects the inhibition system, then this generator releases a variety of peptides or chemicals around the lining of the brain that causes the throbbing pain. Something has to affect the switch off system. That could be any number of things.
We have to remember that migraine is more common in women than it is in men. About 17% of the United States population of women have migraine and about 7% or 8% of the male population. That in itself says something and therefore estrogen is clearly linked to migraine. When we think about when do women get migraine? It's during a drop or a change in estrogen. A reduction in estrogen triggers the migraine headache. That's one trigger that you might think of.
Other common triggers, change in barometric pressure. This weather that we're going through here in Los Angeles now with the cloudiness and then the hot day the next day is terrible for migraine patients. Any time there's a change in barometric pressure, it's a real problem for them.
Certain foods, particularly things that are brain stimulating, like caffeine or tyramine, found in cheeses or certain agents found in chocolate or some of the delicious things.
Tammy:
Not chocolate!
Steven:
Exactly. Some of the delicious things are likely to trigger. The nitrates found in pressed beefs and deli foods and things like that, the sulfites in wines, anything that stimulates the brain might be a triggering factor. Stress, emotional factors, lack of sleep, too much sleep and so on and so forth. It's very difficult to only find one specific trigger in a patient, but we try to explore them as best as we possibly can.
Pedram:
Oh my goodness.
Tammy:
It's amazing we don't all have migraines. My head hurts.
Pedram:
I feel one coming on right now. It's so hard, when you talk about genetics, and everyone's talking about epigenetics right now, right? How our food and our lifestyle and these things can actually help the expression of certain genes. Has the research gone there quite yet? Are we still looking at triggers and how to put out these fires or have we gotten to the place where there are certain foods that can trigger an epigenetic kind of stack towards maybe not having migraines?
Steven:
Well, what we certainly are doing is we're moving in multiple directions to understanding genetics. Number one is what is the gene that predisposes you to have migraine. Then, more importantly we're looking at genetics a lot now in selection of treatment or selection of pharmacology medications specifically related to how your body metabolizes drugs. You can look at the means with which most drugs are metabolized through the liver is through what's called the P450 cytochrome system. Then that has multiple, about seven or eight different pathways that are clearly genetically linked. We can do now an oral swab of the mouth and we can define the genetics of that particular patient's cytochrome system. Then we can choose drugs that they're more likely to metabolize correctly.
In other words, there are three types of metabolism that one can be normal, where we just normally metabolize. Or we're low metabolizers, mean that the drug builds up in our system so we need less drug to get an effect, or those drugs are more likely to give side effects. Or you're a hyper metabolizer where you just chew at the drug and get rid of it. You can now begin to choose medications based on that understanding of genetics. Again, as I'm saying to you, there's multiple different options for us to explore genetics and to try and define it. Further, we're looking at how these genes propagate in the brain and select drugs that specifically bind to modify that genetic process, but it's very much in its infancy, that whole process.
What are the Treatment Options for a Migraine Sufferer?
Tammy:
Drugs are part of the treatment, but I know that you have even more things that you work with other than oral medication. Can you tell us some of the treatment options for these people who suffer from these really debilitating migraine headaches?
Steven:
Well, again we look at a multidisciplinary approach to the management of headache. We spend quite a lot of time dealing with lifestyle. We start out with patients keeping a diary for us and that's an eye opener. So often patients will come in and say, "Oh, I get four migraines a month." Then you give them a diary and they're having headache almost every single day, but they're not calling it a migraine. They're taking their over the counter medication, their Excedrin, or their Ibuprofen, or whatever they've chosen. I call it the Costco therapy. You go to Costco and they buy the gallon drum of their favorite agent. That's not really a medication, they don't even tell the doctor about because it's available at Costco so it must be just fine.
What we do know now is that if you're using symptomatic medications, even if it's an Excedrin, or a Tylenol, or an Ibuprofen, more than two or three days a week, it will cause a rebound headache. Keeping a diary, looking at the frequency of headache, looking at medication usage becomes very important.
Then we look at diet. Diet, obviously we mentioned the common foods that trigger migraine, but there's some interesting information on diet. If you do a radical diet of any kind, you cut out sugar, you cut out gluten, you cut out protein. It doesn't matter what radical diet you tend to, it seems to make a huge difference to migraine. It reduces migraine frequency. We often look at diet and make significant modifications in diet.
Sleep. The sleep cycle is very, very important. You have one of the natural causes of aborting a headache, getting rid of a headache is going to sleep. If all else fails, if you can sleep for a few hours, you're going to wake up and your brain's reset and your headache's pretty much going to be gone. Your migraine's going to be gone. Sleeping on a regular basis, waking on a regular basis is very important. We often look at apnea. We're a slightly heavy population as you all know. We realize that the greater the weight, weight is a major factor in the increased perpetuation of migraine. Body mass index is directly correlated to increase frequency of migraine, so we try and get everybody to lose weight. Coming with that increased weight is often apnea, where we snore and then we hold our breaths and choke in the middle of the night. The patient who has the apnea doesn't know anything about it, but the spouse hears it and is often frightened by it. We see a marked increase in the frequency of migraine with apnea. That's another area that we look at when we're addressing sleep.
Then again, exercise. These are all factors that we put into dealing with managing migraine. We do involve our psychologists in the center to do biofeedback and relaxation training, cognitive therapies, all of which fall into this sort of non-pharmacologic options for patients and can be very, very effective overall.
What Causes the Aura that Sometimes Accompanies a Migraine?
Pedram:
I've had a number of patients that were very sensitive to environmental triggers over the years. You get into an elevator with someone who's wearing a cologne or a perfume and it triggers. Can you speak to that because it seems that the frequency of these types of headaches is also increasing as we layer on all these chemicals in our environment?
Steven:
Yes. We have so many patients who cannot even open up a magazine because the magazines have the perfume sachets in them. They can't walk into a department store because what's on the ground level of the department stores, the perfume, right? You walk into the department store and you get your migraine-a- day. That's all due to brain hyper excitability. The migrainer has a hyper excited brain. Light can trigger the headache, noise can trigger the headache, smell can trigger the headache, foods can trigger the headache. Again, these are the common triggering factors again in headache because of brain sensitization and brain activation, which brings up an important point talking about brain activation.
Some patients with migraine have an aura. What is an aura? An aura is a well defined visual change, it usually starts in the middle of the visual cortex, it's like a zig zag pattern that's seen in the visual cortex, a flickering light or a flashing zig zag pattern. It start in the middle of the visual field and it progresses its way out, usually moving at about two to three millimeters per minute. It's associated or known now to be due to an electrical activity that spreads over the brain. As this brain depolarizes from the occipital cortex or the visual cortex, so do the patients experience this visual field change and often they lose their vision, they can feel a tingling in their hands, et cetera. That's another sign of brain excitability. It occurs in about 10% of patients with migraine, about 10% of the time. Not everybody who has a migraine has to have an aura.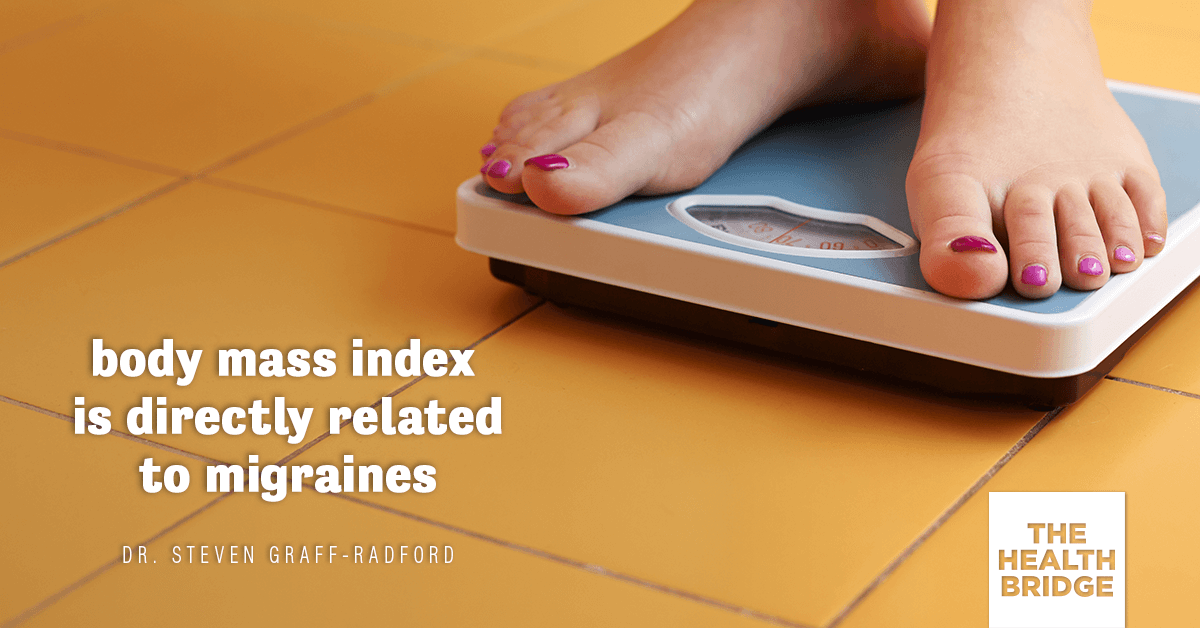 Can I Really Treat Migraines with Botox Injections?
Tammy:
We talked about your multifaceted approach. One of the things I'm particularly interested in is the injections. There's botox, there is other means of treating these and they're actually a little bit preventative because the botox treatment lasts many months. Can you speak to that?
Steven:
botox is a really nice story. There's a plastic surgeon in Beverly Hills who, Dr. Binder who was injecting his patients many years ago, in the early '80s with botox for cosmetic reasons. The patients would come in and say, "Oh, my migraines are better." He published it and then the scientists went out to try and prove that botox worked. They did twelve studies, placebo controlled studies, to prove that botox worked and they couldn't prove it. The reason they couldn't prove it is they were choosing patients who had relatively infrequent migraines, less than six headaches per month. It was only about five or six years ago that they realized that in order for botox to work, the brain needs to be more sensitized because the way botox actually works is it decreases the neural excitabilities. We believe that it works through controlling the peptides in the brain.
Then they studied it in what was called chronic migraine. Chronic migraine is migraine headaches occurring more than fifteen days per month. When you use botox in that population, there was a greater than 50% reduction in headaches in twelve weeks following doing it. Statistically superior to placebo and therefore it's now being FDA approved for that particular population. Very effective means of treatment and you require injections every twelve weeks and you should do it at least twice, even if it doesn't work the first time, should be repeated at least twice and it's often additive, the more you do it, the more effective it becomes.
Tammy:
That was the first use wasn't it, of botox? The Carruthers in Vancouver, BC, they were treating Tic Douloureux. We know it works on pain. This is exciting that … where is it placed? Is it placed where they have the headache on one side? How does that work?
Steven:
It's still not 100% worked out how it works. There's a scientist in Boston by the name of Rami Burstein and he's done some animal model trials with botox suggesting that it's actually taken up by the trigeminal nerve, the sensory nerve of the head and face and transported to the brain where it creates its function. If you can place it in multiple areas close to neural systems is probably how it likely works. Initially it was thought maybe it had an effect on the tension of the muscle because of its muscular effect, but it's probably not that at all. Never the less, the protocol that's FDA approved is very specific protocol. It requires five units of the toxin to be injected into thirty-one points, in the forehead, in the temples, in the occiput, the back of the head, and in the cervical spine in the neck and into the shoulders. You do thirty-one injections symmetrically so that in the forehead it looks symmetric, it doesn't look like you've got a droopy eye or whatever else. Through that process it's been very effective overall.
Are There Natural Treatment Options for Migraines?
Pedram:
Migraines are an interesting subject in alternative medicine because you'll have patients that'll come in say, "Look, I'm on Imitrex I'm on all these things. I don't want to be on these drugs for life." So there's behavioral therapy, there's neural feedback, there's acupuncture, there's all kinds of things that … everyone's trying to help these people. It's a very, very difficult patient population because they're in so much pain. What have you seen across the board that's worked, either adjunctively or just surprised the hell out of you when you've tried everything, across the board in complementary medicine.
Steven:
One of the things I love about complementary medicine is that it's complementary. Nothing is perfect in our pharmacotherapy, nothing is perfect in our diets and nothing is perfect in any area, so it's really lovely to have complementary options. The first area I look at in complementary medicine are the vitamins, minerals, things like that. The agents that work very well are magnesium, 400mg of magnesium, riboflavin, 400mg. Those are my two go-to's. There's another one called Petadolex butterbur, 50mg, Coenzyme Q10, 150mg. Those all work very, very nicely as an adjunct to your overall process.
The next area I think really works very well are, and has been proven scientifically, are things like biofeedback, cognitive behavioral therapies, relaxation training, mindfulness. Mindfulness is the big things right now. I wish I could practice it better. I think it's an incredibly helpful adjunct in almost any life process. If we would all just slow down and actually enjoy this minute of seeing you guys there and being here and trying to help our patients by doing this it really makes that a lot easier. Mindfulness, I think, is very important.
Acupuncture, surprisingly effective for migraine. It requires, like pharmacology, repetitive treatment. It's not just that you can have one acupuncture appointment and never have a headache again, but repetitive acupuncture therapy, we usually go twice a week for about six weeks, twelve visits. Then we can slow it down and sometimes build it back up and slow it down. I really believe acupuncture has an excellent response. There's some new areas that are quite interesting that have been just recently approved.
Stimulation, there's a device, that's a transmagnetic stimulation device, or TMS device. This emits a magnetic pulse. It's FDA approved for aborting or getting rid of migraine with aura. We're using it actually prophylactically, where you can pulse the brain with this magnetic pulse and it comes a little machine that you rent or purchase and you do it four pulses in the morning and four pulses at night, and that seems to work really quite nicely. There's some other neural stimulating devices that have small studies that show they work, Cefaly is one of them, for example.
There's some research being done on vagal nerve stimulation, stimulating the vagus nerve here for cluster headache, a different kind of headache. But multiple, complementary agents through use of stimulation, et cetera.
Tammy:
I think one of the most exciting things about your approach is that it's all inclusive. I know when my patients come in, they feel very helpless and they almost feel like a victim to their own life. They don't know what they did, what they didn't do, what they ate, whether it was their sleep. They feel like their own life could give them a migraine headache that's going to take them out at any minute and they can't identify it. The journals that you do, the biofeedback, the nutrition, the medication, I think this is so key to actually helping people be the CEO of their own health and get control over their migraines.
Steven:
Exactly. You just mentioned the biggest word and that's control. It's changing the locus of control away from … the headache controls the patient to the patient controlling the headache. One of the things I have to emphasize is when we have a migraine, we can get rid of it and have the patient fully functional within two hours. That's our goal. That's the standard, that's the gold standard. If you have drugs, like Pedram mentioned, of Imitrex, that there's seven or eight Triptans on the market, or even if you're taking your Excedrin or your Tylenol. If that works for you, you need to be pain free and fully functional, back to work in two hours.
If you're not, your treatment is not being done correctly, or you're not taking the drug early enough. Human beings have this thing and even the three of us are somewhat to blame because we keep saying, "Oh, let's not talk about the pharmacology. Let's talk about the alternatives, the this and that." The pharmacology is so effective and so safe, for the majority of people, that we need to take it in the first thirty to sixty minutes of the headache starting and the headache will be gone. Provided you're not taking it everyday and getting rebound, then you need to be on prophylaxis. The emphasis I'm making here is, as human beings we can take back control by doing the right thing, treating early, as well as changing lifestyle processes, eating healthily, exercising, et cetera. It's really, really important that if we're going to use pharmacology, we use it appropriately in the right dose at the right time. Very important.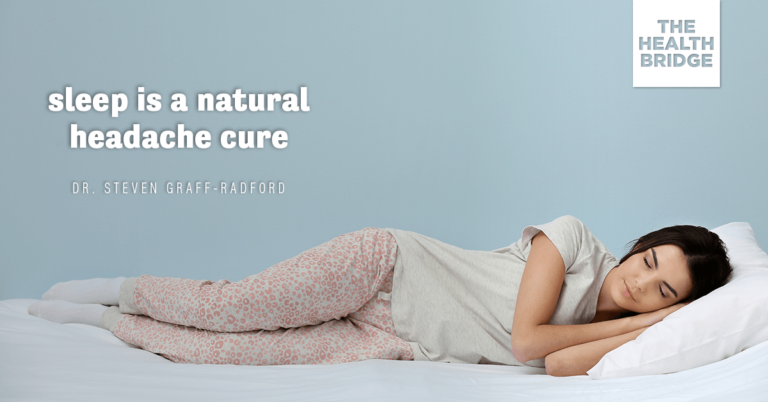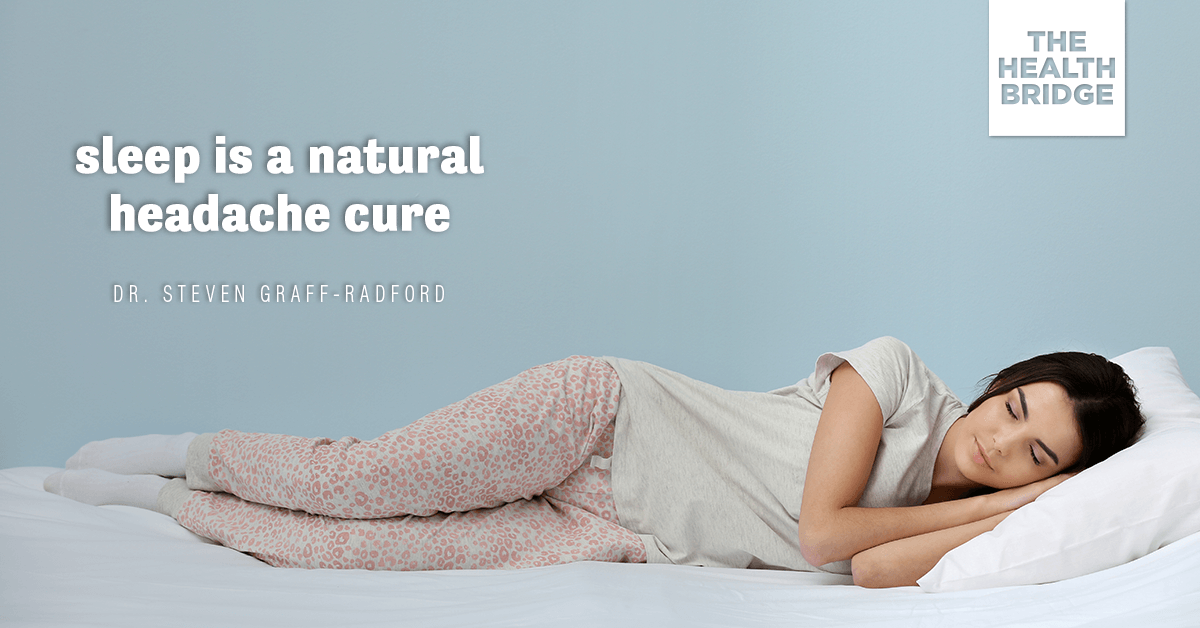 How Can A Migraine Sufferer Move From Pharmacological to Natural Treatments?
Pedram:
This is a huge point. I know we're running out of time here, but I really want to speak to this a little bit more. I'm on the alt side, right? Acupuncture, this has been my world for a very long time. Patients come in constantly wanting to get off the drugs, but are mismanaging their own dosing. They're not listening to their physicians orders, so then they get this breakthrough pain and it becomes a very big deal. On the alt side, I've seen this. I wish I could treat cluster headaches as well as oxygen could, I just can't. There are things that work well that we know work well and so use those. My question to you would be, if someone is under conventional pharmacological care, and they want to start modifying lifestyle and diet and all these other things. How can one potentially phase out the drugs in a responsible way and for some we know that might never happen, it's where, just bad luck maybe. How can we phase out of the drugs and move into a healthier lifestyle and possibly see those results in a responsible way?
Steven:
Again, I sit down with my patients at day one and I say to them, my goal number one is you need to be off your Narcotic, off your Barbiturate, off your Benzodiazepine otherwise all of my treatment, no matter what I do is not going to work. I say to them, this is how we're going to do it. We're going to keep that diary, see how much you're taking in an honest fashion, give it to you by the clock and over a period of time taper it off. That's a absolute 100% across the board. There is nobody who has migraine headache that's on Narcotic or is on Barbiturate or is on Benzodiazepine long term in our office. Nobody, because it just prevents you getting better. If you don't want to come off the drug, if you believe that your morphine and your Methadone and your Vicodin is essential, fine. I'm not your doctor. Find somebody who's going to let you do that. I just don't do that.
It is so clear in the studies that that effects it. Secondarily we start them on their medications and as they start to do better, as you start to see the diaries and you enhancing their compliance, et cetera. You encourage them all the time, if you do everything, I'll get you off the drugs. Usually within six months to a year, let's say a year, 70% of our patients are off pharmacology. They might still use an abortive agent once or twice a week, but they're off their daily pharmacologies. We can get patients there, but they have to be compliant in other areas.
Other patients say, "Listen. I'm a busy, whatever I am, and I don't want to worry about these headaches, just give me the drugs and I'm fine. I'm fine." Then you take Topiramate at night time, then you take your Venlafaxine or your beta blocker or whatever it is and you're perfect. Your headaches are controlled and we've given you back your life. Everybody's an individual. There's no one treatment for every human being. You have to look at people individually, their mindsets, their emotional processes, their sensitivities to drugs, et cetera. Then modify care accordingly.
Tammy:
I think that there's a part, you know, I'm an MD and I'm board certified in naturopathic medicine, but I do come from the west, you can't undo all those decades of training. I think there's such grace in realizing that it's not your fault. There is a genetic component to this, you don't have to wait until it's bad enough.
Steven:
Yes.
Tammy:
Because if you take that abortive medication, as you're saying, early on, you'll be able to take less medication. This event will last a lot less long.
Steven:
Yes.
Tammy:
I always say to my patients, you would never tell a child, "Well, just tough it out and get to the point where you're vomiting and its so bad that you can't stand up, then take the medication." You would never do that to a child, so you have to understand that it's not your fault. This is something you're going to have to deal with and there are safe medications to lessen the overall toxic load.
Steven:
I tell patients, just because it's natural or it's over the counter, doesn't mean it's better or has less side effects. There are many drug interactions of those supplements that are really bad for us and too much of many of those agents are not good for us. I treat a herbal intervention just as carefully as I treat a pharmacological one that's FDA approved. I use many of them. I love boswellia, I love curcumin, I use all sorts of other, papaya extracts. I use lots of anti-inflammatory processes that are not needing a prescription, but actually have a pharmacology that we understand. That pharmacology's very similar, for example, boswellia has an activity very similar to Indomethacin, an anti-inflammatory. Again, use these things knowing how they work, why they work and have respect for everything we put in our mouth, not just because its natural or not controlled.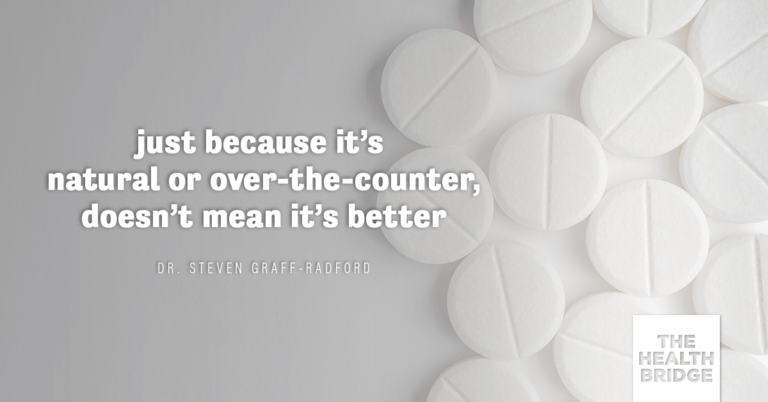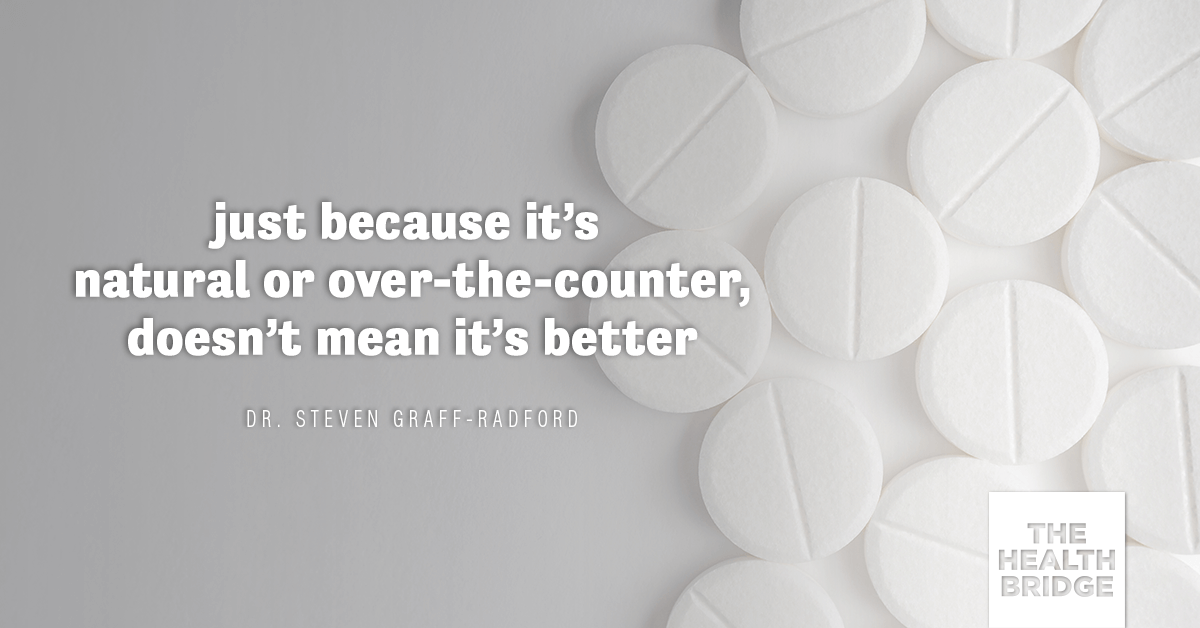 Pedram:
Sure, yeah. The liver's got to clear it anyway.
Steven:
Yes.
Dr. Steven Graff-Radford's History with Treating Migraines
Pedram:
Doc, we're just wrapping up. You're at Cedars-Sinai, which is obviously local Los Angeles, we have listeners all over the world, so I'd love for people to know where to find you. Also, just quickly, I love this interdisciplinary story. My wife's a dentist. How does a dentist end up becoming a migraine specialist? I opened that loop, I want to make sure we close it in closing here.
Steven:
Yeah, I mean, it's a nice story because I was the third dentist ever trained in the United States, many years ago now, thirty years ago at UCLA. Just through the vision of the people who invented multidisciplinary pain management, probably the Godfather of multidisciplinary pain management was John Bonica, an anesthesiologist. He said, "If you present to an anesthesiologist with pain, they'll block you. The neurologist will give you a drug. The physical therapist will mobilize your neck. The psychiatrist will shrink you. The EMT will clean out the sinuses and so on." Put everybody together in one room and let them talk and let them have a dialogue where we actually talk about the same message and the same process. I was trained in a multidisciplinary program at UCLA. Dentists traditionally treated pain from the eyes down and neurologists from the eyes up, okay? But the nerve that supplies all three of those areas is the trigeminal nerve. It's a single nerve.
Pedram:
Yeah totally.
Steven:
You can't treat one division of a nerve and not the other division because really where are you managing pain, whether it's trigeminal neurologist you mentioned earlier, or migraine. It's a process that's gone from the periphery to the central nervous system or from the central nervous system to the periphery. If you're dealing with trigeminal nerve distribution pain, you're dealing with migraine and you're dealing with temporomandibular disorders and you're treating with anything that's in the head and face. If you're trained in managing this, you know, you have to come from a background that's a little different. Now to the big advantage of me being a dentist of a neurologist and many neurology friends of mine, we talk about this is that I treat the TMJ problems, I treat the lower half, I treat the muscular problems, which are again, perpetuating factors in migraine, as well as the ability to use the pharmacology that works in the brain.
How to Follow Dr. Steven Graff-Radford's Work
Pedram:
Love it, love it. How do people find you? How do people follow your work?
Steven:
I'm at the pain center at Cedars-Sinai Medical Center. Go to the website, the pain center, Cedars-Sinai Medical Center. My phone number is 310-423-9600. I'll just make one more plug, I'm on the board of the American Migraine Foundation at an excellent not for profit resource site for patients with migraine and if you need a referral to somewhere other than in Las Angeles, that's a nice resource.
Pedram:
Love it, love it. I know you got to get back to patients. We really want to thank you for your time. This has been really informative and excellent. Thank you so much for the work that you do.
Steven:
Thank you. Nice to meet you both.
Pedram:
Cheers.