Getting up and doing Something
Really a privilege to have Dr. Andrew Lustig on today who is out there in poverty stricken areas helping to make the world a better place with his company Global Outreach Doctors. These dedicated medical volunteers are using Eastern and Western medicine in all corners of the world that have seen disasters and suffer from severe poverty. Dr. Lustig left the corporate world and became a naturopath doctor so he could be more involved in making a difference instead of just being a bystander.
And the really cool thing that he's doing in all of these countries that is different from a lot of the humanitarian organizations is getting Doctors and other medical professionals to volunteer their time for whatever time they can give. If they have 2 weeks to offer and not 6 months, they take it. And they are offering acupuncture and other alternative treatments to these people who need it and wouldn't have had access to this before. They blend the homeopathic way and the western way and work as a team because as Dr Lustig said "our whole body doesn't require one type of medicine."
Collaboration Time
In some disaster situations, Dr. Lustig's group has been the first NGO to arrive because they don't have the chain of command and hoops to jump through in order to make things happen. That can have it's pluses and minuses. They rely heavily on donations, do when there's a huge disaster, they tend to get more financing and when there's not, he says it can be tougher for people to pull out their wallets. But, they do work with other organizations like the UN and alongside Doctors Without Borders sometimes in order to collaborate and make the mission successful.
We can all help
Dr. Lustig's question he wants people to ask themselves is "How can I help those that don't have what I have?" Most of us know that we will have food on our plate tomorrow, know that we are waking up in a warm bed and if we get sick, know that we can go to the doctor to get meds to feel better. His goal is to get people motivated out there in the works to know there are lots of ways to take the step into helping. Maybe it's your time, maybe it's financial but we can all do more than just watching the disaster on the news.
Notes from the show:
Pedram:
Welcome back to the Health Bridge. Pedram here with someone who I think is doing some amazing, heroic work. When I was in medicine, I had challenges with scaling what I was doing, and our guest today has done very similar work, and very different kind of work, but it's all about taking what we're doing, and taking it to levels of being able to help more and more people. What's happening with so much of the media today, is it's focused on the world's problems and the perpetrators.
My guest is Dr. Andrew Lustig, who's the founder and president of Global Outreach Doctors, which is a team of dedicated volunteer medical professionals that serve in almost every corner of the globe. Unlike lots of these medical humanitarian organizations, Global Outreach Doctors provides both western and eastern medical practitioners, which is doctors, nurses, paramedics, naturopaths, homeopaths, acupuncturists, and psychologists. For the past 10 years, Dr. Andrew has worked in disaster and poverty conditions in Haiti, in Africa, Nepal, Philippines, Nicaragua, Syria, and the Amazon jungle. This is amazing work, and I'm so happy to have you here. Welcome to the Health Bridge.
Dr. Andrew:
Thank you. Thanks for that great introduction. Glad to be here.
Pedram:
Well, you're the one who wrote that introduction by living your life. You're out there, you're doing it, right? You're working with collaborative teams, trying to help people in far corners of the world, and human suffering is everywhere. You could either watch it on TV, or you can get up and do something about it. What got you to start doing it this way?
Dr. Andrew:
Well, it's exactly what you just said. We could watch it, or we could do something. A dozen years ago, I woke up one day and said, "What can I do about what I'm reading about, instead of just reading about it?" I left the corporate world, I was a CEO of a media company in New York, and became a naturopathic doctor. Worked on ambulances as an EMT, and then started working around the world where I saw lots of suffering.
Pedram:
Wow. Let's go back, because this is a really interesting history. You were a media guy in New York. What were you doing? Was it a conventional media play?
Dr. Andrew:
Well, for about 20 years, I was in the television industry, in a variety of areas. Our organization basically provided television facilities to network cable companies, and so on. We had transitioned from audio and radio, and eventually become a program producer, using our own facilities, and eventually expanded to five locations in the US with 1,000 people.
Pedram:
Then, at that time, you're watching all this crazy stuff happening all over the world. The world's had a lot of really tragic things happen in these years. It's also had lots of bad news, and the news is all about bad news. You went from a stable media career to saying, "I want to become a naturopath and hit the road." That's a hell of a transition.
Dr. Andrew:
Yeah, I'd say that's a big turnaround. It really did happen pretty quickly. You know, I walked out of my corporate offices one day, and I said, "I'm going to do something else in the world that's going to make a bigger difference." I think what we can all do something, anything directly, versus sort of being passive and watching. I wanted to do it for myself, and then eventually, I wanted to motivate other people to do it. I started myself, with just my two hands, working under a tree in Africa, or working in Haiti. Then, I said, "Well, how can I bring other people? The problems are so significant." You listed some of the places I worked, and by the way, we worked on the Syria border. We did not actually work in Syria. It is not a problem getting into Syria. It's a problem getting out of Syria. Since I didn't want to live in Syria, we worked on the border.
Pedram:
The world, it's got a lot of problems, so you go to a place like Syria, and it's just like, "Oh my god. What can I do? There's more carnage that's being produced than we could help every day." You guys were on the border, but someone's got to do it. You hear about all these heroic people that are doing these things, and you're like, "Wow, good for them." Yet, most people living in our world, especially doctors, a lot of them just feel so kind of disenfranchised and feel like their work is meaningless, and they're stuck with the HMOs and all this stuff.
You're grabbing a bunch of doctors, you're heading out there, and you're leading the charge in a way where people can feel like their skills can actually be put to use in places that are desperately in need of them.
Dr. Andrew:
Absolutely. We all have our lives back home somewhere. Everybody that's in the medical field is hopefully doing their best. You know, even if they're in some small little town in Vermont. By the way, we have a doctor in a small town in Vermont that came with us to one of our deployments.
I would say this. That we're a little different than a lot of the other humanitarian organizations because we offer doctors the ability to deploy on short term. A lot of the organizations that are out there, that are doing phenomenal work, they ask the volunteer, and in some cases, the paid physician, to take a year off from their life. There are just so many people that just can't do that for family, or business, or professional reasons. We deploy for two weeks at a time, sometimes three weeks, and then bring in our replacement doctors.
That sort of opens the opportunity for acupuncturists, medical doctors, and nurses, and paramedics, and we also have search and rescue canine assets. We use dogs to find people that are trapped. That offers the opportunity for those people to say, "I really want to help, I just can't take off a year. Here's a way I can do it. I can take off two weeks." They volunteer with us.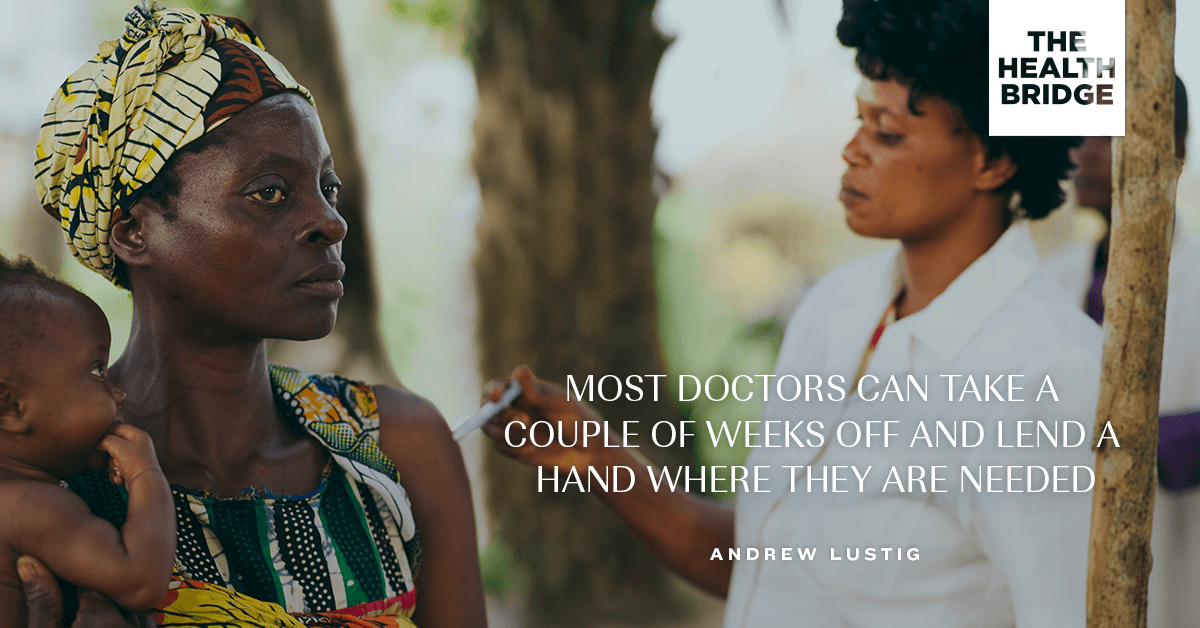 Pedram:
It's an amazing, meaningful two weeks that presumably keeps them coming back. What percentage of your people, once they've done their two weeks, say, "I'm hooked and I want to keep doing this"?
Dr. Andrew:
You know, I actually haven't run the percentages, actually. I will tell you that we're a relatively new organization, and so we need to build our team to about 250 to 300 professionals worldwide, because when you go back to the people that have successfully come with you to the Syria border, or to the Philippines, and you say, "Hey, there's an important mission we want to do in Iraq," which is coming up this winter, in northern Iraq, and they say, "I just can't get the time off," it is a game about having a large enough group of physicians that somebody skilled can come with you so you can assemble a meaningful sized team, and make a difference.
Pedram:
You're working with all kinds of specialties. Some people would say, "Well, listen. What we need is gauze and antibiotics, and sutures for these areas." You're going in with people doing ear acupuncture. You're going in with people doing homeopathy. How much of the complementary alternative therapies being deployed, and how is that supportive of these communities?
Dr. Andrew:
Well, I'd like to tell you, Doctor, that basically not every patient needs all of those areas. What is nice is that when you have the right treatment for the patient, versus having, for instance, all western medicine, and you're looking at a patient and not really having the solution for them. I've been on deployments alongside some great medical doctors, and we'll have a patient, and they'll look to me and they'll say, "You know what? I don't actually have western medicine that will work. What do you have?"
What we do, is when we have a patient, they are seen generally by an eastern and western practitioner. Not always, but what we do is the intake with that patient is generally with two providers. The western provider has a solution, a partial solution or a full solution, and then the complementary medicine of an acupuncturist, whether it be for mental health, whether it be for some other issues, chronic pain or acute. Fortunately, patients can respond to a variety of treatments that are complementary.
Pedram:
That is a novel way of looking at it. Unfortunately, in a world that's become so polarized, to go in with a collaborative team approach, and lord knows people need it. I remember I was doing some barefoot medicine in India, in Nepal, and man, within a month or so, I was out of all my supplies. I would have to call in the local medicine man, elder, whatever, and be like, "What herbs do you use for this, that, and the other?" And take whatever I knew and applied it to local kind of supply chain of botanicals. You could run through first aid kids. You could run through needles. You could run through all your alcohol swabs pretty quickly. You know better than any, there's still a long, long line of people waiting to be healed, and they don't want to take no for an answer when there's a doctor in town.
Dr. Andrew:
Yeah. You know, they don't want to take no for an answer when anybody who puts a stethoscope around their neck, whether they're a doctor or any kind of practitioner. You do that, and you'll have a line of 200 people, because for the most part, the places we work, these individuals do not have access to health care. When volunteers come, all of a sudden they have free access.
It's interesting. In some places like Nepal, when I ran out of homeopathic medicine, well, there's a homeopathic pharmacy in Nepal, because we're proximate to India, and we're proximate to a culture that works with homeopathy. Homeopathy is something that's affordable and accessible, and in some cultures, very expected. Naturally, a little less when we work in the Middle East. It's not as common, obviously. You do run out of supplies, and that's another reason why you might have a variety of practitioners. You don't always have all of the western supplies you need, but there is potentially a homeopath or an acupuncturist that's, "All right, listen. I have a solution for this that doesn't require your supplies."
Nothing goes perfect on these deployments, no matter how well you plan. Your medicine doesn't show up. We worked in Nepal, and we had a caravan of several four-wheel drive vehicles carrying medicine to remote areas. We had a large truck with 1,000 pounds of food. One of them gets stuck, and we don't get some of the practitioners in the right place, and so as much as you plan, you sort of have to integrate all of these different specialties, and ultimately one size doesn't fit all. It's fortunate that you have a variety of services, and it's really about sort of working with a patient as a whole body system. Our whole body doesn't require one type of medicine.?
Pedram:
Amen. You've been to places where you couldn't get a truck there if you'd tried, right? You've been in the Amazon, where getting there is … You've gone to remote islands by canoe. What's that like? Basically going down rivers on canoes to help people that have no access to the world?
Dr. Andrew:
We work in remote areas, and I've worked in places that, like you said, it's a canoe. You're in the Amazon jungle, you're loaded up with medicine, and nurses, and the motor gives out. It's just a little motor on a canoe. It's like a little, you know, some of them don't have motors, and some do. Depends how far you're going. The motor gives out. The Amazon individual that lives there gets out and starts taking the motor apart right there while you float, and puts it back together. You get back in the canoe, and you keep going. You're arriving at places that the shore is eroding in front of you. These are places that have houses on stilts, and they keep moving the houses inland because the shore is eroding. You can imagine sort of the access to anything, let alone medical care.
It's pretty interesting. Nepal was a remote area accessible by mostly vehicles, but there were times when we had to use helicopters. Same thing in the Philippines. We use anything we can. For the most part, there's some kind of transport that will work.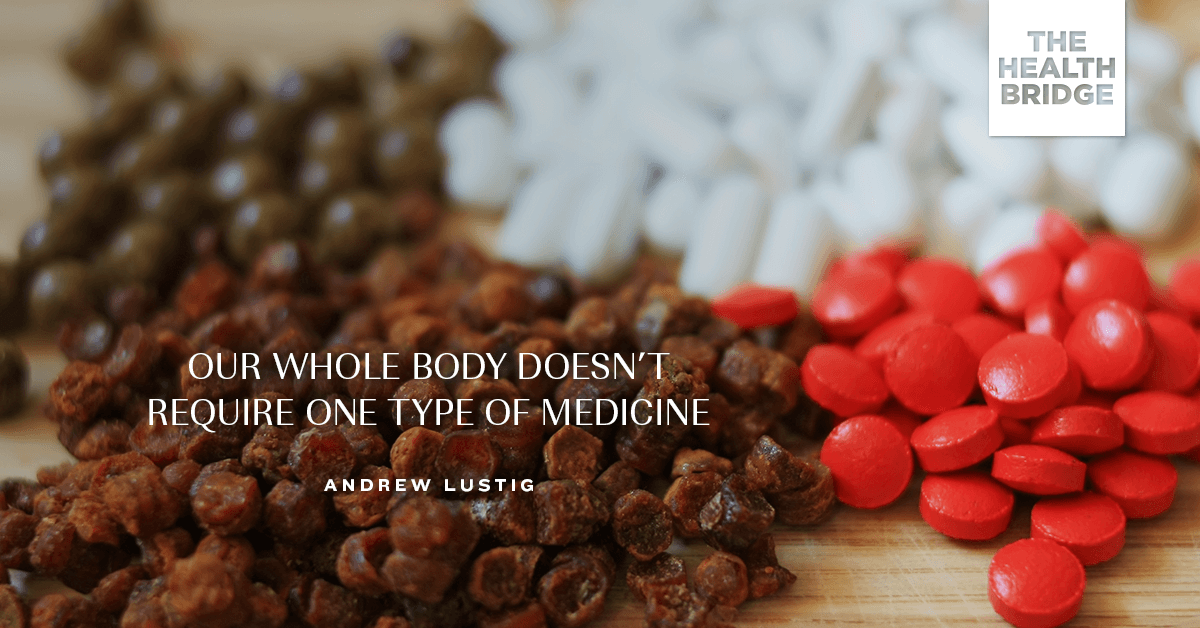 Pedram:
If there's a will, there's a way, right? You guys, I read that you were working with the Maasai tribe in Kenya. A lot of it is parallel stuff, right? You're building schools, providing famine relief. You're working with other NGOs, other groups that are there to help, and medicine is an integral part of that. How much of this is a collaborative effort to work with the different groups that are already kind of going there?
Dr. Andrew:
Well, Doctor, we're a small organization. That has its pluses and minuses. For instance, when we deployed to Nepal, we were one of the first groups on the ground within a few days of that earthquake. I was talking to one of the larger NGOs that has several billion dollars, and one of the senior vice presidents said to me, "How did you get on the ground so fast? We were there a week later." I said, "Look, there's nobody to ask. It's me and a few doctors, and we just get on the plane and go." The resources are much more limited, but we don't have a chain of command that kind of delays our immediate deployment.
The negative, of course, is we don't have the financing. We seek donations, and usually donations come in at the time of a disaster. When Nepal happened, we received a lot of donations. Before, not so much. After, not so much. We do have to collaborate. We are not the answer for every deployment. Often times, we're integrating with large government agencies. The UN, the UNHCR, the United Nations High Commission for Refugees. We have to integrate sometimes with existing NGOs that are on the ground. We've worked alongside, not with, but alongside Doctors Without Borders, and IMC, and all the big players. Sometimes we share resources. It's really important. It's always a collaborative mission. Even the largest organizations out there need to collaborate. For instance, we supply canine search and rescue dogs. That's an important way to find a patient. Some of the larger NGOs don't have that. Most don't have that. We're probably pretty unique in terms of offering doctors and dogs.
We find a patient, and if it's beyond our ability, or we don't have the facilities to treat that patient, we're going to collaborate with the nearest full facility.
Pedram:
Sometimes those nearest full facilities are miles, dozens of miles away, but you've got to do what you've got to do. Just being there on the ground, you have to be agile, because it's a fluid situation, and so how many times in your life have you actually thought, "My life is in danger" while being out there?
Dr. Andrew:
Well, I'll be really honest with you. I'm not generally worried about the places that we work in. We are not working in direct, front line war zones. We do not have the ability to provide the security that's required. Sometimes, we are assigned security details, and we have had gentlemen with M16s watching when we go to the bathroom and so on, and they've been assigned to us. I would say the most dangerous area, believe it or not, of all the places was Nicaragua, especially at night. Especially in Managua and places like that, where essentially if you're known to be a doctor, you most likely have some resources, and they're going to want it.
In general, I would say I don't feel security issues with the military. I feel more of it with just sort of getting knocked on the head, and some stuff grabbed from my pocket or something.
Pedram:
Which could happen anywhere. You're actually living in New Mexico. You've got a couple of kids, three horses, two dogs. You're in Santa Fe. Far cry from New York. What's interesting is you're actually working with people doing solitary confinement and have life sentences, death row inmates, right there in New Mexico, which is a nice twist to this. We have plenty of problems here at home, so what are you doing there?
Dr. Andrew:
It's interesting. Some people that are pretty close to me have said, "Andrew, you live in a state where poverty outside of Santa Fe is pretty high. The medical issues there are pretty difficult on some of the reservations. You know, why aren't you spending more time there instead of traveling across the world 14,000 miles?" I'd like to do it all, to be very honest with you. Essentially, the poorest of the poor here in America do not compare to what I personally, in my opinion, I've seen in places like Africa.
I worked with the Maasai tribe in Kenya, as you mentioned. When they're poor, it's a matter of whether they live or die the next day. The poor here, it may be whether they miss a meal or two. I'm not putting down the fact that there are people that have much worse circumstances in the United States, it's just that my personal view is that there are more resources, pretty much proximate to most places in the United States. We have a high density. When you work with the Maasai, and you're out miles from anything, you might be hours and hours away from the nearest store or something. I feel that the situations may be more desperate, and so we've supported those people that are far away.
I will say this. When the Orlando tragedy happened, we did have a trauma acupuncturist providing anada technique for the survivors a few days after that incident happened. There were obviously many family members and many people that lived in Orlando that were deeply affected emotionally. We provided mental health through acupuncture as a way to support that community. We're looking to do the same in Nice, France, with that tragedy.
There are times when we can provide services domestically, and we're very fortunate that domestically, on a disaster basis, there are very few incidences here.
Pedram:
Are there times when you feel like, "This is too much. I want to quit. I've had enough of this"?
Dr. Andrew:
No. I'm just getting going.
Pedram:
What drives you?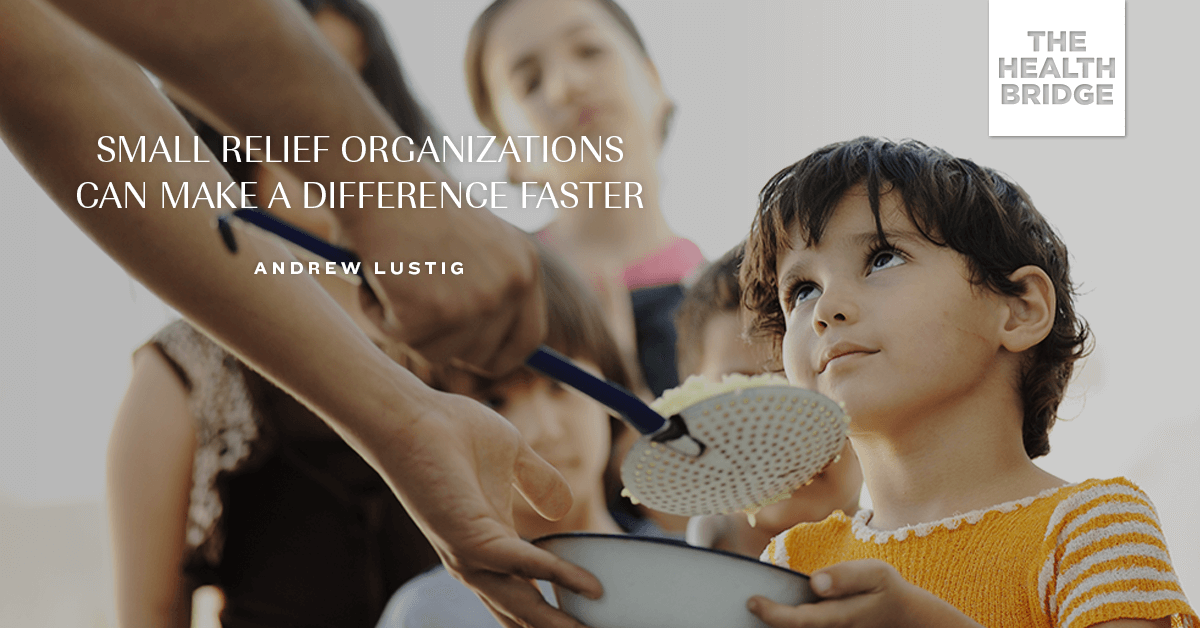 Dr. Andrew:
I really want to be on the ground, working with people directly. You need all types of support. You need the support from an administrative level, at the highest end of the people that may never actually set foot in some of these places. What they're implementing from afar is critical to the whole picture. For me, I've got to touch it. I've got to feel it. I've got to witness it. The coordination and involvement that we require in some of these locations really needs a senior person. I function not as a naturopath when I'm on these locations, but more as a coordinator for the medical doctors, the acupuncturists. Working with local governments that have asked us to come. Figuring out difficult transportation. It's an adrenaline. It drives you. You know you're helping. You see people that have benefited from your medical involvement, and at the end of the day, when I come home, I feel great.
Pedram:
You come home to a couple of kids, your horses, your dogs. How challenging is it to leave the ones you love to do this? Do you take the kids with you at times?
Dr. Andrew:
You know, neither of my children seem to be interested in this field, and that's okay. I've not taken my children along with me. My dogs and my horses are also not interested in coming. However, I will tell you that I'm very fortunate when I go to these places, because I know I'm coming back. A lot of the people, obviously, that we're working with don't have another place to come back. They're in a refugee camp on the border of Syria with 100,000 refugees, living in tents for years, and not having adequate services.
For me, it's not hard leaving, as long as I know I'm coming back.
Pedram:
Do you always know you're coming back? It sounds like you're not in the direct line of fire, so that helps.
Dr. Andrew:
Now, I have to knock wood. I really hope that there is never a situation where I don't come back. Our next deployment is northern Iraq, Kurdistan. There are 200 million refugees in the northern portion of Iraq. It's quite a distance from the Isis controlled area of Baghdad and Mosul. Actually, about an hour from Mosul. In this particular case, we really want to support some of the atrocities that are happening in Iraq, and this is considered a safe zone. Kurdistan is guarded by a substantial army. Again, we won't deploy at this point to direct military fronts where active wars are happening, until we have a security detail and the ability to fence ourselves in and all of that.
Pedram:
You hear a lot about this, these hospitals getting shelled, and the doctors in there being like, "Listen. This was supposed to be a neutral zone, but people hide. People harbor." It's complicated stuff, and that part of the world is crazy. There's lots of parts of the world that are crazy, as you've witnessed.
How do we extend this? How do we help take kind of first world medicine, or just first world interventions, whether it's alternative, complementary and all that, to places that we need to scale it better?
Dr. Andrew:
Everybody's got to start somewhere. We started small. It was myself, Dr. Brian, and Dr. Matthew, the three of us, that started Global Outreach Doctors. I brought them on as medical directors, so there was three of us. We have about 35 now, and in a few years, we hope to have a few hundred. I think it starts with baby steps. I mean, if you have the ability to take a giant step, that's a great resource. I think we all have something we can do. Whether you're a young kid and you want to do a bake sale and send a few dollars to some refugee somewhere, or you're a very wealthy person and you want to use the ability you have financially and support organizations like ours, you have to start somewhere. I think the goal is that when you have it really well, and I have a really blessed life. It's my question, and maybe other other people would ask, "How can I help those that don't have what I have?"
I know what I'm eating tomorrow. I know where I'm sleeping. I know that if I get sick, I have the resources and the available care. Really, my goal is just to motivate as many people as possible to take a step, whatever step you can, instead of just watching on the news. The news is just … Every day, I look at Al Jazeera or CNN or BBC, or all my other news sources, and it's like, "When will this stop?" Some of these situations, I'm powerless. I don't know what to do about a mass shooting. I used to live in a town in Connecticut that's very well known for a mass shooting. I worked as an EMS provider there, fortunately, before that mass shooting happened. I don't think I'd be the same person if I had witnessed that.
I will say that it's all about taking an active role. Whatever you can do. Whether it be your financial ability, whether it be your medical ability. Whether it be your mental health ability to treat mental health, all of it matters.
Pedram:
You've also done something that most of the world's religions talk about, which is devoting your life to a life of service. You know, you're doing something that's bigger than you, which then makes the Y bigger than the U, and that drives you. I'm sure there's mornings where it's not as easy to wake up, but you still get up and do what you've got to do.
Dr. Andrew:
Absolutely. I live a life of service primarily, now. I mean, I have an awesome family, and all of that. It's a very big change from sort of running a big corporation. I don't get paid in cash anymore like I did when I ran a company. I get paid in karma, and that's really what I want to do with the rest of my life. I also don't live as big a life as I used to when I was a CEO of a media company. That's just fine. I don't need a big house.
Pedram:
Most people think that that's the answer, right? Here's a guy who's had a big house, and big cars, and big New York dinners. You're out there serving some of the poorest in the world, and … Satisfaction? Where's that?
Dr. Andrew:
Absolutely. When I see all of our doctors tirelessly sweating, working for 12 hours a day, I know that I have made a difference. That they have made a difference. That's hugely gratifying, hugely satisfying. I'm high at the end of a mission. When I get home, I'm ready to go again. It just feels so great.
Pedram:
How can people get involved, whether it be on donation, or if, you know, we get a lot of health care practitioners that listen here, to just jump in and be a part of something that is meaningful?
Dr. Andrew:
Well, our organization's website is GlobalOutreachDoctors.org. GlobalOutreachDoctors.org. On our website, you can volunteer. Our application requires a licensure, whether it be a DOM, or an MD. We're interested in bringing some surgeons to Iraq. We're building a surgical team for the winter. We still continue to help refugees on the Syria border. Certainly, as a practitioner, if you have the interest, we would love you to apply. As far as donations, we live on that. There isn't one paid person on our team. All of our doctors give up their vacations, and use some of their own financial resources as well as I do, to work and to help people that have less. Certainly, we would appreciate any donations that you could make. There's a spot on our website, naturally, for that as well.
Pedram:
Listen, I thank you for the work that you're doing. It's noble, and it's much needed. Hopefully, our listeners and our viewers can get inspired. Look, maybe you're not a doctor, but the point is, if you're sitting there complaining about the world, and the state of affairs in the world, you could either sit there and passively scratch your head and say, "How did it get so far?" Or you could get your ass up and get to work and do something about it. You've inspired me, and you've inspired many others to kind of follow suit. Everyone just needs to get up and be a part of a solution, and you're doing that, so thank you for that.
Dr. Andrew:
Thank you. Thanks for having me. It's been awesome.