How Does the Body Make Poop?
You will better understand the different types of poop color by knowing how the body produces waste.
As soon as you chew your food and saliva mixes with it, digestion is already occurring. It then passes through many parts of the gastrointestinal tract, such as the esophagus and the stomach.
From there, it reaches the small intestine. In the small intestine, digestive juices from the nearby organs, such as the pancreas, liver, and the gallbladder, mix with the food.
At this stage, the substance is already mushy, having passed through the stomach's gastric juices. The enzymes and bacteria that make up the gut flora help break down the food's components into nutrients, fats, proteins, sugars, and water.
The body then absorbs these nutrients and delivers them to the different cells and organs through the bloodstream. The leftovers proceed to the large intestine, ready for elimination.
What Are the Different Colors of Poop?
1. Black Poop
Do you know a baby's first poop is black or tarry? It may even look like motor oil.
Also known as meconium, the fecal matter contains everything the baby ingested while still inside the womb. These include skin cells, amniotic fluid, and mucus.
For the adults, feces may be black due to food consumed such as black licorice or blackberries. Iron supplements can also cause this.
Sometimes, though, black stool can imply a more serious problem such as internal bleeding in the upper digestive tract. When blood mixes with the enzymes in the intestines, it can change from the color red to black.
2. Green Poop
Like black poop, the culprit may be the food you eat. If your diet is heavy in green leafy vegetables, expect some hint of the color in your stool the following morning. You may also produce green poop if you ate anything containing green food coloring.
Often, though, bright green stool color is a result of a faster-than-normal transit of food from the small to the large intestine. The bile, which comes from the liver and helps break down fat, doesn't have enough time to mix with the food.
3. White Poop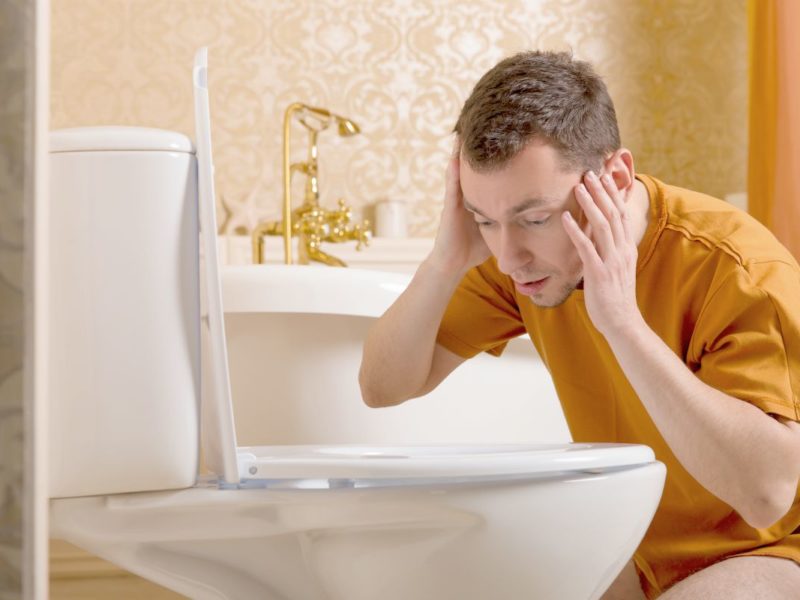 The most common cause of white, pale, or clay colored stool is a lack of bile production. As mentioned, the liver secretes bile to help break down fats. It travels to the gallbladder which stores the bile or to the small intestine where it combines with food through the bile ducts.
Bile is green but when it mixes with the enzymes of the gut, it can change to brown. When the stool is light colored, it's likely the substance failed to reach the intestines.
It's possible there's a duct blockage due to tumor growth, gallstones, or duct twisting.
The problem may also not be in the ducts but in the liver. For example, certain liver diseases like cirrhosis will prevent the organ from producing bile correctly.
White stool color may also be due to the consumption of certain medications such as antacids like Pepto-Bismol, but it requires large doses before the stool turns white.
4. Brown Poop
When it comes to poop, a brown color is the gold standard. It occurs due to a compound called bilirubin.
Bilirubin is the by-product of the breakdown of hemoglobin, an iron-rich protein found in the red blood cells. It's what helps transport oxygen to the different parts of the body.
The breakdown occurs in the liver, which then releases it along with the bile. The bile and bilirubin then travel toward the intestines.
When they mix with the enzymes, the colors change from light brown to dark brown poop.
5. Red Poop
Red poop may indicate a problem in the lower digestive tract such as the gut, rectum, and anus.
The most common cause of bright red stool is bleeding from hemorrhoids. It could also be from external bleeding due to anal fissures or or internal bleeding from an ulcer or other cause of gastrointestinal bleeding.
Like other poop colors, it may also occur due to what you've eaten. Some foods that make your poop red are beets, cranberries, tomato juices and soups, and anything with red food coloring.
6. Yellow Poop
This may mean the liver isn't able to produce enough bile or the gallbladder failed to secrete enough of it. It can indicate a problem with these organs.
It's possible there's a partial blockage or gallbladder stones. The issue may also be in the pancreas since it produces enzymes to help break down fats, proteins, and carbohydrates.
In babies, yellow stool is normal for both breastfed and formula-fed babies. They do differ when it comes to consistency and smell.
Related
Do you want to know how to speed up digestion? These 14 tips will help you do just that plus improve your metabolism in the process.
Why Does Poop Color Change?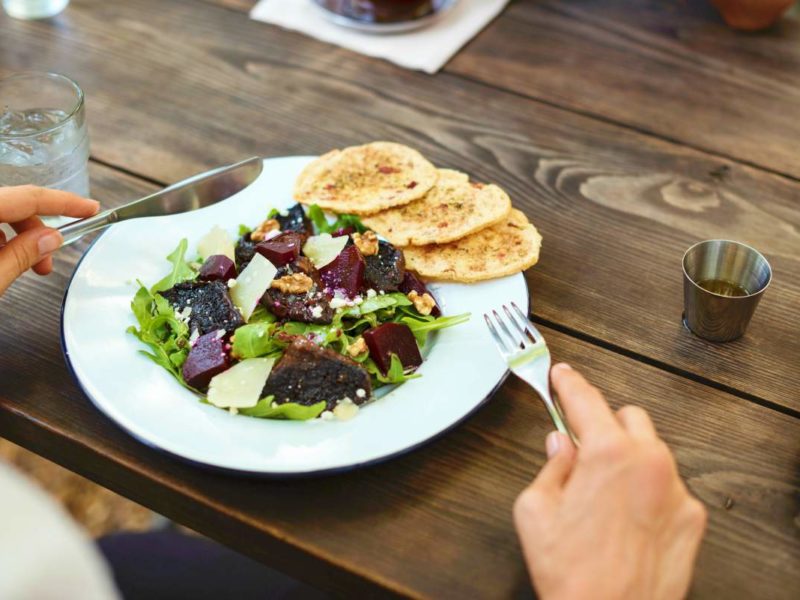 The pigment of your poop can change from time to time due to a variety of reasons. These can include the following:
Diet changes, including the type of food you eat
Hormone changes
Medications
Underlying causes such as possible chronic diseases
Amount and quality of digestive secretions
Substances that constitute the feces
Age
Kinds of bacteria present
Frequency of the bowel movement
Who Is at Risk of Changes in Fecal Color?
All people will experience changes in poop color, although they will be more common or significant in the following:
Babies
Individuals with chronic diseases, particularly those affecting the digestive system
People diagnosed with infections
Individuals taking supplements and medications, such as antibiotics
Those who suddenly changed their diets
When Should You Worry about Poop Color?
A lot of people grow up believing the only acceptable poop color is brown. Anything else should be a cause for alarm.
Of course, any changes need closer attention, but they should not induce panic immediately. You can use the following questions to help you evaluate your poop:
How many times a day should you poop? It turns out a healthy bowel movement follows a regular schedule.
What's your frequency of pooping each week? It's common to poop every other day, though a minimum of 1x per day is ideal.
Is there mucus in the stool? Mucus in the stool may be due to an underlying medical condition such as irritable bowel syndrome (IBS), ulcerative colitis, Crohn's disease, cystic fibrosis, or a bacterial infection.
Did you have a hard or liquid poop? Healthy poop should be soft but firm.
What is the smell? Normal stool does have a smell due to the bacteria present, but when it's really foul smelling, this may be a sign of a disease, infection, or presence of blood.
Is it sinking or floating? Stools that float may be an indication of fat malabsorption or celiac disease (an autoimmune disease triggered by severe gluten intolerance).
Did you have a hard time passing the stool? If you did, it may be a sign of constipation.
What is the shape of the stool? An amoeba-looking stool can mean you're lacking in fiber.
Is it greasy? It may mean the stool has a high-fat content.
You also need to consider two essential factors: when the poop color changes and the accompanying signs and symptoms.
If the color of your poop changes, and you experience nausea, vomiting, bloating, loss of appetite, and weight loss, among other symptoms, see your healthcare provider.
Where Should You Go for Your Poop Concerns?
When you have issues with poop color, you seek an appointment with your general practitioner. The GP will ask questions about your poop, such as the following:
When did you notice the color change?
What other symptoms do you feel?
How often is your bowel movement?
What types of food or drinks did you consume?
Are you taking medications?
The doctor may also request a fecal examination or a stool analysis. If the result will require treatment behind the GP's scope, he/she can refer you to a gastroenterologist.
The gastroenterologist may then conduct a more thorough exam, which can include:
Sigmoidoscopy – It can reveal polyps, growths, inflammation, and ulcerations.
Colonoscopy – The doctor will thread a flexible tube from the anus to the colon to check for any abnormalities.
Barium enema – Also called colon X-ray, it is used to detect changes in the colon. An enema will be injected into the rectum using a small tube.
Depending on the outcome of these tests, the gastroenterologist may work alongside other specialists such as oncologists if your issue is a malignant tumor.
Final Thoughts
Poop color is one of the ways to gauge how healthy your body is. Sudden color changes should not be a cause of worry unless you experience other concerning symptoms. Many times, a shift in color means you should look at how to optimize for better digestion.
Either way, trust your gut (no pun intended). It doesn't hurt to see your doctor if your stool color bothers you. It may sound gross, but checking your poop to see if it's normal is a great way to be proactive about your health. Healthy poop = healthy gut = healthy you!
You May Also Like…
Editor's Note: This post was originally published on April 25, 2019, and has been updated for quality and relevancy most recently on January 17, 2022.