Table of Contents

[Hide]

[Show]
Clutter Everywhere!
Stuff. It's everywhere. At work, at home, and even in our cars, clutter can be hard to escape. It piles up on our coffee tables, fills our closets, bookshelves and kitchen drawers. There so much of it, we often stop seeing it. But, believe it or not, you're feeling it.
Have you ever cleaned out a closet or or cleared your desk then found yourself more relaxed?

Do you have a hard time completing tasks due to disorganization?

Do you ever go into an organized home or office and immediately feel more comfortable?

Have you ever picked up an old pile of magazines to find yourself covered in dust?

Does a messy kitchen keep you from cooking healthy meals?
Clutter is harmful for your physical and mental health, but the good news is it can be cleared with some simple strategies.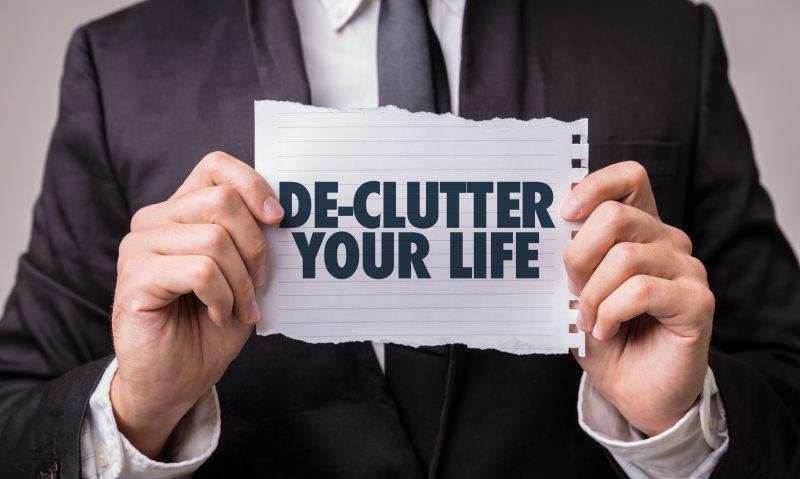 Clear
When people declutter, they find relief from anxiety and depression, their allergy and asthma symptoms improve, and some even lose weight!
Clearing the clutter is often synonymous with clearing the mind. That might sound crazy, but it's true! People can better sort their thoughts and do more creative problem-solving when in a clutter-free environment.
Letting go of some of the stuff laying around our homes provides a sense of peace and sanctuary, rather than contributing to the many stressors we often have going on.
Organized office spaces increase productivity, while a cluttered office space is shown to decrease the likelihood of promotion!
Making the choice to have less clutter in our lives helps us rethink our spending habits.
How To Clear The Clutter
Start small. The idea of decluttering a space, especially an entire home, can feel overwhelming. Commit to tackling one area at a time, like a shelf or a drawer, gradually building to larger or more time-consuming areas.
Schedule your declutter time. Set aside time for decluttering by putting it on your calendar or adding it to your daily routine.
Fill one bag. If you're working on a space like an office, fill a recycle bag and let yourself stop when it's full. If you're going through a dresser, fill a bag or box for donations. It's not that hard. Just one bag!
Visualize the end goal. Clearing clutter is great in and of itself, but what do you want the space to look and feel like when you're done? Keep that in mind so you're working towards a specific goal.
Ask yourself questions. When is the last time I used this item? How likely am I to get around to this project? Will I ever read this 10-year-old magazine? Am I ever going to wear my prom dress again? Will bedazzling ever make a comeback?
Maintaining Your Clutter-free Environment
Once you have a clutter-free living area or work area, put some strategies in place for maintaining it. For example:
Set up in/out boxes

Process mail when you receive it

When you buy a new piece of clothing, donate an old one

Use your local library instead of acquiring more books

Have children sort through toys for donation at the same time every year

Before making a purchase ask yourself, "Do I really need this thing? Does my purchase make the world a better place?"
Once you get started, clearing the clutter will likely feel so good that you will be motivated to keep going. Where will you start?
References for this article: