Advertising is tricking our kids
If you have young kids and you let them catch some cartoons so you can get things done around the house, you've most likely seen how commercials tell our kids everything that they need. From toys to Lucky Charms, Madison Avenue knows what it's doing. And my guest today, Dr Drew Hanks has done some really interesting research behind how our kids make less nutritional choices because of all the advertising that's out there. He's a behavioral economist who focuses on consumer food choice and eating and the economic and psychological factors that influence these decisions.
Dr. Hanks says that his research and efforts are about getting kids to make healthier choices in the lunchrooms instead of putting the energy into just blocking them from getting there in the first place. It's about changing the mind from step one and reframing it. If we just restrict the choices, what are we really teaching the kids? If we put the focus on choosing the healthier option even if the bad choice is there for the taking as well. That's encouraging.
Dr. Hanks and his group worked with a private company to put effort into changing the marketing around vegetables and created characters for the kids to connect with. And it worked. It's amazing what a simple change can do that actually got kids to draw their attention to a salad bar because a banner with characters was put up around it combined with a TV commercial with the same characters. The kids connected to it. So, pro health marketing can work and it's pretty cool to see it used in a way that helps our kids.
Moving in the right direction
Getting people to be socially conscience of what's going on in our schools is huge. And getting the marketing and advertising guys to realize that what they put out there matters and is affecting our kids and what they are eating in the lunchrooms. Companies, especially organic companies just need to keep getting their message out there and make healthy choices look appealing to kids so that they will be inclined to eat it instead of the bag of chips. And it's not all on them, we parents need to do our part as well. Grow a garden and encourage your kids to eat things that nourish their bodies. If we get them interested and help them to understand how good fruits and vegetables are for us, we are off to a good start to making the world healthier than the one we are in now.
Notes from the show:
Dr. Pedram:
Hey, welcome back to the Health Bridge. Dr. Pedram here, talking about how to get the right stuff in front of our children. Anyone with kids knows how hard it is to get them to eat fruits and vegetables particularly with all the advertising out there with less nutritional choices. My guest today is part of a team that does really interesting work about this. Dr. Drew Hanks, he's an assistant professor of consumer sciences at Ohio State University. He's a behavioral economist whose primary interests are consumer food choice and eating and the economic and psychological factors that influence these decisions.
Dr. Drew's research has led him to conduct studies at restaurants, grocery stores and homes. He's published numerous articles on behavioral economics of food choice. His most recent study is in school lunch rooms, to see how marketing might affect the consumption of vegetables in great school cafeterias. This is fascinating stuff. Doc, welcome to the Health Bridge.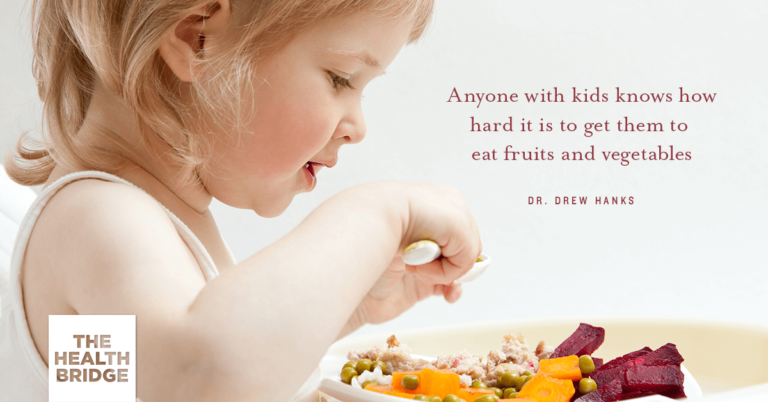 Dr. Drew:
Thank you, thank you for inviting me.

Dr. Pedram:
Yeah, thanks for doing the work that you do. This is important. I got two young kids and man, there is a barrage of advertising that comes at these guys. You guys decided to take a look at how to flip this thing on itself and use some of the tactics that the food industry has been using to actually market vegetables. What a novel idea.

Dr. Drew:
That's right. You'd think well why hasn't anyone tried this before. I think what happens is these sorts of things do happen, but a lot of the attention is paid or focused on maybe what's the advertising for more of the sugary things. Really, what we wanted to do is take these tactics and employ them in the school lunch room where a lot of times attention is more focused on how are we going to get rid of certain things. Or maybe they're eating too much of one thing, as opposed to, what can we do to motivate these healthier choices.

Dr. Pedram:
That's interesting. When you say get rid off some certain thing, are you talking about just like over-supply? Like hey, we got too much fish [sticks 00:02:12] in this week, let's move them?

Dr. Drew:
More so the sugary items or the snack foods, what they refer to as competitive foods. There's been several regulations limiting the amount of these foods that can be offered and restricting the types that can be served in school lunch rooms. We want to make sure our kids are eating healthy and making good and proper choices. My research is really focused on instead of restricting choice, why don't we try and encourage healthy options and see if that can really move kids towards making this healthier choices.
Dr. Pedram:
It's like Mother Theresa used to say, "I won't go to an anti-war rally, but I would go to a pro-peace one."
Dr. Drew:
That's right.
Dr. Pedram:
Yeah.
Dr. Drew:
That's right. It's really a frame of mind and thinking about okay, if we restrict choice, sure, they're not going to eat it, but are we really teaching? What are we really teaching them? Once the options are there, is it really being beneficial to them because have they learned to make the healthier choice. With this particular study and other research I do it's well if we can arrange an environment to encourage the healthier choice, maybe we can help maybe help them make those decisions, even with the other stuff there.
Dr. Pedram:
I want to get into what you did here because marketing vegetables, every parent tries, everyone tries to make broccoli cool. How did you guys actually get successful at this and what made it work?
Dr. Drew:
Sure. We collaborated with Super Sprowtz which is a private company. They developed these vegetable characters on their own. We had nothing to do with how these Super Sprowtz characters were developed. The founders of Super sprowtz had created these set of characters, eggplant, tomatoes, zucchini, broccoli, carrots, peas, mushrooms, onions, garlic. They had created this story around how these vegetables came to life and developed these super powers. They had already started going across the country doing different shows for kids. They wanted some hard evidence demonstrating that hey, this can really have an impact on what kids are choosing. My group had already been doing research for a while in school lunch rooms so they said, "Why don't we team up and see what we can do in a school lunch setting."
We teamed up with them and they have these vinyl banners that you can wrap around the base of a salad bar. If you imagine a salad bar with a different trays up top and different components and then right below that area is the base area and they wrap this banner around it that has all these vegetable characters in different poses and it's marketing in that way. Then they also have these clips that you can access on Supersprowtz.com. A lot of times they're talking about nutritional messages or different recipes, but just different clips of these vegetable characters that were looping on these flat screen televisions that we placed in the school entrance. To make it a proper experiment designed for research purposes, we had some schools do just the vinyl banners, some schools do just the television screens and then some schools did both. We had another set of schools that didn't have anything in place. Go ahead.
Dr. Pedram:
I was looking at some of the statistics and it's actually amazing what I'm seeing. First of all, this is an amazing venture between sort of like for profit entity that's out there making innovations. Then an educational institution which says hey, this is interesting, let's study it, which is it's nice that the impetus is coming and there's collaboration there. Let me read some of these results and we could get into it. Is 90.5% more students took vegetables from a salad bar when exposed to the vinyl banner only. 239.2% when they did the salad bar exposed to the television and vinyl banners. Yeah, that's the big one. The combination is amazing and the TV only one I don't have in front of me but that is a lot of variance and change from behavior that was just kind of out there and we just thought that it was automated, they just don't like vegetables.
Dr. Drew:
That's right. What is amazing is we just think about a simple change in the lunch room and we can move kids to taking more vegetables, tripling the percentage of kids actually going to the salad bar to take vegetables. What we think is going on here is you're drawing their attention to the salad bar and exciting their imagination with these vegetable characters. Kids like super heroes, they like these sorts of things. We find here that hey look, if we're able to promote vegetables using these sorts of things that kids really enjoy, we can really see a big impact. Speaking to your point about this vinyl banner we find an increase and this vinyl banner and television combination had the biggest impact. Interestingly, the television's bytes themselves didn't have an impact. We think what's going on is the vinyl banners were really at the point of selection, right there where the kids were making the choices for vegetables.
The television screens on the other hand, we tried to place them as close to the salad bar as possible, but depending on space limitations or constraints or accessible outlets to plug in the TVs, it created some variation on actually where those TVs were placed. What we conclude from that is right at the point of selection, if we're able to really market the foods that we want the kids to take, right where they're making the choices, that can really have an impact. Just think about the grocery store. What are the things placed there? Right as you're about to check out your groceries. It's the same sort of idea, right at that point of selection, what can we do to encourage kids to take. We find these vinyl banner really made a big impact.
Dr. Pedram:
What's interesting is a lot of people in the health industry feel that marketing is so dark and the dark side has kind of exploited all these to kind of leverage the young brains or the parental purchasing decisions to get us to kind of go in the wrong direction because they want it. What you guys have done is taken a neutral stance, used the same type of marketing to promote pro-health messaging and these numbers are staggering, it's amazing.
Dr. Drew:
Yeah, it really is and speaking to your point on there are a lot of advocates, a lot of people saying let's get rid of marketing altogether to kids because of as you said we see the marketing. It's focused a lot of times we see it focused on unhealthy foods or sugary foods or snack foods that maybe okay once in a while but constant consumption of them is really not good. Our goal here was if we can start changing the mindset and think about what can we do to market vegetables? Or what can we do to market these healthier items? What sort of change can we see? There clearly is a big impact here. Now, it's okay, how do we team up with the right groups in order to make this happen.
The Produce Marketers Association actually teamed up with Sesame Street several years ago to … Sesame Street allowed their brand to be used in marketing vegetables for free. Anyone who wanted to use any one of those Sesame Street characters could do that. It's a similar, would have been a similar sort of take if we saw something like Sesame Street in a school lunch room kind of thing.
Dr. Pedram:
Yeah.
Dr. Drew:
There are steps being made. People do realize the value of it and so hopefully, this research is really going to keep pushing that forward and really moving it in a good direction.
Dr. Pedram:
This might be dating me by saying this but when I was growing up, there was Popeye and spinach, right? That was a pro vegetable stance. I don't know, did anyone actually look at what Popeye did for spinach and for popular culture driving kids to each spinach? I don't know if anyone's researching that then.
Dr. Drew:
Yes, so I've tried to pull the stats on that actually and I don't have any hardcore statistics. There are claims that it really helped the frailling spinach industry around the early 1930s when this came out. There are claims that it really increased the amount of spinach people were consuming. As far as hard statistics, I don't have those. I've looked for them but don't have them. Yeah, it's the same sort of idea. I like to call that a medical miracle. Popeye is here maybe getting beat up by his enemy and then what is he doing, he whips out his can of spinach, peels the top off and downs it and all of a sudden, he's much better, ready to fight. Or you could just say that when he needs the extra strength, there are some times when he just downs it.
That sort of theme is actually used quite consistently in advertising. Not only to kids, but also to adults, where you see some sort of situation where someone might need extra strength or whatever. They consume the food and voila, right there they have the strength. It's a common thing but if there's something like that, it could be used for marketing food, right? Marketing healthy food, that would be just like spinach. I'm sure we could see some good impacts from that.
Dr. Pedram:
I would love to and I will get the show producer here to get some of the visuals on this if we can get right to it just to show some of the characters because you got to make it contemporary. It's like if you show Popeye to kids now forget about it.
Dr. Drew:
That's right.
Dr. Pedram:
What are these characters? What kind of neural science goes into this? You hear these stories about McDonald's having neuroscientists and behavioral scientists doing functional brain scans and all sorts of stuff trying to figure out what color and texture would spark a young kid's brain. Are we applying the same type of Kung Fu to these kind of good guy characters if you will to be able to draw kids over?
Dr. Drew:
In this particular study, I don't think we use that sort of a "trickery." The main target in this particular study was how can use these positive messages and that definitely is an area of research where the way you create a message, the way what we call as framing it, how it's portrayed, how it's given to students. If the message take salad at the salad bar, then if we deliver that message in a very enticing was to the kids, then yeah, that can have an impact. That's been shown time and time again in research. Maybe there are some more developments that can be made using the research from these SMRI studies or these other behavioral scientists. I'm sure there are great insights that can be used and I think for all intensive purposes, leverage those to help motivate the healthy choices in school lunch rooms or wherever else that might be. This particular study was pretty standard marketing, how we send the message to the kids.
Dr. Pedram:
There's a real interesting through line here which is one, it's really one of real estate because if I'd grab the iPad and I'd just let my kid just kind of run with it. There's all sorts of crazy videos on YouTube of kids buying toys or getting toys gifted to them so they could entice other kids to get the toys. There's a very competitive landscape for messaging to get in front of your kids. However, when we're talking about schools, we're talking about the comments. We're talking about an area that's somewhat protected and we're supposed to kind of keep the marketing messaging out. If we could put positive messaging there, they are there however many hours a day and they're getting exposed to messaging that would otherwise be kind of drowned out by advertising dollars spent by these big sugar brands. I think the fact that the schools partnered with you on this and allowed for this, was really a powerful way to get this out there because I don't know if you could compete. You would need so much money to compete on say YouTube or national television with the same kind of messaging.
Dr. Drew:
Yeah, that's a great point and all the messages out there right like you say, would be easy for this kind of message to get drained out quite quickly, just because there's a lot of noise and there's all sorts of messaging out there. That's one of the reasons I've done a lot of research in schools lunch rooms is because of the environment and it makes it a place that's fairly controlled where you can do fairly clean studies like this. Interestingly, some studies where they'll place posters of celebrities maybe making a healthy choice, eating an apple or whatever on the walls in the actual lunch room. Those seem to have limited success and I think that's partly because it's not at the point of selection. If we're able to put right at that point of selection where the kids are making the choice at least in school lunch rooms then yeah, we could see an impact.
Going back to your point on all these kind of noise and all the extra marketing. As a parent I have four kids, myself and I think there's a great opportunity for parents or guardians of children to talk to them and help them become familiar with the types of messages out there and help them understand, there's going to be a lot of stuff out there you're going to be exposed to. If they are familiar maybe with these advertising, if they're familiar with the vegetables or whatever healthy food is being marketed, there's a great chance that they can relate to that, and that might potentially change their behavior.
Dr. Pedram:
Listening to this as a parent, one thing that comes to mind is hey, what the heck is happening at my kid's school type of thing, like why aren't we doing these types of programs there, which as a parent if you're listening to this these are questions that you should ask. Share this show, share this study and say, "Hey listen, there's some good stuff happening and so we would like to have the same kind of positive messaging in our school." This actually brings to light a conversation that's been kind of up front and center in my brain, where our next movie is on conscious capitalism and I just got back. I've been on the road filming interviews with people that are really doing some powerful things.
This one group has put a lot of capital into bringing organic food to scale and really helping create access to organic food. One of the challenges is always messaging. It's just like if I'm a natural products brand, if I'm an organic brand that's doing the right thing, this to me speaks to saying, "Listen, you need your own media department. You need to partner with media. You need to get cartoon people. You need to work with organizations that understand this other advertising play to really start bringing your healthy brands to market in a way that's actually going to get consumed by the kids that you're making it for.
Dr. Drew:
Yeah, I think that's exactly right. Whether it's character, they use special characters or something else, I think the point that they find a way, work with the right groups to leverage these insights is key. Be very strategic about who they're marketing to, what their target audience is and then how they're going to be able to or what are the findings from the science that will help them develop the right kind of message. Whether it is these animated characters or something else. Using those insights is definitely key and sending the right message to encourage these choices.
Dr. Pedram:
My show notes actually have a little blip that says spinach sales went up 33% during the depression which is a powerful indicator that maybe Popeye did do something right.
Dr. Drew:
Great and that's one of the statistics. It's not easy to pinpoint Popeye but the fact that he was there during that time the early 30s is suggestive.
Dr. Pedram:
Yeah, and so what else was the spinach industry doing for itself then and so we can kind of go back and extrapolate. It's not on the knows but it's interesting.
Dr. Drew:
Right, it is, true.
Dr. Pedram:
Any difference in gender, age, in terms of how this messaging landed?
Dr. Drew:
Yeah, a slight difference. We find that females seem to be a little more responsive to both the TVs and the banners whereas the boys and the cafeteria's males weren't as responsive to the TVs. They were responsive to the banners. There's a very slight difference in the response. Once again, I think that speaks to having that marketing for this particular study, right at the point of selection. It seemed to work well for both boys and girls. Interestingly, we consider this finding for boys quite encouraging because at baseline, before anything is done, boys tend to select any vegetables less than girls do. So finding a way to bump that up, improve the nutrition of boys in the schools can have some ramifications. Not only as far as behavior goes, but performance in school. There definitely is, definitely something positive to consider there seeing that impact.
Dr. Pedram:
These are vegetable characters, right?
Dr. Drew:
Yes.
Dr. Pedram:
The actual cartoons were vegetable characters.
Dr. Drew:
Sure.
Dr. Pedram:
I know that you guys had suggested, you've talked about Sesame Street which has animal characters and Popeye was a guy. Has anyone looked at the kind of the correlation here to see what's working better or is that future research?
Dr. Drew:
That's future research, yes. Great question, it's something I'm not quite sure how to answer that. You make a great point, is it the human animation or is it animal character, vegetable character come to life with super powers. Not quite sure exactly what difference is and yes, it's definitely interesting to consider.
Dr. Pedram:
Were their super powers implied with this vegetable characters in this?
Dr. Drew:
Not necessarily, the vinyl banner. For some of them yes, for some of them, it was easy to show for example the broccoli character as super strength. It's easy to show his big biceps on the vinyl banner. For the carrot, he has super good vision, but that's not easy to show on a banner. Some of them you could see the super power and others you weren't able to.
Dr. Pedram:
Interesting. Any followup messaging? I'm assuming under the controls of your experiment, it was all just at point of decision, but did you also have the same characters kind of spread throughout, kind of visual areas of the campus?
Dr. Drew:
No, it was focused primarily in the cafeteria just in that space. Our goal was to understand … Part of our goal was to separate our research from others, because others have done something similar where they do a full school live marketing. Where there's curriculum in the classroom that's used and there are other incentives for making healthy choices in school lunch. We wanted to focus our attention right on the school lunch room, right there on the lunch line. If we do this marketing, is it going to work and not have everything else surround kind of potentially hide what we are trying to get at in the school lunch room.
Dr. Pedram:
Great. Yeah, point of sale, and you results speak for themselves. You've actually nailed it. Now it's just a model to keep proving out. Some of the stuff I'm looking at here is the percentage of Black and Hispanic students in schools vary from 73% in control schools to 94% in schools with a vinyl banner. Where was this? What types of areas? It says it was large North Eastern US school district?
Dr. Drew:
Right, it was in the school district and we've agreed not to disclose this particular district. It was a large urban area and so it was quite mixed demographics in the district. Also in our demographics, you can see a difference in percentage of kids receiving free and reduced lunches. In other words, that would speak to some of the income demographics in the district. There was some variation amongst the schools. To see this kind of change in the schools. If we wanted to figure out like cultural or ethnic differences, there'd have to be a whole another study. We didn't consider them different enough to really cause alarm. Just considering the jump, the sizable jumps we saw in the percentage of kids taking vegetables.
Dr. Pedram:
Broccoli, carrots, spinach, peas, onions, garlic, zucchini, tomatoes, eggplant and mushrooms.
Dr. Drew:
That's right.
Dr. Pedram:
It's a good variance, that's a good variance. Did you source these from the same kind of source the cafeteria gets them? Just came through the supply chain and you just provided vegetables or did this company provide the vegetables?
Dr. Drew:
Yeah, we actually didn't provide, we didn't change anything on the menu at all. All we did was just use the banner and the TV to market what was already being used, being sold in the school lunch room. Eggplant typically is not sold in school lunch rooms. I don't think we saw anyone taking more eggplant for example. Just the fact that these things were marketed and some of the standard vegetables like the broccoli and the carrots and the spinach and even mushrooms sometimes as well and peas also marketed directly to the kids. We didn't try and make the vegetables sold on the line specific to what was marketed by these characters per se. Just the general idea of exciting kids about going to the salad bar, picking the vegetables there and just relying on what the school had already been doing.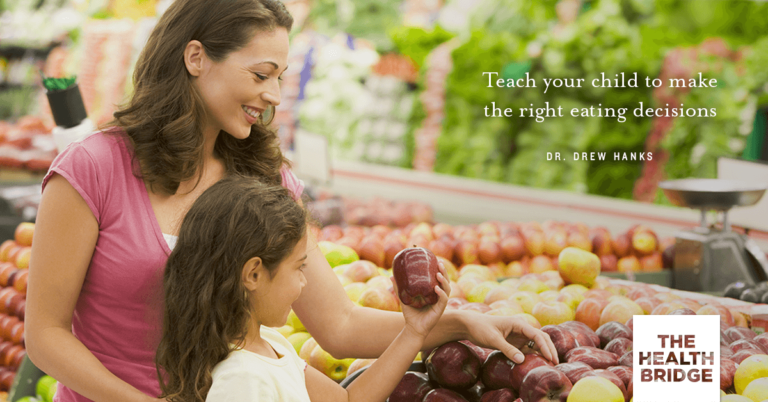 Dr. Pedram:
I'm assuming there's a number of followup studies that are already kind of banging around in your brain, trying to figure out where to go from here. One of which for me on the doctor's side would be looking at their behavior, looking at their test scores, looking at how often they get into trouble. Presumably if they're consuming more vegetables, they should start seeing some impact in other kind of metrics, whether it be biometric or psychological.
Dr. Drew:
Absolutely and one of the hard things about that is sometimes those take a little more time to track. I'm not a nutritionist or a medical doctor by any means, so I can't claim to know the exact science. Changing the amount of vegetables a kid eats over a couple of days or even several weeks, I think this would have to be more of a sustained change, for us to really start seeing outcomes in terms of test scores. As far as behavior goes however, if we're able to provide the nutrients, the calories and the correct nutrients, my initial hypothesis would be we can see some behavior change fairly quickly if kids are getting the … They feel that the effects from poor nutrition and not enough calories right away, anyone does. That would definitely, I think a behavior change would be visible really quickly.
Dr. Pedram:
This is a six week period that we're looking at here with 90% on one with the banner only and almost 240% almost for the groups that had kind of the double dip. That's huge and so are they continuing this program or was it just a pilot study and now the cards are out of there?
Dr. Drew:
Yeah, this was a pilot study and the schools kept the materials and we weren't able to conduct any followup with them. If they are continuing or not, we don't know. Going back to your comment about future research, where are we going, one of the key questions is is this a sustained behavior? Once the interventions are removed, does behavior stay? Are the kids still going to the salad bars? Another question is how long before the effect start to wears off? What kind of novelty might be at play here? Not some sort of, kids can go, this is so cool, but once they get used to it, does it wear off over time? This four week study we see huge impacts. Some research I'm currently doing is trying to get at, okay, how long before we might start seeing a dip? Or is there going to be a dip at all? Is this enough to keep kids excited all semester?
Dr. Pedram:
I would as a media guy, I would hypothesize that unless you dripped new narrative and new character arcs and kind of refreshed the content, they would stop seeing it, which is how cartoons work and how a lot of the stuff works which means someone's paying for that.
Dr. Drew:
Sure.
Dr. Pedram:
We don't know until we know. But what we do know is this initial experiment was incredibly successful and it was heart warming, this is great news.
Dr. Drew:
Yeah, exactly. I think that's where future research can be so valuable in helping expose where do we need to refresh or what might be the right way to change the message just a little bit to maintain that sort of change in the school lunch rooms.
Dr. Pedram:
I love it. Fight fire with fire. Use media messaging to bring the good stuff back into our schools and our cafeterias. This is powerful stuff. Where are you headed from here? What's the next series of experiments?
Dr. Drew:
Yeah, so I actually just wrapped up some experiments in the spring looking at one set of experiments were looking at, at what point do we actually see a dip in the effectiveness of an intervention in schools. It wasn't quite the same marketing, it was a little bit different. The idea was the same as you know, what point do we maybe need to refresh? The second one was looking at when we have an intervention in for five weeks, and if we remove that intervention, do kids still can behave in the same way? Do they still continue to take those vegetables for example. I'm just doing the analysis. The results are pretty, still fairly preliminary.
I will say that it does seem like about halfway through the semester is when you need to consider refreshing the intervention. There is some sustained change I find after five weeks when you remove the intervention. It's fairly limited. It makes sense, something in place for five weeks, I wouldn't expect it to have change behavior on a longer term basis. That makes sense to me. There is some in some ways I do see a little bit of a continuation of the behavior after the intervention was removed. These are important questions especially in school lunch rooms where kids aren't only going to school for a whole semester and then have a break, but then they're changing grades and they're going onto middle school or going on to high school where the whole environment's different. Then we got to think okay, what can be done in these settings to help maintain any sort of change that we initially saw.
Dr. Pedram:
To me logically it seems like the amount of inundation that they'd be getting from any sort of offsite messaging and just the stimulation and everything's so new, everything is just constantly coming out their adapting brain. Unless you kind of refresh the messaging, eventually there'll be a diminishing returns.
Dr. Drew:
Absolutely.
Dr. Pedram:
This is fascinating. I think it's really heading in the right direction. I think this is a hallmark study and I really think that you guys are going to change the nature of the change. I think the entire game will change as kind of pro-health organizations really get attuned with this and start changing around what we're doing. I don't know, maybe it's time to strike a partnership with Pokey Man man.
Dr. Drew:
Pokey Man a big impact on exercise at least, right?
Dr. Pedram:
Yeah, yeah. I'm waiting for the kids to get hit by cars by accident. It's just there are so many other social fall outs that we haven't even looked at with that. We know that it is attracting the minds of young people all the way, the millennials are all into it.
Dr. Drew:
Sure, sure. Yeah, definitely. I think there are a lot of opportunities out there. Getting in touch with the right people and connecting the right groups of people is key. There's a lot of movements. You mentioned this early on on a new movie you're coming out with where corporations, there's a social movement and so there's this kind of social responsibility feeling amongst a lot of corporations especially newer ones where they want to have a social impact and not just make profits. They want to make sure they're doing good. I think this research coupled with the marketing insights so we can get coupled with this movement for social responsibility, can really make a big impact. In my research for example with what people are choosing to eat but also what people are choosing for their exercise, for their … We can even go into financial realm like saving, making sure people are saving for retirement. Just making good decisions for their future selves basically.
Dr. Pedram:
Yeah, it's amazing how much interference there is. There are so many media messages trying to drive you into different directions. The good guys never really thought about this and if you want to bring pro-health messaging, you really have to look at what's working. You said it best at first is working on keeping the junk food out is one approach, but inspiring the healthy food, that's a whole other paradigm and this has really kind of cracked that open. I think it's a very refreshing way to look at how to bring this back in our schools.
Dr. Drew:
Right, absolutely. Some of the other research I do is looking at something similar. Not quite marketing in the sense of using these characters but what can we do to to make the healthy food more attractive or make it more appealing, or just make it more salient to the person making the food selection. Just how an environment is arranged, whether it's through messaging, whether it's through visual cues, whether it's through any sort of situational cue. What can be done to influence what people are choosing? There are a lot of things that can be done. This is just one of the many opportunities that companies can try to encourage healthier choices.
Dr. Pedram:
Yeah, it's a great case study and the numbers are astonishing. They're really positive.
Dr. Drew:
Yeah.
Dr. Pedram:
We've done a lot of stories with guys like local farmers that are having very good success getting local like gardens or local farms for kids at schools and then because they've touched the earth and they've been involved, they're much more likely to consume.
Dr. Drew:
Sure.
Dr. Pedram:
This is coming from a completely different angle, which is using media messaging. You take all these together and you really have a promise of a better healthier world.
Dr. Drew:
Yeah.
Dr. Pedram:
You got four kids, I got a couple kids, we're doing this for them man.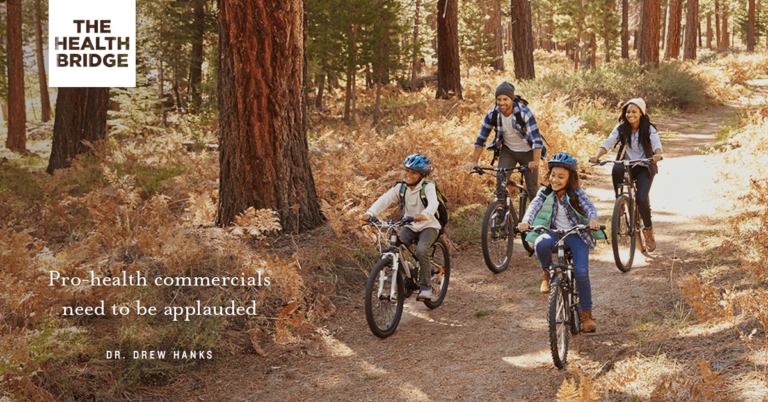 Dr. Drew:
That's exactly right. My kids love, they love our garden. They love going to pick the lettuce and the spinach and the peas, and green peas, everything we got growing out there. That's exactly right, we're doing that to help them develop those healthy habits. Get them excited and exposed to these different foods that are good for them. Yeah, I think it's for them. What can we do to make that next generation a little bit better than this one.
Dr. Pedram:
Doc, I'm a big fan of your work. I'm going to be following you. I think that this is really innovative and I think it's going to be moving the conversation forward as it already has. We'll put a- You got a long website URL so we'll put a link in the blog on Well Data Org. If you're listening to this, it's long, just go to Well Data Org blog, you'll find the story and we'll have a link there. I'll put up a copy of this study that we've been talking about here as well because again, this is really good stuff. It's good news for the good news for the good guys.
Dr. Drew:
That right, that's exactly right. A group that also does a lot of similar research is the Food and Brand Lab and Cornell University. Foodandbrandlab.org is another great place to check out.
Dr. Pedram:
Fantastic, fantastic. Hey, thanks for doing what you do. This is wonderful. It's encouraging and I'm going to keep following your work because I'm a fan.
Dr. Drew:
Great. Thanks, I appreciate that. It's always great to see that the research you do is making an impact.
Dr. Pedram:
Yeah, and there's been all these talk about how things in the Ivory towers never get down to the main street but nothing gets more main street than the school cafeteria. That's hits us all really close to home. Thanks for taking care of our kids.
Dr. Drew:
Doing my best. Thanks for your interest in the research.
Dr. Pedram:
Yeah.