By adding a few easy-to-get ingredients, this tea can help give a natural boost of energy without fogging up our brains or leading to an energy crash in the afternoon. Most importantly, it tastes delicious! Bring your cups and saucers and let the tea concoction begin.
Before you hit play to learn the recipe to this energizing tea, let's look at some of the health benefits provided by the key ingredients.
Yerba Mate

High antioxidant capacity; reduce oxidative stress

Promote healthy Gastrointestinal Tract

Improve digestion

Lower blood pressure

Anti-carcinogenic

Anti-inflammatory

Anti-carcinogenic

Increase cognition and mental clarity

Help regulate glucose levels for Type 2 Diabetes

Enhances fat metabolism

High amounts of minerals and vitamins (potassium, manganese, phosphorus, sodium, nitrogen, etc. Vitamins A, C, E etc.)

Good source of natural energy (with the aid of caffeine, theobromine, and theophylline)
Turmeric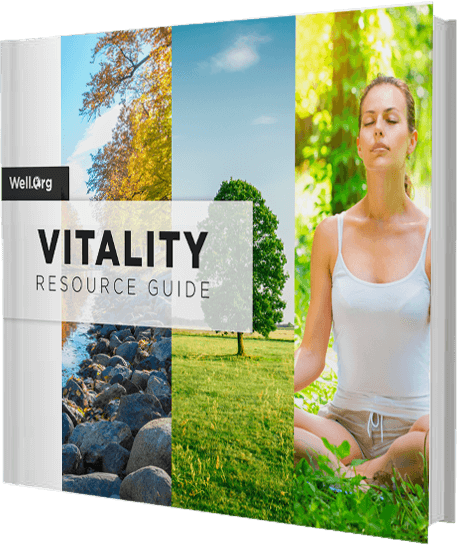 Vitality Resource Guide
Get the FREE 34-page eBook with recipes, healthy tips, and more! Enter your email address and we'll send you the guide immediately.
Cancer Prevention

Anti-inflammatory properties for treating both osteoarthritis and rheumatoid arthritis

Help moderate insulin levels

Natural antiseptic and antibacterial agent

Support overall brain health (aid in removal of plaque build-up and improve flow of oxygen)

Improve digestion

Natural Liver Detoxifier

Reduces Cholesterol Level

Contain lipopolysaccharide, which helps stimulate the body's immune system
Cayenne

Rich source of potassium, calcium, beta-carotene, B-complexes, and vitamins A, C, and E

Beneficial to the heart and the flow of blood throughout the body

Normalize blood pressure

Reduce hypertension

Ability to fight cancer

Activate sensory nerves

Relieve rheumatism and arthritis pain
Cinnamon
Regulate blood sugar (great for diabetics and hypoglycemics)

Reduce LDL cholesterol levels

Has natural anti-infectious compounds

Reduce pain linked to arthritis

Natural food preservative

Contain fiber, calcium, iron, and manganese

Effective relief for menstrual pain