Learn more
about the Corporate
Wellness
Academy
from Well.org founder Pedram Shojai.
Learn how to match your
skills with their needs.
LEARN HOW CORPORATE WELLNESS WORKS, SO YOU CAN TAKE PART IN THIS LUCRATIVE EMERGING MARKET
There's an enormous opportunity right now to get involved in the booming Corporate Wellness industry and Well.Org has taken the lead in teaching the skills you need to get into the business and to be successful.
In our dealings with major schools, Universities, and graduate programs, we've found that the health and wellness curriculum has been relatively good but there's been a tragic lack of preparation for students to actually succeed in the real world.

This means getting clients.

It means making a good living doing what you've been trained to do.

It means helping other people and also being able to help yourself and your family.
This is why we created the Corporate Wellness Academy. It started as an internal training program for our own team because the many companies we work with were frequently asking us to refer them to doctors, nutritionists, and coaches we liked. We worked with several practitioners in our network but needed to train them up on how to actually work in this environment and to create a sustainable business. We realized that nobody had taught them how to make money and thrive in the business of wellness. Also, we realized that far too few practitioners were tapping into corporations for new clients.

Companies need wellness consulting and health services.

Practitioners need clients and patients.

There's a major disconnect and we are here to solve it.
This is Where YOU Come in… This is Where the Opportunity is Waiting.
My name is Dr. Pedram Shojai and I'm the founder of Well.Org. I ran successful medical clinics and started to work with companies doing wellness programs back in 2006. I then produced the movie "Vitality", wrote the book "Rise and Shine", and recently produced the movie "Origins". My intent in starting Well.Org was to help make the world a better place and empower people to find health and happiness. Most people know about our movies, magazines, and award-winning writing staff but fewer know that we've done a tremendous amount of work in Corporate Wellness. We've been providing wellness solutions for medium to large corporations for years and have deep domain expertise in the field.
Well.Org is the wellness content provider to over 1.3 million people in more than 2200 corporations in the US and that number is growing every month. We provide consulting, rich media, videos, magazines, and a whole host of other supportive services to companies in need.
Our intelligent software systems help them manage costs and track progress. We create value because there is so much money being lost in healthcare expenses and our clients are actively looking for solutions to save money.
We get dozens of requests every week. As a team, we've been in the space for decades and have lots of experience navigating these waters…in helping companies. We also have an acute sense of what's missing and that's where you come in.
The Corporate Wellness industry is has a major shortage of doctors, nurses, nutritionists, trainers, and wellness coaches who understand the space, can speak the language, and help companies successfully bring down costs. The industry needs you to do what you do best but do it in a way they can track and understand.
That's where we can help. We've created this program to teach you the ins and outs of the business so you could successfully negotiate deals, generate new business, and help more people.
Corporations are paying for programs that…
Prevent Chronic Diseases
Promote Medical Self Care
Promote Employee Fitness
Help Employees Quit Smoking or Reduce Alcohol Intake
Teach Nutrition and Healthy Food Options
Help Employees Lose Weight and Keep it Off
"This is an amazing opportunity for health practitioners."
MAJOR CORPORATIONS NEED WELLNESS PROGRAMS AND THEY LACK WHAT YOU KNOW WHICH CAN HELP THEM SAVE MONEY…
You Just Need To Know the System!
Over 50% of corporate profits are now going towards healthcare costs.
Companies are struggling to stay afloat as the cost of supporting their employees is skyrocketing.
With the new Affordable Care Act (ObamaCare), there have been mandates to help contain some of these costs and the insurance companies are scrambling to find solutions.
They are all looking for Wellness Programming that actually works and can contain costs.
They have never needed to crack the Lifestyle Code and are often at a loss for what to do.
Your skills are needed in the space. If you can help teach and implement lifestyle programs that work, then you can save them money and create tremendous opportunity for yourself and your practice.
WE TEACH THE SKILLS YOU NEED TO SUCCEED
Effective Programs Focused On Trackable Results.

Learn to Evaluate Companies and Assess their Wellness Needs

Create Custom Programs that Service their Population

Track your Progress and Document Outcomes

Understand the Politics and How to Stay Relevant in their Environment

Increase Participation and Adoption by the Employees

Set up Automated Programs that Support your Efforts

Use Tools that Help you Manage Disease and Report Back to Management

Learn to Grow your Staff and Establish Systems so You Can Grow your Business and Help More Clients

Learn how to Get More Private Clients out of a Corporate Setting
Build a Business and Grow…
12 Program Modules That Teach You A Proven System For Success!
Program Investment – Only $1997
* Payment plans are available! Go to checkout to view options. *

Introduction to Corporate Culture
Introduces the purpose of corporate worksite wellness programs and how they're implemented. It's very important to understand the types of programs offered, the populations they serve and how they may curb increasing healthcare cost related to unhealthy lifestyles.

Setting up a Corporate Wellness Business
This module will teach you how to create a comprehensive wellness program that can be customized to meet your customers' needs. It's important to show outcomes and benefits related to your work. This module focuses on: Product, Promotion, and Placement (distribution).

How a CFO Thinks
You need to tailor your messaging so that it will resonate with your audience. More than likely, especially with small to midsize employer groups, the decision maker will be either the CFO or the CEO. Learn how to "talk their talk" when presenting your business proposition.

How HR Thinks
In this module, we'll show you how to interface with Human Resources and present your business proposition. More than likely, especially with midsize to large employer groups, the decision maker will be Human Resources or the Wellness Dept.

Tracking Results
In this module, you'll learn how to read and leverage medical claims data and/or personal health information. Using and interpreting data helps to validate beneficial outcomes coming from your wellness programs and strategies.

Maximizing Participation

Meaningful participation in health and wellness can only occur when people have truly engaged. This module will teach you create programs that can generate respectable return on investment.

Creating Programs
Learn how to create your own program(s) and be participate in lunch & learns and health fairs. Health fairs are great promotional tools and you can make some money as well.

Negotiating Fees

Negotiating your fee is a skill that any seasoned entrepreneur will tell you is essential. Learn how to create your own pricing, types of pricing and how to negotiate fees.

The Insurance World
It's imperative that you understand the healthcare landscape which also includes important stakeholders such as: health plans, physicians, ACOs, types of health plans, brokers, consultants, TPAs, and employer groups.

The Affordable Care Act
Company-funded supplemental health insurance is offered in most countries and they are seeking ways to reduce medical cost through preventative medicine integrated with wellness programs and tools. Many of the lessons learned from the ACA can be applied to those who live in countries offering universal health care.

Getting Clients
Once you have your infrastructure in place, it's time to learn how to prospect and generate new business. We'll teach you how to take your corporate wellness ideas and turn them into reality.

Creating a System
Here's where you put the pieces of your business model together and they should include: business concept, customer segments, wellness tools & programs, key partners and stakeholders. You now have an "ecosystem".
What's Included In The Program?
Access to the 12 Weekly Modules
Additional Research and Resources for each Module
Archived Coaching Calls with our team for deeper dive and Q&A
Initial one hour one-on-one consultation with our Corporate Wellness specialists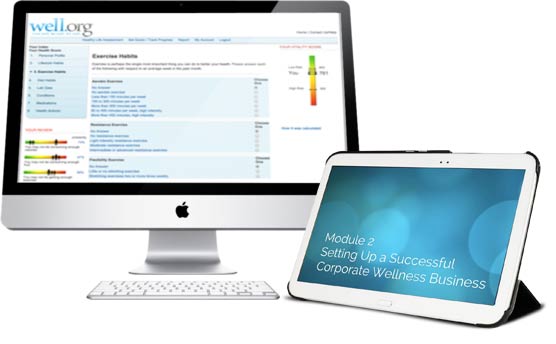 Video Resources including, exercise, recipes, health expert interviews and more
Industry Expert Interviews exclusively found in program
"How to Establish a Successful Health Fair Business" Success Kit
Instructions on how to establish your brand
Access to our community of students
Promotional Materials you can use immediately with your clients
Ongoing support exclusively available to students
Rights to our proprietary Vitality Wellness System which includes Movies, Magazines, and Programs
Opportunity to be a contributor to our Well.Org Magazine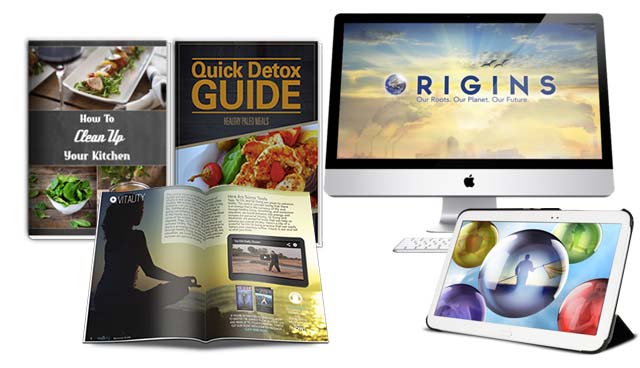 Learn how to match your skills with their needs.
Find Your Corporate Path to Business Growth
Most coaches, nutritionists, and even doctors we've worked with have the skills needed for the corporations we work with but they lack the know how to get in there and get the business. This is a shame because the industry is inundated with "consultants" that are not very helpful but speak the language. We're here to help you bridge the gap and join the party.
Corporate Wellness is a growing business and now is the best time we've ever seen to get in. Whether you are interested in simply gaining more clients for your practice or you want to build a wellness consulting empire, we're laying out the steps and tools you need to get there. There is a lot to learn and you'll have to put in the work, but armed with what you'll learn here, you will have the necessary skills to begin and have the mental framework established to continue to grow and prosper in the space.
Best of all, once through the course, you'll maintain access to our community and weekly calls so when you do land that big meeting, you can get some help from us. We will constantly upload more resources for you to use and update you on industry trends that are relevant. We are committed to your success and look forward to helping you enter this fruitful arena.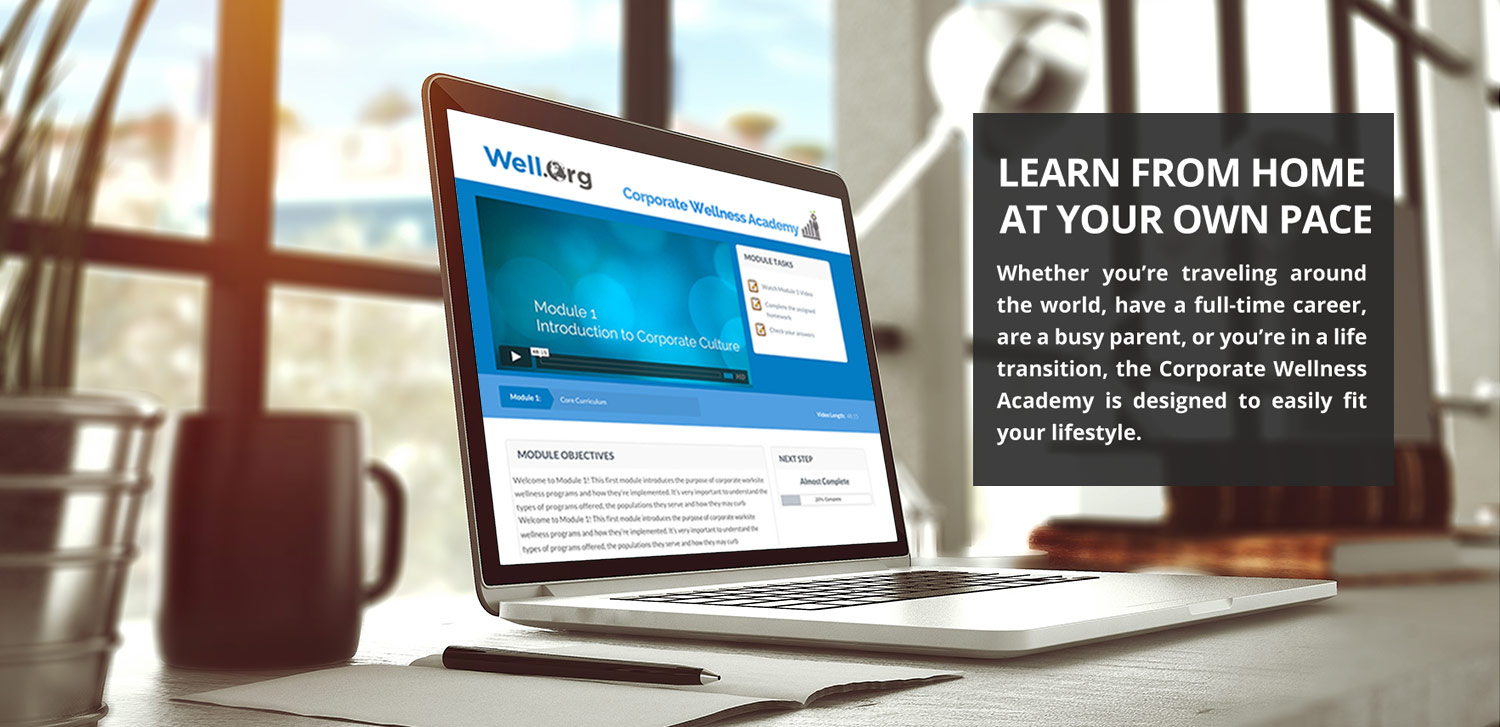 GET STARTED TODAY
See What Our Students Are Saying
Real Feedback from Our Students
The Corporate Wellness Academy provides an excellent overview of the Corporate Wellness business. It covers everything from the basics to the advanced, with new content continually being added. What I appreciated most about the program was the direct access to the extremely knowledgeable and helpful Corporate Wellness Academy team. I look forward to learning even more through the ongoing resources and growing my business in Corporate Wellness.



Steve Hyjek, Chiropractor and Functional Medicine Expert
The Functional Medicine Center
Don't think twice. The content and education will cover topics you did not even realize you did not know. Videos are excellent. The personal support I received from Winston Ball was world class and beyond my expectations. Great course, and totally one of a kind.


Ara Suppiah, MD
Dr. Ara On Call
The Corporate Wellness Academy is an amazing program that has provided me with the foundation and confidence to offer my Health Coaching services to the corporate arena. The on-line format of the program makes it extremely user-friendly and flexible. The content is comprehensive, and very well organized. I appreciated the flow of the program as it starts off with the basics for people who are new to corporate wellness, and progresses to provide in-depth information and evidence-based supporting data to enable the participants to approach corporations with confidence and the knowledge necessary to present value for the employees and the corporation… I would (and have) highly recommend this program to anyone who is interested in expanding their business offering to include corporate wellness.



Kim Howie
Live Balance For Life
Even with 18 years of prior corporate wellness experience as a Human Resources professional, Well.Org's Corporate Wellness Academy has given me crucial data, resources, and distinctions that have raised the bar in my confidence and ability to effectively serve employees and corporations at the highest level. I have become clear on the best path to take based on my current goals, interest, and experience and now have an ongoing support system of awesome and innovative staff and academy members to keep me engaged, up-to-date, and moving forward! If you have been thinking about partnering with corporations or want the corporate wellness part of your business to have even greater impact, the Corporate Wellness Academy family is here to welcome and support you.



Michelle Stewart
Weight Loss Mindset, Motivation & Momentum Coach™
The Corporate Wellness Academy offered the inside education and community I was looking for to take my business to the corporate space. The knowledge I learned from those that have been navigating this for quite some time was fantastic, but more importantly, the willingness from all who work for the Academy and Well.org to see me succeed and offer unlimited support has been, and continues to be, 1000x worth the investment!



Trish Ward
The Prime LifeRX
From the very first video, I was impressed with the quality of CWA's training and resources. A colleague of mine has been attempting to start a business providing corporate wellness programs. He's inventing the 'wheel' from scratch, and progressing minimally. When I learned about CWA, I knew it was the solution.



Sandra Lynn Lee
Miracle Inspirations


OUR 100% MONEY BACK GUARANTEE
If you are unsatisfied with the course for any reason within the first 30 days, we will refund your money in full. We've designed this course with all the tools you will need to get into the corporate market and thrive and stand by our product. With ongoing support, training, and resources, we've crafted this program to carry incredible value for anyone who cares to be a serious student of the business.
Companies We've Helped

NOW IS THE TIME TO GET STARTED
This market is booming and the timing is right to get into it now. There are several companies looking for good people to work with and this is the time to establish yourself and your brand in the industry. You can either be an early adopter and trusted advisor now or you'll be on the outside wanting in a few years from now. If you're tired of constantly looking for new clients and working against the grain to make ends meet in your practice, this market is an amazing opportunity to dive into. There are people in these companies that need what you offer and there is money available to pay for your services.
GET STARTED TODAY
THE INFORMATION IN WELL.ORG IS FOR EDUCATIONAL PURPOSES ONLY AND SHOULD NOT BE CONSTRUED AS MEDICAL ADVICE. READERS ARE ADVISED TO CONSULT A QUALIFIED PROFESSIONAL ABOUT ANY ISSUE REGARDING THEIR HEALTH AND WELL-BEING.


Home – Privacy Policy – Terms and Conditions
COPYRIGHT © 2017 VITAL ORIGINS, LLC/WELL.ORG. ALL RIGHTS RESERVED.