Imagine not being able to sit up straight at work. Or imagine the guilt of having to let your kids down because your back pain is wrecking havoc on your ability to play with them.
But don't feel too guilty. Back pain is one of the most common health problems in the nation, more so than diabetes or high blood pressure. Back pain can affect anyone at any point in their lives. While most cases of back pain can be occasional, lasting only for a few days, more chronic cases can persists for weeks, months and even years.
The list of causes to back pain is lengthy. The causes to back pain include muscle strain, unnatural movements, sudden body movements, ruptured disks, bruising, and abnormal skeletal alignment.
Fortunately, folks are catching wind of the many natural therapies for back pain. The thought of being on multiple medications just to get through the day makes many patients rethink their pain management routine. Light exercises, swimming, and calmness can be key to making your pain a distant memory.
Check out these 10 natural remedies to back pain below.

Yoga
The ancient Ayurvedic medicine has been in medical scripture since the beginning of time. For centuries, yoga has been improving the health of millions of people across the world in need of alternative health therapies. The emphasis of stretching, flexibility, and strength are found in many yoga poses. Multiple studies have shown that in just a few classes, people with back pain have reported a great reduction in pain and a cutback in pain medications.
Strength Training
Isolating core muscles could cause back pain if you're strengthening other muscles. Strengthening your core is vital to preventing back pain because it helps the body maintain good posture and stability. Popular core exercises include knees-to-chest exercises, hip abductors, and glue exercises.
Stress Reduction
Due to the increase levels of hormones like cortisol and adrenaline, stress can bring your body into overdrive, causing the body to get aroused – and not in a good way. Stress causes muscles to tighten, causing discomfort and pain everywhere. The best way to manage back pain due to stress is to identify what is stressing you out in the first place and find ways to reduce it.
Meditation
In many studies, practicing mindfulness and calmness has been shown to reduce pain all over the body. Deep breathing, tranquility, and quietness can temporarily sooth the body of stress, pain, stiffness, and clear the mind of worry. Meditation is also less intrusive and intense as working out and medications.
Swimming
This low impact sport is very therapeutic for people with back pain. Swimming provides just enough resistance for aerobic exercising, making it an ideal physical therapy. The moving of the limbs and stretching against water could help strengthen muscles, while easing the strain and inflammation in your back.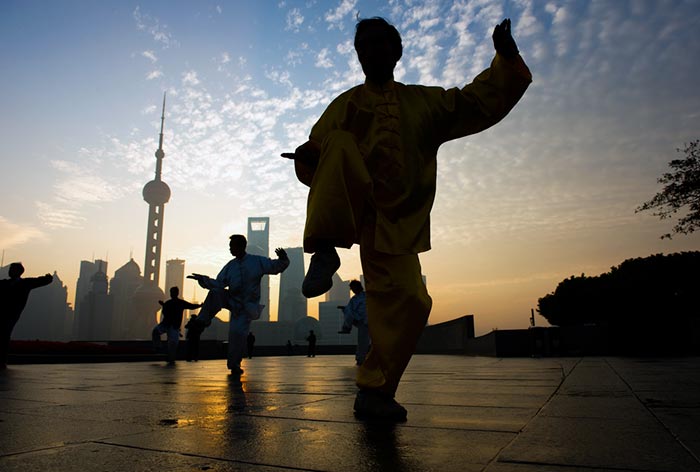 Tai Chi
A study found that tai chi improved lower back pain after 10 weeks of routine practice. Tai Chi is actually a type of martial arts used in defense training and medicine. The slow, constant, stretched movements of tai chi, coupled with steady heavy breathing, allows blood to flow easier throughout the body, bringing oxygen and nutrients to inflamed joints and soreness.
Qi Gong
Like tai chi, qi gong is an alternative Chinese physical therapy that's been around since the beginning of time. Unlike tai chi, qi gong involves rapid and vigorous movements. These rapid, steady movements are beneficial to easing pain and tension in the back, neck and limbs. And unlike many other alternative medicines for back pain, qi gong bases many of its exercises on the meridian system, similar to acupuncture. Qi gong is popular for reducing pain, stress and improving the immune system.
Fish Oil
Heavy in omega-3 fatty acids, fish oil is very popular in loosening joint pains and general discomfort. This supplement lower inflammation, often found in people with back injuries. It's definitely a must-try for folks with occasional to chronic back pain.
Cryotherapy
Also called "cold therapy," cryotherapy involves the use of any cold compress to reduce pain and inflammation in the body. Many types of cryotherapy can be purchased over the counter in your local supermarket. Cold applications to injuries have been practiced since the time of Hippocrates, the famous Greek physician. Coldness helps reduce nerve activity, pain, and swelling.
Heat Therapy
The complete opposite of cryotherapy, heat therapy involves warming the affected area to ease pain. Heat therapy helps to circulate more oxygen and vitamins in the blood to parts of the body that are experiencing pain. The increase in oxygen and blood flow improves muscle flexibility and decreases stiffness caused by pain.