Our modern world is full to the brim with unwanted chemicals and pollutants, many of which are insidious and totally unknown to us. You can't taste the lead in the air, or even in your lipstick. However, considering the average American has over 700 chemicals, heavy metals and other unhealthy pollutants in their blood, we are no longer wondering if chemicals are adding to our health problems, but what we can do about it.
Taking the time to sit in a sauna a few times per week is one of those things we can do! And who doesn't love a sauna? Like eating organic, enjoying some sunshine, or even a regular liver detox, saunas are easy to do and they are enjoyable (if you like it hot!).
And you've probably already heard that saunas are great for detoxing, but you may not know just how powerful it can be, or that there are a few different types of sauna – not just the regular "steam room" type. Let's take a look at the differences in sauna types, why any sauna has benefits, and the do's and don'ts of a therapeutic sauna.
Related
Is there a way to retrain your brain to seek out better food rather than the junk you're trying to avoid? Find out more about to to start eating healthier here.
Different Types Of Sauna
Classic Sauna
The original type of sauna, was invented in Finland over 2000 years ago and brought into US culture in 1638 by Finnish settlers in Delaware County. The hallmarks of a traditional sauna are a wood-lined enclosed space with either a fire stove or electric stove that heats up the space. It may be used as a dry sauna (high heat and low humidity) or steam sauna, (which is not as hot but increases perspiration) by pouring water on the rocks heated by the stove. This type of heat only penetrates the first few millimeters of skin, and only about 5% of the sweat produced by it is toxins. Also, it's hard to stay in such high heat environments for very long.
Infrared Sauna
This is a fairly new technology that harnesses the power of infrared energy to penetrate the body and induce sweating from the inside out. Infrared light is not visible to the human eye, but our bodies know what to do with it! Over 75% of the sun's light is infrared and we absorb this energy and radiate it through our bodies to power many important processes. IR penetrates the tissues of the body to a depth of around 1.5 inches, heating up the insides of the cells which stimulates the release of toxins. The sweat from an IR sauna is up to 20% toxins! And Clearlight® Infrared Saunas is one of the best companies out there.
An infrared sauna in your local spa is usually composed of carbon fiber panels inside a wooden enclosure that emit far infrared energy. They don't create as much heat as a regular sauna (so you can stay in longer), have greater benefits and use much less energy to power. For home use, there are those that use the big red near infrared bulbs instead, which generate more heat and use more power.
A classic sauna has enough boast-worthy benefits to impress anyone, but infrared takes it to a whole other level. Here's a list of some of the associated health benefits with each type.
Classic Sauna Benefits
A sauna is soothing and relaxing for tired muscles after strenuous exercise, and offers great pain relief for conditions like arthritis and fibromyalgia. It causes the heart rate to go up mildly which strengthens the cardiovascular system, and improves circulation as blood vessels expand to allow blood flow to the skin, which keeps the organs at a steady temperature.
It improves our resistance to bugs and kills cancer cells by simulating a false fever (by raising the core body temperature slightly). It also helps to improve the immune system, increases production of white blood cells (which promotes faster wound healing), and is usually a safe adjunct to cancer treatment.
Using a sauna is also good for the skin. The high heat that brings all that blood to the surface of the skin promotes cell growth, opens up the pores to allow detoxification and enhances collagen production. And speaking of detoxing – considering we usually expel up to 30% of our body's wastes through the skin it's no wonder that a sauna helps to improve this function. The detoxifying benefits extend to the kidneys (and other detox organs) because they have to work much less to excrete toxins when someone uses a sauna regularly. People with kidney trouble could benefit especially from this.
A sauna can be used to burn calories too. Conventional saunas burn on average 300 calories per session. While weight loss can happen in a sauna, don't rely on that because it's mostly water. However, a sauna does stimulate the metabolism which extends benefits beyond the time you're in the sauna.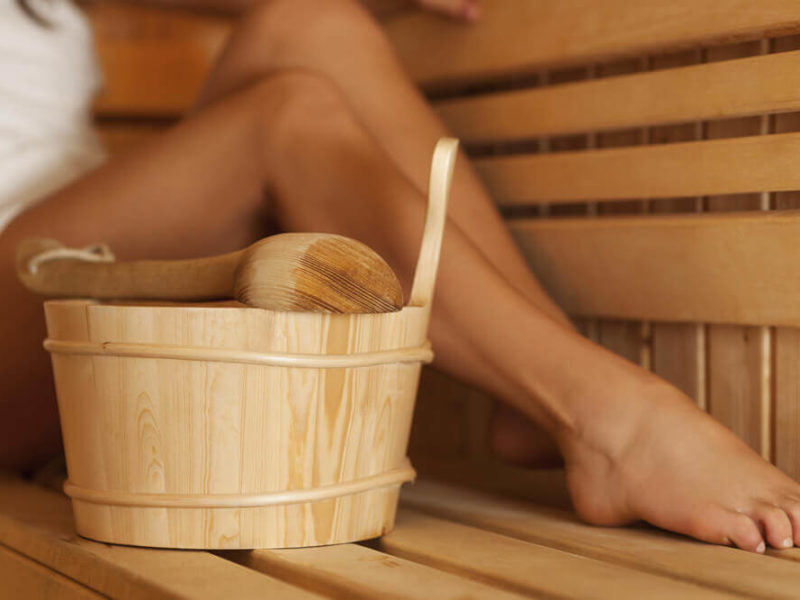 Infrared Sauna Benefits
The benefits of infrared saunas match all the ones listed above, but with much more healing potential. This is because the infrared technology penetrates much deeper into the body and stimulates many more processes. Near infrared light actually offers more benefits than far infrared because it penetrates deeper into the tissues—up to 3 inches.
Far Infrared
Blood pressure reduction – studies show that one hour can reduce blood pressure significantly and that blood viscosity can also be improved.
Healing for respiratory conditions and inflammation. Far infrared saunas kill bacteria and viruses that cause infection as well as mobilize mucus from the lungs.
Weight management – burns up to 200-600 calories per hour.
Improves lymphatic circulation, which allows the body to move pathogens and toxins from tissues to be excreted. Lymph is a buttery fluid that flows more easily when warmed, so it's a vital part of the body's detox functions.
Opens up pores that haven't been functioning well to expel toxins, dirt and makeup buildup. Helps with scar tissue healing and acne.
Neutralizes blood toxicity and promotes healthy arteries.
Near Infrared
Boosts healing and regeneration of tissues that have been damaged by injury or surgery.
Kills infections and cancerous cells much more effectively than a classic sauna, and also kills off cells that have DNA damage caused by radiation, preventing cancer growths caused by DNA mutation. It is also known to shrink tumors with consistent use.
Improves the metabolism by stimulating the mitochondria to produce more energy.
Fights against obesity by eliminating certain chemicals known to increase size and/or number of fat cells in the body.
Mobilizes heavy metals out of the body safely and gently via the body's natural detox pathways.
Eliminates chronic infections that have been unresponsive to antibiotic treatment.
Kills parasites, overgrowths of yeasts like candida albicans, as well as other molds and fungi that take up residence in a body that is under stress.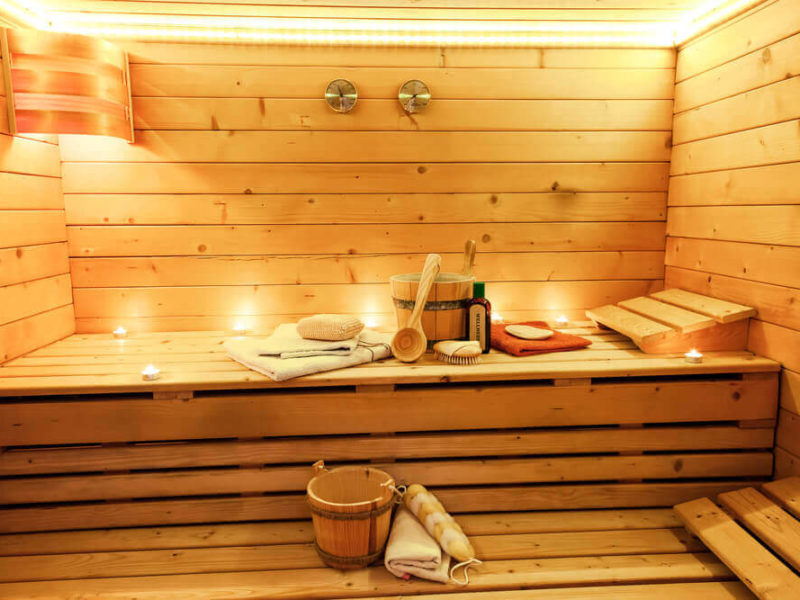 When You Shouldn't Take A Sauna
All the above might have you chomping at the bit to go and get some sauna therapy, and rightly so! But there are a few things to take into account before you strip off and cozy up at the spa.
Contraindications of Classic Sauna
The very high heat and/or humidity environment is not suitable for longer treatment times or for people who are sensitive to heat. People with a fever should also avoid sauna use.
Alcoholism or consumption. Alcohol should not be consumed within 24 hours before sauna, especially if a pre-existing heart condition is present, as it increases risk of heart attack and even sudden death.
Any known heart conditions – please consult your health professional before considering sauna therapy.
Pregnancy – always seek advice first.
Very high, or very low, blood pressure.
Varicose veins or other circulatory conditions.
Contraindications of Infrared Sauna
The same as for classic sauna, but additionally:
Use of pharmaceutical or recreational drugs.
Children under 12 should not use infrared saunas as their core temperature heats up much faster than an adult.
Elderly folks who have trouble regulating core body temperature.
Chronic conditions that cause impaired sweating such as MS, CNS tumors and diabetes with neuropathy.
Hemophiliacs or people prone to bleeding.
Implants of any kind – consult your health professional first.
May increase blood flow during menstruation, but generally considered safe.
Acute joint injury with swelling/edema – wait 24-48hrs for the swelling and naturally present heat to subside before using the sauna.
Enclosed infections, eg dental
Pacemaker / defibrillator in situ
Those sensitive to EMFs should avoid far infrared saunas as they generally have a much higher EMF output than near infrared
Do's and Don'ts of Sauna
Have a warm shower before you sauna to cleanse the skin, start the warming process and help stimulate sweating. Also, make sure not to use a sauna on an empty stomach or after a heavy meal. If you're going to eat something before getting into the sauna, the ideal pre-sauna meal would be high-water content fruits because the body loses a lot of water and electrolytes in the sauna. Drink plenty of water—vitamin rich water such as "spa water" (containing lemon and cucumber) and coconut water help to hydrate you and mobilize toxins out of the body.
When using infrared saunas remove as much clothing as possible—IR rays cannot penetrate clothing. Only use IR saunas for short periods to begin with—up to 20 mins at a time—and work up slowly to around 1 hour. If you feel good after a sauna, you're on the right track. But if you feel sluggish or fatigued, then you may have overdone it a little.
Try dry brushing before your pre-sauna shower to open pores, stimulate lymphatic flow and improve the value of the sauna session. Afterwards, have a cool or even cold, but not hot, bath or shower to close pores, rebalance body temperature and wash off toxins. Also, don't use any form of chemical-based soaps or lotions before or after the sauna because that will defeat the wonderful detox benefits of using the sauna in the first place.
Rest for at least 20 minutes after your post-sauna shower to allow the body to come back to equilibrium. It may not feel like it, but your body has just done a lot of work! Have a meal after sauna with some added natural salt such as sea salt to replace minerals and balance electrolytes.
Above all else, really enjoy your sauna experience and allow it to benefit you in both mind and body. This is a great time to enjoy a book, your favorite music or podcast (if you're not in a steam sauna!) or simply to sit and meditate and just be. So, when's your next spa day?
Sources:
You May Also Like…
Editor's Note: This post was originally published on March 21, 2017, and has been updated for quality and relevancy most recently on March 15, 2022.