I know I've already exhausted the microbiome subject, but the more I hear about it, the more I like it.
As I've mentioned, the microbiome is an important part of our body. Survival of the fittest goes on in there so it can keep us healthy. But it turns out our microbiome not only works to benefit our physical health, but also our mental health.
You're probably wondering what our gut has to do with our mental state. Don't worry: I had the same question. It's quite simple. By upping your good bacteria by ingesting probiotics, you give your microbiome a stronger chance of keeping you healthy and improving your mood.
Don't believe me? Dr. Raphael Kellman, M.D., a pioneer in functional medicine, says the microbiome improves cognition, social behavior and social interaction.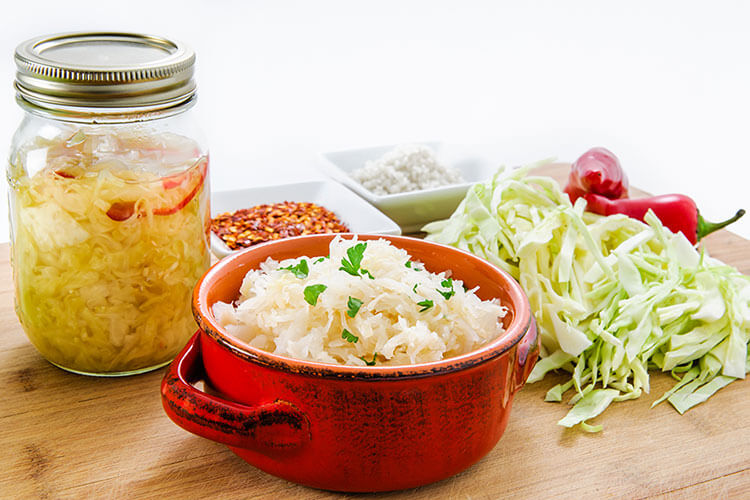 There's more! A new study shows eating fermented foods such as sauerkraut, pickles and yogurt may help with social anxiety. Fermented foods contain natural probiotics, which, as mentioned, strengthen the immune system and improve mood.
William & Mary professors Matthew Hilimire and Catherine Forestell, and University of Maryland School of Social Work assistant professor Jordan DeVylder explored the connection between fermented foods and social anxiety. They found that eating probiotic-rich foods reduced social anxiety symptoms in young adults.
Seven-hundred students filled out a questionnaire on their eating habits, their consumption of fermented foods over the previous 30 days, how much they exercised and how often they ate fruits and vegetables.
"The main finding was that individuals who had consumed more fermented foods had reduced social anxiety but that was qualified by an interaction by neuroticism. What that means is that that relationship was strongest amongst people that were high in neuroticism," Hilimire said in a statement.
Although fermented foods show promising results, Kellman says they aren't the only good guys – it's what's in fermented foods that shows benefits. Basically, any foods with good bacteria help improve your mood. I know I'm going to start adding extra pickles on my burgers.
Keep in mind the connection between the mind and gut is still a new concept in psychology, and researchers need to dig deeper; Kevin Farley, owner of The Cultured Pickle Shop and fermented foods expert, says all research on the microbiome is fairly new.
"I think it's more beneficial to look at the body as we look at a field of fertile soil and think about what we may plant," he says. "We know that the soil and the plants will be happier and healthier if there is diversity. So to with incorporating fermented foods into the diet. We get something different from yogurt than we do from sauerkraut than we do from miso than we do from kombucha and they are all important."