Table of Contents

[Hide]

[Show]
Journaling For Stress
If you are one of those people who feel like journalling is just another "to-do" on a list that is already unmanageable–you may want to rethink your position. New evidence based research is showing quantifiable improvements in life when people use journaling as a tool for stress reduction, personal development, and increased self-esteem.
Wikipedia suggests that journaling is simply writing down your thoughts and feelings to understand them more clearly. If you struggle with stress, depression, or anxiety, keeping a journal may help you gain control of your emotions and improve your mental health.
Psych Central CEO, Dr. John Grohol highlights the increasing evidence to support the idea that journaling has a positive impact on physical well-being. Scientific evidence supports that journaling may provide other unexpected benefits as well.
The act of writing accesses your left brain, which is analytical and rational. While your left brain is occupied, your right brain is free to create, intuit and feel. Writing removes mental blocks and allow you to use all of your brainpower to better understand yourself, others and the world around you.
Dr. James Pennebaker researcher at the University of Texas at Austin, contends that regular journaling strengthens immune cells, called T-lymphocytes. He believes that writing about stressful events helps you come to terms with them, and by so doing reduce the impact of these stressors on your physical health.
Benefits of Journaling
Scientific evidence supports that journaling may provide other unexpected benefits:
Clarify your thoughts and feelings
Know yourself better
Reduce stress
Helps you see others' perspectives along with your own
Solve problems more easily
Resolve disagreements with others
Increases tolerance of ambiguity, ambivalence, and unpredictability which are a normal part of living
Makes you feel more humane
Journaling can help you prioritize life's issues, recognize patterns that may be holding you back, and provide opportunities to focus on the positive. While journaling can be a great asset in developing a healthy lifestyle, it is not a substitute for good nutrition, exercise, restful sleep, and other aspects of healthful living.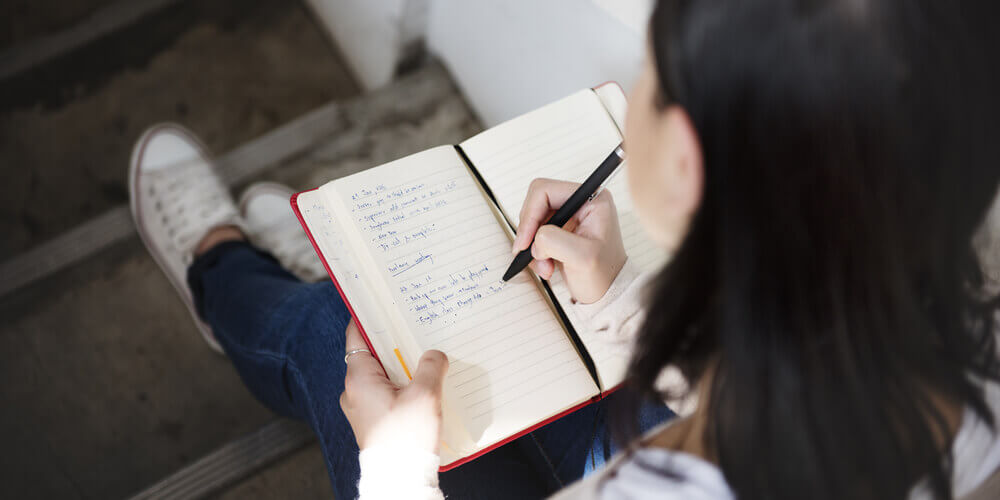 Potential Drawbacks of Journaling
However, journaling can have a negative effect on your behavior and well-being if it makes you live too much in your head. If journaling reduces you to a passive observer of your life thinking how you'll record it, instead of experiencing what is happening, it can create more stress.
Journaling can also be used as a vehicle to blame others for where you are in your life instead of a vehicle for converting the negative energy of an experience into creativity for positive growth.
Here are a few question to ask yourself to avoid the pitfalls of journaling:
What can you learn from this experience?
Is your approach consistent with your deepest values?
How can you grow from this experience?
Is it ok to have mixed feelings about this situation?
What are the perspectives of other people involved in your problem?
How to Start Journaling
To quote the experts, "just simply begin." Start right where you are and write what you feel. Don't focus on grammar or spelling but simply let the words flow. The idea is to write effortlessly and share what is on your heart. This is best done in private so you feel in flow with your writing.
You get to use your journal how you see fit and write what you feel. Perhaps the most important "rule" is that there are "no rules" for this time. Writing quickly frees your brain from constraints and allows you to stay in the moment. Some experts recommend at least 20 minutes a day but if that is too much time and will delay your journaling efforts, simply start with five or ten minutes. You may find the time is so enjoyable that you desire to lengthen the time spent writing.
Some people have trouble starting and may want to try writing an affirmation as a starting point for their journaling. Others may want to have a theme for the day, week, or month. Some use their journal for personal development and may choose to focus on goals. There is no right or wrong way to journal. The way that is best for you is the one you will use.
Most experts agree that to maximize the benefit of journaling–do it daily. Instead of this activity being one more drain on your time and energy; turn it into a daily respite. Perhaps you'll have a lovely cup of joe during your writing time like Four Stigmatic which is one of our new favorites. Journal in a location that feels comfortable so that you look at this activity as a time of personal relaxation, a time to de-stress and connect with yourself.