In 2005, writer Dan Buettner introduced the idea of "Blue Zones," or spots on the globe where there are the highest rate of centenarians, lowest rate of common deadly diseases like heart disease and cancer, and more years of active and healthy lives than anywhere else.
But there aren't many of them. And that's what makes them so interesting to the rest of us. What do they know that we don't? What do the Blue Zoners do that we don't? Buettner has since built a whole career out of trying to answer that with books, public speaking tours and life coaching.
While you can view Buettner as exploiter or true believer, there is something to be learned from these spots – Okinawa, Japan; Sardinia, Italy; Ikaria, Greece; Nicoya Peninsula, Costa Rica and Loma Linda, California. What they all share is healthy food (mostly vegetarian diets), staying physically active and socially engaged daily, putting a big priority on family and they don't smoke.
And the locations are all seaside and exotic by American standards, except for one: Loma Linda. Yes, it's a lot closer to the ocean than Denver, but unless the Big One drops Los Angeles into the sea, Loma Linda won't have a harbor anytime soon. In fact, thanks to all the cars in L.A. and the geographic layout of Southern California, L.A.'s smog gets blown east on the ocean breeze just to be trapped in the valley where the city lies at the foot of the San Bernardino Mountains. Consequently, Loma Linda suffers some of the worst air quality in the U.S.
Thumbing its nose at such threats, Loma Linda carries the unique Blue Zone distinction and the greatest life expectancy in the country. The overriding reason is because the city has one of the largest concentrations of Seventh-Day Adventists on the planet. The Christian sect has long espoused generally vegetarian diets and the importance of quality time with family and friends.
Loma Linda University's School of Public Health professor Larry Beeson is a co-investigator for the university's 30-year study of Adventist living habits, and says the local flock's culinary demands changed the way the whole town ate. The Loma Linda Market became entirely vegetarian and most restaurants have tailored their menus to be very vegetarian friendly. Even local Der Wienerschnitzel outlets have incorporated healthy meals of veggie burgers and other vegetarian items into their menus.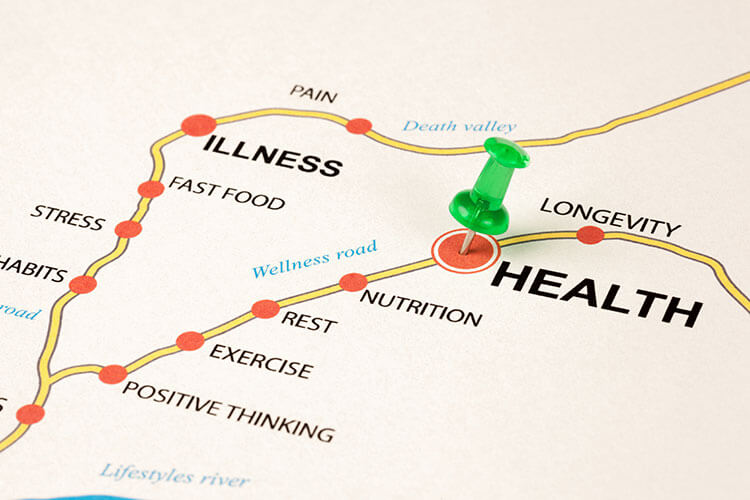 Although there is no current data to support it, Beeson says locals are also probably ahead of the trend to get pesticides, GMOs, additives and irradiation out of food. "It would not be surprising that many Adventists are now consuming more organic, as many believe that these organic foods lead to a more healthy body," he says.
And then there is taking the weekend very seriously. "The very name 'Seventh-Day' focuses on the biblical Sabbath from Friday sundown to Saturday sundown when SDAs set aside their weekly stresses for 24 hours every week and focus on their relationship to their God, the people around them and quality time with the family," Beeson says. Even the most meat and potato types can still understand the value of the time off.
Beeson believes Adventists stay one step ahead of the town's smog issue because "a diet high in fruits and vegetables and their associated antioxidants, can help mitigate the damaging effect of hazardous air pollution, both oxidizing gases and particulates, on the human body."
OK. Want to live like a Blue Zoner? Or at least like a Loma Lindan? Here's Beeson's suggestions for a healthy lifestyle:
1. Eat a plant-based diet.
In accordance to biblical teachings, Adventists say their bodies are temples. And so is yours. Think about what you put in it.
2. Exercise regularly.
Find some things you like doing – like walking, running, biking, swimming, surfing, badminton, whatever – and keep doing them.
3. Maintain normal body weight (generally meaning a body mass index of less than 25 kg/m2).
If you don't want to do the math trying to figure out your exact body mass index, refer to items 1 and 2 and beware the gut.
4. Don't smoke.
Though smoking rates continue to decline in the U.S., let us quote the famous late 1980s Yul Brenner commercial for those who still think they can get away with it. "Now that I'm gone, I tell you: Don't smoke, whatever you do, just don't smoke."
5. Eat small amounts of nuts regularly.
Unless of course you have an allergy to nuts, this should be a cinch for most people. Just make sure you keep to the "small amounts" part.
6. Devote quality time to those important to you.
Beeson recommends a full day for God and the people in your circle. For the nonreligious, set aside at least one full day a week for those closest to you and show them you care with some quality time. What you get back might go a long way.