Ohhhhmmmmmmm… Try that again, this time close your eyes. (Lemme just reposition my legs – ah, much better). OK, here goes. Ouch – wait, no, start over…
If you're like me, when it comes to meditation, the concept alone is enough to stress you out, never mind actually trying to practice it.
"Who has time to fold herself into a pretzel and mentally 'turn out the lights,'" you ask. "And if she did, why on Earth would she use it to meditate?"
Yep. I getcha. Which is why when a friend began breezily expanding on the glory of deleting the chaos of the external by emptying the mind and "just being," I caught myself mentally deleting items from my to-do list by mentally emptying my email's spam folder, instead. (Not to distract from the point, but my inbox is its own existential crisis just waiting patiently for me to open it every single… month.)
Similarly, when people rattle off little truisms like, "Don't get so busy working that you forget to live!" I'm outwardly nodding silent approval but inwardly snapping a pencil between my thumb and forefinger and twirling my back to walk away. They mean well, but come on!
Turns out, there is data to validate the idea that doing nothing is critically beneficial and that, as a society, our tendency to lose sight of or dismiss it is to our detriment. (I know, I know – but hear me out.)
It is commonly known, for example, that when we sleep, our mind weaves in and out of cycles from light to deep states of unconsciousness. In the 1950s, researchers William Dement and Nathaniel Kleitman determined those cycles each last roughly 90 minutes and dubbed the pattern the Basic Rest Activity Cycle or BRAC. What is less widely known is that 10 years later, Professor Kleitman expanded on the discovery when he found that the sleep cycle essentially recapitulates itself while we are awake. The difference being that the waking cycle shifts between a state of alertness into one of progressive physiological fatigue. As with the sleep cycle pattern, this occurs approximately every 90 minutes.
It stands to reason, then, that working within 90-minute windows followed by short breaks would prove to be the best and most effective approach to maximizing productivity in our daily lives. In fact, this has borne itself out in numerous examples in a study led by K. Anders Ericsson at Florida State University. Ericsson determined that across multiple fields of discipline from actors and musicians to chess players and athletes, the best performers in each typically practice for 90-minute sessions beginning in the morning with a break between and working no more than a total of four hours per day.
"Whoa!" you exclaim, your overly-caffeinated eyes wide with disbelief. "So if we work less, not more, we'll get more accomplished?" Well, yes, actually!
And no.
The devil is in the details, as they say, and in this case the details are in consistent application. Namely, working the 90 minutes without interruption (obstacle 1) and willing ourselves to stop at 90 minutes even when we're on a roll (obstacle 2). Wash, rinse, repeat. Not as easy as it sounds, actually, when figuring in things like the unexpected 15-minute chat with your boss or the lure of your smartphone seducing you with social media notifications and impromptu text message pings or the very opposite situation of being so wrapped up in what you're doing that three hours fly by and before you know it your shoulders ache from a lack of good posture and your stomach growls from a lack of lunch. These things happen, as we know, but we can lessen them if we turn off phone notifications and let others know not to disturb us and even set timers to remind us it's time to stand up and stretch or take a stroll or fresh air break to clear the mind. With practice, these techniques will help you be more productive, but we can't guarantee your boss will agree to let you leave the office before 5 p.m. when you reason that you're at your best on no more than four hours of work. That could prove tricky – unless you work in France, say, where it's illegal to work more than 35 hours per week. American employers, as we know, are not readily jumping on the less-is-more train and neither are lawmakers when it comes to crafting labor policy. In fact, while many European countries guarantee workers a minimum number of paid vacation days, American law guarantees workers exactly zero. El zilchamundo. mu.
(Mu, if you're unsure, is the Japanese word for "nothing" and is sometimes associated with Zen meditation – but more on that later.)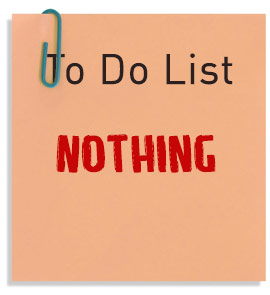 It seems so unfair and even counterintuitive, given that studies show that not only will ample time away from work promote higher productivity, but not enough time away will sabotage it. It is a common complaint among American workers that they would like more time away from work and would, in fact sacrifice some other company benefit in return for more paid vacation days.
"Tell me something I don't already know," you counter.
Well OK, it turns out that while 50 percent of Americans want more paid vacation days, 57 percent aren't even using all of what they currently have! Can you say cognitive dissonance?
If that isn't enough to make you scratch your head, participants in a series of 11 studies conducted by psychologist Timothy Wilson at the University of Virginia along with colleagues from Harvard found the idea of downtime – even brief periods from six to 15 minutes – so unpleasant that 25 percent of female participants and a whopping 67 percent of male participants opted for mild shock therapy rather than sitting alone in silence with their thoughts. Yikes!
Wilson was quite surprised himself and decided that since most participants in the first study were of college age, that it would be prudent to broaden the array of subjects and duplicate the study. Participants in the next study came from many different backgrounds and ranged in age from 18 to 77. The results, however, were essentially the same.
Wilson and his colleagues have yet to work out the reasons many prefer to do something rather than nothing and Wilson reminds us that it isn't entirely strange to prefer to do something as opposed to nothing, stating that: "The mind is designed to engage with the world, even when we are by ourselves, our focus is usually on the outside world. And without training in meditation or thought-control techniques, which still are difficult, most people would prefer to engage in external activities."
Should we conclude, then, that many people don't really like to do nothing? And what does nothing entail, exactly? Is it the same for everyone?
Often, we think of nothing as zoning out in front of the television or listening to music while flipping through a magazine. These activities have their merits and most of us enjoy them from time to time, but the tendency to qualify them as doing nothing is symbolic of the modern cultural misconception that doing nothing is tantamount to producing nothing. This perspective confuses the end with the means – that if we have nothing tangible to represent a period of time spent doing something, then in fact we were doing nothing. There is, however, another kind of nothing that's more about the means as opposed to the end and that, somewhat ironically, turns our mainstream notion on its head.
Meditation.
Oh boy, we're back to this.
"Oh, irony on top of irony!" you offer. "I've triiiiied meditation, and let me tell you it's far from nothing – it's work!"
True enough. I've also been there.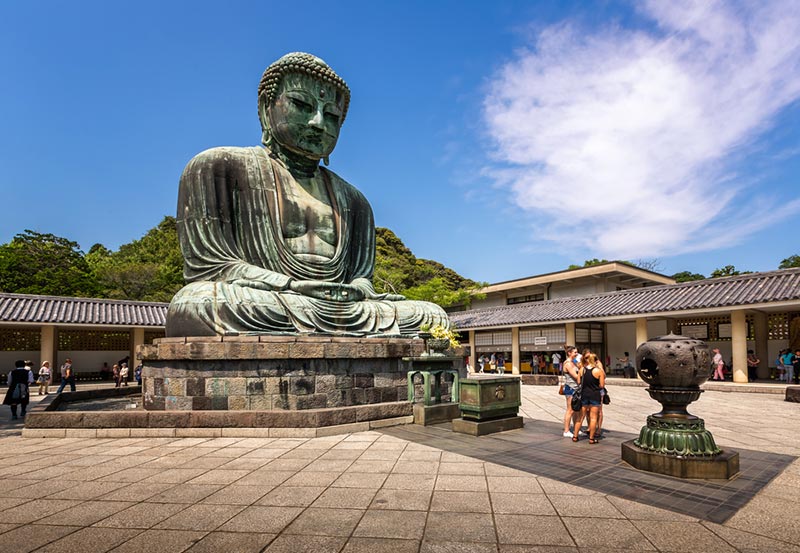 While living in Japan, I often visited Kamakura Temple, where my then-boyfriend, now-husband's uncle was a Buddhist priest and master of Zazen meditation. Once, while there, I asked him to talk a little about meditation. He explained that Zazen is the study of the self and in order to study the self, we must forget the self and in doing so, we receive the gift of enlightenment of ten thousand things.
Ahaaaaaaaa…
Hey! Ya still with me, here? Pay attention!
After talking a little about the practice, he then instructed me to sit on the floor in a comfortable position (which definitively ruled out full lotus or any kind of lotus, for that matter), close my eyes and focus on my breathing. Excellent! I was going to get a lesson! (Little did I know, the lesson would include the punitive correction new monks were sometimes subjected to while learning proper protocol.)
Next, he told me to count my breath because, as he explained, breath is our body's central activity and connects our bodies to our mind. They are, in essence, one. So if your breath is agitated, your mind is agitated. In Zazen, counting breaths is the key to sharpening awareness and opening your mind to things that were always there but escaped your attention because of a preoccupation with internal dialogue.
So I counted. As I counted my breaths – inhale one, exhale two – all the way to 10 and back to one, I was supposed to make note when my mind began to wander, to look at the thought, acknowledge it, and then let it go and start back at one. It was difficult, however, and my inability to concentrate was evident in my posture. Oji-sama noted this and instructed me to pay close attention to my hara. My what? Then I remembered. The hara, he explained earlier, is the physical and spiritual center of the body. In Zazen, you must develop a relationship with the hara, which is located within the body around two inches below the navel. "Navel-gazing!" I remembered chuckling when he'd explained, thinking I was pretty clever. It was at that point, that my lack of proper concentration fully betrayed me and I felt a sharp "thwack!" on my right shoulder. Oji-sama, standing over and behind while instructing me, snapped me with a thin plastic shoehorn! This was the first and last time I attempted to "study myself," as it were.
While it makes sense that one gets better with practice and that the mind slows down as the space between errant thoughts tends to widen, meditation – at least in the beginning – is work. Perhaps it's true that this practice will eventually lead to the enlightenment of ten thousand things, but meditation – at least in the beginning – is work. So, if you are interested in reaping some of the benefits of Zazen, while forgoing the plastic shoehorn, there are modifications available.
First, agree that doing nothing implies not just producing nothing but actually sitting quietly and doing nothing. Then find a quiet spot alone and find a comfortable seating position – any position is fine, as long as you are able to be still and not fidget. Next, consciously slow your breathing and pay attention to how your body feels – the sensation of making contact with a chair or the floor, the way your clothes feel against your skin. As other thoughts drift in, allow them and take note, but then let them go, each one by one. After practicing a few times, you'll likely notice that fewer thoughts creep in and your breath is noticeably slowed.
This more casual approach is not likely to lead you to the enlightenment of ten thousand things, but as the static of internal dialogue lessens, you will likely experience a very pleasant serenity and may become aware of solutions to troubling problems or even have new ideas pop spontaneously into your mind. Additional gravy comes when finding an internal stillness leads to a renewed ability to tackle the external chaos.
Finally, a more casual approach, still, and one I personally practice. You can and likely will find benefit in detaching yourself from day-to-day stress simply by stopping what you're doing and gazing out a window or going for a walk in nature. The point of which, is not necessarily what there is to gain or do better as a result of doing nothing, but rather the intrinsic value of doing nothing in and of itself. Allowing the beauty of the world in without the pressure we often feel to process and manifest it externally is incredibly freeing. That is, the pursuit of mu for the sake of mu. This approach allows us to appreciate the lone fact that we are – incredibly and powerfully – here. And nothing more.