To stand atop Mount Everest is to stand at an elevation beyond which any plant grows or any animal lives. It is the exclusive realm of clouds and passenger jets. The peak is actually in the jet stream.
At that level of Earth's atmosphere, air is less than a third the density of what it is at sea level, yet so cold it could freeze any uncovered skin in a few minutes. And despite the temperature, the sun is more harsh than in a desert at noon on a summer day. For most humans, it would be physical misery and mental delirium to be there. By any account, it is extremely dangerous.
As the sun rose on May 29, 1953, it was still generally considered impossible to climb to the top of Mount Everest. But a few hours later, New Zealander Edmund Hillary and his Sherpa climbing partner, Tenzing Norgay, made the impossible actually possible. Hillary returned from the summit to a camp a few thousand feet below to famously tell his friend George Lowe, "Well George, we knocked the bastard off."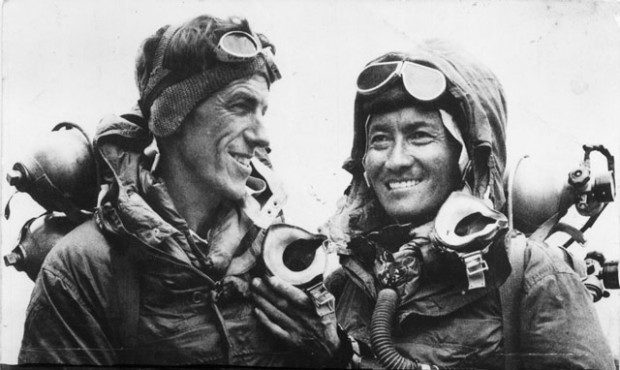 Part of their conquest was a 40-foot high razor of ice and rock just below the summit. It was later called the Hillary Step. Hillary himself referred to it as "The most formidable obstacle on the ridge."
He later told an interviewer, "The whole world around us lay spread out like a giant relief map. I am a lucky man. I have had a dream and it has come true, and that is not a thing that happens often to men."
Sixty years later, it remains a truly amazing human achievement. Among the greatest in history. It doesn't matter that there have been over 5,600 successful summit attempts on Everest since then. There have also been over 200 deaths. It also doesn't matter that in 1924, British climbers George Mallory and Andrew Irvine might have reached the top first, because they never came down to stake their claim.
"They were going into the unknown," Edmund Hillary's son, Peter, told The London Telegraph, promoting the anniversary of the achievement. "They were breaking through an envelope of uncertainty. Was it possible for human beings to climb to 29,000 feet, nearly 9 km in the air? Was it possible to climb this very jagged knife edge ridge? Of course. When they went there, they showed that it was. But the thing that makes it enduring is like all of these big steps in human history – that it basically opened it up for everybody else. We know we can do it."
In fact, several summit attempts have gone disastrously and famously bad, perhaps the most famous, in 1996 where seven people died near the summit, an account of which is captured in brutal detail in the book Into Thin Air. And as recently as April, an earthquake in Nepal set off an avalanche on Everest that resulted in 18 deaths.
"Back then, there were no fixed lines, lightweight O2 bottles, state-of-the-art boots, suits, goggles. And, the two, Hillary and Norgay, were literally on their own," says filmmaker Greg MacGillivray, the producer and director of the acclaimed IMAX documentary Everest, which also includes a moving segment on the 1996 disaster as it happened just a few thousand feet above them while the film was being made. "Their climb was a huge struggle on so many levels: physical, psychological, logistical. Today, more than 1,000 summiteers later, it's a different challenge – still epic, but far less intimidating."
Indeed. Hillary and Norgay's achievement was so great that it eventually allowed what many mountaineering experts and self-proclaimed protectors of the mountain say was a kind of hubris to set in about reaching the summit. Though most of the summiteers whom have followed in the two men's footsteps are serious mountaineers, many others have been essentially unqualified, rich tourists trying to scratch something off their golden bucket lists. Experts claim they are people who don't respect the mountain, don't understand what it means to be a true climber and don't have any business being there. Because of that, some would argue, people have died.
Hillary wasn't pleased, either. "I'm not very happy about the future of Everest," he said in an interview in 2003. "Yesterday there were 1,000 people there and some 500 tents. There was a booze place for drinks. Sitting around in a big base camp and knocking back cans of beer – I do not particularly view that as mountaineering."
Plus, there's all the garbage. Decades of oxygen tanks, food packaging, gear and yes, even feces now litter the face of what is considered locally as a holy place. There have been more recent attempts to turn back from this – to clean up some of the debris – and for many of the world's best climbers, Everest remains a temple where few, usually the worthy, are rewarded in its rarefied air.
The mountain is called Chomolungma in Tibet and Sagarmāthā in Nepal. For a short period in the mid-1800s, it was called simply Peak XV by British surveyor Andrew Waugh. He eventually renamed it Mount Everest, after George Everest, his predecessor as Surveyor General of India. Everest himself never took to the name, finding it somewhat disrespectful – or at least problematic – because he said native Indians could neither say nor write it. Regardless of what you call it, the peak is 29,035 feet above sea level. And thanks to plate tectonics, it gets about four millimeters higher every year.
Hillary and Norgay got into our language too when they climbed that mountain. If not in their names, then by their triumph, they climbed into our vernacular. To state how great an achievement something is, or to describe a mammoth size, we might refer to something as "The Mount Everest" of whatever. Even the catalogue for outdoor equipment retailer REI, somewhat apropos of the anniversary, advertised a sale in May as "The Everest of All Sales." Like it or not, it is partly a measure of their success.
Each man paid their own price for reaching the peak. Tenzing Norgay became the biggest celebrity in, as well as political pawn between, India and Nepal in the 1950s and was forced into claiming he reached the summit ahead of Hillary. It was a level of celebrity he was entirely uncomfortable with and the statement, though he later recanted, strained his friendship with Hillary for years. He became the first director of field training for the Himalayan Mountaineering Institute in Darjeeling, India and eventually founded his own trekking company.
Hillary never reached the peak again. Climbing nearby Makalu the following year, he broke three ribs and suffered what would be the first of many bouts of hypoxia or acute altitude sickness. Though he dedicated much of the rest of his life to helping the Sherpa people through his Himalayan Trust, building schools and hospitals, being at higher altitudes often made him quite ill. However, he never stopped exploring places like the Everest regions, Nepal, the Ganges River or even Antarctica.
The lasting legacy of the two men and their fantastic achievement didn't stop with their obituaries (Norgay died in 1986 and Hillary in 2008). It remains alive in the idea of inspiration itself.
"People want to be inspired," says Greg Long of the Everest feat's continued meaning. Long is considered perhaps the world's top big wave surfer and a fellow adventurer. "They not only want to be inspired, they need to be inspired. It's those [like Norgay and Hillary] who do the seemingly impossible that allow everyone to look in their own lives and achieve.
"We've all been born with simple gifts. No one's achievement is greater than someone else's. In our own respective lives, the challenge might be no greater than walking to the top of that hill. It's all about the attempt and finding that in our own lives."