We know that for many, Labor Day means the end of summer. But just because summer is over doesn't mean that our love affair with ice cream has to end too. Fortunately for those of us in places where the weather is still blazing hot, ice cream remains our go-to treat to cool off after a long day of work. Even if you're in a colder climate, you can still enjoy a scoop of delicious homemade ice cream (maybe keep the heater on?). Because let's be honest- we love ice cream no matter the season!
Why Homemade Is Better?
Although it does take more work than crackin' open a carton of store-bought ice cream, homemade is worth the extra effort. You know exactly what's into your ice cream and you have control of the ingredients based on your own tastebuds. Homemade tends to taste fresher and more pure than store-bought. It's guaranteed fresh and you can use high-quality organic ingredients – straight from the farmer's market! Some companies add unnatural ingredients to stabilize the cream, thicken it up, and keep it from crystallizing. Furthermore, a lot of store-bought ice creams have more air whipped into them. For this reason, homemade ice cream is usually creamier and richer. It also means no chemicals, no preservatives, and no ingredients you can't pronounce.
[ Alyson's Homemade Dairy-Free Mint Chocolate Chip Ice Cream Recipe ]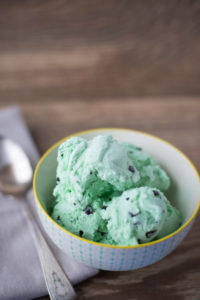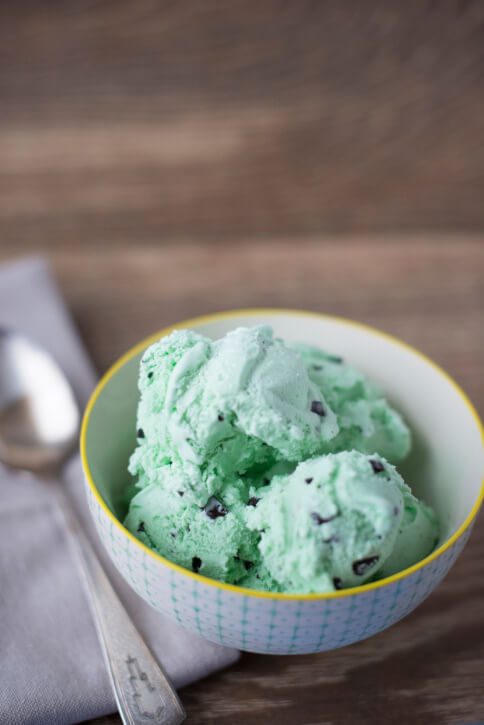 Ingredients:
Organic Coconut Milk – Two 13.5 cans
Dates – Five with seeds removed
Stevia – 1/8 teaspoon
Chocolate Chips – Half cup
Macadamia Nuts – Half cup
Peppermint Extract – One teaspoon
Vanilla Extract – One teaspoon
Salt – Half teaspoon
Coconut Palm Sugar (optional)
Directions:
1. Put one can of coconut milk and all five dates into a blender
2. Blend until dates are dissolved into milk
3. Add the other can of coconut milk, peppermint extract, vanilla extract, stevia, half of the chocolate chips, and salt into blender.
4. Test the batter. Add in coconut palm sugar and extra stevia and salt if needed. Blend.
5. Add in macadamia nuts and remainder of chocolate chips to blender. Blend quickly to mix in.
6. Add batter to ice cream maker and follow directions of the maker.