In Part 1, we covered well-known summer vegetables like tomatoes and eggplants, as well as the less represented tomatillos.
Here, we'll start with a couple of slightly more exotic vegetables.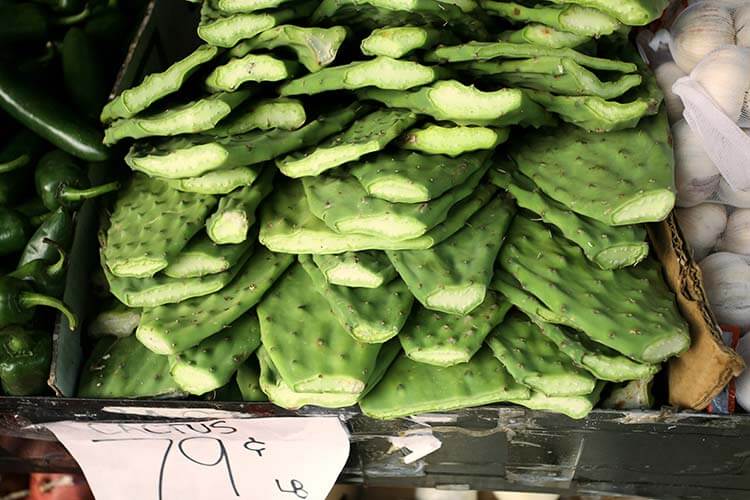 6. Nopales
Like chili peppers, nopales (the pad of the same cactus from which we get prickly pears) are also used for weight regulation. Most people think that this paddle is the cactus leaf, but actually it's the stem. The nopal cactus grows all over the southwestern U.S., as well as the driest parts of the Mediterranean, Asia and Africa. Essentially, it's wild food, and it exists with many degrees of thorniness, from formidably unapproachable to almost entirely thornless. Both the pads and the fruits contain compounds known to help improve insulin sensitivity and blood sugar regulation, and among the natives in the Americas there's a strong tradition of their use as a diabetes remedy.
If you've come across nopal, most likely it was in a jar with pickles and condiments in a Mexican grocery market. Fermenting them in brine is a delicious and shelf-stable way to prepare them, but in the summer, when they're young and crisp, try some fresh. They can usually be found both as full pads or ready to use, cleaned of any spines and chopped into cubes. The whole pad is excellent grilled or roasted, and cut into cubes it's great in curries, chilies, stews or raw in salads. It also gives body and thickness added raw to smoothies in small amounts. You'll notice a slightly slimy quality to the cut pad. This textural quality, the reason it thickens smoothies, is called mucilaginous. It confirms that the pad is rich in polysaccharides, long-chain sugars that feed beneficial gut bacteria and are soothing to the digestion in general.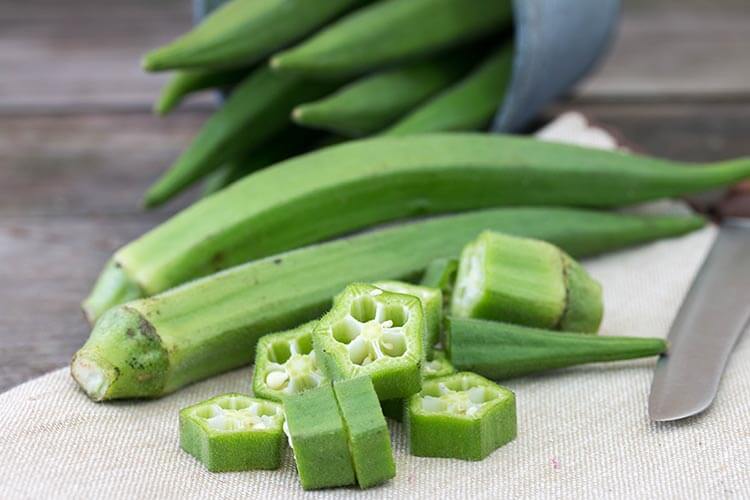 7. Okra
Not everyone appreciates mucilaginous textures, and this texture is what many people associate with okra, another vegetable best enjoyed in the summer when it's freshest and crispest. Briny pickles preserve the crunch with delicious sourness, just like with nopales. As with bell peppers, brief stir-frying or cooking is best for texture preservation, or else cooking with tomato or lemon, or something acidic. Spiced, dehydrated whole okra "chips" are becoming widely available in supermarkets. If you chop it into a salad, it will ooze its mucilage and set the salad up like jelly, which may not be what you were hoping for. On the other hand, just eaten straight up or as a dip-carrier, the whole pods are delicious and crunchy.
The edible "pod" of the okra is actually the fruit of the plant, which grows in warm climates worldwide and is originally from – well, we're not quite sure on that one. Most likely it's either from North Africa or Southeast Asia, both of which are places with a long history of okra in their cuisines. Okra belongs to the mallow family, like marshmallow, whose mucilaginous properties are utilized as herbal gut medicine. Also in that family, by the way – cocoa!
The presence of polysaccharides also connotes high fiber content – a good thing – and okra is also high in calcium, potassium, vitamin C and folate.
Okra is a food to which many people have a strong reaction. Some of this seems to be related to the texture, some of it to the person's cultural background. Certain cuisines use a lot of okra, and if you're not from one of those cultural backgrounds, you may never have heard of okra.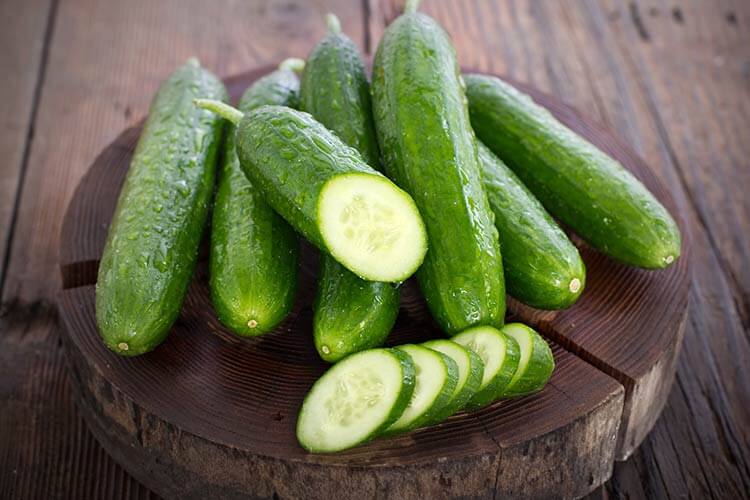 8. Cucumbers
Cucumbers are another vegetable fruit to which people have a strong reaction, despite the PR of "cool as a cucumber" that presents it as mild and neutral. Cucumbers contain a bitter compound not everyone can detect, but the minority who can detect it can't stand it. Additionally, many people experience gas and burping from cucumbers, and this reaction is so prevalent that of the three main varieties of cucumber grown, one is actually called "burpless" (the other two being "pickling" and "slicing").
Cucumbers originated in India, so they're an Old World plant, popular with Roman Emperors and the like. They are yellow or green, come in a variety of sizes and (unless it's a seedless variety) have seeds dispersed through their flesh much as a watermelon does. They really are very much like low-sugar watermelons. The other special thing about cucumbers is their high silica content, which makes them excellent for skin, hair and nails. Their juiciness makes them a great base for nourishing green drinks. Tzatziki, the traditional Middle-Eastern salad of chopped cucumber, mint, dill, lemon and garlic dressed with yogurt, is wonderfully cooling. A sour cashew sauce is an easy substitute for those who can't do dairy.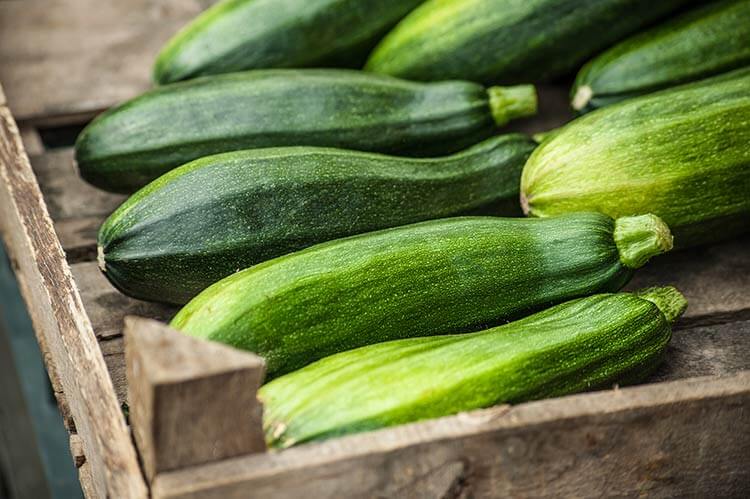 9. Zucchinis
Zucchini is the cucumber's American cousin. Think of it like this: melons and cucumbers from the Old World; all kinds of squash from the New World. But as the name suggests, the culinary variety most often enjoyed now was actually developed in Italy. Although very similar in possible shapes and sizes, as well as (very low) calorie content, to cucumber, the great thing about zucchini is that it holds its texture so well, whether raw or cooked. As such, it's the darling of the raw food world, and now the low carb world too, because of how it can be spiralized or pared into pasta, either as noodles or for lasagna. Along with tomatoes, bell peppers and eggplants, it's a key ingredient in ratatouille, the delicious southern French stew for which these vegetables, plus some onions and garlic, are slow cooked in olive oil.
Assuming there are insects present to pollinate the vegetable, zucchini is one of the easiest crops to grow in a temperate or Mediterranean climate. Not only do they pump out lots of fruit; the fruits themselves keep on growing. Everyone's either experienced or had a neighbor with way too much zucchini. The bigger they get, the tougher the flesh. While the enormous ones are often discarded in the U.S., in Europe they're stuffed and baked. In this version, they're called "marrow" – same vegetable fruit, different name. But lots of zucchinis could mean lots of zucchini noodles – with tomato marinara, with a bell pepper cheese, in a lasagna with eggplant and a tomatillo relish on top. Or it could mean zucchini breads and muffins. Or slice it into coins, toss with olive oil and your favorite spice, and dehydrate into delicious chips.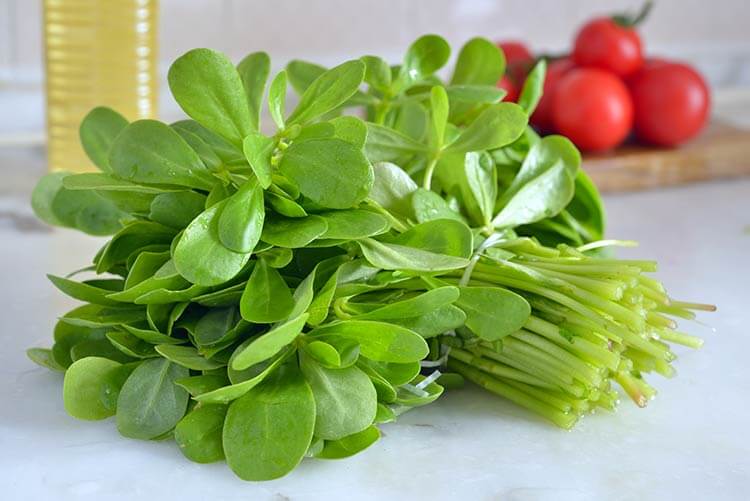 10. Purslane
Last but not least is the one "green leaf" I'm including here – a succulent, slightly mucilaginous weed that grows literally everywhere – purslane. Originating in the Mediterranean, it grows in the far north and in the tropics. It grows on the beach and far inland and up in the mountains. It grows in disturbed soil and in garden beds. I've seen it growing through cracks in the sidewalk in Bangkok, Thailand! Like nopales, it's quintessentially a wild plant. It embodies everything good in the concept of "weed" – it's able to survive in adverse conditions, with limited and sketchy access to nutrients, and it's also able to extract nutrients where there are not many and where there may also be non-/anti-nutrients.
Purslane is great in salads, but it's also used in many of the same ways that spinach is used; like spinach, it contains some oxalic acid, which gives it a pleasant tartness. The presence of oxalic acid leads some to warn against consuming too much purslane, but truthfully you wouldn't want to eat the quantity that might cause trouble; your body would give you the stop signal. As with all vegetables, it's good practice to rotate consumption.
You may have heard of purslane as the one plant that contains EPA. It does contain more omega-3s than any other leafy vegetable, but mostly in the ALA form that is usual in plants. Its EPA content is underwhelming, at less than a hundredth of a milligram per gram. Like green leafies in general, it is rich in vitamins and minerals. It also contains betalain antioxidant pigments, which have been shown to be strongly cancer-protective.
Purslane is a great all-round supportive plant. Because of its sprawling growth habit, it can provide ground cover to help keep the soil moist, and because it has deep tap roots, it can make it easier for other plants' roots to penetrate hard soil. As much as anything else, its character is a great metaphor to follow.
Look out for it at summertime farmers markets, where you might also see it with its Spanish name, verdolaga.