I have recently started incorporating supplemental creatine into my fitness routine with positive results. As someone who eats plenty of red meats, fish, and pork, I have a decent creatine level to begin with…but by amping up my creatine intake in short bursts, I've been able to increase muscle mass and pump up my high intensity interval workouts.
What is Creatine?
Creatine is an amino acid that your body produces naturally to some extent, but it can also be obtained from meat products—red meat, pork, and fish are especially high in creatine. This amino acid is mainly manufactured in the liver and then stored as creatine phosphate in the muscle tissues.
When you make a mad dash to grab the leash of your runaway dog before he jumps into rush hour traffic, you can in part thank creatine for that incredible burst of energy. You see, creatine is converted into energy when you engage in any high-intensity activity.
Here's How It Works
The nervous system sends a signal to your muscle to contract. That signal is then "read"by your adenosine triphosphate molecules (ATP)—the "molecular unit of currency" used to exchange energy between cells.
What ATP does is essentially hook and unhook phosphates. Since creatine is stored in the muscle fibers as creatine phosphate, the more creatine-loaded you are, the bigger store the ATP has to draw from, and the bigger the burst of energy you can have when you get that message from the brain.
There are some concrete reasons to take creatine supplements, but keep in mind that you should be looking for creatine monohydrate. There are other chemical compositions of creatine on the market, but monohydrate is the one used in the clinical testing and scientific research—it's the one that gets results. So, before you get started, make sure you know what you're buying!
What does all this mean, though? The end results—that's what we all really want to know. Well, when used in combination with a balanced, healthy diet and exercise, creatine supplements are beneficial for several reasons.
1. Boost Strength Training
Have you hit a plateau in your high-intensity weight-training workouts? If so, creatine supplementation might give you the boost you need to jack you up to the next level. Why? Because of that whole phosphate transfer thing I mentioned earlier: more creatine phosphate in the muscle tissue = more phosphates for the ATP to grab = greater burst of energy.
And that all translates to an amped-up workout!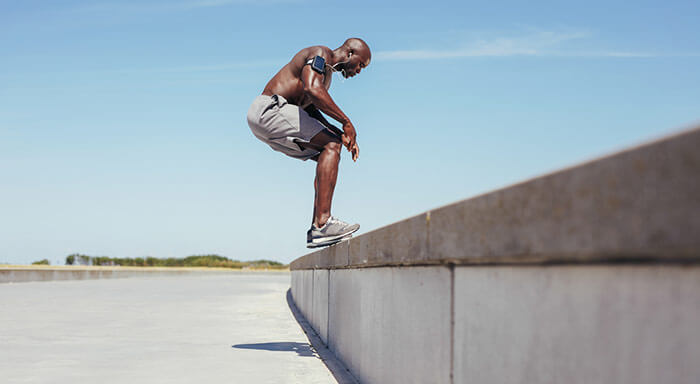 2. Gain Muscle Mass
The creatine itself doesn't actually build muscle, but it does directly affect muscle mass by increasing the level of bioavailable energy during strength training and reducing muscle fatigue after an intense workout. This allows you to train harder and feel better afterward.
Related
In the Information Age, serious trainees and weekend warriors everywhere are waiting on technology to deliver the next great innovation to the doorstep of the fitness arena. With all of the bells and whistles being promoted as necessary to get ripped, shredded, and downright crazy lean, many have fallen into the "I need a gym …
Just to be on the level, here's a word of caution: Creatine supplementation can also cause water retention in the muscles. This can lead to the appearance of larger muscles and look like weight gain on the scales. However, when you stop supplementing, the water weight will drop away…and so will the water-induced muscle appearance. To avoid this, and to avoid the associated dehydration, drink at least 64 ounces of water a day while supplementing with creatine.
3. Sharpen Your Mind
Australian researchers recently discovered that increased creatine levels actually have a huge impact on mental sharpness. In the study, not only did the use of creatine decrease mental fatigue when doing long, monotonous (boring) tasks, it also increased recognition memory and brain plasticity. I can confirm that result with my own experience as well. Creatine seems to have helped me stay focused in a world that is sometimes more hectic than I'd like it to be.
How to Supplement With Creatine
The typical way to go about supplementing with creatine is to "load and maintain." This generally consists of a five-day load of creatine monohydrate and then a long-term maintenance dose. To build muscle mass, increase focus, and boost your workout, follow this supplementation routine:
5 days: 20 grams per day (5 grams, 4x daily)
3-4 weeks: 2 grams per day (maintenance)
1 week: none (reboot)
Repeat cycle
Of course, precise dosage will depend on your specific body. Consult your physician for more precise dosage.
Potential Side Effects
While side effects of creatine usage are rare, they are possible and include: irregular heartbeat, enlarged prostate, and dehydration (most common). Consult your physician immediately if you are experiencing any symptoms of these side effects.
The addition of creatine can really bump up your game, especially if you've been pushing yourself to reach that next level but just can't seem to climb over that plateau.
If you try it out and it works for you, awesome! Make sure to share this information with the people in your life who might benefit from a boost themselves—your partner, mom, dad, uncle, mail carrier, coworker, boss. The more you share your healthy lifestyle, the stronger the team around you, and the better you you become!
Resources:
http://www.nlm.nih.gov/medlineplus/druginfo/natural/873.html
http://www.ncbi.nlm.nih.gov/pubmed/12485548
http://www.healthline.com/health/side-effects-of-low-testosterone#1
http://www.ncbi.nlm.nih.gov/pubmed/17136944
http://www.ncbi.nlm.nih.gov/pmc/articles/PMC1691485/pdf/14561278.pdf
http://www.health.harvard.edu/healthbeat/the-gut-brain-connection
You May Also Like…