Is a pair of shoes all we really need to run? Can a pair of shoes from the excellent line of a signature brand make us perform better as a runner?
For any runner setting his sights on bettering his time or performance and who has tried a number of strategies, there is one other approach to try: barefoot running.
Running Barefoot Back In Time
Abebe Bikila literally "ran" down in history barefooted with his victory in the 1960 Rome Olympic marathon. Many other champion runners followed suit in his naked footsteps – Bruce Tulloh, Shivnath Singh, Zola Budd, and Tegla Loroupe. More runners joined their ranks by the turn of the millennium – Rick Roeber, Ken Bob Saxton, Todd Byers, Nico Surings, Rae Heim, and Robert Knowles, after the publication of the international bestseller book Born to Run by Christopher McDougall in 2009.
Abebe Bikila is not the first person to run barefoot. It is something that our ancestors have done throughout their "evolutionary existence," especially in the aboriginal days to outsmart, if not to outrun their predators and preys. Early runners have covered miles upon miles barefooted for epochs, until running shoes came into the picture.
While not every one of our ancestors was a fast runner, just like not every one of us can run fast, they had no choice but use their bare feet under their basic circumstances. For some reclusive indigenous peoples or tribes, such as the Tarahumara Indians in Mexico accounted by Christopher McDougall in his book, the practice of barefoot running stayed on.
Human (Body and Foot) Architecture: Built to Run
According to The Science of Sport, the architectural structure of the human body makes us successful hunters. Our bipedal nature isn't meant for speed, but we are good at endurance. Endowed with an upright/linear posture, we can absorb less sunlight and lose heat faster. Our small size, sweat glands and hair also help us work over a long time without our body temperature critically rising to cause us to tire out fast. All these combine to make us persistent hunters. After long hours, our anatomy and physiology can make us win the day's race against our preys.
"The human foot is the result of millions of years of evolution," says Gordon Pirie, the Olympic runner and author of the book Running Fast and Injury Free. Dr. Benno Nigg, an expert on lower leg kinetic and biomechanics from the University of Calgary, offers his "Muscle Tuning Theory" as a way to explain the aptness of using bare feet for running. He says, "An example of [muscle tuning] can be seen with barefoot running; the diminished proprioception (sensory feedback) of wearing a shoe negates the cushioning of the shoe…." Pirie believes that the "overstuffed, wedge-heeled" wasn't normal, causing a high rate of injuries among runners in the mid-80s.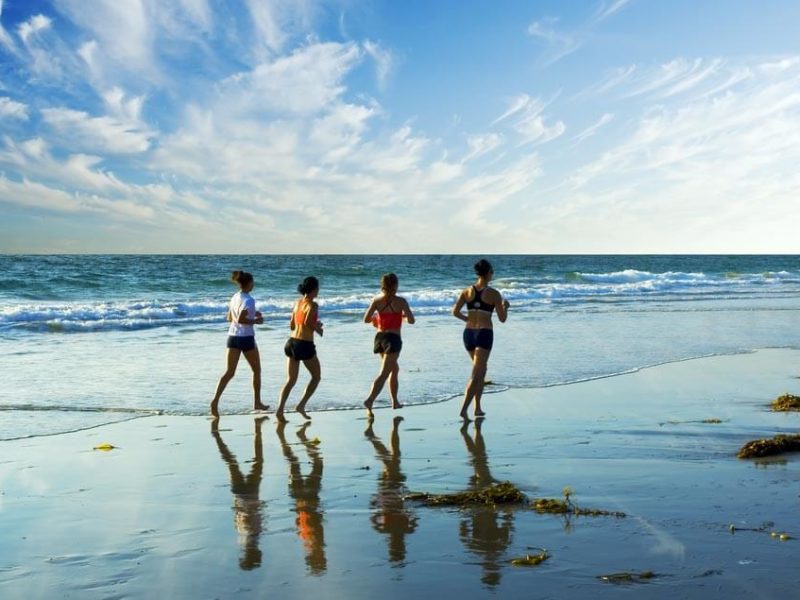 The Science of Barefoot Running According to Dr. Daniel Lieberman
Dr. Daniel Liebman of Harvard is a staunch supporter of barefoot running. He and his colleagues, offer insights from their study – "Foot strike patterns and collision forces in habitually barefoot versus shod runners."
Liebman et al. (2009) were intrigued by how we evolved to have the capacity to run and endure as "persistence hunters." It is clear that we went through structural adaptations to be more of a runner than a climber as we left the jungles. Their study compared the foot strike between barefoot and shod runners. Results show that barefoot runners land on their forefoot (ball of the foot) first with less force but greater efficiency, while shod runners strike with their heels first with more force. The study also revealed that running barefoot has no greater impact whether the surface is hard or smooth.
Based on their findings they concluded that wearing shoes may even make a runner more vulnerable to injuries as it causes them to strike with their heels first and with greater force. Running barefoot does not only lessen the impact on the forefoot for a more efficient endurance running, it also increases one's feel of the ground" or proprioception while in motion.
You Don't Need a Pair of Shoes to Run
So, the next time you want to run, whether as a serious athlete or for physical fitness, remember: our ancestors didn't need running shoes to cover great distances. Lieberman often says, "Shoes are abnormal, barefoot running is normal." Our feet are naturally designed to take the beating of the repeated motion over great distances. We are persistent hunters and we have feet (and bodies) designed to do that.
To know how the running shoe industry is responding to the science and logic behind barefoot running, check out their new designs for running shoes – they are lighter, thinner and have a more natural look and feel. Yet, not every runner may be able to shift with ease. Take your time. Learn the skill. It won't cost you anyway to try.
You May Also Like…