Running has a reputation for being a risky activity for knees. It is known for placing extra pressure on the knee joint. As stressful as this physical activity may be, there are things you can do to keep your knees healthy when running. Implementing any of the methods below will help.
Warm Up Properly
Any physical activity requires a proper warm-up period. Warming up increases blood circulation throughout the body. As circulation increases, muscles warm up and become flexible, reducing your risk of injury.
One of the most efficient ways to get blood flowing to your leg muscles is by doing some SMR or self-myofascial release maneuvers, according to ACE Fitness. These maneuvers are known for improving flexibility and performance.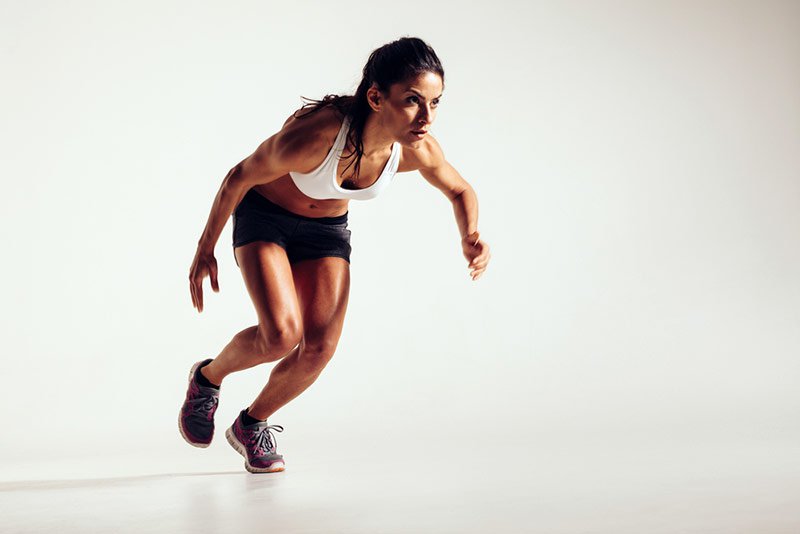 Strengthen Your Leg Muscles
Your knee is supported and protected by many leg muscles. Keeping these supportive and protective muscles strong stabilizes the knee joint. It also improves balance, alignment, and overall functioning. Strong supportive muscles take pressure off of the knee joint itself. When this happens, pain is minimized. Applicable leg muscles include your quadriceps, hamstrings, glutes, psoas, and hip flexors.
Quadriceps
Harvard Health emphasizes the importance of exercising all muscle groups equally. Failure to do so will result in imbalanced strength and additional strain on both the joint and body. The largest muscle in your leg is the quadricep or thigh muscle. This muscle loses strength quicker than smaller-sized muscles. According to the Men's Journal, squats and lunges are the perfect strengthening exercise. Be sure to start out with minimal repetitions and gradually increase the number involved.
Hamstrings
Hamstrings run along the backside of your knee. Strengthen them by doing some hamstring curls. According to ACE Fitness, stand with your feet shoulder-width apart. Lift your right leg and bend your knee towards your back. Hold for 10 seconds. Return to the starting position. Perform this exercise 10 times. Repeat the process with your left leg. You can increase resistance by using a band or cable, if needed.
Glutes
Your glutes, sometimes known as the butt, also support your knee. These muscles are technically known as the gluteus maximus. You can strengthen these essential muscles by doing some isometrics. Isometrics use contractions to strengthen muscles. Stand or sit for this exercise. Tighten your right butt muscle. Hold this contraction for six seconds. Release and relax for 10 seconds. Repeat this exercise 10 times. Do the same maneuver using your left butt muscle.
Related
Having strong glutes can help prevent injuries, straighten posture, and improve athletic performance. Here are four reasons to build glute strength, plus some exercises to get you started.
Psoas
The lesser known psoas muscle connects your femur (or thigh bone) to your spine. It wraps itself around your abdominal wall. In simple terms, it is a core muscle. This muscle is a combination of the iliopsoas—which includes both a major and minor muscle. When strong, this essential muscle group improves balance and speed.
Increase this muscle strength by doing a yoga maneuver known as a bridge pose. Lie on your back with your feet shoulder-width apart. Gently lift your buttocks as high as possible. Hold for 10 seconds. Slowly return to the original position. Repeat this maneuver five to ten times.
Hip Flexors
Strong hip flexors reduce your risks of developing runner's knee, according to the Men's Journal. Strengthen yours by doing side leg lifts. Lie on your left side. Lift your right leg up. Keep your knee straightened. Hold this position for 10 seconds. Slowly return to the original position. Perform this maneuver 10 times. Shift your body so you are now lying on your right side. Repeat the process using your right leg.
Run On Comfortable Surfaces
Hard running surfaces increase knee joint stress. Keep your knees safe by choosing asphalt running tracks, grass, or other similar surfaces. Avoid concrete as much as possible.
And don't forget about your shoes! With so many running shoes available in the marketplace, it is important to choose one that provides your foot with ample cushioning. Quality cushioning acts as a shock absorber.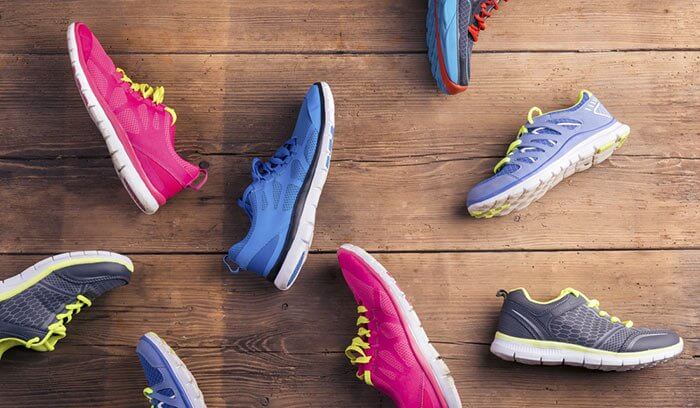 Wear Proper Fitting Shoes
Continuing on the topic of shoes and comfort, your running shoes can make or break your exercise routine. According to Runner's World, poorly fitting or shaped shoes can cause bunions, corns, hammer toes, and/or ingrown toenails. All can play havoc on a safe running routine. A natural-fitting shoe emphasizes your foot's natural extension when it is touching the surface.
Here are some factors to consider when purchasing running shoes:
Make sure your toes can comfortably spread out in the shoe.
Always try both shoes on. Walk around in them for a few minutes.
When trying on the shoes, wear the same socks you would normally wear when running.
Take the removable insole out and use it as a template. Stand and place your foot on it.
Notice how it looks and feels. Any spill-over will not result in a comfortable fit.
Run in the shoes. Do this on a firm, not carpeted, surface.
Avoid Sudden Direction Changes
Your knee is a susceptible joint that can easily become misaligned. This is particularly true when your upper body makes a sharp turn while your knee is still facing forward. Save your knee health by avoiding sudden direction changes whenever possible.
Stay Hydrated
A hydrated body is a happy body. Drinking plenty of water or electrolyte-enriched liquids throughout your run will keep your knee joints and muscles properly lubricated. This improves performance and prevents overheating. HSS (Hospital for Special Surgery) recommends runners drink 16 ounces of water two hours before running. Find the ideal beverage amount by dividing your body weight in half.
Final Thoughts
Staying physically active is crucial for living a fulfilling, healthy lifestyle. Running can be one of the most rewarding all-around activities chosen when performed carefully and thoughtfully. Get started today!
You May Also Like…