Stretching Before Traveling Helps with Muscle Flexibility
Rise and shine! What better way is there to wake up and start your day than engaging in a morning stretch routine before you commute to work by car?
The amount of time you spend each morning traveling to your destination in your automobile can be an annoying experience, causing a great deal of angst and anxiety.
This most likely results in tense, tight muscles throughout your entire body, particularly in your shoulders and upper and lower back areas, while the lack of lower body movement decreases blood circulation in your legs.
Therefore, it's a good idea to get a measure of morning stretches before you hit the road because you don't know how long the probable traffic nightmare will last.
Loosen Up with These Good Morning Stretches
Here is a list of the best stretching exercises to loosen up your tight muscles, increase blood flow, increase your range of motion, and help you deal with the upcoming stress you may face in your day.
1. Lying Lower Back Stretch
This particular flexibility exercise should be done indoors for the comfort factor alone.
Lie down on a flat surface.
Pull your knees up to your chest, lifting your pelvis a few inches off the ground. You should feel a slight pulling sensation in your lower back but not anything to the point of extreme discomfort.
Hold the stretch for 30-40 seconds.
2. Forward Head Stretch
The beauty of this morning stretch is it can be performed either standing outside your car or while sitting inside it. Neck stretches are especially beneficial for those who spend long periods of their day looking a computer screen.
Tuck your chin into your chest as if you were nodding and hold for 1-2 seconds.
Gently pull your head forward, with your neck in a steady position. You should feel the stretch along the mid back to the upper back areas (trapezius).
Hold the stretch for 20-30 seconds and then gradually return to the starting position.
Repeat as necessary.
3. Standing Quadriceps Stretch
Since there is little to no movement in your lower body while driving, stretching the large and smaller muscles of your thighs is a good way to loosen them up and get the blood coursing through them.
This flexibility exercise will address three lower body muscle groups.
Stand with your legs shoulder-width apart, preferably with your left or right hand on a tree or even your car for balance.
Grab the ankle of the leg you're stretching and pull back toward your buttocks until you feel the quad muscles working.
Engage your abdominals to prevent your lower back from arching.
Hold for 20-30 seconds.
Slowly return to the starting position.
Follow by stretching the opposite leg.
4. Standing Hamstring Stretch
When your hamstrings are too tight, it reduces your pelvis mobility, putting more pressure on your lower back. This hamstring stretch will prevent your hamstrings from becoming too tight and provide extra support for your pelvis and back to reduce lower back pain.
Stand with your legs shoulder-width apart.
Slowly lower your fingers downward while bending your trunk at the waist, with your knees locked.
Reach as far back as possible, let your head hang loose, and hold the stretch for at least 10-15 seconds. You should feel a slight pulling sensation in your hamstrings, but do not force it to the point of extreme pain.
Follow by gradually returning to the starting position.
Related
Workouts are hard enough, but did you know your post workout routine could make all the difference? Here is the perfect one for you.
5. Standing Calf Stretch
Stretching your calf before driving helps increase circulation to your lower extremities by improving the amount of oxygenated blood that reaches your right or left foot and ankle.
It also decreases the risks of straight leg cramps as it aids in enhancing blood flow in your legs.
Place your hands and wrists, with your arms locked, on a tree or wall, with your legs as far back as possible.
Lean on the stationary surface as you unlock your arms while keeping your feet and legs in place.
The further your legs are back, the more you'll feel the stretch in the intended area (calves).
Hold the stretch for 20-30 seconds.
6. Shoulder Rolling
Not only does your lower body need more good morning stretches but also your upper body. The rolling motions stretch and lengthen the muscles in your upper back, relieving muscle tension.
Lift up your shoulders as high as possible, like you're trying to touch your ears using your shoulders.
Roll your shoulders in a circular motion, rolling them in a forward and backward motion.
Do this as many times as you want until you feel better.
7. Shoulder and Back Stretch
What's great about this back/shoulder stretch is that you can perform this inside the car before even turning on your engine. This exercise helps reduce pain and tension in your shoulders and back.
Lift your left arm so you elbow is around eye level and then reach your right shoulder with your left hand in a semi-circular motion.
Squeeze your elbow toward your shoulder and hold it for 10-15 seconds. This should look like you're trying to reach the back of your right shoulder blades.
Do the same thing with your right arm.
Repeat as necessary until you feel your muscles are stretched.
8. Child's Pose
This restorative pose is a great, gentle full body stretch. It's especially good for getting the tension out of your hips, pelvis, thighs, and spine, all of which can be a bit tight in the morning. It can feel really great if you've slept a little "wrong" or twisted up. It also calms the brain and relieves stress and fatigue so it's a perfect warm up for the day ahead.
A yoga mat would be useful for this exercise, but a carpeted floor works just fine.
Begin on all fours on the floor, with your knees directly under your hips and your big toes touching.
As you exhale, move your buttocks back so you are sitting on your heels and tuck your chin to your chest.
Rest with your forehead on the ground and your arms outstretched.
Hold this position for 5 deep breaths.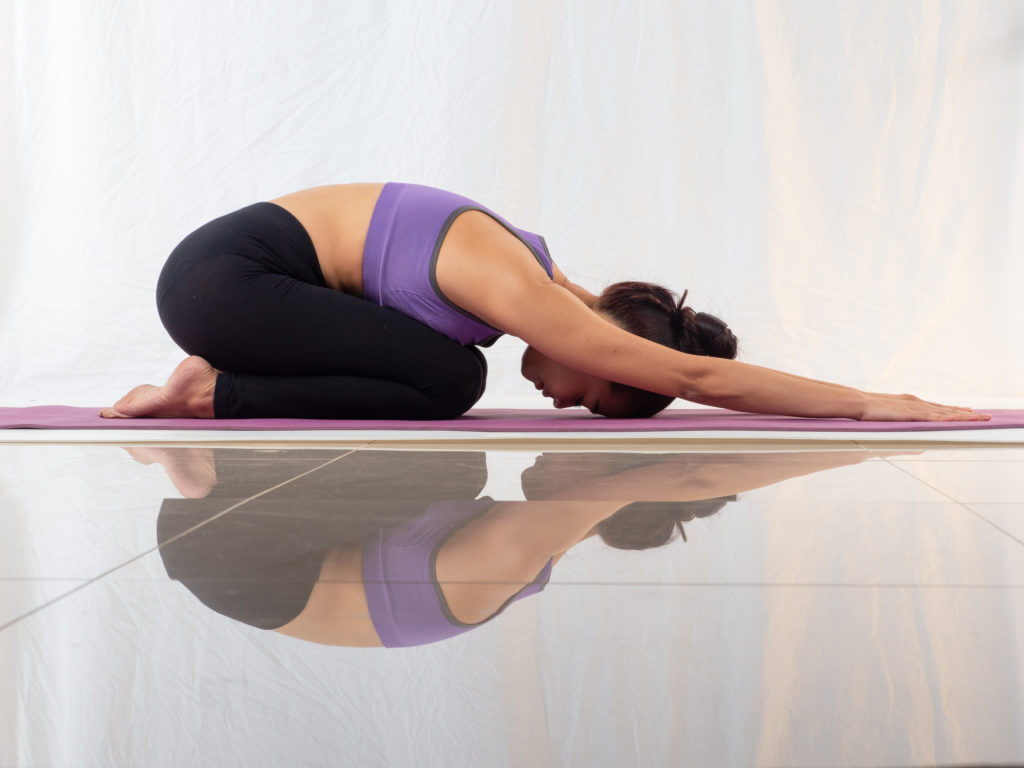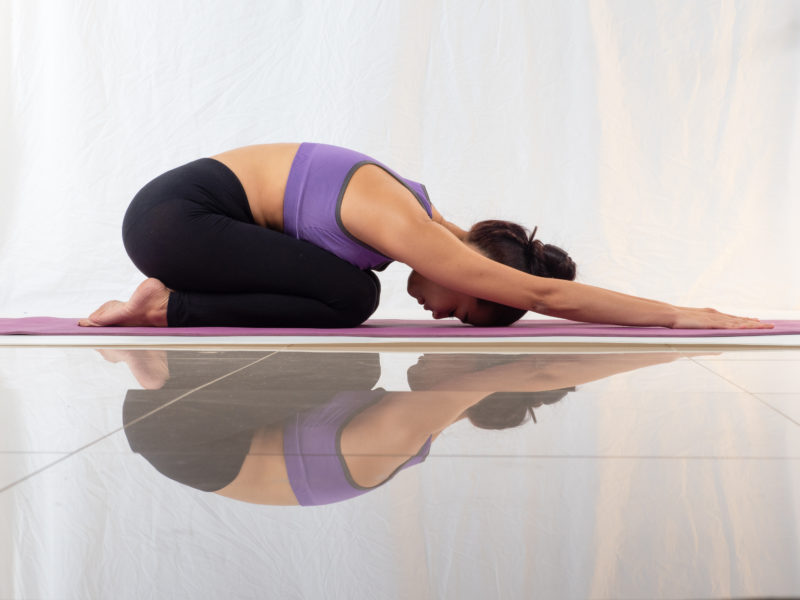 Common Reasons Why Commuting Kills Your Daily Productivity
Below are the three common reasons why car commuting can negatively affect your productivity at some point during the day.
Increased Stress Levels
The fear and anxiety of being late to work are always there even if you have your own car. A traffic jam, for example, can fire up strong negative emotions, like anger and anxiety, leading to prolonged aggravation that will not go away even if you have reached the office.
Because you're already late for work, your urge to finish your tasks for the day doubles, which leads to a bad mood epidemic that significantly affects your performance. If this happens every day, stress will eventually build up inside you that can cause health issues.
Unhealthy Breakfast Habits
If you have your own car, it's easy to think you can rush to work, and when you're in a rush, eating a healthy breakfast is always sacrificed. You might only stop by the nearest fast food place or convenience store to get something to eat, which usually only has high-processed, unhealthy foods.
People typically eat the food in the car while driving to work, and because you've started your day eating unhealthily, your mind won't get the nutrients it needs to become productive.
Leaving Early Negative Effect
To avoid being late to work, it's natural to leave home early to allow you more time to travel without rushing. It's a good habit, but there's a downside to it, too.
When you always leave for work earlier than you should, much of your energy is spent early on in the day. This often translates to dwindling energy by the afternoon, which could result in a lack of late day focus, or exhaustion when the workday ends.
That's why proper body support via stretching is so important. It helps prepare your system for sustained energy flow that can propel you (physically and mentally) from morning to evening.
Closing Thoughts
Give these easy morning stretches a try if you want to start your morning off on the right foot. Remember, it's not only about getting your body ready, but it's also about readying your mind for the day ahead.
You May Also Like…
Editor's Note: This post was originally published on January 4, 2016, and has been updated for quality and relevancy most recently on October 4, 2021.