Harvest salads…
Stick-to-your-ribs chili…
And, of course, pumpkin spice everything!
When it comes to fall foods, there are more autumn-inspired meals and snacks than there are days.
And when you're on the go, one food stands out: smoothies. For breakfast, after school, work, or a workout, or whenever you need a healthy option, fall smoothies are an easy, delicious solution.
Need some inspiration?
Here are our favorite fall smoothie recipes made with fresh, in-season ingredients that don't just taste good… they're gut-healthy, too.
1. Apple Crisp Smoothie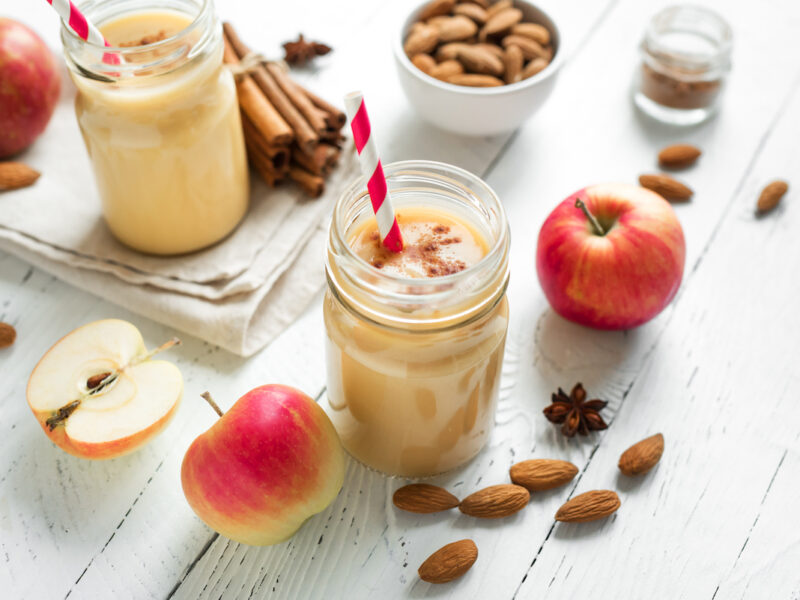 This year, skip bobbing for apples, and add them to your smoothie, instead!
Ingredients:
One large apple, peeled, cored, and cut into chunks
½ cup almond milk (or alternative)
⅓ cup vanilla or plain Greek yogurt
5 almonds
1 tsp honey
Contents of 1 probiotic supplement or prebiotic supplement (or both)
Ground cinnamon
Directions:
Peel the apple and cut it into halves. Remove the core, then cut into large chunks.
Add all ingredients and blend.
Top with a dash of ground cinnamon.
Drink within half an hour (or the apple will turn brown).
Benefits:
This smoothie is great at any time, but the combination of carbs and protein makes it a great choice for a pre-workout energy boost.
Greek yogurt contains gut-friendly probiotics and is high in protein.
Cinnamon is anti-inflammatory, contains antioxidants, and helps regulate blood sugar.
2. Pumpkin Spice Power Smoothie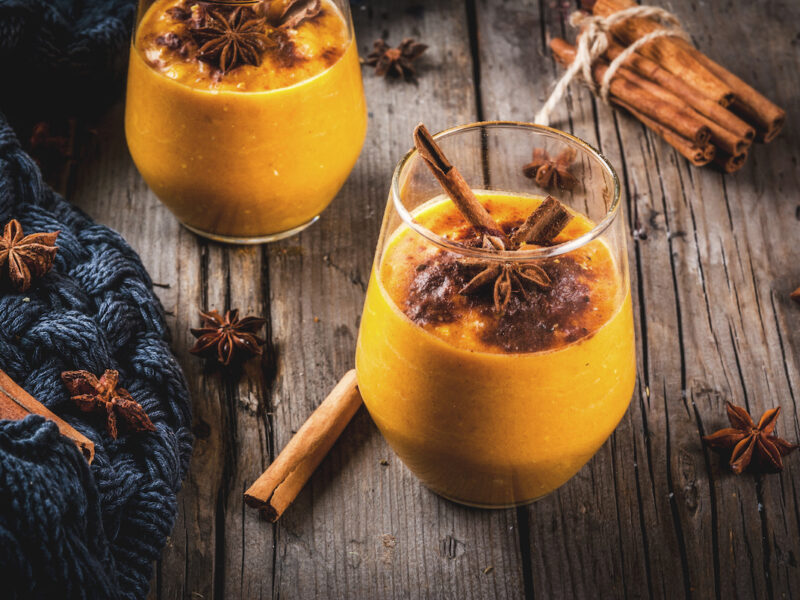 Pumpkin pie is the flavor of the season, and what better place for it than in a delicious, nutritious smoothie?
Ingredients:
1 cup canned pure pumpkin
7 ounces Greek yogurt
½ cup water
¼ avocado
2 tbsp ground flaxseed
1 tbsp maple syrup
½ tsp pumpkin pie spice
Contents of 1 probiotic supplement or prebiotic supplement (or both)
Directions:
Place all ingredients in a blender, and blend until smooth and creamy.
Benefits:
Who needs an overpriced latte? Not you! Skip the coffee shop and whip up this healthier, tastier smoothie alternative… without the added sugar and calories.
Greek yogurt is a delicious source of probiotics.
Pumpkins are chock-full of vitamins and minerals, support your immune system, and are high in gut-friendly fiber.
Avocados are high in a number of nutrients, vitamins, and minerals, including mood-boosting folate and inflammation-fighting niacin.
Related
Do you know how avocados affect your gut health? Let's take a deeper look at this tasty fruit and its effects, positive and negative.
3. Spiced Chai Tea Smoothie
Who needs coffee to wake up, when you have this deliciously healthy alternative?
Ingredients:
1 bag of spiced chai tea
½ cup almond milk (or alternative)
2 tbsp almond butter
½ cup rolled oats
½ frozen banana
1 tbsp raw honey
¼ tsp vanilla extract
½ cup ice cubes
Contents of 1 probiotic supplement or prebiotic supplement (or both)
Ground cinnamon
Ground nutmeg
Directions:
Warm up milk on the stovetop or in the microwave.
Allow the tea bag to steep in warmed milk for 7-10 minutes. Discard the tea bag.
Blend all ingredients (minus nutmeg and cinnamon).
Top with sprinkles of nutmeg and cinnamon.
Benefits:
Tea contains caffeine, so this smoothie is an easy solution for mornings or that mid-afternoon slump… or any other time you need an energy boost!
Spiced chai tea can reduce blood sugar, lower inflammation, support your immune system, and improve digestion.
Oats are gluten-free and contain soluble fiber, which acts as a prebiotic and supports colonies of beneficial bacteria in your gut microbiome.
4. "Hot" Chocolate Smoothie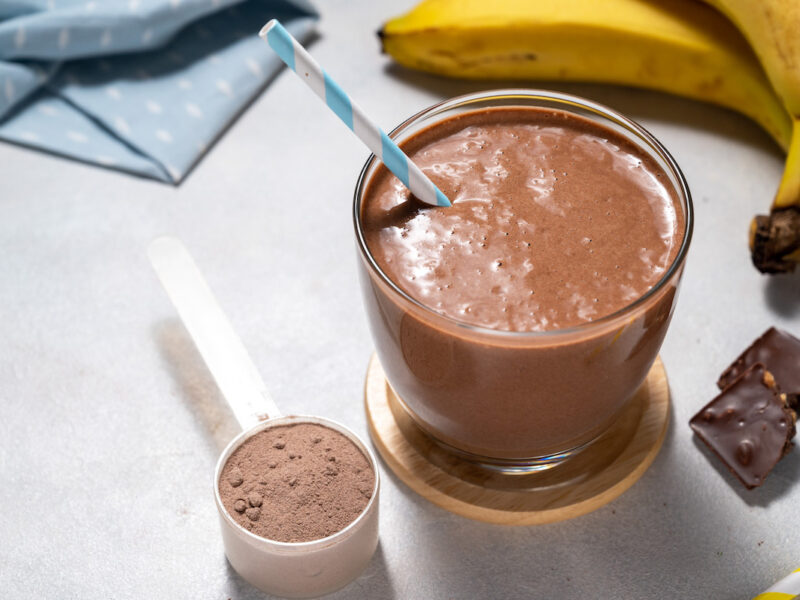 As the temperature drops, our desire for something warm to drink rises. But here's our little secret: the heat in this smoothie comes from its spicy ingredients!
Ingredients:
1 cup of almond milk (or alternative)
½ scoop chocolate protein powder
¾ cup spinach or baby spinach
1 frozen banana, cut up into chunks
½ tbsp peanut butter
¼ tsp cinnamon
⅛ tsp chili powder
Contents of 1 probiotic supplement or prebiotic supplement (or both)
Directions:
Blend all ingredients until smooth.
Benefits:
Perfect for warming you up from the inside out on chilly fall days, this recipe can be made vegan if you use plant protein powder.
As we mentioned earlier, cinnamon has anti-inflammatory and antioxidant properties and can lower your blood sugar while raising your metabolism.
Peanut butter contains numerous vitamins and minerals, along with protein and healthy fats.
One of the most nutritious vegetables, spinach boosts your immune system, provides a healthy dose of iron, and reduces inflammation.
5. Sweet Potato Smoothie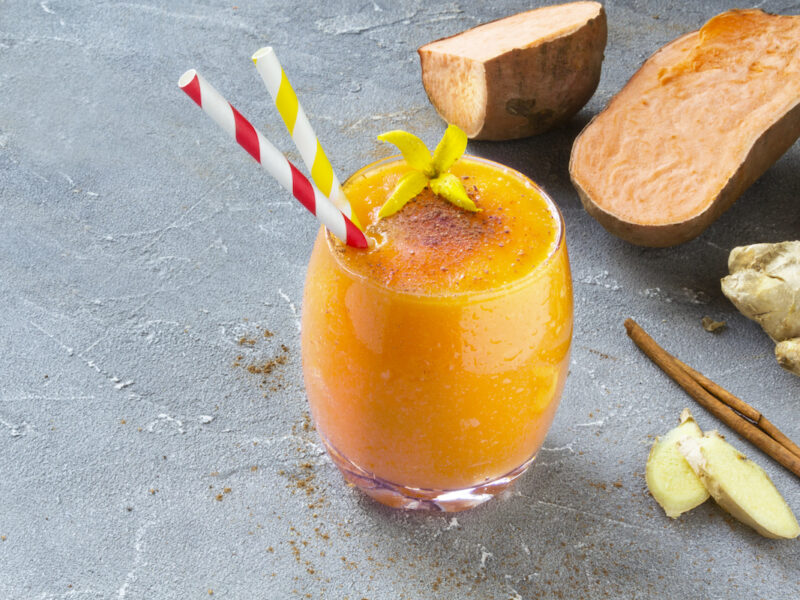 If you're a fan of Thanksgiving's most popular side dish—and who isn't—there's no need to wait. This smoothie can be enjoyed all season long!
Ingredients:
2 cups roasted or mashed sweet potatoes (perfect use for leftovers!)
¾ cup almond milk (or alternative)
¾ cup coconut milk
Contents of 1 probiotic supplement or prebiotic supplement (or both)
Hemp seeds
Directions:
Blend all ingredients, minus hemp seeds.
Sprinkle hemp seeds on top.
Benefits:
Loaded with energy-boosting carbs and muscle-building protein, this smoothie makes for a filling lunch or delicious pre-workout treat.
Sweet potatoes are a healthy powerhouse! They contain a wide variety of vitamins and minerals, including 102% of your daily vitamin A, plus fiber and antioxidants.
Coconut milk has antimicrobial and antifungal properties, providing an immune boost. It also supports your digestive system with and prevents gut-related symptoms such as Irritable Bowel Syndrome (IBS).
Providing more than just a satisfying crunch, hemp seeds offer more protein per serving than an entire egg! They also contain antioxidants, healthy fats, and digestion-supporting fiber.
6. Butternut Squash Smoothie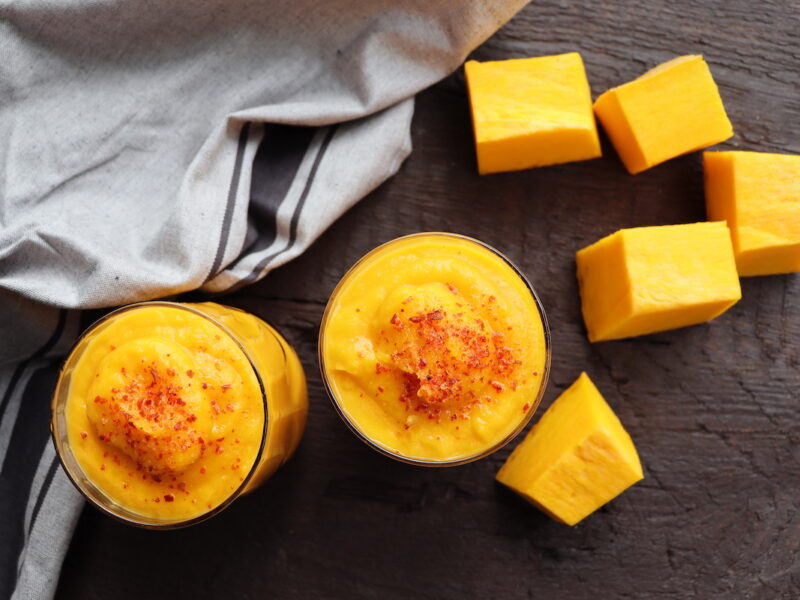 The classic fall ingredient, butternut squash has a slightly sweet, slightly nutty flavor that delights your taste buds.
Ingredients:
Directions:
Blend until smooth. As an option, you can add a serving of spinach for an added nutrient boost.
Benefits:
This smoothie is an easy and delicious way to enjoy one of fall's favorite veggies.
Butternut squash is an excellent source of prebiotic fiber, the food source for beneficial gut bacteria. It can also help manage your blood pressure and sugar levels.
7. Carrot Cake Smoothie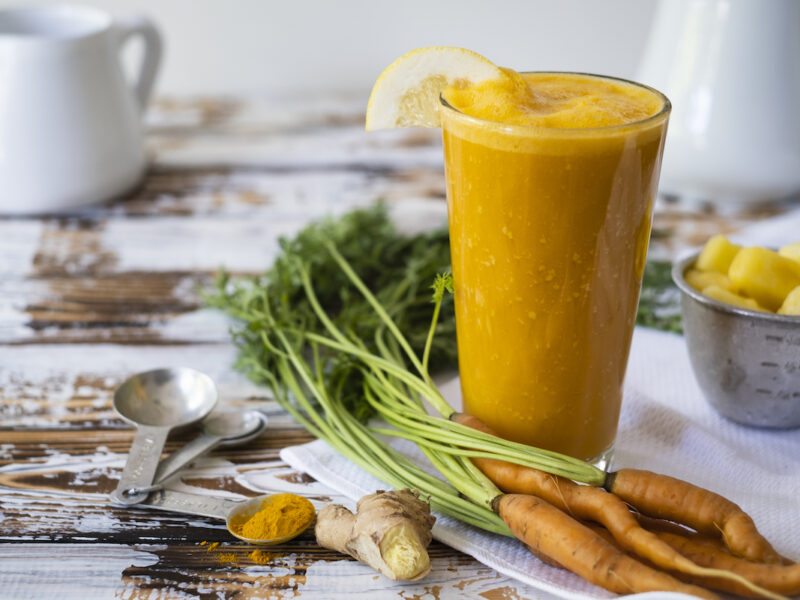 .
Last but not least, we finish our trip into the world of smoothies with a delicious dessert smoothie that'll satisfy your sweet tooth in a healthy way.
Ingredients:
½ cup oat milk (or alternative)
1 tsp vanilla extract
1 frozen banana
½ cup frozen pineapple chunks
1 cup shredded carrot
⅓ cup Greek yogurt
1 tbsp almond butter
½ tsp ground cinnamon
Pinch of ground ginger
Pinch of ground nutmeg
Contents of 1 probiotic supplement
½ – 1 scoop of prebiotic powder (The tropical flavor of Just Thrive Prebiotic powder goes perfect with the pineapple in this smoothie.)
Directions
Mix all ingredients until smooth and creamy. Add more oat milk if needed and more spices to taste as needed.
Benefits
This easy-to-make smoothie is the perfect—and perfectly healthy—fall treat for when you're craving something sweet.
Although its tropical flavor is often associated with summertime, the nutritional benefits of pineapple make it a year-round health food. It boosts your immune system, aids in digestion, and fights inflammation.
Carrots help your body create disease-fighting antibodies, keep your digestive system moving, control diabetes, and strengthen your bones.
Greek yogurt is a tasty source of gut-friendly probiotics.
Bananas are well-known for their potassium content, but they're also high in fiber, which supports digestion, eases inflammation, and lowers blood sugar.
Final Thoughts
Our delicious smoothie recipes include gut-friendly ingredients, but there's one simple way to make your smoothies even healthier.
Sprinkle probiotic or prebiotic supplement into your favorite smoothie recipe to maximize its gut-boosting power!
Probiotic supplements contain live bacteria that are identical or very similar to the beneficial bacteria already living in your gut microbiome. When you consume them, they lend their force and numbers to the good bacteria, helping their colonies grow and thrive.
Our favorite probiotic supplement from Just Thrive contains four top-quality, clinically proven bacterial strains that support your digestive health, immune response, and overall well-being. Plus, each capsule is coated in a thick endospore "armor" to guarantee the bacteria survive the journey to your gut, where they arrive 100% alive and ready to get to work.
And although probiotic supplements are incredibly effective on their own, you can give them a boost with prebiotics.
Prebiotic supplements contain fibers that can't be broken down by your body. Instead, they're digested by beneficial bacteria, serving as the fuel that promotes their strength and encourages them to flourish.
We recommend Just Thrive Prebiotic which includes "smart" fibers that nourish only the beneficial bacteria and can more than double their population.
And adding these supplements to your daily diet is simple. All you have to do is take one capsule a day, either on its own or sprinkled into your smoothie recipe, for gut-health at its tastiest!
You May Also Like…