Probiotics are good bacteria and yeasts that live in your body, obtained naturally or from certain foods or supplements. There are multiple health benefits of probiotics including:
Helping keep bad bacteria from gaining a foothold in your body and causing illness
Boosting digestive health and immune health
Creating vitamins through biosynthesis (such as vitamin K & B vitamins)
Breaking down and absorbing nutrients and medications
Probiotics are most commonly found in the digestive system. That's why it's important to eat probiotic-rich foods for digestive wellness. These beneficial bacteria help to maintain the overall health of your gut microbiome and digestive tract and prevent or treat health conditions such as irritable bowel syndrome (IBS), diarrhea, and constipation.
There are two types of dietary probiotic strains that you can get through various food sources. They are lactobacillus and bifidobacterium. Both strains are equally effective in promoting healthy gut bacteria, but vegans should pay attention to labels on probiotics products containing lactobacillus, as dairy can sometimes be used in the culturing process.
If you do not consume dairy, these vegan fermented foods are fantastic when it comes to taking care of your gut health. Check out the best vegan sources of probiotics below!
9 Vegan Probiotic Foods that Nourish Your Gut
1. Kefir
One of the best vegan probiotics is kefir. It is a fermented beverage that has a milk-like or yogurt-like consistency.
Its starter culture is called kefir grains. Because of the size and shape of kefir grains, they promote the growth of healthy bacteria and yeast your gut needs to stay healthy.
For your vegan kefir, look for one made from coconut milk. Another option is water kefir.
Water kefir is similar to a fizzy, fruity, tangy drink. It combines a starter culture, coconut water, fruit or veggie juice, and sugar water.
2. Sourdough Bread
Most sourdough bread is vegan (unless it includes eggs, but this is not common). What makes sourdough a better option than other breads is that it's probiotic.
Many types of bread use yeast, which then reacts to the gluten found in wheat. For those with gluten intolerance and celiac disease, that is bad news.
Gluten can also contribute to a variety of other digestive issues. These include diarrhea, bloating and gas, nausea, and even an increased risk of leaky gut syndrome.
Sourdough is not entirely gluten-free, but the fermentation process and the addition of starter culture in the dough help protect the gut from further damage.
If you're only gluten sensitive, you'll find sourdough bread friendlier to your gut. This is because the fermentation process can start breaking down the carbohydrates and gluten even before you consume the food.
3. Pickles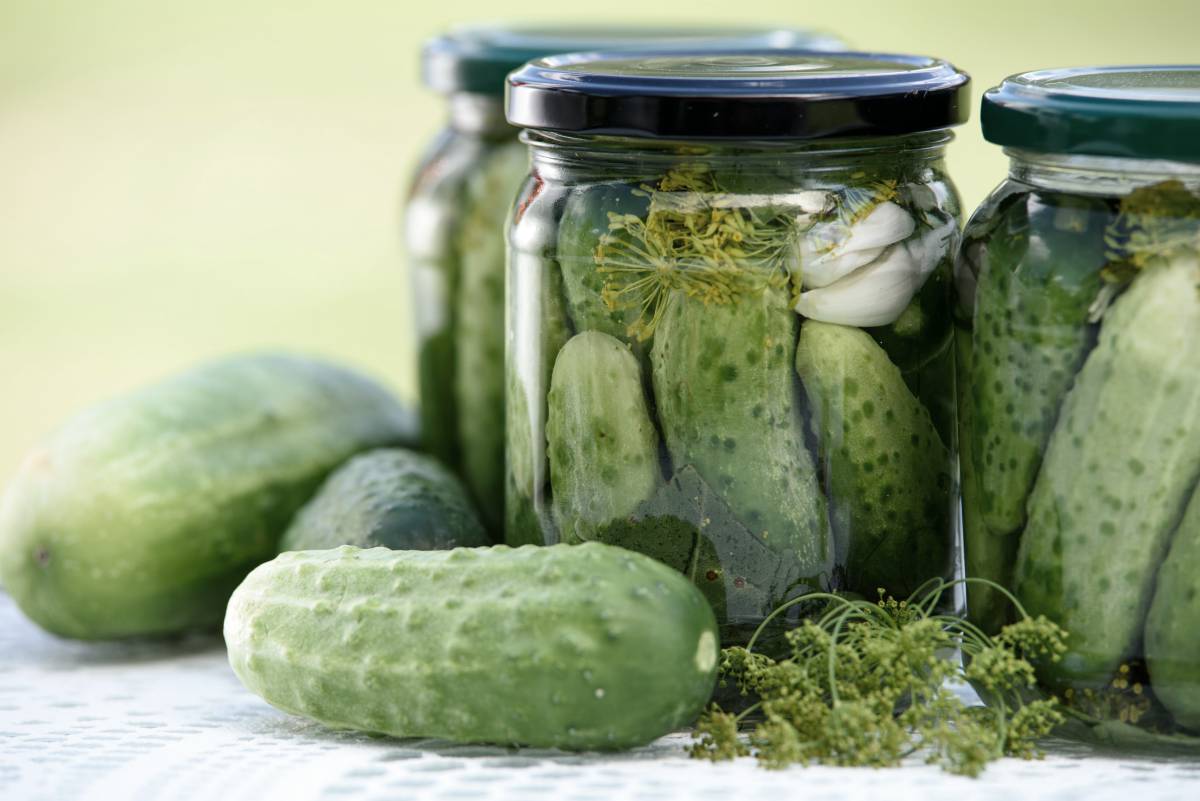 Pickles are an awesome ingredient for making or adding to dips, salsas, and salads. What makes them even better is they're probiotic.
These vegan probiotics are popular for their sourness, which you create through the natural fermentation process. Over time, they produce lactic acid bacteria, which then improves gut health.
The probiotics actually come from the pickling process—rather than the cucumbers themselves—so can also enjoy the nutritional benefits that come from any fruit or veggie you're pickling. Some of the best choices are:
cucumbers
carrots
beets
cabbage
cauliflower
They're easy to ferment as well. Just combine salt, water, and the fruit or vegetable of your choice.
Place the fruit or veggie inside a glass container or jar, pour water, add salt (varies depending how much water you're using), and place the solution inside the fridge for a couple of weeks. Here is a fermented pickles recipe to get you going.
4. Kombucha
There's no doubt that tea is excellent for the body. If you want to pamper your gut, though, drink kombucha instead.
It can be purchased at the store, but we prefer to make it using green or black tea with sugar, yeast, and bacteria culture. The fermentation process can take up to two weeks, during which time your SCOBY is produced. SCOBY stands for symbiotic culture of bacteria and yeast. It is a thick mass or film that develops on top of the drink.
You can make as many as you want and give some away. These then help you make new batches of kombucha.
Kombucha is also an excellent beverage in the summer months since you can make it into iced tea. Check out our post below for a SCOBY kombucha recipe.
Related
Drink your way to good health with SCOBY kombucha. Discover how it improves gut health and the other health benefits… You can even learn to make your own kombucha as we detail the home brewing process, here!
5. Miso
Miso is a well-known Japanese paste made from fermented soybeans. Its active component is koji, a type of fungus called Aspergillus oryzae.
This condiment may help digestion in two ways:
It can neutralize the anti-nutrient ability of soybean and grain. Characteristically these foods bind to nutrients, preventing their proper absorption.
It may reduce the symptoms of inflammatory bowel disease such as colitis. Colitis is a chronic disease characterized by inflammation of the colon's lining.
You can use miso in different types of dishes. These can include stir-fry foods, salads, soup, dressings, and marinades.
Related
Is seaweed good for you? Learn about different seaweed health benefits as well as the potential challenges of consuming it.
6. Tempeh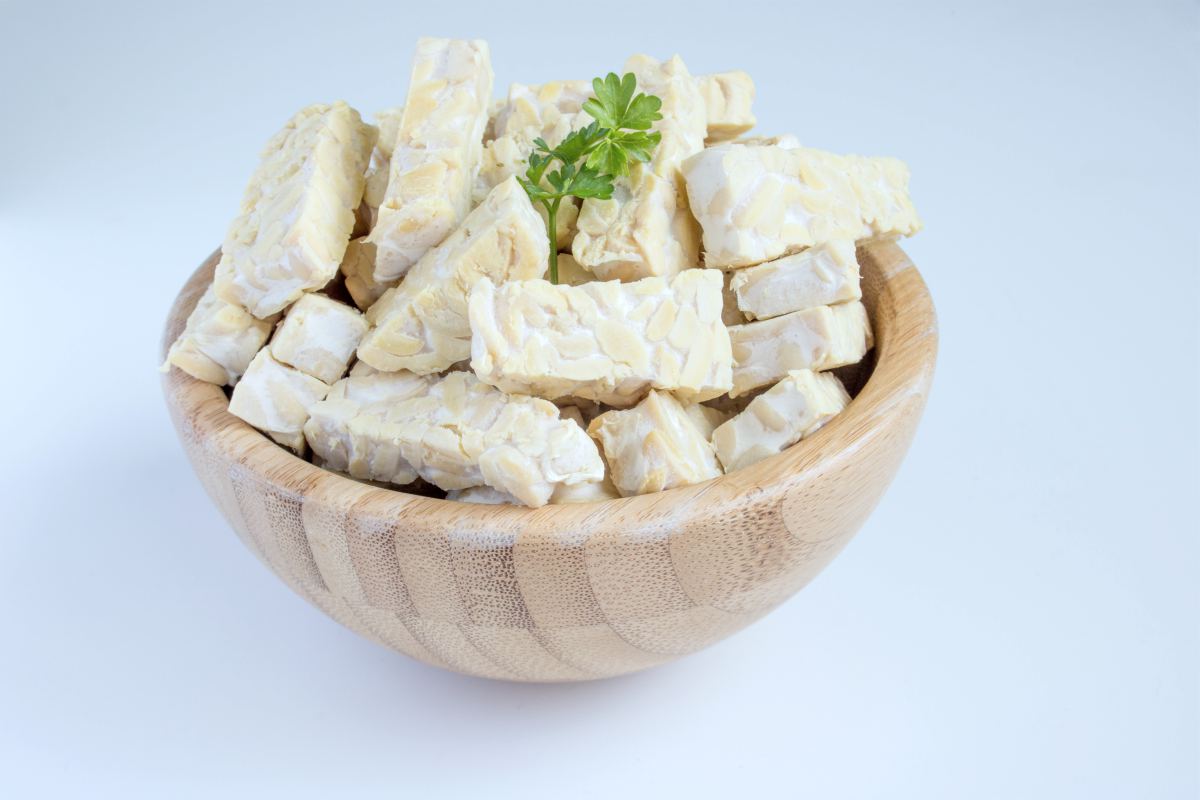 What's a healthy diet without protein? Tempeh is a great alternative to chicken, beef, and eggs, although its protein content is slightly lower. For most people this is fine though as "eating the rainbow" (i.e. eating a balanced and varied diet) is typically enough to meet your protein needs.
Tempeh is a textured vegan option made from cultured soybean, wheat, or a mix of both. Usually, its starter is a fungus called Rhizopus oligosporus.
There's some debate as to whether tempeh is a probiotic. Some say it is pasteurized and fermented, but not probiotic.
Either way, one thing is clear: it is both delicious and healthy. It contains nutrients such as iron, calcium, magnesium, and manganese.
It is also a good source of prebiotics, which is a type of fiber that feeds the gut's microbes. In this process, prebiotics help strengthen the colonies of helpful microorganisms.
7. Kimchi
One of the staples of Korean dishes, kimchi is fermented vegetables, usually cabbage with seasonings. These can include ginger, garlic, red chilli flakes, and scallions.
It is rich in vitamins C, B vitamins, and A, which is good for the eyesight. It is low in sugar and fat, as well as abundant in essential amino acids.
Most of all, it is a probiotic due to lactobacilli produced during fermentation. A 2011 study about kimchi showed positive effects against cholesterol and antimicrobial activity.
You can make kimchi or buy it pre-made. If you want the convenience of the latter, check the label to ensure you're getting organic vegan probiotics.
8. Sauerkraut
Similar to kimchi, sauerkraut is a popular German dish, although some experts say it originated in China. It is also fermented cabbage, although it is typically tangier and less spicy than kimchi.
An analysis of the dish published in 2014 revealed that it may reduce the chances of local inflammation. It may also inhibit activities that promote cancer.
9. Non-Dairy Yogurt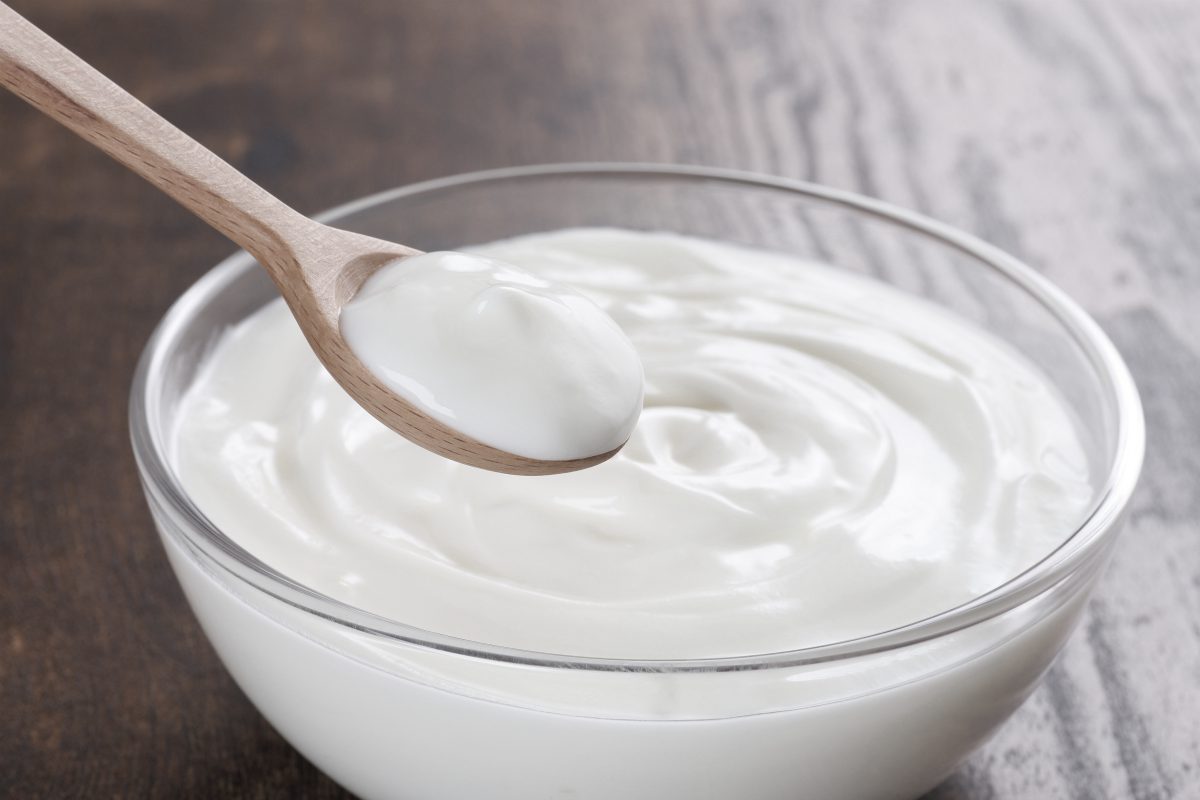 Our list of probiotic vegan foods wouldn't be complete without including yogurt, and the good news is you can get one that's non-dairy. It may contain milk from soy, coconut, almond, and other types of nuts.
Does vegan yogurt have probiotics?
As mentioned, the answer is yes, but it uses a different lactobacilli strain.
Dairy yogurts tend to use L. acidophilus, which is easy to find. The problem with it is it doesn't do well in breaking down lactose.
Dairy-free yogurts make use of L. bulgaricus, which you can also use in the dairy versions.
Another question: will the effect be the same?
The answer is no, as different strains can have different jobs and activities in the gut. Both L. acidophilus and L. bulgaricus are types of probiotics though, and therefore you will reap the gut health benefits when you consume vegan yogurt.
Vegan Probiotic Supplements
If you just want a shelf-stable probiotic that doesn't need refrigeration, you can try out some vegan probiotic supplements.
The right probiotic supplement can make a huge difference in the strength and protection of your digestive and immune health. Just make sure to look for strains that have been scientifically verified and proven to survive the trip from your mouth to your intestines.
Just Thrive Probiotic is one such supplement with 1000x better survivability vs. yogurt and leading probiotics. They support immune, digestive, and mental health, and all formulations are all-natural, non-GMO, and made WITHOUT soy, dairy, sugar, salt, corn, tree nuts, or gluten.
In addition to vegan probiotic supplements, you may also consider using power blends like those made from Alkaline Greens. They fill your body with antioxidants, prebiotic fiber, and vitamins that help nurture your gut, support digestion, and strengthen the immune system.
Alkaline Greens is 100% raw and organically produced green superfood powder contains more than 50 ingredients, from fruits and vegetables, to roots and seeds, and even more. Give it a try today and save 20% with code Well20.
Are All Probiotics Vegan?
No, not all probiotic foods or supplements are vegan, vegetarian, non-GMO, or gluten-free. In the case of probiotic supplements or store-bought probiotic foods, be sure to read the labels carefully to make sure they meet your needs.
You can bet, though, that probiotic foods are better for your health and well-being than many other food options. With their delicious flavors and textures, you should be excited to trade in unhealthy food choices for healthy ones!
You May Also Like…
Editor's Note: This post was originally published on August 7, 2019 and has been updated for quality and relevancy on April 29, 2021.