Dry skin brushing, AKA garshana, dry exfoliation or simply "skin brushing", is one of the most invigorating, feel-good natural health practices out there.
Here is everything you need to know, from the dangers and countless benefits to finding a brush for your skin type.
What Is Dry Skin Brushing?
Dry brushing is simply running the firm bristles of a natural brush across your skin when the body (and brush) is dry. It's a technique that has been used by every known civilization throughout history, including Ayurvedic health practitioners, who call is garshana.
Dry skin brushing is also an alternative form of exfoliation that has so many more benefits than regular exfoliation methods, that hoards of men (yes!) and women have been flinging their exfoliation mitts, gloves, pads, scrubs, salts, creams, sugars, peels and lotions into the donation or recycling bucket for years now, in favor of an increasingly firm skin brush.
The Benefits
The benefits of skin brushing could almost fill a whole book, but here are the key benefits you need to know. Skin brushing:
stimulates your lymphatic system (reducing bloating and improving immune function)
increases muscle tone and circulation
improves digestion and kidney function
reduces cellulite, improves skin texture, and gives you glowing, tighter skin
helps detox the entire body, helping remove one third of your body's daily impurities
contributes greatly to keeping the pores clear and preventing breakouts
feels amazing, reduces stress and makes you feel happier, due to a release in endorphins
stimulates the sweat and oil glands, bringing more moisture to the skin
slows the formation of wrinkles and leathery skin and rejuvenates cells
All these benefits make skin brushing one of the most awesome health practices around, but there are a few things to watch out for.
Skin Brushing Dangers and the Contradictions
Dry skin brushing has been around for thousands of years, so it's almost pointless to argue that it's dangerous.
However, there are individuals who should avoid skin brushing and times when dry skin brushing can be harmful to all of us.
For example, don't use a dry skin brush if you:
Have very sensitive skin (try moistening the brush or glove to make it softer if you're still keen to have a go)
Have a skin condition, such as psoriasis or eczema
Have an open wound (simply skip that whole area or limb)
Have inflamed skin, due to sunburn or an allergy, for example
Are sick
As a general rule: when in doubt, skip it or contact your chosen health professional.
Related
Is acne giving you trouble and none of the regular treatments work? Learn how Ayurveda herbs for acne have been healing skin problems years.
How to Choose the Right Dry Brush
There are a number of different types of brush out there on the market. So how do you know which one is right for you?
The three main types of brush are:
your regular oval, round, square or rectangular skin brush (with no handle)
the glove or pad
the skin brush with a handle
The regular brush—which may look a lot like something you would polish your shoes with—is a great all-round brush. However, it's not going to be easy to brush you back with one of these.
Generally speaking, gloves and pads are easier to handle, but we would say that they are generally not as effective, and may feel a lot softer on the skin as a result.
Brushes with handles provide easy handling. You can also brush your back with them: a large area you won't want to miss. You don't even need a very long handle to reach your whole back, if you're shoulders are pretty flexible.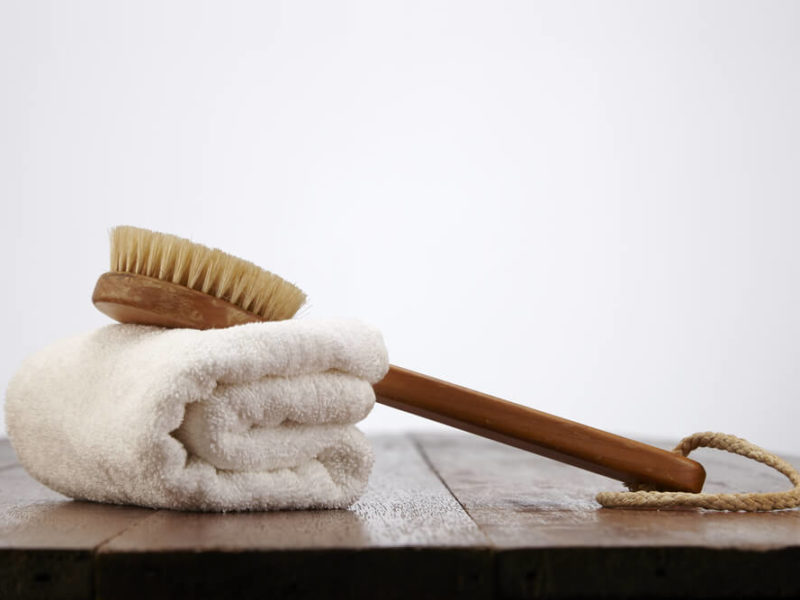 The Best Dry Brush For Dry Skin
The best brush for dry skin is probably a natural, soft one, especially if your skin is also sensitive. Work up to a firmer brush once you feel that you'd like to.
Another great trick for dry skin is brushing with coconut oil. Apply coconut oil before you brush, then follow your normal brushing routine. Finish with a shower, and use just a little soap or shower gel under the arms or not at all to keep your dry skin hydrated.
The Best Dry Brush For Oily Skin
Oily skin can often handle a firmer natural bristle brush. Go easy on pimples, though. Apart from that, brushing is wonderful for oily skin, balancing the sweat and oil glands to perfection.
You could also get a facial brush to improve the glow and texture of your visage and ward off pimples and shininess.
The Best Dry Brush for Normal and Combination Skin
Facial brushes are also wonderful for combination skin. Consider brushing the oiler T zone a little more often than the rest of your face to balance the whole area.
Normal skin may not need careful extra care, so brush to your delight for maintenance and detox (inner beauty).
Dry Brushing and Cellulite
Many pros claim that dry skin brushing can smooth out cellulite. But how does that work?
Annet King of Dermalogica and the International Dermal Institute says that skin brushing helps remove the "stagnant toxins" that break down the connective tissue and lead to cellulite.1
The Huffington Post also reported that when they tested 12 home remedies to get rid of cellulite, dry skin brushing was "the most effective way to get rid of cellulite.2
Can You Dry Brush Your Face?
Yes! But not with your regular body brush—it's probably way too firm for your delicate facial skin (unless you have a super soft brush, which is probably not very effective for your body!).
Snatch up a facial dry skin brush online or at your local natural health and beauty store. They're easy to spot—they're little—but if you can't find one and have a new, soft toothbrush handy, you can use that.
Once you have your hands on a facial brush, do stroke up and out towards the hairline, avoiding the eyes. Do circles around the eyes and cheeks, making outward stokes on the upward movements and inward strokes on the downward movements. Brush for one minute and you'll be done.
How to Dry Brush the Smart Way
Here's your dry brushing step-by-step, laden with tips.
Step 1. Take off your clothes and jewelry
This may seem obvious, but it's easy to forget to take certain things off! Any underwear and jewelry you do have on will only reduce the overall benefit.
Step 2. Get yourself into the shower area
This step simply means you do less cleaning later! Skin cells will be flying off your skin, but this way, they are washed away quickly and won't make your bathroom dusty.
If you take showers at night, be aware that skin brushing will wake you up and give you energy, so do it several hours before you go to sleep.
Step 3. Start brushing
It's important to start at your feet and work towards your heart with every stroke, so you're working in harmony with your lymphatic system (and not against it).
The strokes shouldn't scratch or scrape your skin. If your brush is obviously damaging your skin, stop immediately and find a softer brush.
Work up the lower body gradually, then down your upper body, avoiding your face, and go easy on sensitive areas like the breasts and underarms.
Move in a clockwise direction over your abdomen, following the colon. Don't forget to brush your scalp using gentle circular motions, to promote hair growth and prevent dandruff.
Step 4. Continue for 3 to 5 minutes, then "rinse and repeat"
Skin brush for between three to five minutes for best results. You can skin brush every day, but try three times per week to begin with.
Try setting an alarm for the first couple of weeks so you can seamlessly add it into your routine.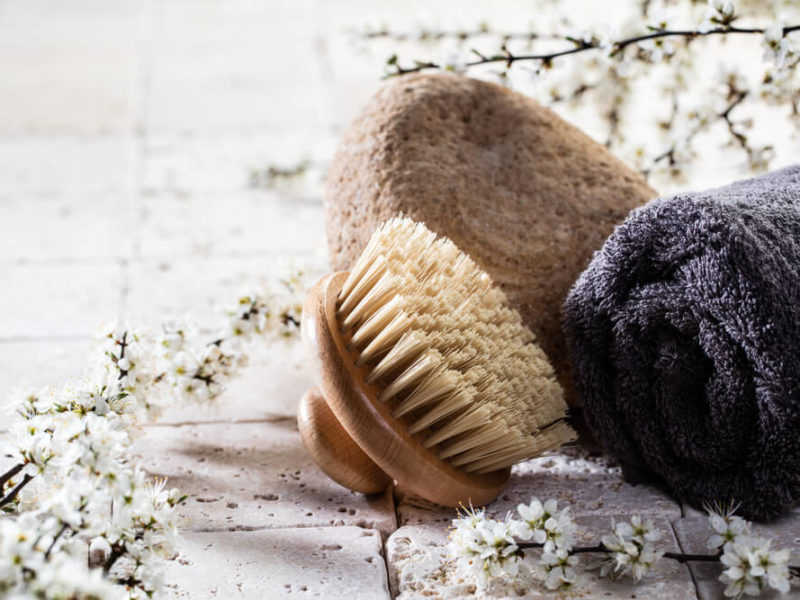 What to Do After You Brush Your Skin
Here are some tips for making the most out of your new health habit:
End your routine with a few cycles of hot then cold water in the shower to boost lymphatic drainage and push your circulation out towards your skin even more.
Try dry brushing in conjunction with a sauna or steam (brushing first).
Apply a natural body butter or oil (e.g. coconut oil) while your skin is still wet to seal in lots of moisture.
Drink plenty of water to flush out the toxins that are directed from your lymphatic system into your bloodstream after brushing.
Eat healthy, skin nourishing foods, such as fruits, fermented vegetables and omega-rich seeds (and their cold-pressed oils).
Start taking Astaxanthin. According to Dr. Mercola, it offers effective protection against sun damage when taken as a daily supplement.
Clean your dry brushes once a month at least, by soaking it for half an hour in warm water with one tablespoon of baking soda added to it, or washing it with an unscented, liquid Castile soap.
Fun Dry Brushing Facts
The Chinese have been using "silk squash" or "Chinese okra" fiber to dry brush their skin and treat obesity for thousands of years.
Ancient Greek athletes scraped their skin with a metal implement called a "strigil" after exercise to maintain higher levels of hygiene.
Back in the 1800s, the health benefits of dry brushing were stated with great enthusiasm. In a magazine from 1889, it says: "Friction, with flannel or with a flesh-brush, applied for half an hour every morning will strengthen the stomach and organs connected therewith more than moderate exercise for a whole day."
The Cherokee Indians used clean, dry corn cobs to keep their skin attractive and healthy.
The Comanche Indians did the same with sand taken from Texas rivers.
Madonna, Jennifer Aniston, and Kim Kardashian are all allegedly avid dry skin brushers.
You May Also Like…