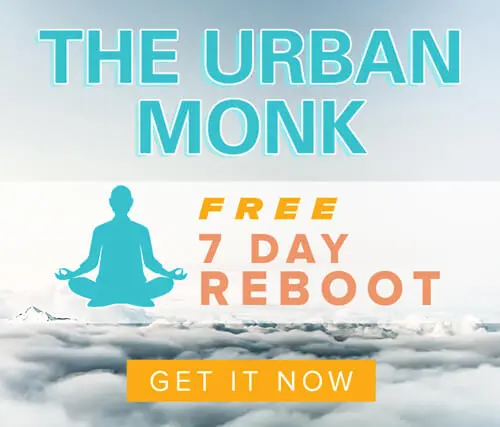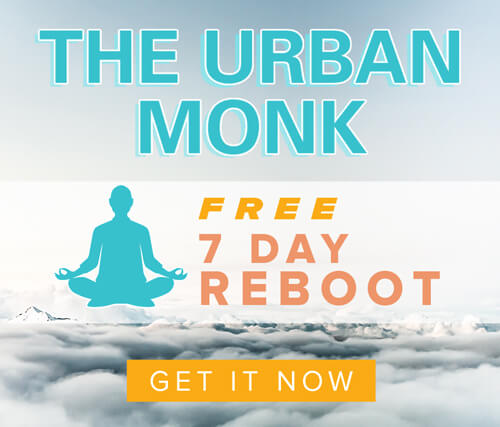 If your holiday bloat followed you into 2016, then you're probably attempting to re-join the healthy eating masses. Many of the most popular diets tell you to eliminate certain foods or even entire food groups in order to get results, and legions of their loyal followers boast about their instant results on social media. These diets range from being socially restrictive to downright dangerous when you deprive your body of essential nutrients. Not to mention, long held beliefs about which foods erode your overall health are shifting. The FDA recently dropped a decades-long cholesterol warning that gave eggs a bad rap. They also dropped a recommendation that Americans keep dietary fat low, a claim that had many shunning heart healthy fats like avocados and nuts for processed carbohydrates for nearly three decades.
And, yet, you know you need to do something so your jeans can comfortably zip once again.
You can't predict what foods will be hailed and shunned in the future, and eliminating entire foods is neither fun nor effective long term. The answer lies in a more significant, long term shift. This shift will let you eat everything, but not a lot of anything. This shift will be easy to follow and is guaranteed not to be disproven decades from now. Behold: the art of portion control. Here's our top three tips on how to get it right:
Measure and Weigh Your Food
The toughest part about learning portion control is actually knowing what a portion size constitutes, since you may unknowingly suffer from "portion distortion." Foods such as whole grain pasta, brown rice and steel cut oats are notoriously easy to overeat, which is why so many low-carbohydrate diets suggest eliminating them completely. You do not have to sacrifice anything to lose weight when practicing portion control, but you do need to know how much you're eating. When eating at home, use measuring cups to portion out the appropriate servings (consult the nutrition label), and invest in a kitchen scale to help you know what tougher to measure portions such as an ounce or milliliters. Before eating out, consult a resource such as the American Heart Association guidelines to understand the difference between serving size vs portion size, and stay within those guidelines. Restaurant portion sizes have grown substantially in the past 50+ years, and eating everything on your plate can wreck your best intentions to follow the practice of portion control.
Smaller Plate = Less Calories Consumed
Size does matter in this case. When eating at home, serve yourself main courses in a smaller salad plate or bowl to portion control effectively. Countless research backs this up as an effective tool to consume fewer calories per sitting, and you'll be surprised with how much you actually need to eat to be full. A meta-analysis on 56 different scientific studies published in the December 2015 issue of The Journal of the Association for Consumer Research found that eating on larger dishware caused the amount people served or consumed to grow by 41%. Serve yourself on a smaller plate, and refrigerate or freeze the rest of the dish instantly to remove that temptation to go back for seconds.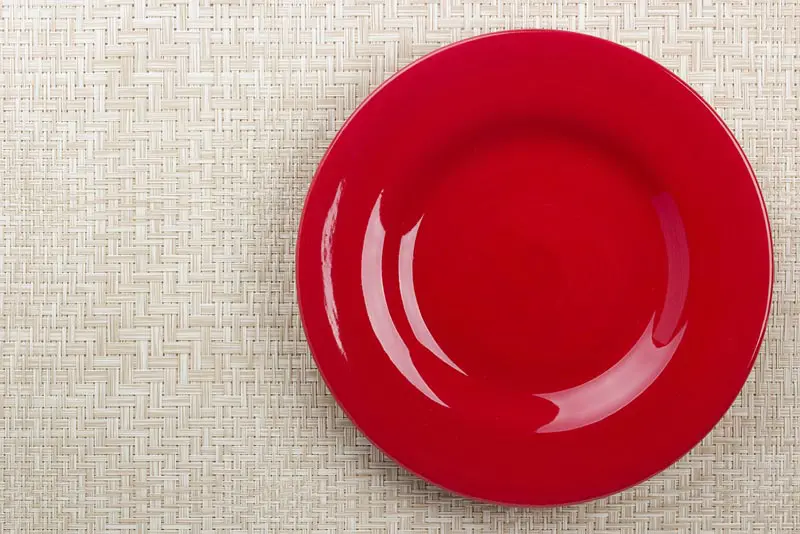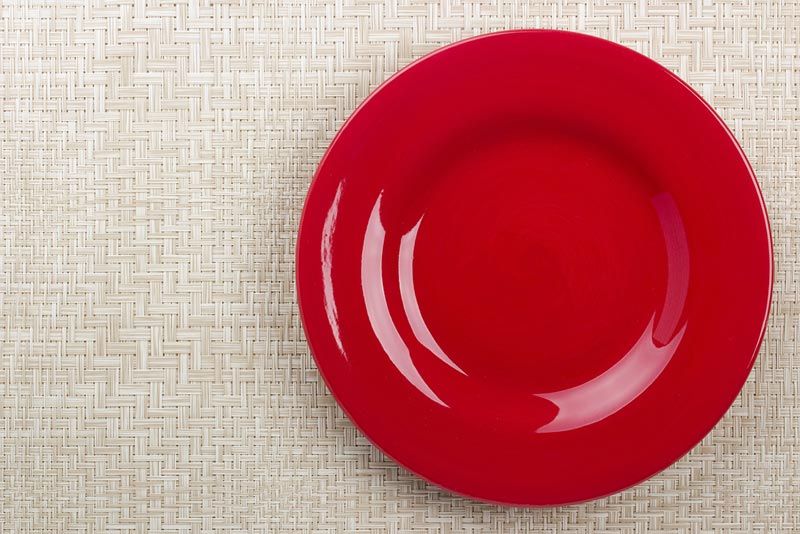 If ordering take-out or eating out, the appetizers at most chain restaurants have enough calories to constitute a main course. You can effectively practice portion control by ordering an appetizer as your main, or only order main dishes when you're splitting between you and your dining companion. This trick adds up quickly when you're looking to slash calories. According to a study, subjects who ate off the larger, full sized dishware consumed 200 calories more per sitting than those who ate off smaller containers. Do the math, and you could be unknowingly eating 600 excess calories a day that your body simply doesn't need.

Snack on red
If you're looking to lose weight and stay healthy over the long term, then snacking between meals and regularly drinking soda are practices you should avoid. You know this, but you may not realize you don't have to give these up entirely to lose weight. You just need to practice portion control to avoid veering off course. To stay on track, serve yourself your favorite treats in red dishware and cups. According to a Swiss study published in 2011 in the journal Appetite, subjects consumed less calories when snacking off red plates and drank less of a soft drink when it was served in a red cup. Researchers suggest that this red dishware works as a subconscious motivator to avoid food, since we connect red with stopping or danger. These results have not been proven to work in a public setting, so indulge only at home and on red dishware. This may be your best solution to curb mindless eating and drinking.