In today's world, we're subject to stress from so many sources: work, school, social media… The list is practically endless.
But there's one kind of stress you might not have heard of, even though you've probably been exposed to it at some point: oxidative stress. And like other forms of stress, it negatively affects your mental, physical, and emotional health.
Oxidative stress isn't as talked-about as other forms of stress, possibly because it's more difficult to understand, with terms such as "free radicals" and "antioxidants" being part of the conversation. Don't worry, we'll explain those (and others) to you today!
Let's dive into the world of oxidative stress, its causes and symptoms, and what you can do to reduce or even prevent it from impacting your overall wellbeing.
What Is Oxidative Stress?
Oxidative stress occurs when there's an imbalance between free radicals and antioxidants in your body.
Free radicals (also known as reactive oxygen species or ROS) are oxygen-containing molecules with an uneven number of electrons. This uneven number allows them to interact easily with other molecules, a process known as oxidation.
Antioxidants are molecules that can interact safely with free radicals. They can donate one of their electrons without losing their stability.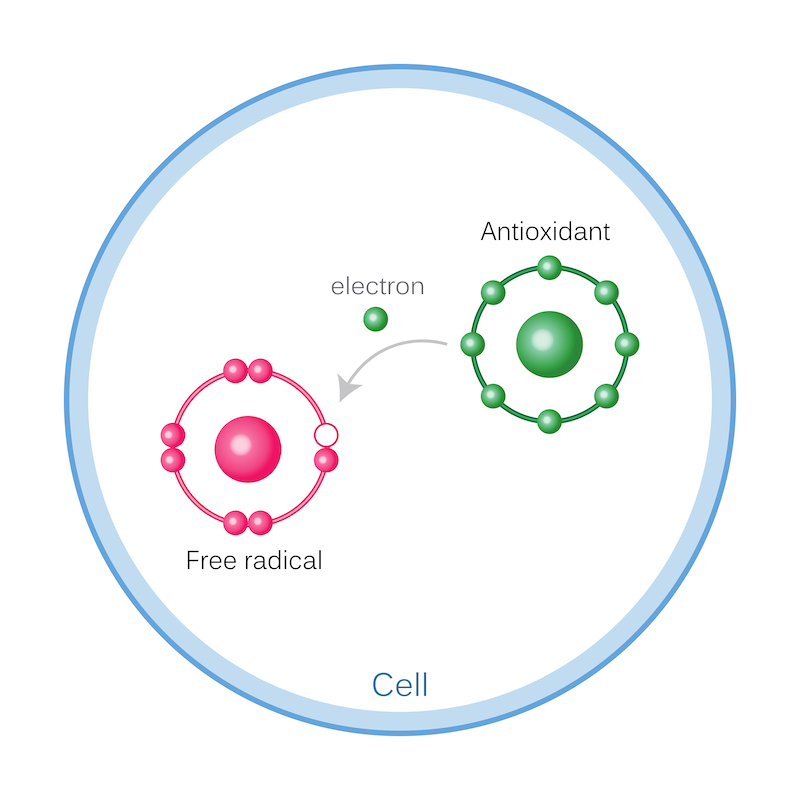 Your body naturally produces free radicals. Environmental factors also play a role in the levels of free radicals in your system.
It's only when too many of these are present that the balance between free radicals and antioxidants is disrupted. When your body can't handle the excess of free radicals, they begin to interact with and damage cells, tissue, and DNA.
The result is oxidative stress, and it leaves behind long-lasting negative effects.
What Causes Oxidative Stress?
Now you know that oxidative stress is the result of too many free radicals for your body to handle.
But what causes increased free radical production?
Several factors can lead to high free radical numbers in the body, eventually causing oxidative stress. Let's dive into the main culprits.
Diet
Eating and digesting your food produces a low level of free radicals. This is natural and generally not a cause for concern.
But, if you consistently overeat, then it's certainly possible that you will also overproduce free radicals. This leads to oxidative stress since the high amount of free radicals makes it impossible for antioxidants to maintain the right balance.
And it's not just about the quantity of your food; it's also about the quality!
Processed foods, such as convenience foods and prepackaged snacks, tend to be high in cooking oils, especially polyunsaturated fats such as canola oil. While there are benefits to these ingredients, they are also susceptible to oxidation during the cooking, frying, and storage processes.
Diets high in fat or carbohydrates (turned into sugar) reduce natural antioxidants and can also cause oxidative stress.
The preservatives in processed meats, such as ham, bacon, and deli meats, may also contain free radicals.
Lifestyle
Your lifestyle choices can greatly impact whether you experience oxidative stress. And remember: lifestyle is a lot more than just what you eat…
Here are a few choices that can increase the number of free radicals in your system:
Smoking is particularly harmful, since cigarette smoke increases the production of oxidants.
Alcohol can also cause oxidative stress. When ethanol is metabolized, it produces free radicals and decreases antioxidant activity.
Overexertion is another factor that can contribute to oxidative stress. While moderate physical exercise is good for your body and mind, strenuous exercise, defined by at least 30 minutes of intense activity, can lead to the overproduction of oxidants.
Environmental Factors
Toxic elements in your environment can also cause oxidative stress when you are exposed to them. Depending on the chemical, they enter your system through your skin, by being inhaled, in your food, or in some other way.
Some of the environmental factors that can lead to oxidative stress include pollution, heavy metals, pesticides, and more. If you work in an environment that is heavy in these types of toxins, it's important to take extra care to reduce your body's free radical load.
Related
Milk thistle is known as an elixir for your liver and the king of detoxifying herbs. Learn more about this herb and its benefits in this article.
Immune Response
Injuries, illnesses, and infections can trigger a response from your immune system that results in (usually temporary) oxidative stress.
Your immune system produces free radicals to fight off germs. When there is an overproduction of free radicals, they can also damage healthy cells, leading to both oxidative stress and inflammation.
When your body is healthy again and your immune response has subsided, the oxidative stress will either diminish or go away completely.
Signs of Oxidative Stress
Even if you think you live a healthy lifestyle, some degree of oxidative stress is inevitable. You probably don't even realize how often and to what degree it's affecting your wellbeing. But your body knows, and it sends you signals.
Here are some of the most common signs of oxidative stress:
Fatigue
Headaches
Lack of concentration, "brain fog"
Memory loss
Muscles and/or joint pain
Noise sensitivity
Premature signs of aging: wrinkles and gray hair
Susceptibility to infections
Unstable blood sugar level
Worsening eyesight
On their own, many of these conditions are completely harmless. They might even have other causes. Headaches, for example, can be caused by dehydration. Fatigue can come from a sleepless night due to worries about work.
But if you are seeing several of these signs and can't find another cause for them, it's quite possible that your body is experiencing oxidative stress.
Your physician can confirm whether this is the case with lab tests on blood, urine, cell, or tissue samples. Typically, these tests will measure ROS (reactive oxygen species) levels, antioxidant levels, and bimolecular damage.
Medical Conditions Linked to Oxidative Stress
One of the main reasons why detecting and preventing oxidative stress is so important is its impact on specific medical conditions.
Some conditions that are negatively affected or even caused by oxidative stress include:
Alzheimer's disease
Atherosclerosis
Asthma
Cardiovascular disease
Chronic fatigue syndrome
Chronic heart failure
Chronic inflammation
Diabetes
Hypertension (high blood pressure)
Male infertility
Parkinson's disease
Stroke
Maintaining the right balance between free radicals and antioxidants can help you prevent or manage some of these conditions.
How to Reduce Oxidative Stress
Because of the negative impact on your mental and physical health, one of the best things you can do for your overall wellbeing is to reduce or even prevent oxidative stress. The question is: how do you do that?
For most of us, completely avoiding exposure to free radicals is impossible. But it can be reduced, which will decrease the effects of oxidative stress.
Antioxidants in Your Food
Health terminology makes it easy for us to remember the best way to prevent oxidative stress. Because if you want to fight "oxidation," you need "antioxidants."
The easiest and most accessible way to increase your antioxidant levels is to introduce more of them into your diet. Ideally, you'll want at least five servings of fruits and vegetables each day as a good starting point.
According to the USDA, these are the top antioxidant-rich foods:
Small red beans
Wild blueberries
Red kidney beans
Pinto beans
Cultivated blueberries
Cranberries
Artichokes
Blackberries
Prunes
Raspberries
Strawberries
Red Delicious apples
Granny Smith apples
Pecans
Sweet cherries
Black plums
Russet potatoes
Black beans
Plums
Gala apples
Dark leafy greens
These aren't your only options, though. There are plenty of other fruits and vegetables that are high in antioxidants, including broccoli, carrots, grapes, peaches, and watermelon. Broaden your choices and raise your antioxidants by "eating the rainbow" with a wide variety of fruits and veggies in bold, dark colors.
If you're looking for snacks on the go, dried fruits are a great choice! Removing the water raises their antioxidant ratio. And their portability makes them an easy option to bring to work, add to a school lunchbox, or toss into your gym bag. But be sure to read their labels carefully: you'll want to avoid those with added sugars.
You can also drink your antioxidants. Juicing is a delicious, nutritious option. You can add as many of the fruits and veggies above as you'd like for an antioxidant-rich smoothie.
Related
Get your blenders out and prepare for a 10-day green smoothie cleanse challenge!
Other beverages high in antioxidants include:
Apple juice
Cider
Tomato juice
Pomegranate juice
Pink grapefruit juice
Black coffee
Topical Antioxidants
The relationship between oxidative stress and antioxidants also extends to your skin.
Free radicals can cause skin damage, including dry, irritated, dull, and sensitive skin. To fight this, you can apply antioxidants directly to your skin in creams, gels, or serums readily found in pharmacies or the beauty counters of local department stores.
Look for topical antioxidants with ingredients such as CoQ10, niacinamide, glutathione, vitamins A, C, and E, or resveratrol for maximum protection from oxidative stress.
One important thing to keep in mind, though, is that topical antioxidants only work on the area where they are applied. The antioxidants that you incorporate into our diet, on the other hand, have a systemic benefit. So make sure you keep eating those delicious antioxidant-rich fruits and veggies!
Lifestyle Choices
Your lifestyle can also help you prevent oxidative stress. Some minor tweaks can boost your overall health, as well as decrease free radicals and increase your natural antioxidants.
While not every factor that plays a role in oxidative stress is under our control, many of these are. You can make changes that will leave you feeling better and help you live your healthiest life.
Final Thoughts
Free radicals are unavoidable and not necessarily a bad thing. Even oxidation is a natural process. It only becomes a negative when you have an excessive number of free radicals or a diminished number of antioxidants, leading to oxidative stress.
Although some exposure to free radicals (i.e., environmental pollution) is out of your hands, there are other factors that you can, and should, control (smoking, diet, UV exposure). You can also increase your antioxidant levels to help prevent oxidative stress.
With just a few healthy tweaks, you can manage or even prevent oxidative stress to help support a healthy, long life.
You May Also Like…