Who wouldn't love to quash excessive self-consciousness?
You know, that third-person perspective camera that's always playing a live feed of what you're doing – it's your own perception of how others are seeing you. It's a mental restriction that can often keep you from acting 100 percent genuinely yourself in that moment. In extreme cases it can be crippling against acting freely. Living without this restriction is a huge step toward being able to live with complete freedom, acting from your heart, soul and center.
Spiritual practices such as meditation, yoga and qigong all get you closer to the point of being completely present and feeling your energy. A feature of this fuller state of awareness is recognizing self-consciousness as it arises and not feeding it. This is a huge part of why you feel so centered when you engage in any type of spiritual practice.
Recently, I discovered an enhanced sense of this type of feeling – acting freely, without a self-conscious voice watching my actions – while camping and was driven to find out why. This was despite the fact that I didn't engage in any spiritual practice, I slept very little and didn't eat the quality whole foods that I'm used to. During a late night discussion, I came up with the hypothesis that this ability to act freely came from the fact that it had been days since I had looked at myself in the mirror. My mind had a hazy memory of what I looked like, and therefore wasn't producing that feedback of self-consciousness as consistently.
When I returned, I conducted a two-week experiment of looking in the mirror only once a day – in the morning before heading out for the day to make sure I was presentable. After that, nothing. While doing this, I found out how often I tended to compulsively look in the mirror throughout the day to make sure everything was fine. I realized how rare the situation is when we don't look presentable in the context we're in (I asked friends and colleagues to let me know if I wasn't).
Sure enough, during those two weeks, I was able to slow down that self-conscious feedback. I was acting more from my centered self and less from a place of my ego watching over my shoulder. I came up with a hypothesis as to why the mind may act in this way. When you look in the mirror, you're providing a frame of reference for the mind for the perception of the self. Each compulsive glance at the mirror reinforces this image. With this image constantly renewed and refreshed, it's right there for the mind to use to give you some feedback on what others might be seeing of how you're acting. A friend once said to me, "What someone else thinks of you is none of your business," and I wholeheartedly agree.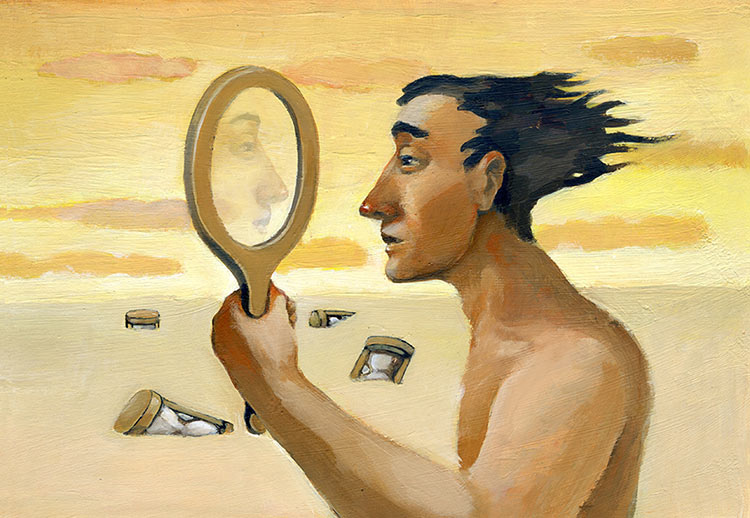 This study by the Institute of Psychiatry in London showed that healthy participants who spent 10 minutes gazing in the mirror reported higher levels of anxiety. Makes you wonder what may be happening in your mind and body when you get ready each morning in front of a mirror, doesn't it?
Try this over a period of two weeks: Check yourself in the mirror when you're heading out for the day. Then, divert your gaze during the times you might compulsively check yourself out during the day. Close your eyes when you brush your teeth. When you're washing your hands, look at them and feel the water and soap. Cover up whole body mirrors in your bedroom (I used contact paper for this and it works great. Added bonus: You can write notes on it).
In this time, you might come to realize how often you look to your outward appearance for reassurance. I realized I spent an excessive amount of time on it and that the true feeling of freedom resulted when I was acting authentically in the moment.
During my experiment, I was acting from a centered state of self, with enhanced presence and consciousness of the world around me. These are benefits that we strive for in our spiritual practices and this simple hack helped me make considerable progress in gaining these very real benefits.
Try this exercise! You'll be diverting attention from yourself and moving it toward the world around you. And the world is a very interesting place.