Back in the day when Jamie Lee Curtis was lighting up the big screen in movies like True Lies, we probably didn't anticipate her becoming the face of one of the most heavily pushed products on TV today: probiotics. But being synonymous with a branded yogurt that promotes healthy digestion isn't such a bad thing. If you ask me, this is more of a PSA – everyone should strive to have a healthy gut. This is, after all, the gateway to the body in terms of nutrient absorption. A sound gut environment is essential for overall wellness. So, what foods should you incorporate into your eating plan to achieve optimal digestive health?
Choose foods high in fiber to keep disease at bay. According to a study in the United Kingdom, a high-fiber diet can reduce the risk of bowel cancer when the fiber and bacteria "produce several chemicals including butyrate," which make the gut uninhabitable for tumors. The Institute of Medicine recommends 38 grams for men and 25 grams for women who are 50 years or younger and 30 and 21 grams per day for men and women over 50. Contrary to visions of cardboard food, there are plenty of flavorful foods to choose from to get your fill of good ol' fiber.
Broccoli – One cup of boiled broccoli contains 5.2 grams of fiber and only 54 calories.
Artichokes – While it's still in the market, reach for this vegetable that is an adventure to eat. One artichoke packs 10.3 grams of fiber.
Raspberries – This is another summer favorite that contains 8 grams of fiber per cup. Add this to salads or morning smoothies for that perfect tart/sweetness.
Split peas – 16 grams of fiber in one cup, cooked, will help you reach that daily goal very quickly.
Peas – 8.8 grams per cup, cooked, makes this an excellent source of fiber, but also protein for those who are vegetarian/vegan.
Flax seeds – One tablespoon contains 2.8 grams. Adding flax seeds to your smoothies may be one of the simplest ways to sneak in extra fiber into your diet.
Chia – Just one ounce of chia contains 10 grams of fiber. This versatile seed can be made into a pudding, added into smoothies and salads, and even turned into a pet. Because this expands in the stomach, it is best to try in small amounts instead of going chi-azy.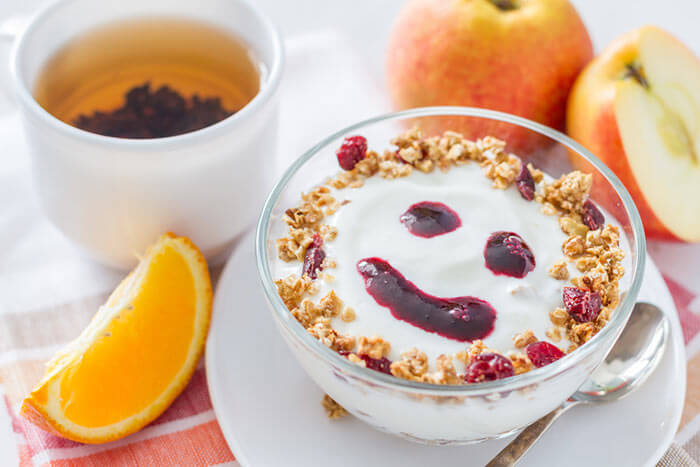 Add foods that naturally contain good bacteria. There is abundant research pointing to positive effects of probiotics on digestive health. Recently, more studies are being done to determine other connections. A study on school children in Mexico found that children prescribed probiotics experienced fewer cases of diarrhea and respiratory issues. What foods naturally contain probiotics?
Sauerkraut – Opt for the homemade version since store-bought may be processed, which kills the good bacteria, and makes it nutritionally useless. Fermenting your own sauerkraut requires a bit of effort but only three ingredients: salt, vegetable (such as cabbage) and water.
Yogurt – Yogurt is simply milk fermented with good bacteria. It comes in a variety of types and flavors, some containing fruit. Beware of high sugar content, especially if you are sensitive to sugar.
Miso – Miso combines soybeans, salt and rice koji, which is fermented with a culture called Aspergillus oryzae. Combine a bit of miso paste with hot water and chopped scallions for a soothing soup for your stomach.
Kimchi – Kimchi is a Korean fermented side dish made with a variety of seasonings and vegetables, the most common being napa cabbage, radish and cucumber. Traditionally it is left underground to ferment for months. Kimchi is normally enjoyed with meat and rice dishes.
Apple cider vinegar – Unfiltered or raw apple cider vinegar contains healthy bacteria to promote digestion as well as acetic acid that kills bad bacteria. Try it as a morning detox elixir by combining a teaspoonful of apple cider vinegar with a glass of water.
Add foods that soothe your digestive system.
Peppermint – Peppermint is a wonder herb for stomach issues. It has been shown to reduce irritable bowel syndrome, or IBS, and has also reduced indigestion and flatulence/bloating.
Ginger – Ginger has anti-inflammatory properties that have made it a favorite natural remedy around the world. Add fresh ginger to juices, soups and salad dressings.
Cinnamon – Cinnamon has been linked with blood sugar reduction but also with addressing digestive issues, including indigestion and constipation.
Taking care of your gut health does not have to be challenging. By including these 15 foods into your diet, you can keep digestive issues at bay. Keep a food journal and observe whether you notice any changes as you try these.
You May Also Like…