Sugar … baaaaaaad – a simple premise that we can all get behind (until confronted with that giant chocolate chip cookie someone evilly left on the break room table at lunch, that is). But when you start thinking about it, it's not so simple.
Doesn't fruit have sugar? Are we not supposed to eat fruit – ever? Gulp.
Or, how about agave nectar? That was all the rage for a while then the hype sort of died down… What's up with that?
What are the alternatives? Or are we destined for a life of food without that sunny bit of flavor? Unsweetened sweets? That's a sad thought.
OK, a little dramatic. But we do love our sweets and need to have some viable alternatives. So we consulted a few sugar experts to help us get a sense of the best (and worst) sweeteners and sugar alternatives.
According to Victoria Brodsky, head of nutrition for ContentChecked, three types of sugars get the most attention: fructose, glucose and sucrose. Fructose is a natural sugar found in fruits, glucose is found in our blood and sucrose is known as table sugar, obtained from sugar cane or sugar beets.
In terms of what we should and shouldn't be eating, Brodsky, clinical nutritionist Amanda Hayes-Morgan and holistic nutritionist Mitra Shirmohammadi helped break down the sweeteners, starting with the best: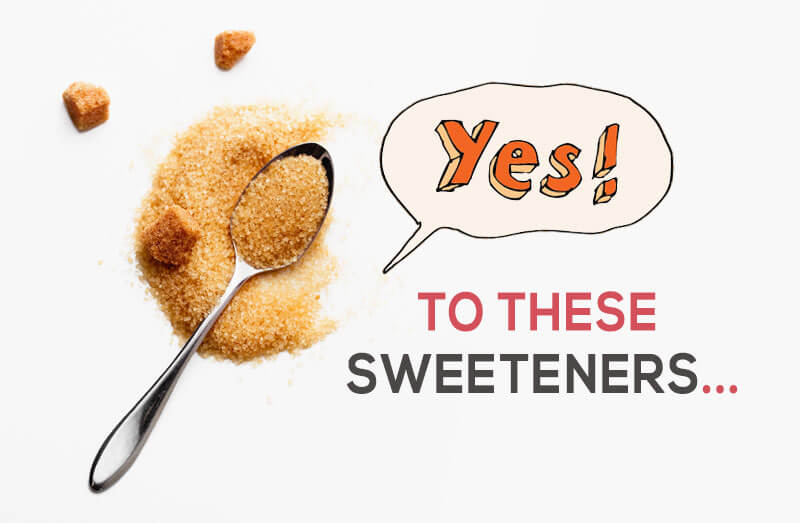 ➀ Stevia
Stevia is a natural sweetener with virtually no calories from the Stevia rebaudiana plant, and believe it or not, it's quite sweet! Make sure to get the pure, green leaf stevia.
This study showed that taking the stevia compound stevioside can lower blood pressure. During the two-year study, Chinese patients took the compound and saw a significant drop in their blood pressure.
➁ Monk fruit
A zero-calorie sweetener that can be up to 200 times sweeter than sugar? Does such a thing exist? It does, and it's monk fruit, which comes from a vine known as Siraitia grosvenorii. The super-fruit is full of healthy antioxidants and vitamins. You can use the sweetener in a variety of foods and drinks such as coffee, yogurt and fruit.
➂ Raw, unprocessed honey
Hayes-Morgan says raw, unprocessed honey has high vitamin, mineral and antioxidant content, and it can also strengthen your immune system. Some health experts also believe raw honey can help treat seasonal allergies and hay fever. Feeling sleepy? It can also give you a boost of energy.
Raw honey also has antibacterial, antifungal, antiviral and anti-inflammatory properties, and it helps with digestion and skin issues, says Shirmohammadi. But be careful: Raw honey has a good amount of fructose, so a little goes a long way.
Buy raw honey from your local farmers market for the best results.
➃ Chicory
If you love the ritual of coffee, but have to lower your caffeine intake, then you'll love chicory. The calorie-free herb comes from the root of a perennial plant and can serve as a caffeine-free coffee substitute and natural sweetener. Chicory root contains vitamins, minerals, soluble fiber and antioxidants. There's more: The inulin in chicory root can help feed digestive flora, leading to a healthier microbiome.
On top of all that, chicory extracts may fight fungi in certain situations, according to this study.
➄ Xylitol and erythritol
These are sugar alcohols found in some foods labeled as "sugar free" or "no sugar added." They have fewer calories than sugar and can have less of an impact on blood sugar levels than other carbs.
Note: When buying low-calorie foods, you should check the label as they can still contain a significant amount of carbs and fat.
➅ Vanilla
There is something about vanilla that tastes so good. Whether it's a scoop of vanilla ice cream or a vanilla latte, the flavor makes our tastebuds go wild. That's not all: Along with adding flavor, vanilla extract – the non-artificial kind, that is – does wonders for our health.
Not only does vanilla extract contain antioxidants, but it can also calm nausea, regulate menstruation, boost metabolism and calm your anxiety.
➆ Maple syrup
No, we're not talking about the syrup you drown your pancakes in; those are processed syrups. Opt for pure maple syrup because it contains a bunch of antioxidants and minerals, including zinc and calcium, Hayes-Morgan says. For best results, look for Grade B, dark-colored maple syrup and Grade A dark amber versions from Vermont or Canada. Read the food labels to tell the difference between pure maple syrup and imitation syrups. If you see corn syrup and high-fructose corn syrup, stay away.
Who knew that pure maple syrup had so much power? It can also potentially boost your immune system, calm stomach issues and a new study showed that maple syrup may help fight bacteria that cause diseases. The study found concentrated extracts of maple syrup paired with antibiotics reduced bacterial growth.
Keep in mind pure maple syrup should be consumed in small amounts because of its high glycemic index, says Shirmohammadi.
➇ Coconut sugar
Coconut oil isn't the only one with all the benefits. Meet coconut sugar, which comes from the coconut palm tree and is a low-glycemic sweetener. Coconut sugar also contains many minerals and vitamins, says Shirmohammadi. Get straight coconut sugar for best results.
Note: Coconut sugar does have a lot of fructose content, so watch out for that, but it has more vitamins and minerals than white table sugar, including vitamin C, potassium, calcium and zinc. At least it's better than white table sugar, right?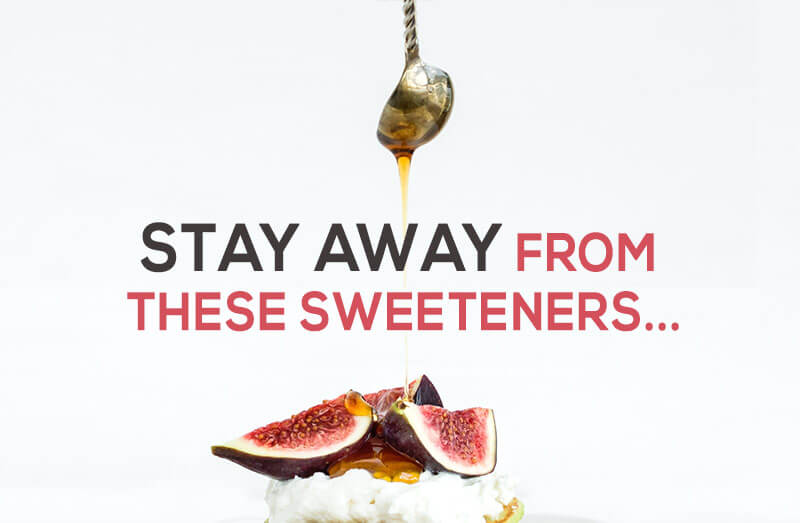 ➃ Agave nectar
At one point, agave nectar was the "it" sweetener, but Hayes-Morgan says it has proven to be the opposite because of its high fructose level; it has more fructose than high-fructose corn syrup, which can be found in sodas! It also has more fructose than any other common sweetener. Not only does too much fructose raise your blood sugar, but it will make you annoyingly hungry and constantly craving sweets.
➂ White refined sugar (table sugar)
White sugar and brown sugar can cause health problems such as heart disease and obesity. Another shocker: Sugar and cocaine have a similar chemical make-up, leading you to become addicted to anything sweet, says Hayes-Morgan. Limit your intake of baked goods (as tempting as they may be), or use one of the substitutes at the top of our list.
➁ High-fructose corn syrup
Speaking of fructose, high fructose can be found in candy, soda and processed sweets. High-fructose corn syrup is harmful to your health as it is artificially derived and contains dangerous chemicals and contaminants such as mercury. Are you one of those people who drinks a can of soda a day? Time to stop that habit. It turns out drinking one sugary drink a day puts you at increased risk for non-alcoholic fatty liver disease.
But don't worry: Fruits are safe to eat because they are different than alternative, processed sweeteners that have fructose, says Hayes-Morgan. Go for fruits with a low glycemic load such as berries, cherries, green apples and grapefruits.
➀ Artificial sweeteners
Be careful with these sweeteners. Artificial sugars such as aspartame and Splenda are found in diet sodas and diet foods, and they can be toxic to your body, Hayes-Morgan says. Artificial sweeteners may lead to weight gain, metabolic syndrome, type 2 diabetes and hypertension and cardiovascular disease.
A new study also examines the dangers of aspartame and link between diet drinks and cardiovascular issues. Researchers at the University of Iowa studied 60,000 post-menopausal women and found that women who had two or more diet drinks a day were 30 percent more likely to go through a cardiovascular event and 50 percent more likely to die from a related disease.
Comments