Whether you've felt motivated to try something new because of the pandemic, a desire to get in shape for the summer, or another reason, biking is fun and easy to start or jump back into. If you're in need of some convincing, here are the top reasons why you should embrace pedal power.
10 Reasons Why Biking is Fun, Good for You, and Good for the Planet
There is no shortage of reasons why biking is fun and a great sport/leisure activity to get into, but we've narrowed it down to the top 10 (no particular order). Let's get started!
1. Biking Offers Many Health Benefits & Even Helps You Fight Chronic Illness
Like any form of exercise, cycling is associated with a myriad of benefits that will greatly enhance your health and fitness. Taking a bike ride can help you lose weight and maintain a healthy body fat ratio. A cyclist can expect to burn almost 500 calories from an hour's riding. And the metabolism-boosting effects mean the benefits linger long after your workout.
There is even evidence that cycling can help lower the risk of heart disease, type two diabetes, obesity, brain diseases, and even cancer. It does this largely through dampening the body's inflammatory response which is the root cause of most chronic illness.
2. Cycling Boosts Your Mental Health
You've probably heard of a runner's high, well the same is true of a cyclist's high. Cycling is great for depression, anxiety, and stress because it produces natural endorphins that will give you a happy feeling (or "high") without the negative come down effects.
Biking is also a great stress reliever, lowering cortisol levels in the blood, promoting feel-good hormones, and helping boost mental agility.
Last but no least, cycling exposes you to plenty of natural light—i.e. vitamin D—which helps boost mood and regulate the circadian rhythm, which improves the quality of your sleep.
3. Biking is a Full-Body, Low-Impact Workout
In addition to the above, there are also many important health and fitness benefits that are particular to cycling. Contrary to received wisdom, bike riding actually provides an intense, full-body workout. It's not just the legs that benefit, but also the buttocks, hips, and upper body.
Mountain biking, in particular—with its addition of hills and rough terrain—will really work your arms, chest, and abs, as well as improve your balance, coordination and joint mobility. Cycling builds fitness in a truly holistic way, helping to tone and strengthen all areas of the body.
What's more, cycling offers all this as a low-impact sport. It works your respiratory system and muscles while being relatively easy on the skeleton. Activities like running carry the risk of wear and tear around the ankles and knees as your feet repeatedly pound against hard ground. As a low-impact form of exercise that carries little risk of strain, cycling is a great option for a whole spectrum of people. The older population, those with health difficulties, athletes recovering from injury, as well as those looking for a gentle introduction to exercise can all participate with ease.
4. Biking is Great for Your Immune Health
Exercise is vital to maintaining a healthy immune system. A recent study shows that cycling is one of the best forms of exercise for immune health. It explains how adding a bike ride to your daily routine can help your body fight off illness. Cycling can increase the number of T-cells your body produces which are key to avoid getting seriously sick. This is especially true for aging adults.
Related
Qi Gong is a form of Chinese meditative exercise that's been practiced for thousands of years. The practice focuses on cultivating energy in both the body and the surrounding environment through breathing, focused intention, postural techniques and other movements. It's often recommended as an alternative form of therapy for improving and maintaining overall health and …
5. Cycling Is Accessible at All Ages
Everyone from toddlers to pensioners can become a bicyclist and start reaping the benefits instantly. Cycling is an activity that's easily tailored to your specific ability level. You can pick and choose suitable routes and terrain, and fine tune your pace and exertion. The weight you're carrying, the gearing, your speed, and wind resistance can all be adjusted to help meet your fitness goals.
Once you've got a bike (whether it be a road bike or mountain bike), helmet, and pump, there's nothing more you need. Bicycling can be done at any time, almost anywhere, and doesn't require much skill or the ability to commit to training schedules and team practices. It's easily incorporated into most daily routines and doesn't require a visit to the gym.
Perhaps best of all, once you've learned to ride a bike as a child, it's a skill that you'll always know how to do. Unlike most sports, it's easy to pick up again after years of neglect. It's also a form of exercise you'll be guaranteed to enjoy in the later decades of life, as activities like running and weight lifting start to take their toll.
6. Biking Is Fun & Full of Variation
Cycling can be performed competitively, whether racing against others or against yourself through a timed ride. But it can also be an incredibly relaxed and sociable activity.
Cycling with your partner through a park or mountain biking with a group of friends is a great way to blow off steam with others.
We all know that biking is fun and a great way to get some fresh air. Exploring an urban area by bike, or whizzing through country lanes provides a great sense of freedom, control, and exhilaration. It's the perfect physical activity to awaken the senses, jolt the mind, and rejuvenate the spirit.
7. Cycling Takes You Places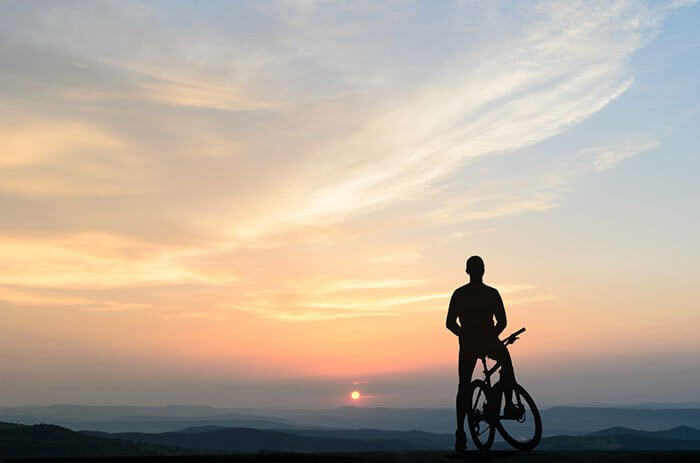 Most sports don't serve a purpose beyond the enjoyment and health benefits derived from the activity itself. Cycling, however, provides both these things whilst also serving as a convenient, cost-free and environmentally-friendly means of transportation. Whether you're commuting to work, riding around your hometown, or perhaps even cycling across continents, there's no better way to experience and immerse yourself in the outside world.
Cycling operates at an optimal speed. The potential range is high enough that you can move between places relatively efficiently, whilst experiencing enough new and diverse settings to keep things interesting. And yet, unlike in a car or bus, you're going slow enough that you can observe and take pleasure in the scenery and people as you pass by, and ultimately feel a part of your surroundings.
8. Biking Helps You Meet New People & Engage in Fun Competition
Cycling is a great way to socialize. You can meet up with friends for a bike ride or make some new ones by joining cycling clubs or events near you. Biking is also a perfect way to meet people if you're traveling abroad. You can meet locals and see even more of the area on a bike than you would in a cab.
You can even engage your competitive side with the Strava app where you can share how many miles you've biked and track your time across social media to compare stats with your friends. It also has challenges you can compete in to make it even more exciting!
9. Cycling Is Environmentally-Friendly
There's no denying that bikes are a lot better for the environment than motorized forms of transport. They mean less pollution, less ugliness, and they simply take up a lot less space. Taking to two wheels is an excellent way to help reduce the environmental burden, in terms of pollution, noise, aesthetics and production costs. In cities, cycling is also often a faster and more convenient option than driving, saving you stress, traffic-jams, and parking difficulties.
And there's even the possibility of pedaling power to generate free electricity. Try building your own bicycle generator to power your appliances. There's simply no better way to get yourself fit than by powering your TV or video games console through cycling!
10. Cycling Is Cost Effective
Finally, riding a bike is a great way to save money. While there is the upfront cost of the bike itself, if you are using it to get around daily, it's much cheaper than owning a car. In fact, it can often eliminate travel costs for commuters. Even if your bike is not your primary means of transportation, even biking to work or around town for errands some of the time will decrease the wear and tear on your car substantially.
Support your local bike shop if you can by purchasing there, or, if you are on a budget and a new bike is not in the cards, check out Facebook Marketplace, Craigslist, or another similar site for deals on used bikes. The added benefit of the latter is that you are also giving someone's old bike a second life, which is another plus for the environment.
Closing Thoughts
Getting on a bike and taking a ride, long or short, will only help your overall health. From a longer-term perspective, the health-boosting benefits of biking could well help you save on medical bills later in life.
It will take some effort to incorporate a bike ride into your daily routine, but it will be so worth it! There are too many benefits of cycling to not give this health, wallet, and environment-saving hobby a try.
You May Also Like…
Editor's Note: This post was originally published on January 7, 2016, and has been updated for quality and relevancy on June 9, 2021.