Turmeric is a darling in the health food world right now. It's hailed for the anti-inflammatory and anti-cancer properties of its key phytonutrient, curcumin, though more research is needed to confirm its true efficacy.
Well.org loves Purality Health's organic turmeric and curcumin supplements, but if you prefer a more foodie approach, try these great recipes for getting more turmeric into your diet.
Apple & Carrot Zing Smoothie
This smoothie has a crisp and spicy zing, perfect with a summer breakfast or for an afternoon pick-me-up.
Ingredients
1 granny smith apple
2 medium carrots
1 teaspoon of ginger (fresh grated or minced)
2 teaspoons of ground turmeric (or 2 tablespoons grated)
Instructions
Blend the apple, carrots, and ginger, then add the turmeric a little at a time to taste. Don't add too much at once, as turmeric's earthy characteristics can easily mute the other flavors in your drink.
Thin out with a little water and serve with ice.
Apple and carrot is a popular flavor for juice, but we've gone for a blended smoothie instead, ensuring you get a dose of dietary fiber to help balance the sugars that come from the fruit. If you'd rather skip the fruit completely, substitute the apple for two Roma tomatoes, add a stick of celery, and use soda water when diluting. Serve with a pinch of salt and black pepper.
Mango Turmeric Lassi
Lassi is a traditional Indian drink made from primarily yogurt and water, with spices, herbs and fruit added in for different flavors. Fresh, juicy mangoes provide plenty of sweetness for this drink, but if you have trouble finding them where you live, just substitute an equivalent quantity of frozen mango.
Ingredients
2 cups plain Greek yogurt
1 cup water
2-3 fresh mangoes
½ lemon (juiced)
2 teaspoons of ground turmeric (or 2 tablespoons grated)
Instructions
Blend the yogurt, water, mango flesh, and lemon juice, then add the turmeric a little at a time, tasting often until it reaches the desired flavor.
Blend again and serve with a pinch of ground turmeric or black pepper garnish.
For variations on this recipe, try substituting the mango for banana or strawberries, and garnishing with a pinch of cumin, cardamom, or saffron. Alternatively, skip the fruit altogether in favor of a little honey or sea salt, and top with crushed pistachios. Lassi is also a great way to use up any excess kefir—just use the same amount in place of the yogurt.
Spiced Pumpkin Soup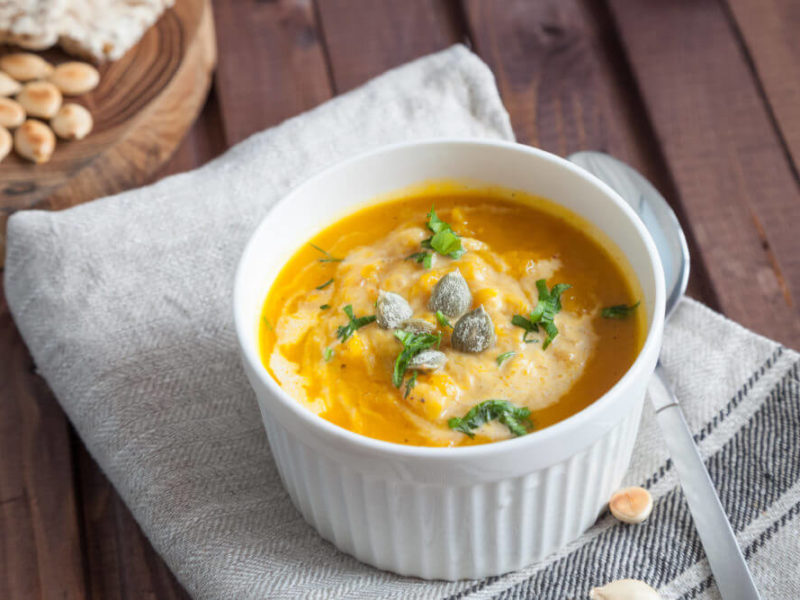 An easy family favorite. You can make this on the stove or in a slow cooker—either way, we recommend roasting the pumpkin first to help develop the flavors.
Ingredients
1 small pumpkin (or half a large pumpkin)
2-3 cups vegetable stock
2 bay leaves
1 teaspoon ground turmeric (or 1 tablespoon grated)
½ teaspoon ground cumin
Cream
Black pepper
Instructions
Cut and roast the pumpkin with a little olive oil.
Scrape the pumpkin pulp from the rind, then mash in a saucepan. Add the vegetable stock half a cup at a time, stirring until you reach the desired consistency. (Depending on how thick you like your soup, you might not end up using all the stock.)
Add the bay leaves, turmeric, and cumin. Bring to a boil, then simmer over a low heat for 10 minutes.
Add a dollop of cream (use coconut cream for a plant-based alternative) and a dash of black pepper before serving.
This recipe is a great starting point for a variety of different flavors—try adding roasted sweet potato or bell peppers, or a few large carrots and fennel to the soup. If you're concerned about the sodium content of store-bought vegetable stock, you can make your own instead, using garlic, onion, carrot, mushroom, celery, tomatoes, and parsley.
Related
These easy-to-follow healthy food recipes count toward better brain health. Start cooking today for improved memory, learning, and focus!
Stuffed Curried Spuds
This is a flexible recipe that works for potatoes of any size. We've left out quantities and baking times on purpose, but as a guide, one regular sized potato takes about 45 minutes to an hour on 475°F.
Ingredients
Potatoes (regular or baby sized)
Ground turmeric
Ground cumin
Ground coriander
Ground ginger
Ground cardamom
Sea salt
Curly leaf parsley (finely chopped)
Black pepper
Chilli flakes
Grated cheese
Instructions
First, bake your spuds whole with the skin on.
While waiting, combine half a teaspoon each of the turmeric, cumin, coriander, and ginger powders. Then, progressively add varying amounts of each spice, along with pinches of cardamom, until the mix reaches your preferred aroma and flavor.
Once your potatoes are done, halve them and scoop out the innards, leaving little potato cups.
Make the stuffing by mashing the potato innards and adding your spice mix a little at a time until the mixture reaches the right intensity. Add a dash of sea salt and the desired amount of curly leaf parsley, then stir well.
Scoop the stuffing into the potato, top with a sprinkle of chili flakes, grated cheese, and black pepper, then bake until the cheese melts (usually 10 to 15 minutes).
We hope you enjoy these delicious turmeric recipes! Discover more healthy recipes here.
You May Also Like…
Sources:
Anti-inflammatory and Anti-oxidant Properties of Curcuma longa (Turmeric) Versus Zingiber officinale (Ginger) Rhizomes in Rat Adjuvant-Induced Arthritis