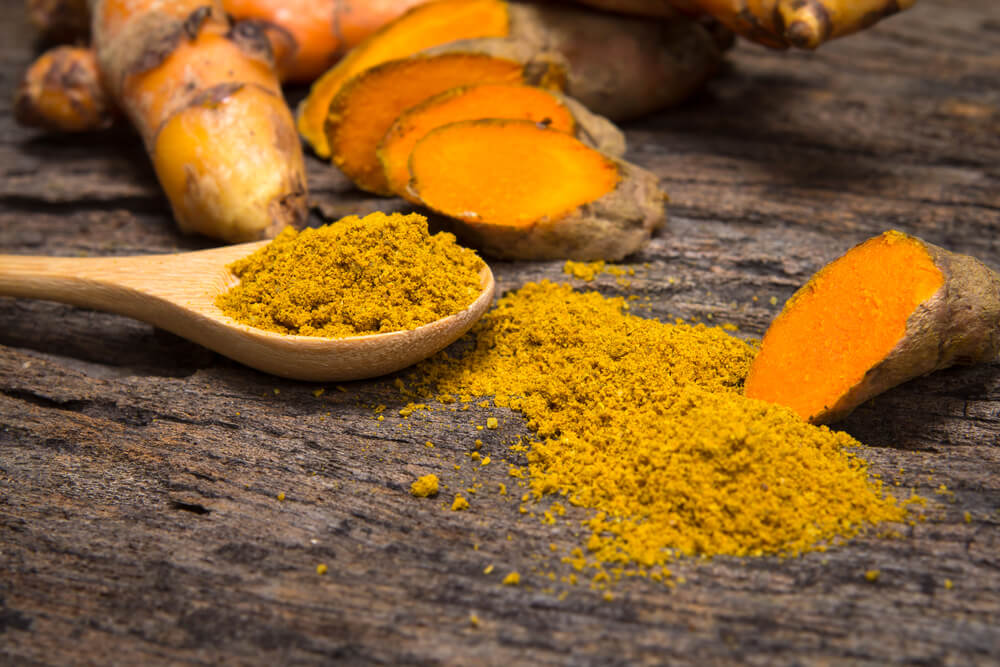 "A root is a flower that disdains fame" –Khalil Gibran
TURMERIC: THE LEGENDARY SUPER-ROOT
Take a peek at your pantry. Chances are, you have a shaker of turmeric tagging along with the other spices.  But what is this rusty orange powder and why has it been so revered for centuries? Let's take a look at the secrets of its ancient past and uncover just what it is about this ragged rhizome that keeps us coming back for more.
ANCIENT ROOTS RECAP
Turmeric [TER-muh-rihk] is the root of a tropical plant closely related to ginger. It is famed for its bitter, pungent, flavor and intense yellow-orange hues.
TImeline: 600 B.C. For over 5,000 years turmeric has been used throughout India and Asia for culinary purposes and perfume. Historically, both Ayurveda and Chinese Medicine have celebrated the healing powers of turmeric too. Whether for the blood purification of poisoned kings, or opening up the three body meridians (liver, lungs, and heart), this illustrious root has been sought after for centuries and today its super powers are comparable to the strength of many medications.
So what makes turmeric so great for our modern lives? It's…
ANTI-INFLAMMATORY.  

The active component in turmeric is the flavonoid, Curcumin, a revered king of anti-inflammatories. Its ability to insert itself inside the cell membranes that aren't working effectively and amplify them makes it a powerful pain reliever, particularly in achy joints and muscles.
ANTI-MICROBIAL.

Due to its tremendous anti-bacterial qualities, turmeric is a wondrous beauty aid in beating acne and hugely effective when applied topically as well. Next time you need a 5 minute skin fix, try a dollop of raw honey mixed with turmeric powder for a powerful face mask.  

Pro tip:

add a dash of Frankincense oil for amplified healing benefits.
BLOOD SUGAR.

With over 6,000 clinical studies and research finding turmeric to be more beneficial than nearly 20 medications, it's no wonder this is excellent in aiding blood sugar issues such as diabetes. Turmeric is rich in antioxidants and helps utilize carbs in the body which makes it 500-100,000 times more potent than common diabetes medications.
NEURO BENEFITS.

The potently anti-inflammatory qualities in turmeric help to calm inflammation in the brain and keep the left and right hemispheres in sync leading to higher cognitive functioning. The ultimate hack in higher thinking!
GUT GURU.

Inflammation of the gut can lead to many mishaps of the digestive tract. Adding turmeric to your diet can calm the swelling associated with many  symptoms, particularly dairy intolerances and leaky gut.

Pro-tip: Mixing freshly ground turmeric with a high quality, grass-fed kefir drink is a great way to resolve milk sensitives and replenish the gut with good guy bacteria.
DETOX.

This super root is spectacular at supporting liver detox as it boosts the master antioxidant, Glutathione and Superoxide Dismutase (SOD) for ultimate cellular function.
CLEANS ARTERIES.

If you have plaque in your arteries, the curcuminoids in turmeric have proven to be effective in lowering both cholesterol and blood pressure.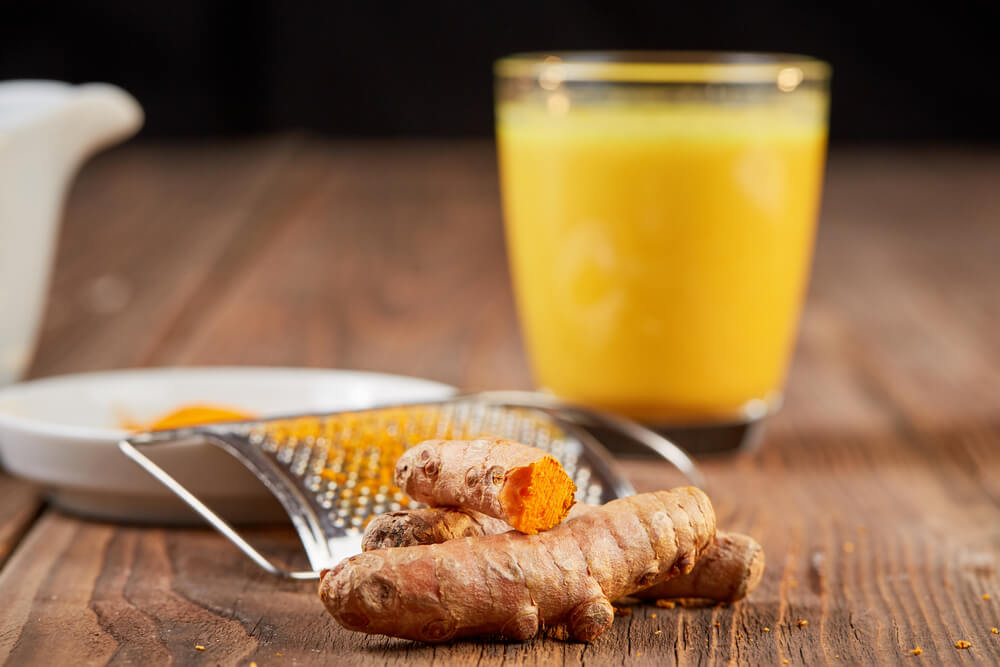 DOCTORS ORDERS
Supplementing turmeric into your diet is an effective way to prevent future problems and mend already existent dilemmas. But with so many turmeric options available, where does one begin? The answer is simple.  Just begin.  A little turmeric added to  your diet is better than nothing!
Here are a few fun ways to include this super hero food in your lifestyle:
SHOTS!  

Got a juicer? Next time you stroll through produce aisle, grab a handful of fresh turmeric (usually located near the ginger). Add a splash of lemon and sea salt. Pour yourself a shot glass full first thing in the AM and you will feel a spring in your step.

Tea.

Seeping then sipping your turmeric is an excellent way to uptake more nutrients. Health and fitness expert, Dr. Josh  Axe has a delicious

turmeric tea recipe

that will soothe your mind, body, and spirit. Simply stir in coconut milk, water, ghee, honey, and ground  turmeric to a saucepan. Simmer for 2 minutes, strain the sediments, then serve in your favorite mug.

The 15 Minute Turmeric Soup.

Mix a simple veggie broth  with a knuckle of turmeric, scallions, and black pepper.  Set to simmer and 15 minutes later you have a knockout nutritional meal.

H20: Liquid Gold Edition.

Dr. Andrew Weil, known as the father of integrative medicine, believes in the healing benefits of turmeric as well. He prefers his beverage cool and unsweetened.  Simply add a heaping ½ teaspoon of turmeric to 2 cups of boiling water. Simmer for 10 minutes.  Pair with lemon or ginger for optimal benefits.

Supplements. Taking turmeric in capsule form is the most simplistic way to gather all of the amazing benefits without the mess (turmeric definitely stains!) or in liquid form with this amazing organic product Purathrive that we love:

Armor Up
With over 42,000 new toxins entering our environment daily, it is necessary to armor our immune system with the strongest natural resources available.  Turmeric has proven to be a medicinal staple that has stood the test of time. Not only is it easily accessible but it is  extremely cost effective. Even just adding a shaker to your spice cabinet can make a huge difference in your overall health without the heavy burden on your bank account.   
Adding a dash of turmeric or a drop of PuraThrive to your meal could be the beginning of incredible healing and vitality!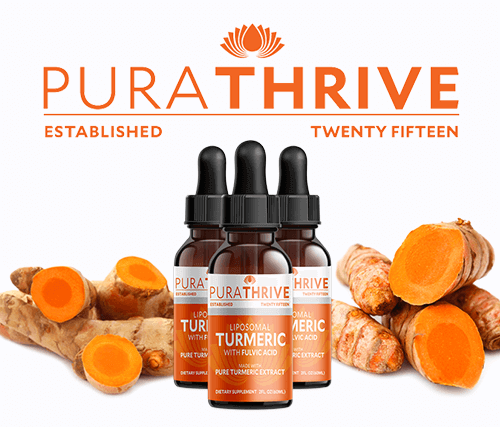 Sources for this article:
http://fitlife.tv/turmeric-as-medicine-4-ways-to-use-it-saturday-strategy/
https://www.youtube.com/watch?v=buvDAv4-yb8
https://draxe.com/recipe/turmeric-tea-recipe/
https://www.drweil.com/blog/health-tips/want-to-make-healthy-turmeric-tea-at-home-try-this-simple-method/
The Food Lover's Companion by Sharon Tyler Herbst
https://draxe.com/turmeric-benefits/
Comments