What is Sauerkraut?
First, what is sauerkraut?
Sauerkraut is a kind of fermented cabbage. It is similar to the Korean condiment kimchi, and other fermented foods such as kefir and kombucha. Various lactic acid bacteria ferment the cabbage. The healthy bacteria that form in the food can help with the biology of the gut by soothing the digestive tract.
When we think of it, we may think, "Oh, it's another hot dog topping." However, it's much more than a typical side dish. It's time to reinvent how this unlikely superfood fits into our diets.
Remember to make or buy sauerkraut that is raw and lacto-fermented instead of a product typically made with vinegar. Vinegar is a preservative, which means that the product has been through pasteurization instead of going through the natural fermentation process. Making your own sauerkraut is the best way to get the most out of the beneficial bacteria for better gut health!
Related
Learn more about the benefits of fermented foods, some do's and don'ts, and what some of the most popular fermented foods are.
Health Benefits of Natural Sauerkraut
Speaking of health benefits, let's run through them now. Why is it necessary to learn how to make sauerkraut? These points explain why:
1. It Is Probiotic Food and Improves Digestion
Fermented sauerkraut contains probiotics that promote the growth of healthy gut flora. This food also improves digestion and relieves constipation, gas, and bloating. It can reduce irritable bowel syndrome (IBS). It even protects the digestive tract against potential diseases from bad bacteria.
People consider it a probiotic food because it contains a large variety of lactic acid strains of probiotics. The lactic acid in sauerkraut helps break down food more easily, which aids in digestion.
It is one of the few foods that contain helpful microbes such as Lactobacillus bacteria, especially Lactobacilli plantarum. These are the good bacteria. L. plantarum can live in your gut and prevent pathogenic disease-causing microorganisms from flourishing.
Like the way icing lines a cake, it maintains a healthy barrier in your colon that helps keep the harmful bacteria from penetrating the lining of your intestines and entering your bloodstream.
A Proven, Potent and Effective Spore Probiotic to Help You Feel Your Best
Just Thrive® Probiotic contains a patented strain called Bacillus Indicus HU36®, which produces antioxidants in the digestive system – where they can be best absorbed by your body.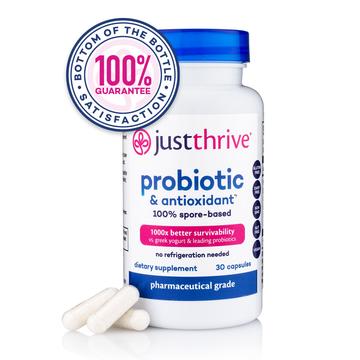 2. It Boosts the Immune System for Better Protection from Diseases
It is packed full of vitamin C as well as other beneficial vitamins and minerals like those found in vegetables. These include calcium, magnesium, iron, and potassium. It's absolutely amazing!
One serving of sauerkraut (100 grams) provides 24% of your daily value for vitamin C. It also contains vital phytochemicals that are created during the fermentation process.
These compounds help keep your body safe from disease. They help reduce common health problems such as skin disorders, flu, colds, and weight gain.
3. It Decreases Cancer Risk Through Detoxifying Carcinogens
Both cabbage and sauerkraut exhibit anticancer characteristics. This is according to a study published in Phytotherapy Research in August 2012. Cabbage is also found to contain antioxidant compounds that may decrease lung cancer risk.
The combination of healthy cabbage and the fermenting process produces a powerhouse of benefits. The probiotic cultures derived from fermentation can detoxify ingested carcinogens and stimulate the immune system.
They also create an environment in your gut that is hostile to carcinogenic compounds. More specifically, these probiotic cultures form organic compounds that can inhibit the growth of tumors and cancer cells.
4. It Can Help with Weight Loss
Eating sauerkraut on a regular basis can help you shed unwanted body fat. This is because eating a diet high in fiber from sauerkraut and other veggies can keep you full for longer. This cuts down on the need to consume high levels of calories which would make you gain weight.
A 2013 study suggests that eating foods rich in probiotics helps you lose weight and may even prevent weight gain.
5. It Helps Reduce Stress
A healthy gut can lead to a healthy brain. A recent study has found that the beneficial gut flora created by fermented, probiotic foods such as sauerkraut can help reduce stress.
This is because sauerkraut increases the gut's absorption of mood regulating minerals such as magnesium and zinc.
6. It Promotes Healthy Bones
Sauerkraut is rich in vitamin K2 which plays a vital role in good bone health. The specific reason for this is that vitamin K2 activates proteins that bind to calcium, which is the primary mineral that bones are made out of.
7. It Can Improve Your Heart Health
The probiotics and fiber found in sauerkraut can improve heart health because they can help reduce cholesterol levels.
These same probiotics may also help to slightly lower blood pressure. The best results for this come from taking 10 million colony-forming units (CFUs) per day for longer than 8 weeks.
Colony-Forming Units: Units used in microbiology to estimate the number of viable bacteria or fungal cells in a sample (Mai Notice block)
Sauerkraut can also reduce the risk of cardiovascular disease because of the above mentioned vitamin K2 quantity. Vitamin K2 can prevent calcium from building up in the arteries, lowering risk of a heart attack.
How to Make Sauerkraut at Home
Remember to only buy freshly-made, raw, unpasteurized, and organic sauerkraut. This may not be sold in big name grocery stores. You can probably find it in the fridge of local health food markets or farmers' markets.
Try to avoid the canned version. It offers far fewer nutrients and probiotic benefits.
We have an even better idea. Why not learn how to make homemade sauerkraut? It's quick and easy. You will also know exactly what's in it and it will taste great, too! Here's our simple recipe for making your own healthy, tasty sauerkraut.
Well.org :: Sauerkraut Recipe
Ingredients:
Organic Cabbage
Onion (non-iodized)
Fresh Dill
Caraway
Salt
Tools:
1 quart glass jar with clamp-able lid
Instructions (1 quart of sauerkraut):
Core 1 cabbage (take out the center)
Shred the cabbage, keeping pieces a fairly even size
Place the cabbage in a large bowl
Chop up 1 onion, place in the large bowl with cabbage
Chop up dill, put in the large bowl with the cabbage and onion
Add a tablespoon of Caraway and Sea Salt to the bowl (rule of thumb: 3-4 tablespoons per gallon of sauerkraut)
Mix everything together with hands until cabbage "glistens"
Jam mixture into 1 quart container. A mason jar or other glass container is best. Really pack it in so there are no air bubbles. Leave 1-1.5" at the top to keep things from overflowing
Clamp lid on jar, but leave one side not fully clamped (to allow a small amount of air to escape)
Allow mixture to sit through a fermentation process for roughly 2-4 weeks at room temperature (no need to refrigerate.) Expect mixture to reduce in size (to roughly half the original volume.)
After 2-4 weeks, cabbage should look more translucent. Mixture gets more sour as it sits. Taste to determine if it's to your liking. There's no one exact method to how long the mixture should sit. You can safely eat the mixture at any point.
When you're ready to eat, store the remainder of the mix in the same (or you can use a different/smaller) glass container, and clamp the lid fully. Place in the refrigerator.
You May Also Like…
Editor's Note: This article was originally published on May 29, 2014, and has been updated for quality and relevancy most recently on September 9, 2021.