8 Ways to Keep Your Gut Healthy While Traveling
Let's look at eight ways you can keep your gut healthy while traveling so you can have a more fun and memorable experience.
1. Know the Possible Culprits of Digestive Upset
To know how to keep your gut healthy while traveling, you should understand the probable causes of your digestive issues, including traveler's diarrhea. These can include the following:
jet lag
contaminated or dirty tap water and food
exposure to bad bacteria or pathogens
stress
sleep deprivation
physical and emotional trauma
consumption of an unfamiliar meal or cuisine
poop suppression
These factors can increase your chances of having an upset stomach while traveling since they can disrupt the balance of the microbiome.
2. Drink Water to Reduce Constipation
It's essential to keep yourself hydrated when you're traveling. Not only does it help replenish the fluids you lose from all the walking, but it also supports good gut health.
Water plays a significant role in digestion as it helps break down food into digestible pieces. It also assists in moving food toward the small intestine and into the colon.
The colon or the large intestine also needs water. Otherwise, it will absorb whatever fluid is in the poop, making it a hard stool to pass.
Finding a good water source may be difficult in some countries, so use a water bottle with an activated charcoal filter. Avoid plastic water bottles as they can also have health risks.
3. Consume High-Fiber & Fermented Foods to Pass Stool Fast
Another way to keep your gut healthy while traveling is to consume fiber and fermented foods. Both of these can help keep your gut healthy by making it easier to pass stool and maintain the balance of healthy bacteria.
Certain dietary fibers and carbohydrates, such as oligosaccharides and fructooligosaccharides, serve as prebiotics for your gut. Your body isn't able to digest or absorb it these prebiotics, but your bacteria use it as a crucial food source.
Fermented foods are also some of the best probiotics for travel. In cases of mild food poisoning or upset stomach, they can increase the population of healthy gut microbes.
When traveling, consider adding the following into your diet:
flaxseed
whole grains
chia seeds
lentils
bananas
apples
apricots
blueberries
miso
kimchi
yogurt
You can look for healthy food stores, or you can check restaurants that may serve some of them as side dishes.
You can also bring along powder blends such as Alkaline Greens. This has a combination of superfoods including green tea, wheatgrass, vegetables like kale and spinach, chlorella, and much more.
Try Alkaline Greens now and save 20% with code WELL20.
Besides fiber and prebiotics, other essential nutrients that can support your body during travel include:
B vitamins, which can boost your energy levels naturally
Folate, which can help regulate your mood and enhance brain function
EGCG, which can assist in maintaining a healthy weight
These foods can also help you follow an anti-inflammatory diet while traveling.
4. Consume Bitters to Control Bloating and Nausea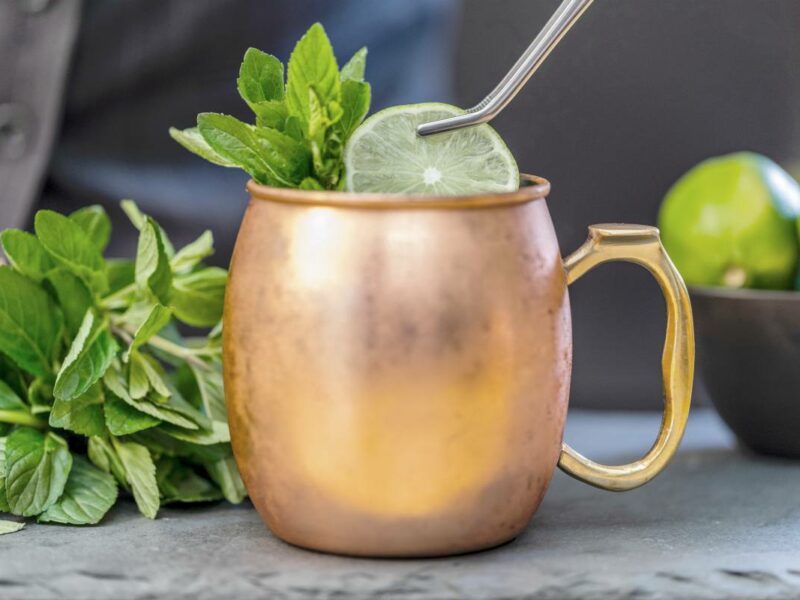 Bloating and nausea can happen while traveling, and there can be a lot of reasons why these occur:
Eating food too soon or too fast
Drinking a lot of soda or carbonated beverages, which increases gas
Consuming too many carbs and sugar, which boosts water retention
Eating dairy even when you're lactose intolerant
Eating gluten when you're sensitive or intolerant to the protein
Having your menstrual period
Suffering from certain digestive conditions such as acid reflux
Usually, bloating and nausea are not life-threatening, but they can be uncomfortable and unpleasant. You can stay healthy on the road and beat the bloat with bitters.
Bitters don't have the nicest flavors, but they can stimulate your digestive organs such as the pancreas, stomach, and liver to release digestive juices or enzymes. These can then help break down food more effectively and boost nutrient absorption.
Some great options are:
mint
fennel
rhubarb
dandelion
ginger
Interestingly, some bars can make you a simple tonic with these basic ingredients. You can quell your bloat while relaxing.
5. Get Some Sleep
Sleep and travel often don't agree, and that's understandable. You are in a new place, and you're probably nervous or excited, not to mention, you may be nursing jet lag.
Sleep, or the lack thereof, though, has a huge impact on the balance of healthy bacteria. It turns out the body's internal clock or the circadian rhythm works alongside your microbiome.
This may explain why sleep deprivation often occurs with changes in the bowel movement and even eating habits.
There are many ways to improve your sleep and keep your gut healthy while traveling:
Perform some low-impact exercises such as yoga.
Meditate for at least 30 minutes to calm yourself.
Take a stroll around the block to expend excess energy.
6. Go Easy on the Bacteria Killers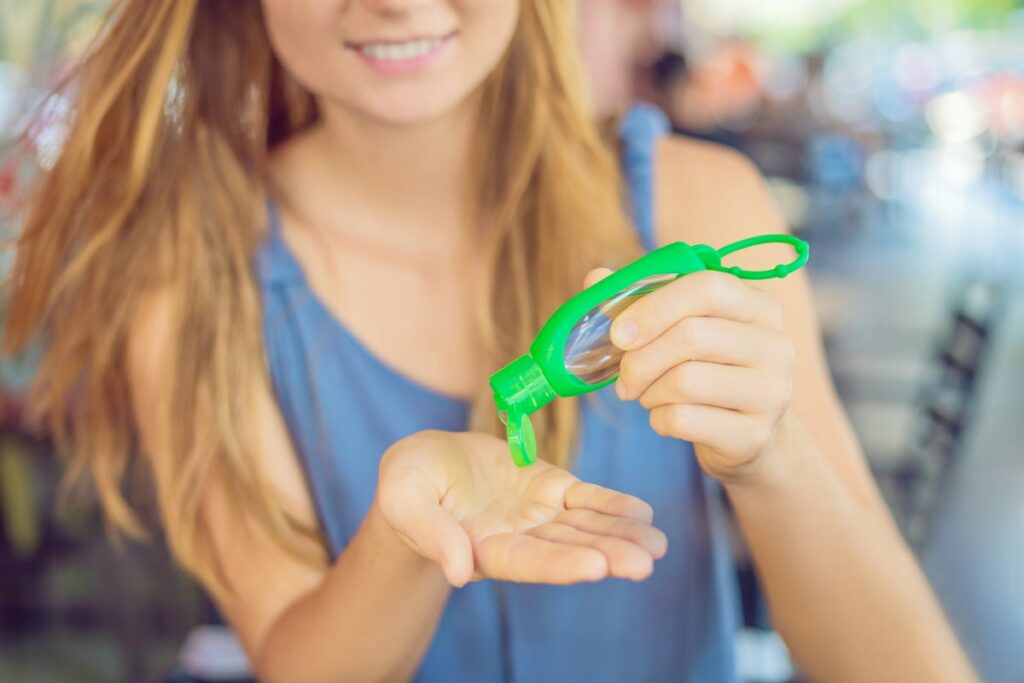 For some people, staying healthy while traveling means getting rid of any possible trace of bacteria. In the process, they tend to abuse their hand sanitizer.
In reality, not all hand sanitizers are effective, and even the best ones cannot kill all the germs. They may only reduce their growth.
In fact, for the Centers and Disease Prevention and Control (CDC), hand washing is the most effective way to get rid of pathogens in most situations. They are also less likely to kill beneficial bacteria in the environment.
In some cases, hand sanitizers are a better option especially if you don't trust the water supply in your destination. When buying, pick the ones with at least 60% alcohol.
How about antibiotics? If you end up traveling while still under an antibiotic treatment plan, then, by all means, stick to the regimen.
Follow the doctor's recommendation including the duration of the treatment. You can also ask your physician for some referrals or ideas in case the symptoms still persist even after taking the antibiotics.
Do not try to extend your treatment without your doctor's approval, and avoid buying an antibiotic your physician didn't prescribe.
7. Eat Healthy Fats
While bad fats can contribute to the bloat and other digestive symptoms, good fats can keep your gut healthy while traveling.
These healthy fats can act as lubricants for the intestines, making it faster for the stool to get out of the colon. They can also curb hunger, so you're less likely to end up eating or binging on unfamiliar food.
Some healthy food sources of fat are:
olive oil (we like this one) and coconut oil
nut butters
hard-boiled eggs
salmon
chia seeds and flaxseed
hemp seed
8. Take a Spore Probiotic Supplement
We already mentioned the importance of prebiotics and probiotic foods, but a high quality spore probiotic supplement can help support your overall health when these foods aren't enough on their own.
Probiotics are an easy way to get the beneficial bacteria your microbiome needs in an easily ingested pill or powder. When you consume a probiotic supplement, the beneficial bacteria join forces with the good bacteria already present in your gut, boosting both their quantity and quality, so you can be your healthiest.
The dilemma is that most probiotic supplements don't work. They are unable to withstand the journey through the harsh conditions inside your stomach to make it to your gut.
The good news is that there are a few supplements out there that are able to arrive in your gut fully alive and potent. Our favorite probiotic from Just Thrive survives 100% of the time. It's 1,000 times more effective than other brands and even more powerful than probiotic-rich yogurt!
The strains in Just Thrive support digestive, immune, and total-body health, as well as better energy, sleep, skin health, and more. It's everything you need to give your body the extra care it needs while traveling (and beyond!)
Final Thoughts
The last thing you want to happen when you're on a trip is letting your gut get in the way of a fun experience. So exercise extra caution with what you consume, and use the right food, supplements, and habits to keep your gut healthy while traveling.
You May Also Like…