What Is Processed Food?
Processed foods are everywhere! They're in grocery stores, in your kitchen cupboard, in the pantry, in your office, and even in schools.
If they're all around you, then why do experts say you should avoid them at all costs? To help you understand the reasons, first, let's define them.
Take, for example, a can of tuna. This is actually one of the healthier processed foods since it contains real fish.
Still, you cannot eat it all the time since it can contain high levels of salt. Known as the brine solution, it is a common method of preserving food for long periods.
There are also ultra-processed foods. These are the types that went through more extensive processes that they may be different from the original appearance and taste of the produce.
Worse, they tend to have some of the highest concentrations of additives, sugar, salt, fillers, and preservatives. All these can make them even more harmful to your health.
Why Are Processed Foods Bad?
If you need reasons to avoid frankfurters and pizzas, keep the following in mind:
Related
You don't need a scientist to tell you that fast food is not a healthy choice. Empty calories? Check. Heavy in trans fat, light in nutrition? Check. The exact opposite of mindful and grateful eating? Check. But it's important to understand that not only is fast food not good for you, it's actively harmful to …
List of Processed Foods to Avoid & What to Eat Instead
Here are examples of processed foods, what they contain, and the healthier alternatives so you don't feel you're missing out on the good stuff.
First, here are a few reminders:
Not all processed foods are unhealthy. Make sure to read the nutrition label before you judge.
The simpler the food, the better.
The actual nutritional values for each product can vary. You will see them on the nutrition label.
1. Sodas or Cola Drinks
What They Contain: Flavor enhancers, sugar (loads of them!), including artificial sugars such as aspartame
Nutritional Value Per Can: 140 calories, 99% carbs, 1% protein
What to Consume Instead: Water with with things like cucumber, mint, lemon, and strawberry added for flavor, coconut water, carbonated or sparkling water, and homemade smoothies with with a green powder blend. (We recommend Alkaline Greens. Try it now and save 20% with code WELL20.)
2. French Fries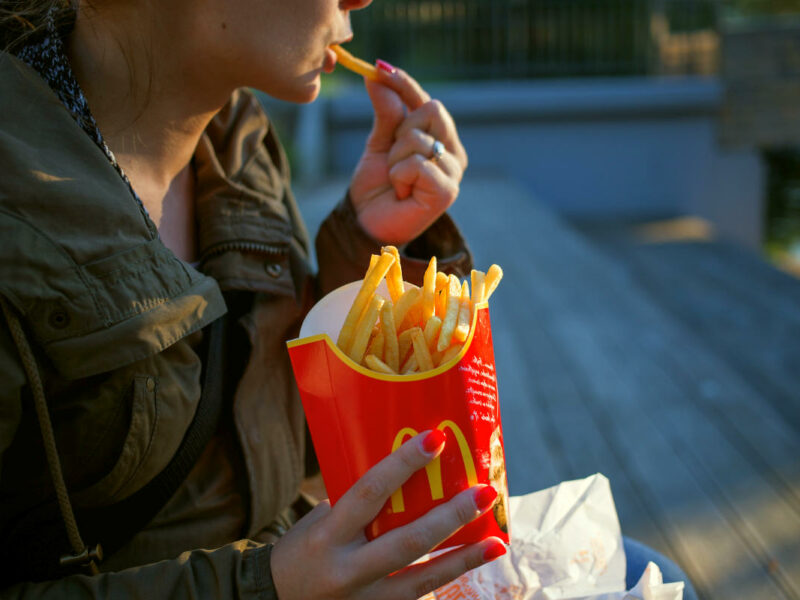 What They Contain: Lots of sodium, saturated fats, and acrylamide
Nutritional Value Per 100g Serving: 312 calories, 15g of fat, 210mg of sodium, and 41g of carbohydrates
What to Consume Instead: Kale chips, zucchini fries, baked apple chips, air-popped popcorn, carrots paired with hummus
What is hummus? It's a popular Mediterranean or Middle Eastern dip. Its primary ingredient is chickpea with tahini, garlic, olive oil, and lemon.
3. Hot Dogs
What They Contain: Meats including mechanically separated poultry, trimmings such as fat and slaughter by-products, nitrite, sodium, saturated fat
Nutritional Value Per 100g Serving: 290 calories, 1,090mg of sodium, 4.2 grams of carbohydrates, 26 grams of fat, and 77mg of cholesterol
What to Consume Instead: Tofu dog, turkey or chicken sausage (check the ingredients), marinated carrots, and unprocessed or unflavored bacon
4. Sweetened or Packaged Iced Tea
What They Contain: A lot of sugar, as much as 8 grams
Nutritional Value Per 100g Serving: 35 calories, 2mg of sodium, and 9g of carbohydrates
What to Consume Instead: Herbal or green tea flavored with lemon or honey, kombucha
5. Breakfast Cereals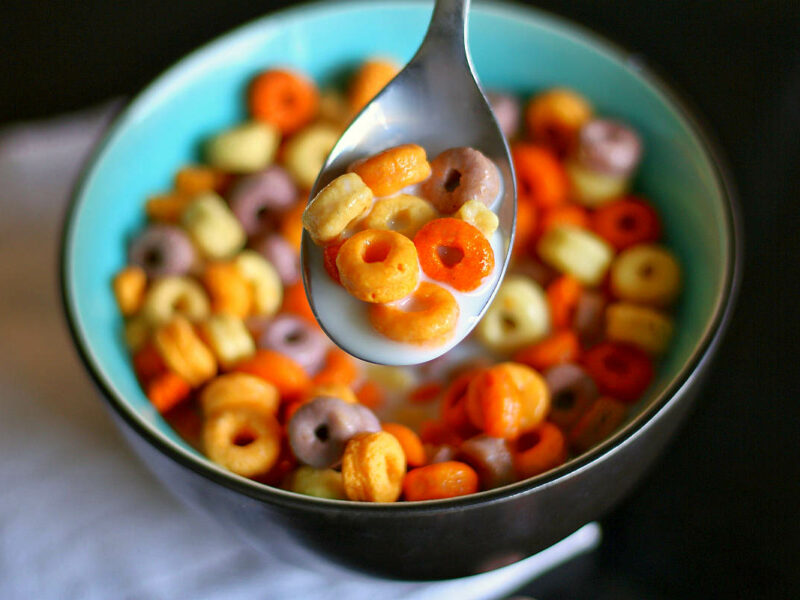 What They Contain: Gluten, palm oil, corn syrup, corn starch, sweeteners, food colorings, and preservatives
Nutritional Value Per 100g Serving: 379 calories, 68g of carbohydrates, 6mg of sodium, and 7g of fat
What to Consume Instead: Breakfast smoothies, chia pudding, yogurt topped with fruits, toast with avocado or peanut butter and banana, gluten-free bread, oatmeal, and eggs
6. Margarine
What They Contain: Vegetable oils, emulsifiers, maltodextrin, and flavoring
Nutritional Value Per Tablespoon: 102 calories, 11 grams, and 0% calcium
What to Consume Instead: Olive oil, peanut butter, hummus, avocado oil (or pureed avocado), or coconut oil
7. Hamburger
What They Contain: Beef trimmings, vegetable protein, and loads of sodium and carbohydrates
Nutritional Value Per Single-Patty Burger: 254 calories, 378.4mg of sodium, 29g of carbohydrates, 5g of sugar, and 10g of fat
What to Consume Instead: Minced or ground beef on lettuce wraps, mushroom burger, black bean burger, tofu burger, grass-fed beef for the patty, and mushrooms and bell peppers instead of burger buns
8. Instant Noodles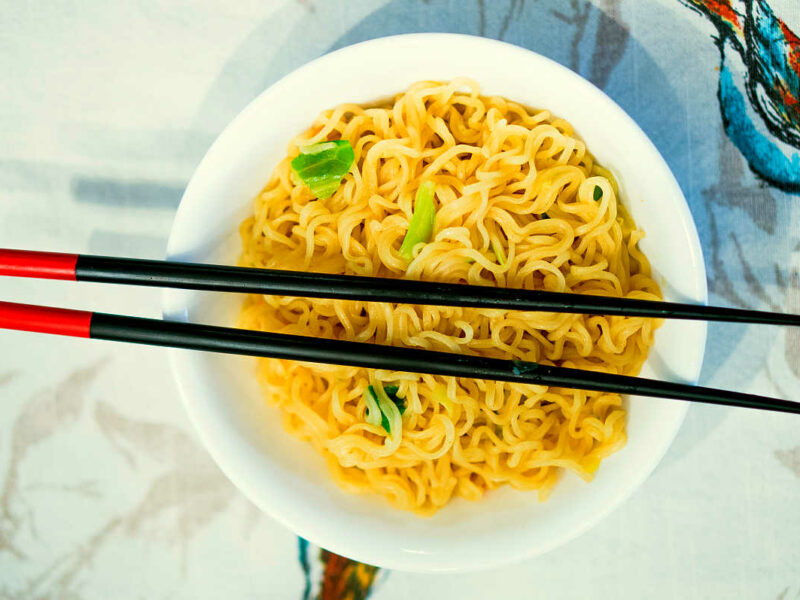 What They Contain: Palm oil, monosodium glutamate (MSG), flour, lots of sodium, low in protein and fiber
Nutritional Value Per Pack: 188 calories, 861mg of sodium, 27g of carbs, and 7g of fat
What to Consume Instead: Miso ramen, rice noodles, homemade potato chips, and dried fruits
9. Store-Bought Salad Dressings
What They Contain: Saturated fat, sugar, sodium, and corn syrup
Nutritional Value Per Serving: (Caesar's dressing) 180 calories, 290mg of sodium, and 18g of fat
What to Consume Instead: Simple salad dressing of olive oil and lemon or apple cider vinegar, balsamic vinaigrette, guacamole, and hummus
10. Donuts
What They Contain: Sugar, shortening, gluten flour, flavoring
Nutritional Value Per Medium Donut: 195 calories, 11g of fat, 22g of carbohydrates, and 11g of sugar
What to Consume Instead: Berries, dark chocolate, yogurt, chia pudding, dried fruits, and almonds
Final Thoughts
This processed foods list isn't to scare you. It's just a way of helping you shop for healthy food the next time you visit the grocery store.
Note, too, that the swaps may not taste or look the same as your favorites, but your taste buds can adapt as you make them part of your diet. Before you know it, you are making healthier choices for yourself and your family.
You May Also Like…