What do Tom Hanks, Halle Berry, George Lucas, Randy Jackson, and Nick Jonas have in common?
They all have type 2 diabetes.
According to the CDC, more than 100 million Americans have type 2 diabetes or prediabetes, and many of them don't know it. (Note: You do not have to be in the obesity category to have diabetes.
In fact, only 11.6% of the 84 million people with prediabetes know they have it.
And that means more than 74 million people are walking around with a hidden blood sugar time bomb.
Prediabetes usually turns into full-blown type 2 diabetes within five years, but it doesn't have to.
You can take steps right now to stop prediabetes and prevent type 2 diabetes before they cause irreversible damage to your health.
What is Diabetes?
Diabetes occurs when your glucose (ie: blood sugar) is too high. This is also known as hyperglycemia. Blood glucose—your main source of energy—comes from the food you eat. The disease is the result of your body not making enough (or any) of the hormone, insulin. (Insulin is needed to extract energy from the food you eat.)
When there isn't enough insulin, glucose then stays in your blood and doesn't deliver energy to your cells. Over time, having too much glucose in your blood can cause health problems such as:
Heart disease
Kidney disease
Stroke
Nerve damage
Vision problems
Dental issues
There are multiple types of diabetes, the most common of which are type 1, type 2, and gestational diabetes.
Type 1 Diabetes
Type 1 diabetes is usually diagnosed in children. The body is not able to make enough insulin, so the immune system attacks the cells in your pancreas in an effort to reboot insulin production. With type 1 diabetes, you must administer insulin every day to stay alive.
Type 2 Diabetes
Type 2 diabetes mellitus is the most common form of diabetes and differs from type 1 in that people's bodies develop insulin resistance and don't respond to it as well as they should.
You can develop type 2 diabetes at any age, but this type mostly impacts middle-aged and older adults.
Gestational Diabetes
Gestational diabetes develops in some mothers-to-be during pregnancy. Often, this type of diabetes goes away once the baby is born. However, women with gestational diabetes have a greater chance of developing type 2 diabetes later in life.
Fortunately, there are steps you can take to lower your chances of developing diabetes-related health problems. Apart from a balanced diet, you can also keep your blood sugar in check by maintaining a healthy gut.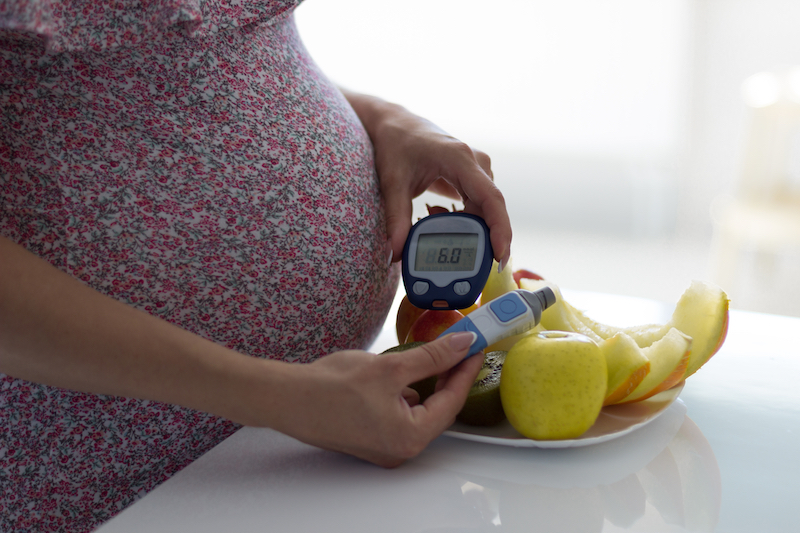 The Link Between Your Blood Sugar and Your Gut Health
The gut contains a combination of good and bad bacteria, which is called your gut microbiome.
The gut microbiome is responsible for food digestion, nutrient absorption, and also…
Housing 70-80% of your immune system
Supporting heart health
Maintaining a healthy, balanced weight
And, it turns out that your gut microbiome can have a huge impact on your blood.
A groundbreaking study found that considering what people ate could accurately predict after-meal blood sugar spikes around 32% to 40% of the time.
But when researchers looked at the specific bacteria in the gut microbiomes of the subjects instead of the meals, they correctly predicted blood sugar response 62% of the time.
The scientists realized that people's unique gut microbiomes affected their blood sugar levels more than the foods they ate.
That's why it's so important to make sure your gut microbiome is in good balance. Because without enough good gut bacteria, your body can't handle blood sugar the right way.
Dysbiosis and Type 2 Diabetes
When the bad bacteria (pathogens) outnumber the beneficial bacteria (probiotics) in your gut microbiome, it creates a condition called dysbiosis. And when dysbiosis sets in, it increases the risk of developing type 2 diabetes.
But how does dysbiosis cause and compound diabetes?
Without enough beneficial bacteria in the gut, your microbiome won't produce enough of the necessary compounds (butyrate) for proper glycemic control. Studies show that people with diabetes have fewer butyrate-producing probiotics in their guts, making it even harder to keep blood sugar in normal ranges.
On top of that, bad bacteria have negative effects on your immune, intestinal, and digestive systems. They make it harder for your body to exercise glucose control the right way.
The main weapons of these pathogenic bacteria are a specific type of toxin known as lipopolysaccharides, or LPS toxins for short. Though they're typically contained and controlled by a healthy gut, they can cause inflammation and health issues if they're able to gain access to your bloodstream.
Here's how dysbiosis can create type 2 diabetes:
Step 1: LPS toxins overwhelm your gut and attack its protective barrier.
Step 2: LPS toxins punch through the gut barrier and escape into the bloodstream, causing a condition called toxic streaming.
Step 3: Toxic streaming takes those LPS toxins all over your body, setting off immune system overreactions and inflammation wherever they land.
Step 4: The widespread inflammation brought on by toxic streaming interferes with blood sugar management… leading to type 2 diabetes.
That sounds like bad news, but it's actually good news.
Because the solution to staving off type 2 diabetes is to restore the gut microbiome to healthy balance so it can stop toxic streaming and get diabetes under control…and maybe even stop it from happening in the first place.
Benefits of Probiotics for Diabetics
Diabetes can affect every aspect of your life, and increase your risk of health issues that may wreak havoc on your life.
The good news is: Probiotic supplements have health benefits that show promise in the potential for managing and even preventing diabetes. Keep reading to learn more about the benefits of probiotics for diabetics.
How Probiotics Support Healthy Blood Sugar Levels
A BioMed meta-analysis of clinical trials found that use of probiotics can help:
Improve insulin sensitivity and fasting blood glucose
Reduce the production of inflammation markers
Increase good (HDL) cholesterol in the blood
Maintain normal blood pressure by reducing blood pressure spikes
Reduce other heart-risk factors in type 2 diabetic patients
A recent double blind, randomized controlled trial breakthrough study was done with the American Diabetes Association, which showed that test subjects with type 2 diabetes who took probiotics for 12 months, vs those who took a placebo:
Improved glucose spike levels by 2.5%, and
Improved A1c blood sugar by 0.6%
Probiotics Manage Glucose Levels
Probiotics support a healthy gut wall and increase the population of beneficial microbes that neutralize pathogens. This support enables the pancreas to then produce healthy insulin levels.
Probiotics also help propagate more short-chain fatty acids (SCFA) and hormones called incretin. This helps cut down the fluctuation of blood sugar levels and lessen health complications.
Probiotics Maintain Healthy Blood Pressure
Diabetes increases blood pressure as sugar levels spike.
Probiotics support fluctuating blood pressure by creating more short-chain fatty acids that have been shown to address metabolic disorders and heart risks.
This means that people who are predisposed to high glucose blood levels can greatly benefit from probiotic supplementation. .
Probiotics Keep Your Heart Healthy
People with diabetes are also prone to cardiovascular diseases. This is because elevated blood glucose can trigger a rupture in the heart's blood vessels and nerves.
Another breakthrough study showed that intervention of spore probiotics (a particular probiotic strain) for diabetes can:
Reduce triglycerides by 24% (fats that float in the blood), and
Reduce the lipopolysaccharide (LPS) level in the gut by 42% (LPS are toxins that stay outside the membrane of bacteria.)
This means that taking a spore probiotic supplement can:
Help lessen total and bad cholesterol (LDL)
Reduce the risk of having atherosclerotic plaque in the veins, and
Guard against harmful cardiovascular events
Related
What is Whole30 Someone in your life is doing "Whole30" this month , and they're likely telling everyone about it. And if you haven't heard anyone talking about it… then it might be you. If you haven't heard of it (and you weren't listening while someone explained it to you), "Whole30" is a month-long, low carbohydrate exclusionary …
What Are Spore-Based Probiotics
Spore probiotics are not only the best probiotics for diabetics, but for anyone regardless of age or health history. Why? Spore-based probiotics are unique in that they're resistant to stomach acids and the harsh conditions of the intestines. Thanks to its endospore shell (armor-like coating) these live microorganisms are able to survive the journey from the mouth to the gut.
In fact, some spore-based probiotics can reach the gut 100% live and viable. This allows them to better colonize the gut with more beneficial bacteria, which can be very helpful for people with blood sugar issues.
Studies have reported that supplementing with spore-based probiotics can help:
Produce short chain fatty acids (SCFAs) like butyrate and propionate that help keep inflammation under control
Keep blood sugar levels in the healthy range
Reduce "hunger hormone" levels to help reduce appetite and cravings
Manage the blood lipid profile (fats like cholesterol and triglycerides)
Protect the liver against damage and improve liver function
Produce anti-inflammatory compounds to reduce chronic inflammation
Diet can of course play a crucial role in building a healthy composition of your gut microbiota.
However, the food you eat is often not enough to fully support a thriving population of beneficial bacteria. Modern agriculture and mass-processing practices have removed or inactivated much of the naturally occurring spore-based probiotics from our food.
That's why, it's highly recommended that you take spore-based probiotic supplements to boost your probiotic supply.
Through growing scientific studies, probiotics are showing such promise in the fight for healthy blood sugar levels and overall health care. So if you or a loved one are dealing with erratic blood sugar, supplementing with probiotics—specifically spore-based probiotics—is a healthy way to go for diabetes care.
You May Also Like…